Szczecin lies on a rather temperate latitude in the north of Poland, a short blow from the Baltic coast, on a delta of greenery that is characterised by its fantastic lagoon, offering a plethora of opportunities for those heading outdoors. The 'floating city' as it is known in Poland, is not only a place for boating and swimming.  Nature reserves and parklands are a short distance from the city, making West Pomerania an ideal spot for outdoor adventures in Central Europe. Szczecin, once a major port of the Hanseatic league and, later, the German Empire has ensured that many boating events, specifically the Sail Szczecin Festival, is part of this historic city's event calendar. In addition, running events have also help put Szczecin on the map in recent years. If you're not looking to exert yourself and are simply after a cool pad to have a drink with friends, Grodzka Island Beach, Deptak Bogusława and Łasztownia are the envy of many other Polish cities that would like to think they are cooler! Further abroad, the Oder-Neiße river system, famous in both Poland and Germany is more than just a political border between the two countries. It's also incredibly popular as both a cycling and boating route, with Szczecin being something of a 'green climax' to northbound souls.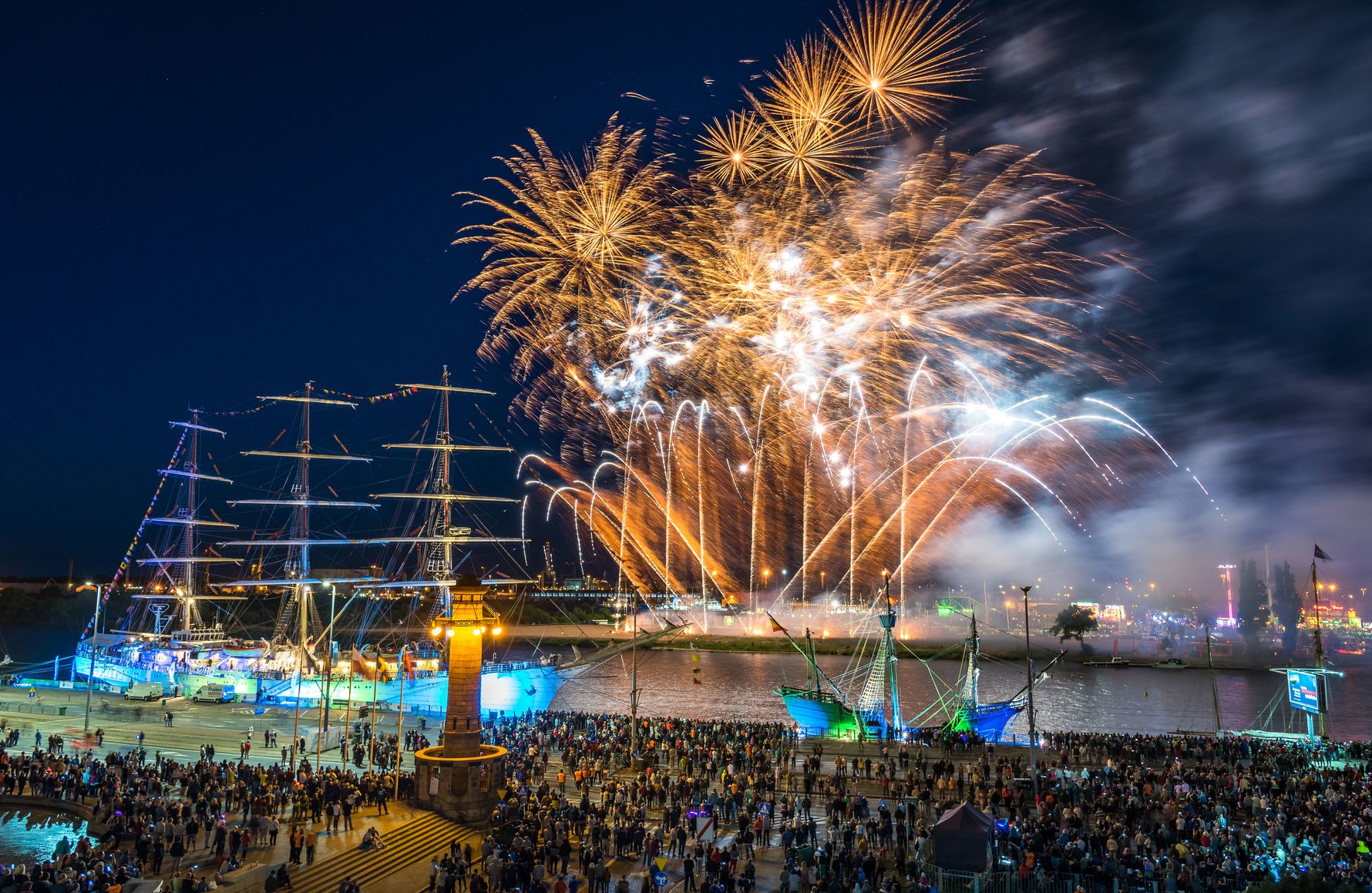 Join a Running Event
When it comes to the outdoors, Szczecin is probably best known as a city with running events. Two of the most notable fixtures on the city's event calendar are Bulwarove and the Szczecin Night Run (PL: Szczeciński Bieg Nocny) that draw running-mad contenders from all over the world. The latter of these is typically around 5km in length, which makes it accessible for the more casual of runners. Also, like most of Northern Poland, Szczecin is quite a flat city, so you won't tear up your calf muscles!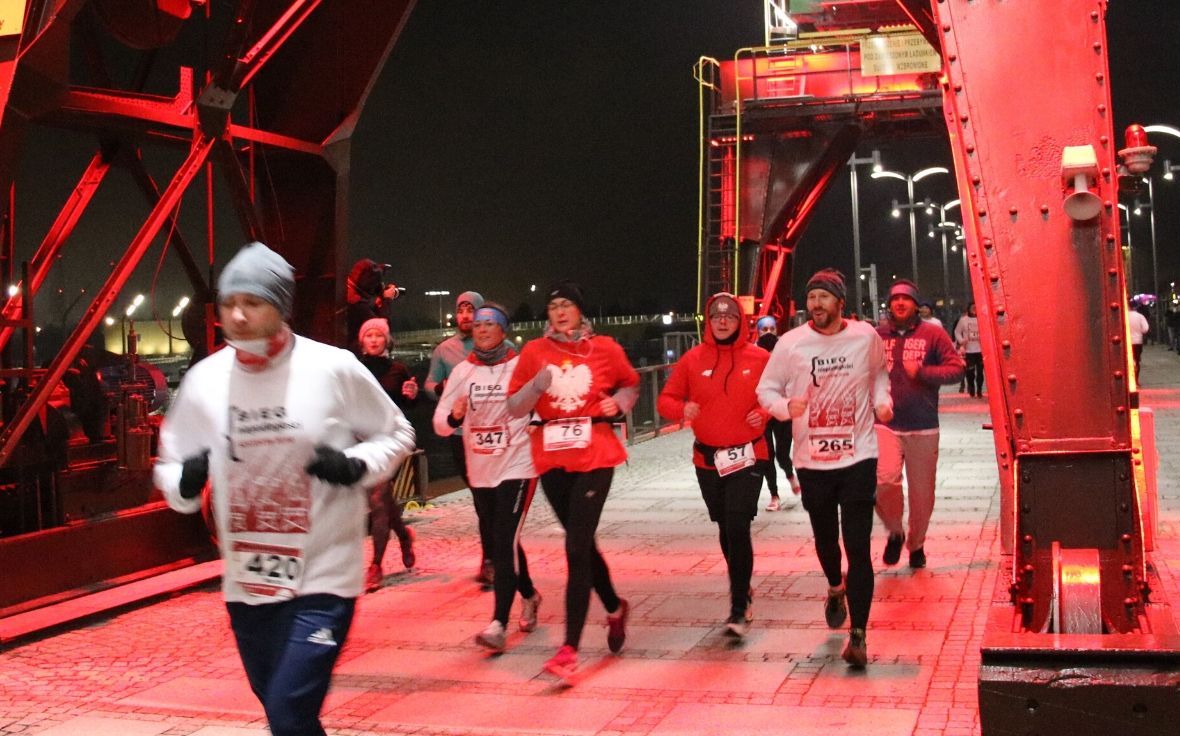 Watersports around Szczecin AKA the 'Floating City'
Szczecin rests on a river, connected to a lake, which is connected to a huge lagoon, which then empties onto the Baltic sea. This fractured delta of waterways, fondly referred to as the 'floating garden' or 'floating city', means that watersports are immensely popular in Szczecin. Sailing and kayaking are the most popular, the latter of which can be enjoyed in natural reserves or around urban oddities such as Szczecin's Venice. Sailing enthusiasts flock to Szczecin every year for the Sail Szczecin Festival, though individual charters of all sizes are also available year-round. It's also possible to hire motorboats to cruise up and down the Oder. Head to Szczecin Marina and see what your options are. Back upstream a little, it is even possible to get from Berlin to Szczecin by boat! Further away from the urban centre, Szczecin's very own 'floating garden', the Lower Odra Valley Landscape Park, is a tranquil, picturesque maze of waterways that can only be traversed by kayaks. Hiring options are available around Siadło Dolne and Dziewoklicz beach.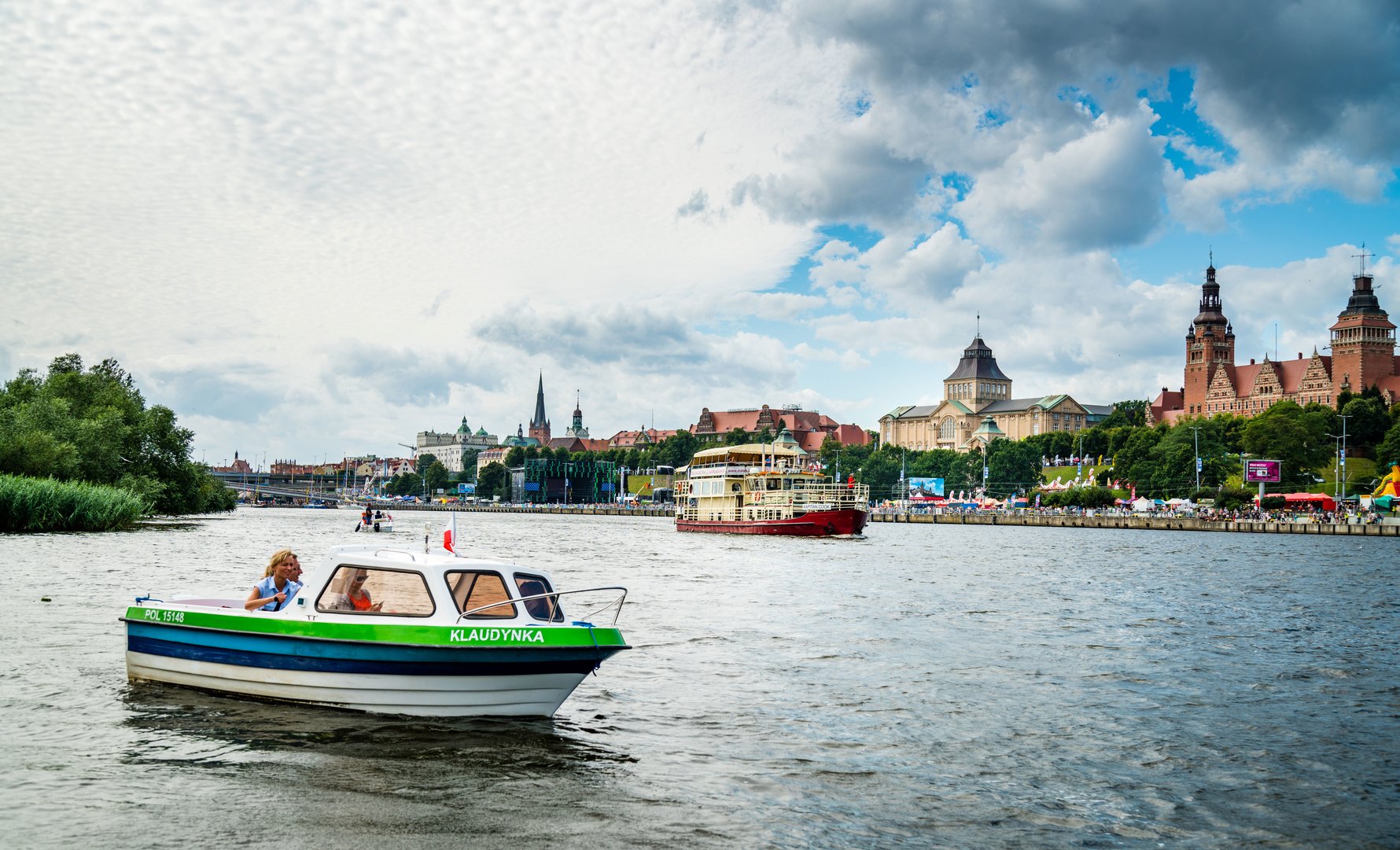 Within the city centre and further out in West Pomeranian countryside, bikes are a popular mode of transport around Szczecin. After all, the city is quite spread out and sightseeing can take a while on foot. Those planning on sticking to the city centre should consider downloading the app for SRM, Szczecin's scan-and-go bike system, which is a popular way of getting around town as well as a way to burn off pasztecik calories.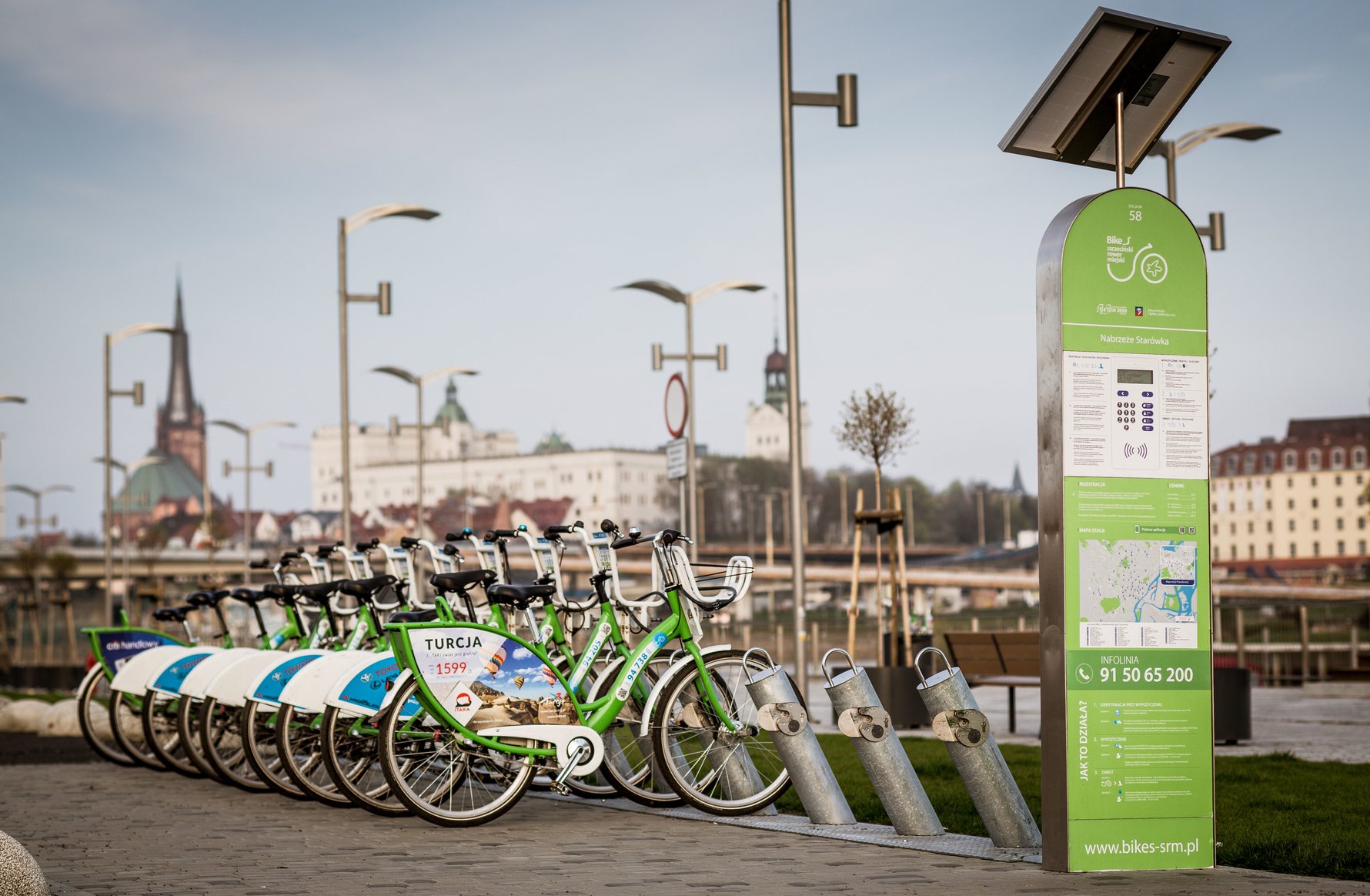 Similar to Praga beach in Warsaw, Szczecin has its own little riverside sand flat which offers a little bit of Balto-tropical flavour to the city centre. On Grodzka Island (PL: Wyspa Grodzka) you will find Grodzka Island Beach (PL: Plaża Szczecińska) and, in the summertime, its 'Urban Summer Zone' comes into effect with a scattering of bars, volleyball nets and some impromptu water-features! The vibes are so immersive, that you may actually forget you're in Northern Europe! Elsewhere, you can find even more: there's a beach by Głębokie Lake, 8km North-West of Szczecin; Dziewoklicz beach is on the Oder, 6km south of the centre; and Lake Dąbie beach, 12km east of the centre. As popular summertime spots for locals, each beach offers additional activities such as wakeboarding, kayaking, slides and rope parks!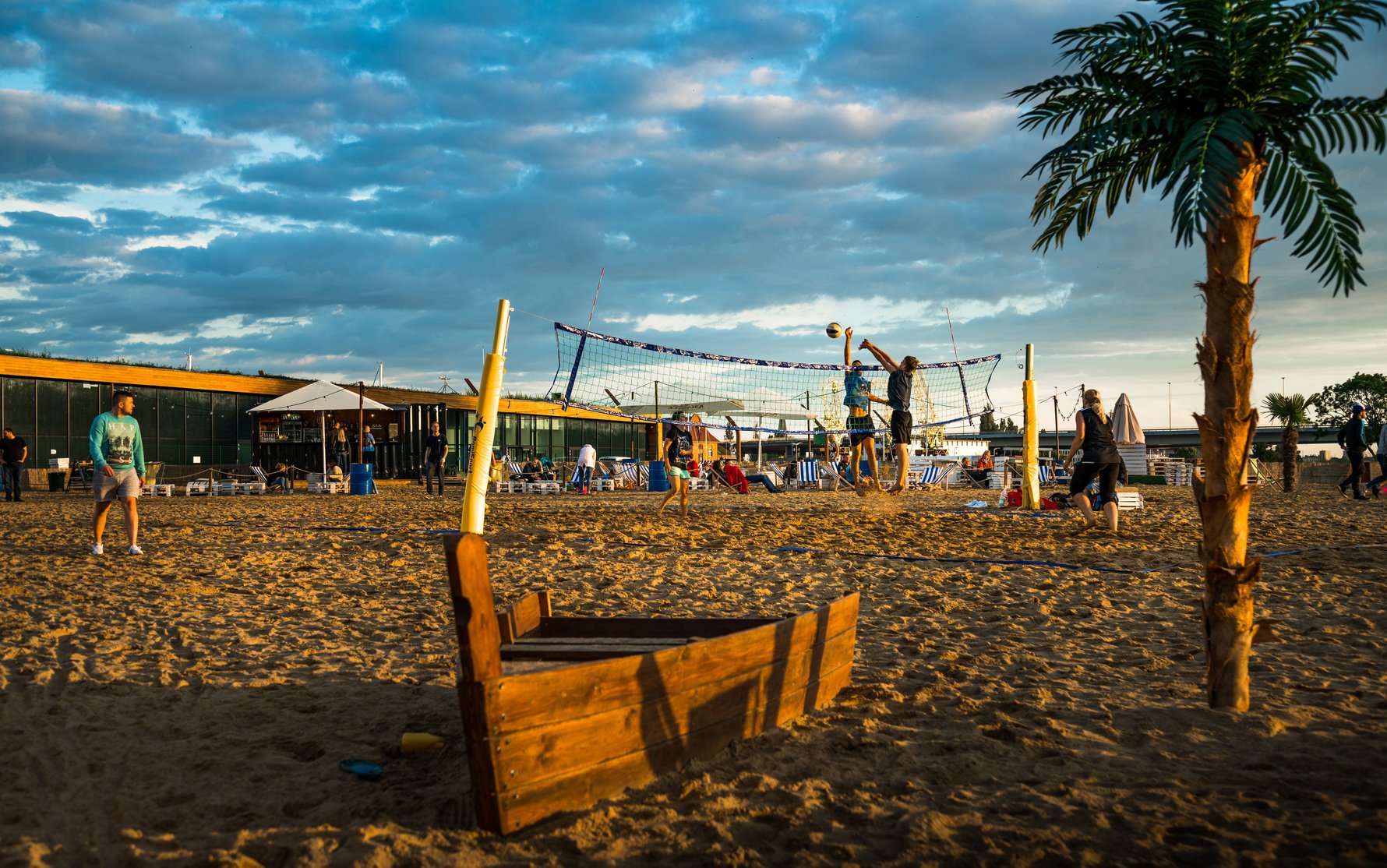 If natural waterways don't appeal but you really wanna take a dip, head to a waterpark! Szczecin has Arkonka, located 6km north-west of the city centre, has 8012m² of pool and a total slide-length of 87m for a seemingly endless amount of fun for small-but-energetic minds. Young families take note!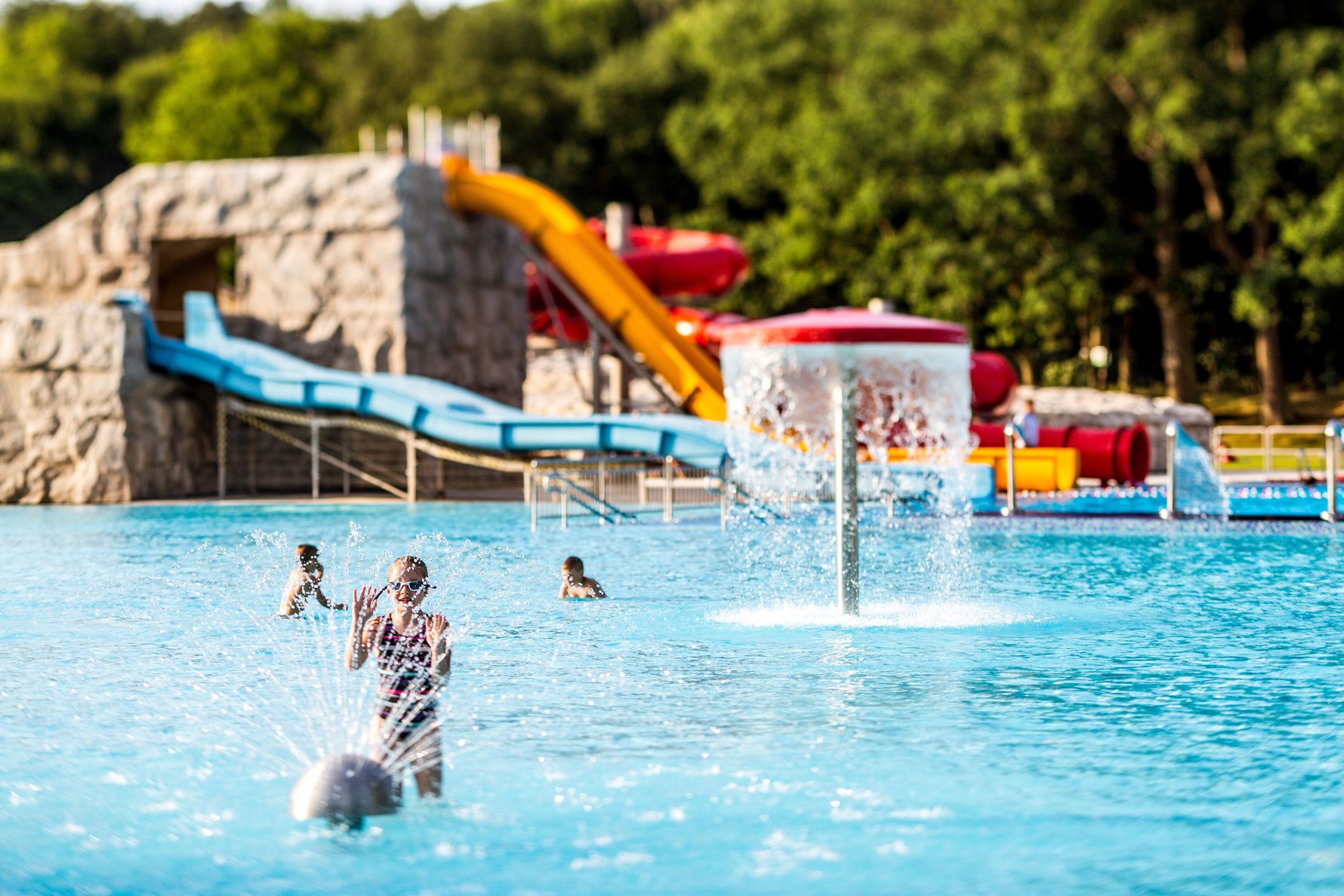 Visit one of Szczecin's many Parklands
Peering at this area of West Pomerania on Google, you'll notice that it's all a lush green. This is thanks to the water-table upon which Szczecin rests, earning it the nickname of 'the floating city'. For starters, there are a number of big parklands like Park Kasparowicza, Jasne Błonia and Różanka Rose Gardens which are worth your attention if you choose to stay central. However, journeying outside of the city can also be quite rewarding as well. Szczecin's Beech Forest (PL: Szczeciński Park Krajobrazowy Puszcza Bukowa) is a fantastic lake and forest area, about 20km southeast of the city (see below).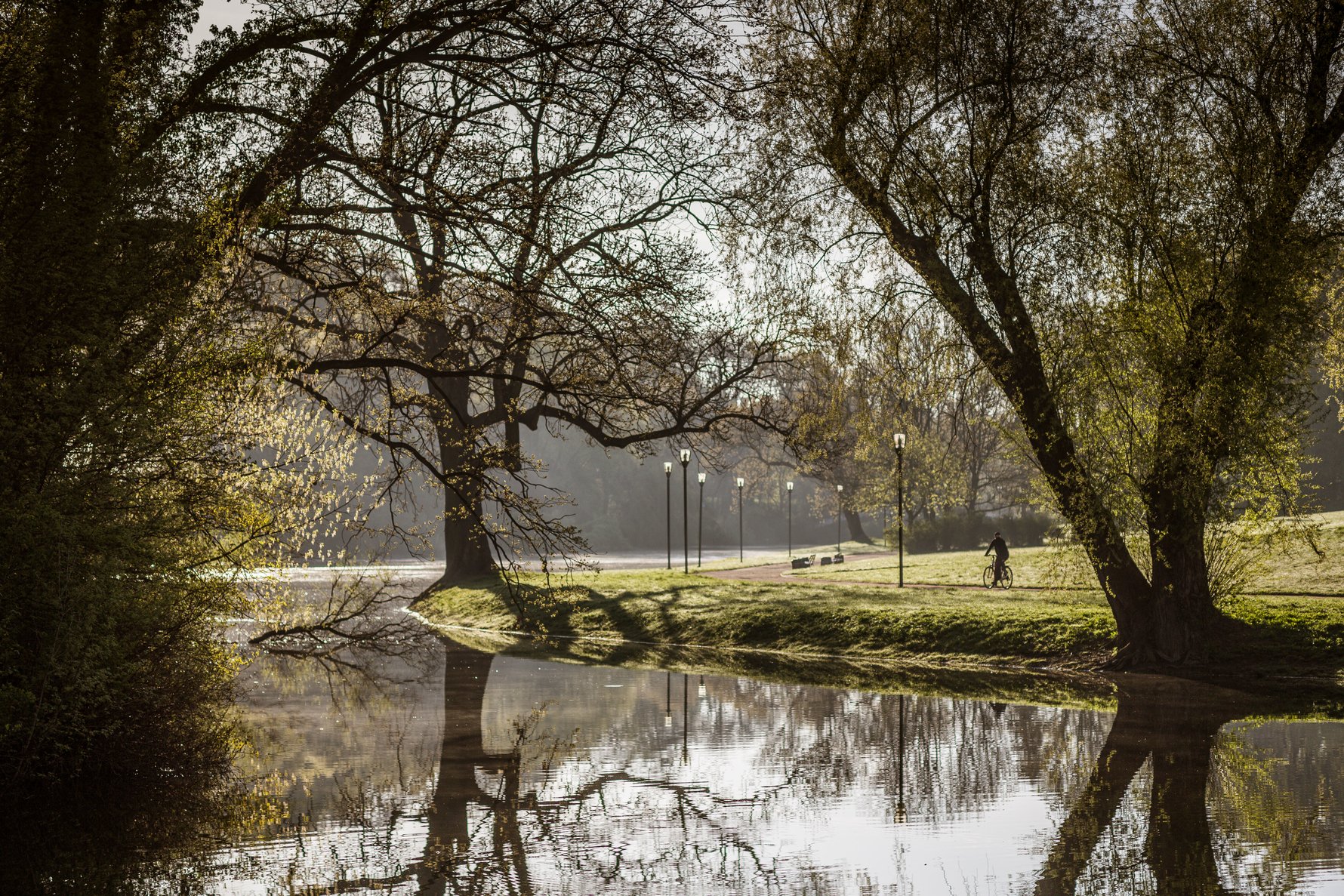 Szczecin has a tonne of historic sites spread all over the city centre and it's often hard to know where to start. It's for this reason that the City Tourist Route was created, as well as coinciding with the 750th anniversary of Szczecin getting its town rights. The 7-km-long loop connects 49 sites - the most interesting monuments and places worth seeing - and is marked by an easily found red dotted line painted on the pavement, thus earning its nickname as the "Red Route". A pocket guidebook, published in various languages, includes a map of the route and information corresponds with numbered circles at each site. The route begins and ends in front of the Szczecin Główny Train Station. See the full map and details here!
For a shorter list of essential sites in Szczecin, read our article: Szczecin: German Bunkers and Old Town Sightseeing.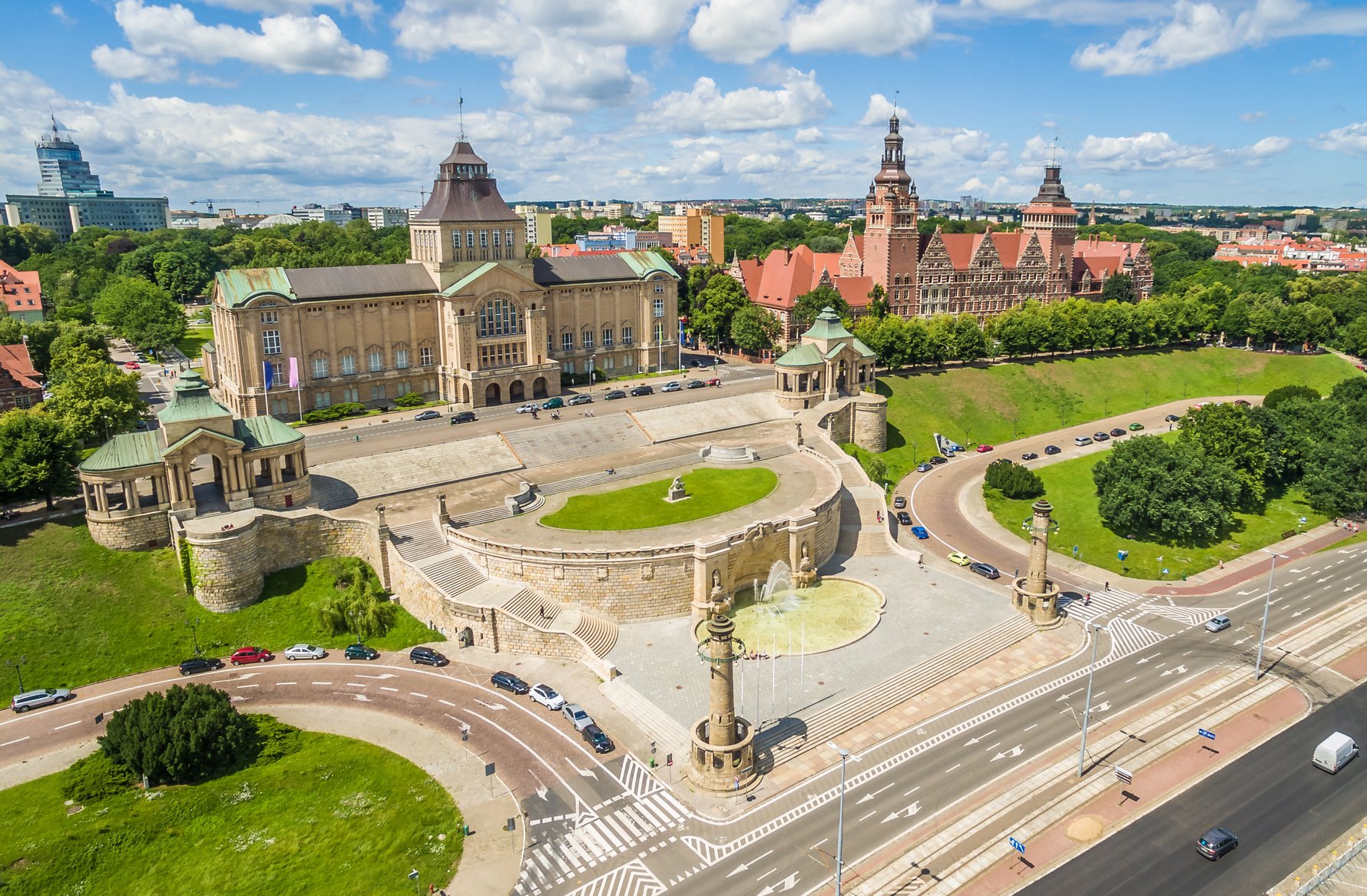 Just across the Oder from the old town is part of the port industry district called Łasztownia, easily identified by its yellow and green Dżwigozaury (ENG: Crane'o'saurs). While it's a pleasant stroll during the day, especially to see some of those amazing buildings on the west bank, it really comes to life along the bulwary (ENG: boulevards) on summer evenings. Elsewhere in town, Deptak Bogusława is highly recommended for its gastro options and nightlife!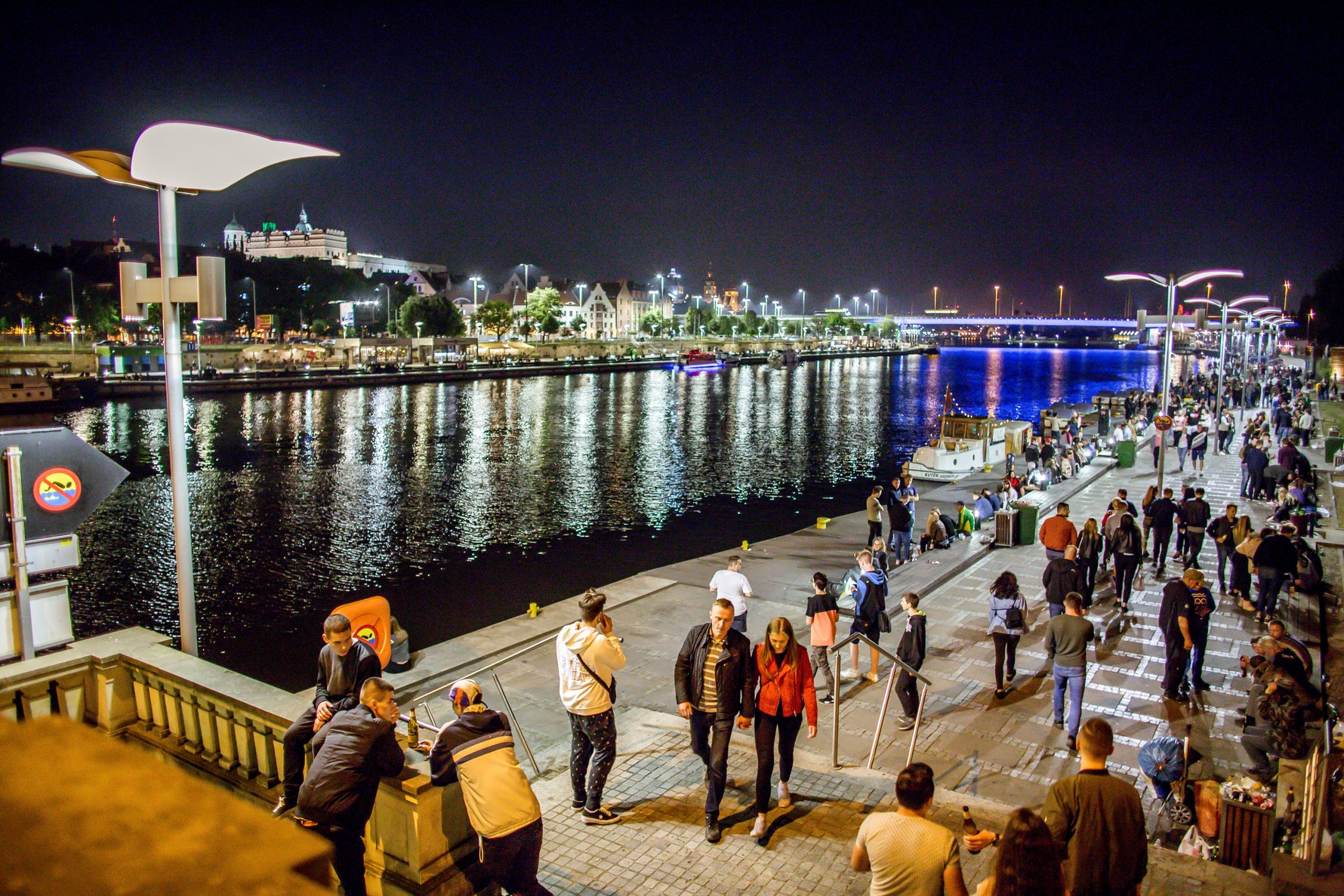 Established all the way back 1889 by the curiously-named 'Beech Lovers Society', Szczecin Landscape Park (PL: Szczeciński Park Krajobrazowy) is known better as 'Puszcza Bukowa' (ENG: Beech Forest) due to its dense population of beech trees. This beautiful lake and forest area, about 20km southeast of the city, offers 19 walking trails of varying difficulties to explore as well as a viewing tower on Wzgórz Bukowych (ENG: Beech Hill) and countless waterways and huge rock formations throughout. At its heart is the very pretty body of water, Jezioro Szmaragdowe (ENG: Emerald Lake), which is hugely rewarding for all those who venture through the forest.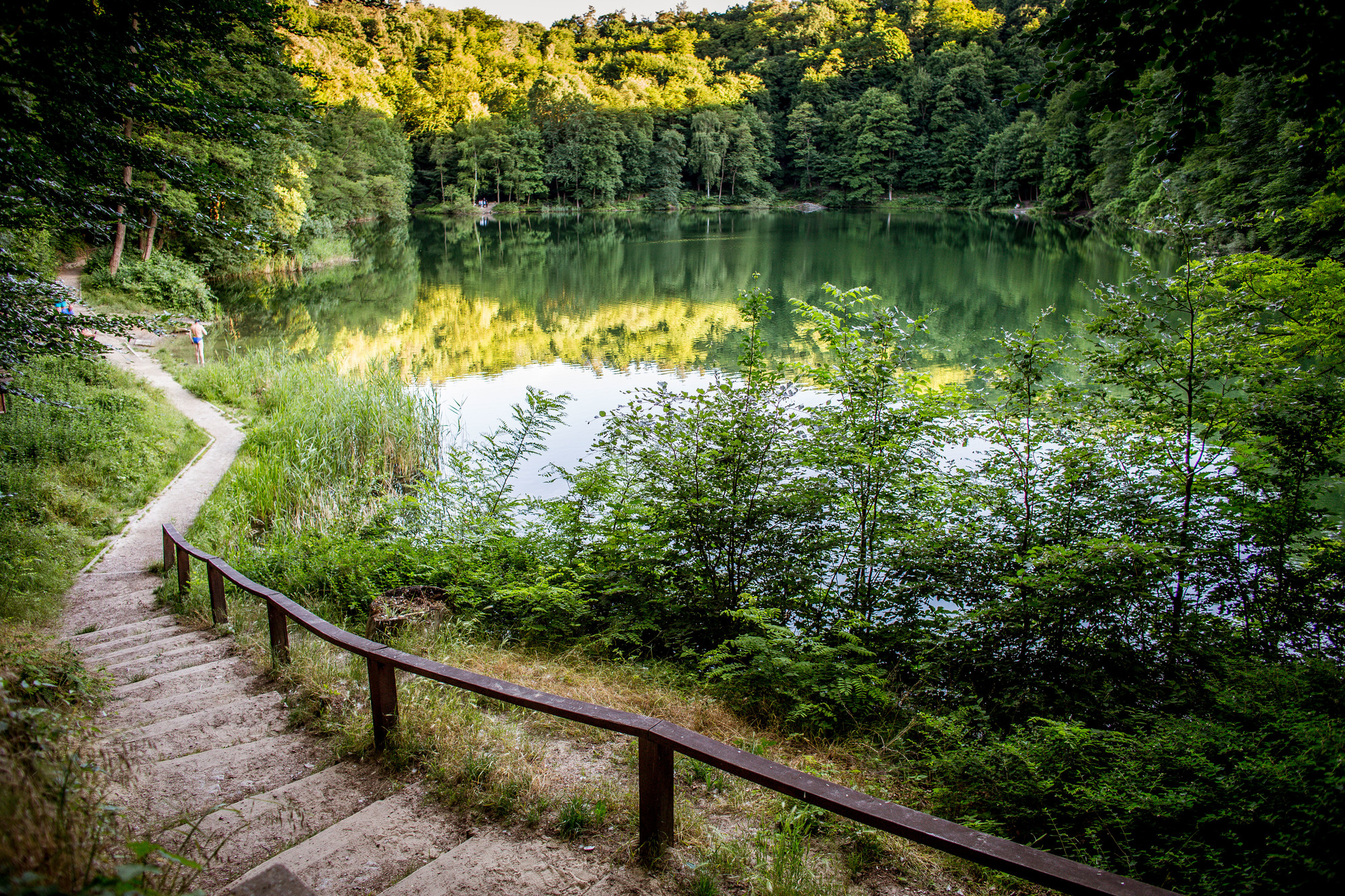 Norther Poland doesn't get as much snow as the south of the country, but when it does, there's always enough to cover a slope (they will switch the snow machines on, if they need to!) Gubałówka is Szczecin's nearest ski slope, with two main courses open in winter: GREEN (recommended for beginners) 360m in length; RED (difficult) is 280m in length. If skis and snowboards are too complicated for you, just bring your sled or toboggan! There is also an ice-skating rink at the top of the hill, decked out with ambient lighting and boasting 700m² of ice. For those less about snowsports and more about cozy comforts, the Bacówka cabin is a Góral-style affair that offers home cooking and other treats!