Warsaw Nightlife: Bars, Pubs & Clubs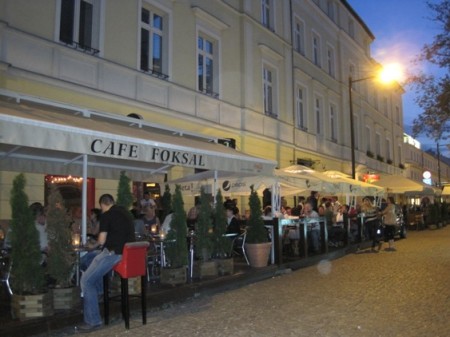 Here are a few recommendations depending on what you are looking for.
Local
Bierhalle
is a large microbrewery on Nowy Swiat that churns out respectable vats of beer in a central location. Newcomer
Srodmiejska
has live music, a legit food menu and a relaxed Warsaw hipster vibe.  
Cheap
It has to be
The Secret Garden
,
a ramshackle collection of dive bars in the courtyard behind Nowy Swiat that offers Warsaw drinking in its rawest form. And if you don't mind herring and 5zl vodka shots explore the 24 hour zakąski bars like 
Warszawska
 and 
Pijalnia Wódki i Piwa
 to drink like a local. 
Lads
For Sky Sports and grub then take your pick from
The British Bulldog
, 
Warsaw Tortilla Factory
,
Legends
and
Someplace Else
. If you've cleaned up and are ready to impress hit up Foksal street for clubs like
Sketch
and
Foksal XVIII
, which boast A-list clientele.  But if your requirements are a little more carnal read up on our
adult section
and then proceed wisely.
Couples
If you like to swill custom cocktails try newcomer
Pies Czy Suka
, but if you prefer your drinks in one of two colours – white or red – then try
Vinoteka 13
. However if your true love is obscure beers then
Konstytucja Klubokawiarnia
will melt your heart.
Splurge
Paparazzi's
cocktails are worth the dip into your wallet, as are the drinks at the Marriott's
Panorama bar
,
which offers views from the 40th floor that will cost you. If you're dressed to impress hit up
Capitol
for the chance to drink like a champagne-loving oligarch.