Poland In Your Pocket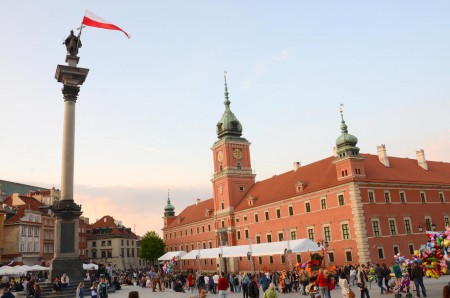 Plac Zamkowy, Warsaw. Royal Castle & King Sigismund"s Column. Photo by Stanisław Kłosin.
Lech Walesa
and classic heroes like
Tadeusz Kościuszko
.  And at
Poland In Your Pocket
we've prepared a series of guides covering many of the major cities and sights in this vast country to give you info on the best things to see and do.
The capital city of Warsaw was annihilated by the Germans during World War II and subsequently rebuilt by its citizens during the Cold War era. While it didn't make for a pretty city, Warsaw does boast a charming Old Town (meticulously rebuilt using bricks from around the country following the war), and new world-class museums like the Copernicus Science Centre and Warsaw Uprising Museum beg to be explored.

The southern city of Krakow is Poland's second largest and oozes old-world charm; one lap around the famed Market Square and you'll know what we mean. A saunter through Kazimierz, the city's revitalised former Jewish quarter, will be rewarded with some of the city's best nightlife. And the new Schindler's Factory museum brings to life the tale most know only from the movies. If you want to bear the full burden of history, the city also serves as a popular base for visiting Auschwitz.

One hour east of Krakow, Tarnow provides the perfect peaceful getaway, complete with cobbled streets, castle ruins, a medieval market square lined with Renaissance townhouses, and several worthwhile museums. In essence, all the comforts of a small town with a big history, and the cultural intrigue and activities of a much larger city.

Wrocław, which also has a colourful square, has been called "the next Krakow" - a statement which severely undersells the city's own merit. With fascinating historical monuments, a huge student population, lively nightlife and music scene, and dozens of picturesque waterways and bridges, Wrocław has also been dubbed 'Polish Venice' by some. The city is a great launching point for visitors interested in the story that Hollywood portrayed in The Great Escape – nearby in Żagań is where it actually happened, and we give you all the details on how to see the related sites.

The rickshaws that navigate the industrial city of Lodz's Piotrkowska Street are a speedy way for visitors to travel between the city's major sites like the Museum of Cinematography (alums include Roman Polanski and Andrzej Wajda) and the monstrous Manufaktura shopping centre, which is housed in a renovated red brick factory.

Poznan is one of our favourite places for seeing some of Poland's most impressive cathedrals, like the city's Ostrow Tumski ('Cathedral Island') - home to the historical Cathedral of Poznan. Outside the city in Gniezno is the not-to-be-missed Gniezno Cathedral, regarded as the spiritual home of Poland's former monarchy. And have you heard of the giant Christ the King statue in Świebodzin? The 33-metre-tall Jesus is just 45 minutes from Poznan by train.

If you're a fan of the sea then you've probably already heard about the tri-cities of Gdansk, Gdynia and Sopot - Poland's vacation playground, filled with endless summer crowds that wander the historic thoroughfares of Długa and the Sopot pier, ice cream cones in hand. Gdansk is also the birthplace of the Solidarity movement, which is described at the excellent European Solidarity Centre for those who like a little history with their vacation.

Katowice, in the heart of Silesian Metropolis, is one of Poland's youngest, most dynamic cities, and has been busy building a name for itself as the place to see live music with great venues and outstanding festivals like OFF Festival and Tauron Nowa Muzyka. Full of street art and alternative culture, catch up on urban trends by visiting this up-and-coming industrial city.

Of course if you want to do as the Poles do then head to Zakopane, the country's skiing headquarters in the Tatra mountains that is also packed in summer with eager hikers. Everyone from first-time snow bunnies to seasoned climbers will be impressed with this popular resort town.
In Your Pocket
specialises in giving travellers an on-the-ground look at all
Poland
has to offer – the good, the great, and even some of the ugly (and to-be-avoided). No one wants to waste their trip to Poland in bad restaurants or crappy clubs, and that's why our guides to
Warsaw
,
Krakow
,
Gdansk
,
Gdynia
,
Sopot
,
Wroclaw
,
Poznan
,
Lodz
,
Katowice
,
Zakopane
,
Bydgoszcz
,
Frombork
, 
Kashubia
,
Malbork
 and 
Tarnow
ensure you experience the best of Poland.