Dubrovnik Christmas Traditions
Christmas in the Dubrovnik region has many colourful traditions centred on the true meaning of Christmas, peace and good cheer with family, neighbours and friends.Decorations and gifts have been hand-made for centuries using the fruits of the season, and these crafts are still valued today.Here you'll find inspiration for Earth-friendly, healthy ways to celebrate the festive season.
Nativity scene
Christmas trees originate from Protestant northern Europe, but until the 19th century in Catholic southern Europe a static Nativity scene was the Christmas centrepiece. In central and eastern Europe the Nativity scene, named a betlem in the Dubrovnik area,became such an important part of the folk art tradition that in some regions it earned a place on the UNESCO cultural heritage list. Wealthier Dubrovnik families would have a wax figure of the baby Jesus Christ which they would place in a tiny wooden manger in a model cave. Sets like this dating back a century still exist today.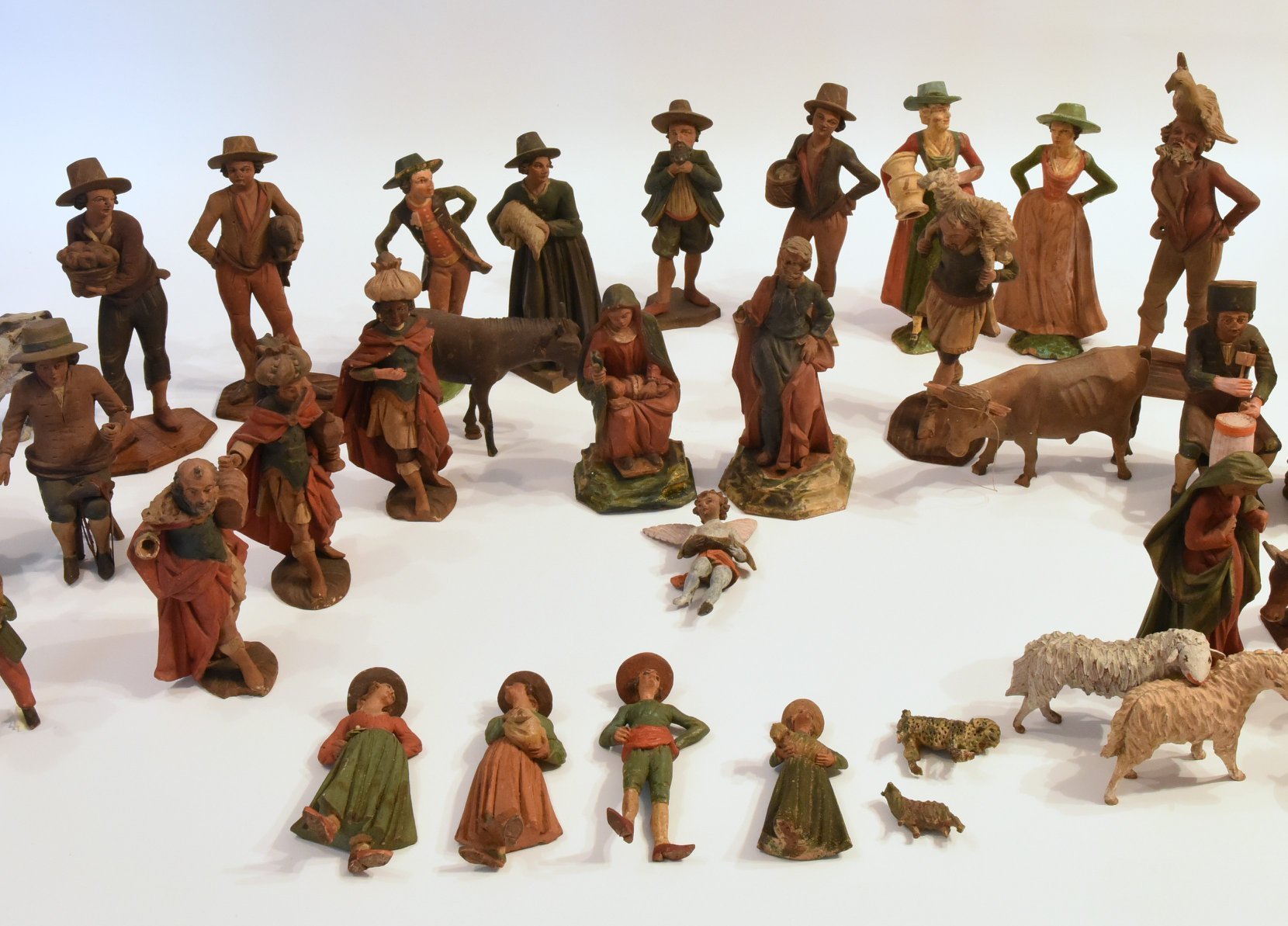 Dubrovački betlemi, Dubrovnik Museums Archives
Yule log
It's not clear where the tradition of bringing a special log into the fireplace at Christmas (or "Yuletide") originated, but it dates back to pagan times.In Croatian, Christmas Eve shares a name with the Yule log, or Badnjak. In the Dubrovnik region, the Yule log had to be of a certain type of oak, and the tree had to be cut down before dawn so that it fell towards the east. Lighting the Yule log is still a family ceremony. Before lighting, the Yule log is sprinkled with holy water and wine, grains of wheat, bay leaves, rosemary and incense, giving a glorious Christmas scent.The head of the household asks for blessings for the house and family members.
Christmas Eve
The house would be cleaned from top to bottom to be sparkling for the special day. The whole household took part in preparations. On Christmas Eve before evening, the lady of the house would sprinkle all corners of the house, terrace and stables with holy water and incense, to cleanse and protect them.

After lighting the Yule log, the household sat down to a modest evening meal out of respect for Christ's humble origins. Christmas Eve is a fast, and only fish and non-fatty foods are eaten until after Christmas Mass.

On the way home from Mass, people once sang traditional shepherds' songs. Nowadays, in Dubrovnik the tradition of the kolendari still survives. These are groups of young people who went at dusk from door to door, singing and playing musical instruments. They would stop in front of houses, singing humorous or romantic songs, and used to fire an old-fashioned pistol, saying: "The rifle fires to start the party and invite our friends!" People would invite the kolendari in to treat them to prikle – traditional small doughnut-type pastries made at Christmas, or fruit and nuts, and a little travarica – grappa infused with herbs. You might still see the kolendari in the streets of the old city on Christmas and New Year's Eve.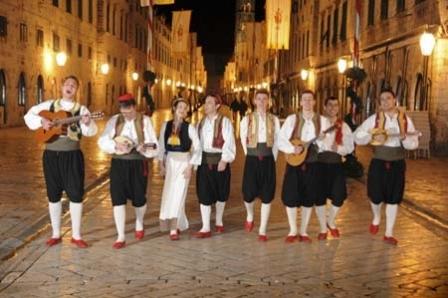 Kolendari

After Mass, cold and hungry people were free to tuck into a hearty meal of kraut (soured cabbage cooked with smoked meat), or perhaps a pig's head, considered a great delicacy and honour for guests. It was either roasted and sprinkled with bitter orange juice, or cooked in a delicious stew with smoked bacon, sausages and mutton. 
Christmas Day
After all the preparations, the house and the table look wonderful decorated with sprigs of rosemary, gorse, olive and bay. The centrepiece of the table was a special Christmas bread known as the luk, in the shape of a bow and arrow, also decorated with herbs, a crucifix and a candle lit just before starting the meal. The traditional luk was revived in recent years and you may come across it in Dubrovnik's bakeries and cake shops.

Christmas lunch started off with a toast of travarica or rozalin (rose liqueur, a Dubrovnik speciality), followed by broth with noodles, then boiled meat with horseradish or caper sauce. After that camethe starter of cured sausages, pršut, olives and cheese. Then came the main course of roast pork loin flavoured with rosemary, again sprinkled with lemon or bitter orange juice. The traditional accompaniment was a salad of lettuce and rocket. Pork brawn was another Christmas time delicacy.Dessert was dried fruit and nuts, apples and oranges. All of these are still features of Christmas lunch in many Dubrovnik households.

If you'd like to try Christmas in the spirit of old Dubrovnik, look out for decorations, gifts and treats on local markets or specialist souvenir shops selling local produce. Also keep an eye out for craft workshops and check out the Internet for a wealth of information on local Christmas traditions.