In the Dubrovnik region decorating eggs using the wax relief method is a cultural activity that is taken very seriously. The technique of drawing designs in molten beeswax and dipping the eggs in water coloured with natural dyes such as onion skins or pine needles is passed down through the generations and is known locally as penganje. A great many eggs are prepared by each family since eggs are given as gifts to family members, friends, neighbours and respected members of the community.

An art form unique to Dubrovnik is the poma, a particularly decorative ornament made from plaited palm leaves, usually featuring a cross. These, or olive branches, are taken to Mass on Palm Sunday to be blessed, much as in other parts of the world people take branches of palm, olive or pussy willow. The blessed branches are taken home and kept as decorations to ensure good health in the coming year. Workshops are held today for young people helping keep alive the skill of plaiting palm leaves.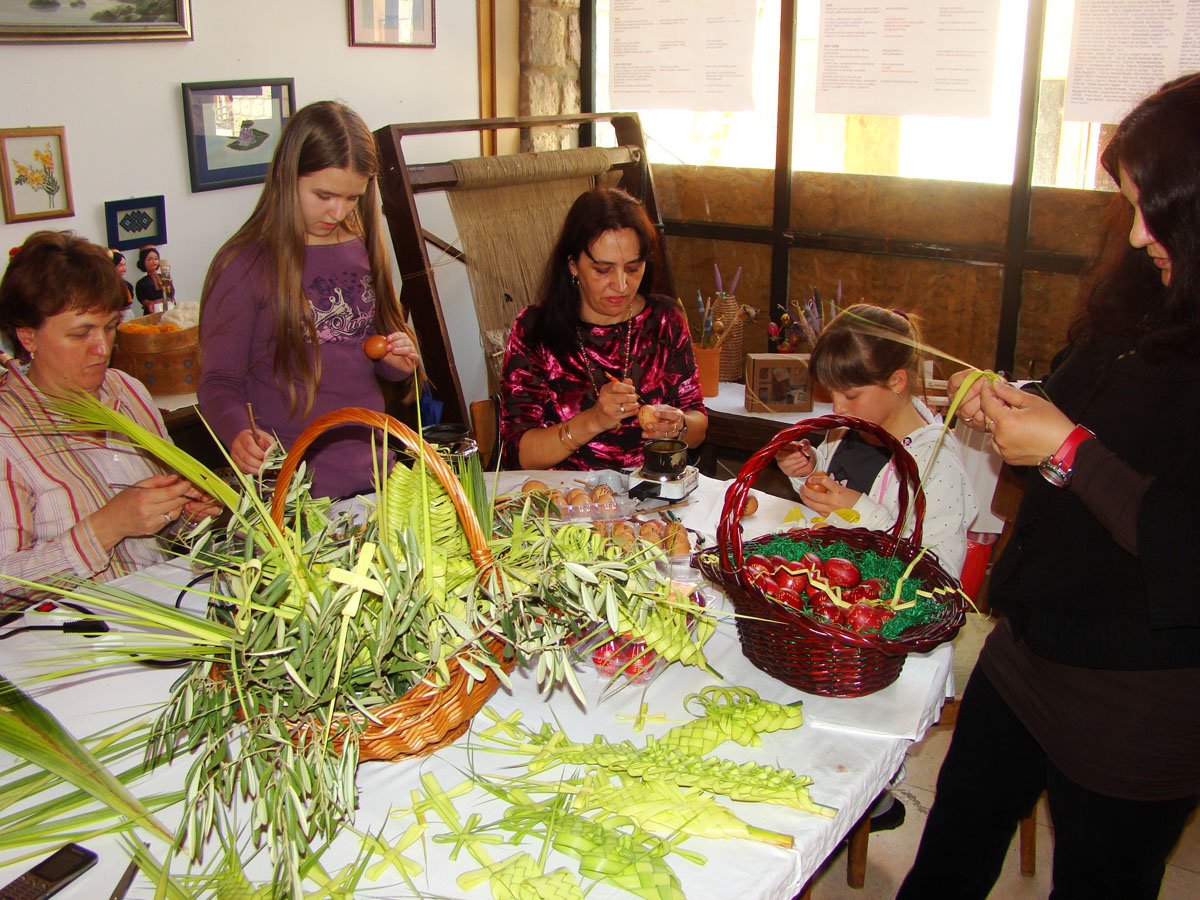 Photo by Deša Archives
Dr Jasna Čapo from the Institute for Ethnology and Folklore, author of Croatian Easter Customs - Lenten and Easter Customs of the Croatian People in the First Half of the 20th Century: Daily Life, Popular Piety and Community (1997)

DIYP: Have any Easter customs in Croatia already disappeared, and if so which ones?

Dr Čapo: Customs which are related to Easter, like other customs and traditions related to other dates in the Catholic calendar, are in constant flux: some traditions disappear while others change, adapting to the contemporary moment. There are scarcely any traditions which haven't changed either in their shape, content or the meaning which people ascribe to them. However, in Croatia those processes were unusual because following the atheisation that occurred in socialist Yugoslavia (1945-1990) traditions related to the Catholic Church were suppressed or pushed out of the public sphere. The process of modernisation, particularly industrialisation and urbanisation, also contributed to their gradual disappearance. However, with the foundation of the modern Croatian state traditions and customs related to Easter and other Catholic feasts are very much being renewed and are gaining a new impetus, and through presentation in the media local customs are becoming part of the overall Croatian cultural heritage.

DIYP: To what extent do customs vary throughout Croatia?

Dr Čapo: Despite their shared Christian foundations in the Easter context of customs, in the narrower sense focused on Holy Week, Easter Sunday and Easter Monday, and despite the mainly Slavic basis of Croatian traditional culture, there are significant differences in local practices. This happened due to the way the Croatian regions are incorporated into different cultural spheres: Mediterranean in the south and central European in the north. One outstanding difference which results from these facts is evident in the processions related to Holy Week and Easter. On the coast, especially in Dalmatia, during Holy Week local Brotherhoods organise processions grieving Christ's suffering and the Crucifixion. Exceptionally subdued in character they are similar to the processions in, for example, Spain and southern Italy. The procession that takes place in Hvar from the night of Maundy Thursday and into Good Friday has become an internationally renowned tourist attraction. Meanwhile, the processions in northern Croatian regions are oriented towards celebrating the Resurrection and are held on Easter Sunday.

DIYP: Could you tell us about some of the most interesting customs in the Zagreb and Dubrovnik regions?

Dr Čapo: Decorating eggs and baking special sweet bread are two widespread Easter traditions in Croatia. In the Dubrovnik region, unlike other coastal areas, Easter eggs are decorated using wax resist to create ornaments (the Dubrovnik coast, Konavle and Mljet). Before colouring, most often using a red colour, plant motifs are drawn onto the eggs in molten wax, and after the wax is melted away the eggshell retains its natural colour. Eggs are decorated in this way along the Dubrovnik coastline and in Konavle but not in the City itself. However, the whole area is familiar with a fragrant sweet bread known as pinca. In the Dubrovnik area I would also highlight the beautifully plaited palm fronds which are taken to be blessed on Palm Sunday. Recently you have been able to get hold of these in Zagreb although in the capital it is still more usual to take olive branches to be blessed. That tradition is also a more recent one since in the Zagreb region olive doesn't thrive. For that reason in the capital the traditional branches which were taken to be blessed were Cornelian cherry or willow. In the capital, more so than elsewhere, some old traditions died out earlier.

DIYP: Which part of the Easter tradition is your personal favourite and is included in your Easter celebrations today?

Dr Čapo: These days, more so than in the past, Easter is a family holiday. Apart from an Easter breakfast in the family circle, with traditional ingredients such as cooked ham, eggs, horseradish and spring onions, and which lost its charm after the death of my parents, I still today go for an outing into the countryside either on Easter Sunday or Easter Monday. In the past for the people of Zagreb a trip, on foot, to Remete, which was then on the perimeters of the city but today is a city neighbourhood, was an unmissable part of celebrating Easter.