Poland's youngest urban area and a consistently-polling 'liveable' city, Gdynia is a modern, vibrant place with a nightlife to match and it's criminally-underrated in our opinion.  While most international traffic passes through Gdańsk in pursuit of amber products, war tourism, the picturesque historic centre and the infamous nightlife of Sopot, a seemingly less-impressive Gdynia is often left untouched. While there are plenty of browars (ENG: Breweries) dotted around the centre and along the waterfront and a few clubs for the lowest common denominator, the true character of Gdynia can be found in a modest list of establishments doing their own thing away from the limelight. Some deal in DJ events whilst others favour live music made by live people. It's possible you're more concerned about who's playing as opposed to where they're playing, so check out our What's On? section to search for music and other events happening in Gdynia. Some are louder while some are a chance to hang out with a small group and discuss how exclusive and hip you are. Whatever your motive, we hope this listing of our favourite 'alt' spots gives you something to suit your predisposition!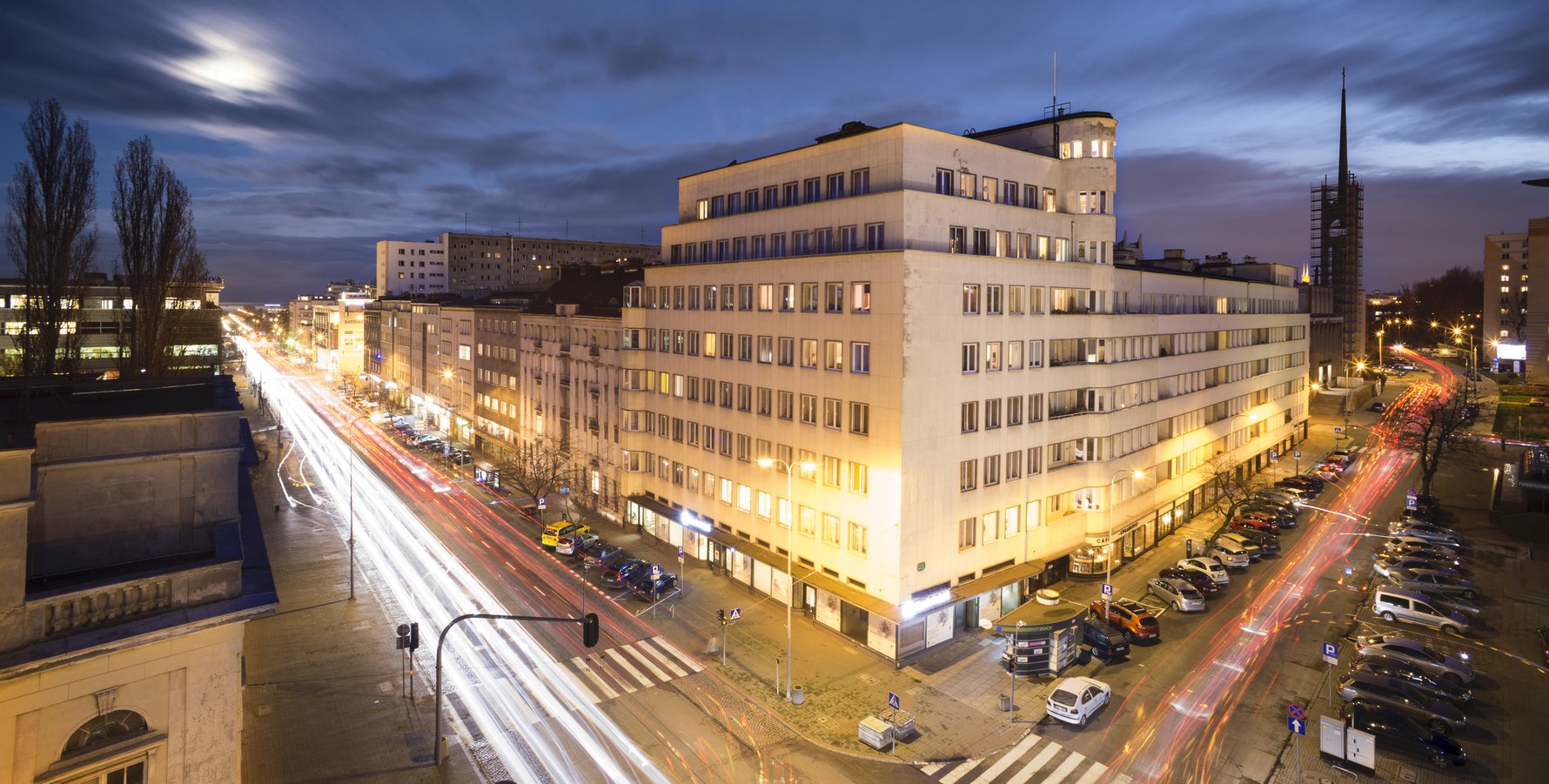 | Subterranean | PRL | 80s Poland |
Head through the gate to the right of ul. Bema 19, down the steps at the back, give the bell a ring and hopefully you'll be ushered inside this cosy crimson bunker-bar, replete with its array of peculiarities, many from communist-era Poland. While PRL-themed bars are nothing new and most are artificially-installed into building spaces, Klubokawiarnia genuinely looks like a select-few party faithfuls were expecting a post-Chernobyl nuclear holocaust and retreated underground to preserve there livelihood! Get a drink from the bar before dropping into one of the mismatched bits of aged furniture to admire the sheer splendour of this cave-like drinking den whilst 1980s Polish cartoons play non-stop on the big screen. A more dressed-down crowd than in most clubs in Gdynia with late opening hours and spinning alt-rock and old-school hip hop classics make this place hard to beat...if they let you in that is!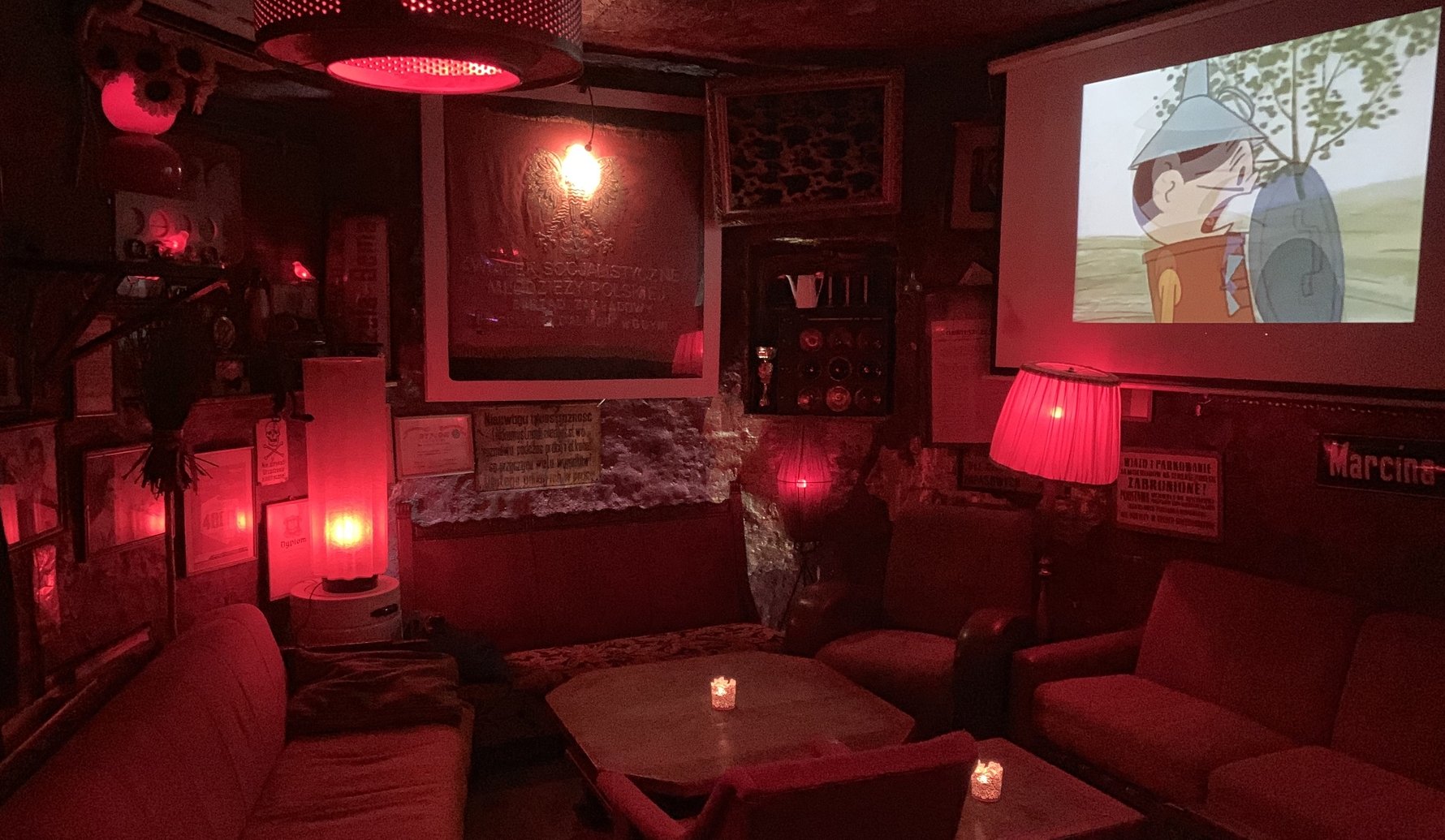 | urban | DJs | hipster |
Found on the corner of ul. Żeromskiego and Świętego Piotra (consequently this bar's name is Polish slang for 'corner'), Fyrtel is popular with Gdynia's hipster crowd who think that AleBrowar is too mainstream. Just north of the city centre, it's in a relatively-ungentrified area, closer to the port, so it's still a well-kept secret...for now! Fyrtel really comes to life in the warmer months, when they have outdoor seating, deck-chairing and lighting as an added touch. At all other times, it's not uncommon to have local DJs and turntablists who play and scratch off real vinyl.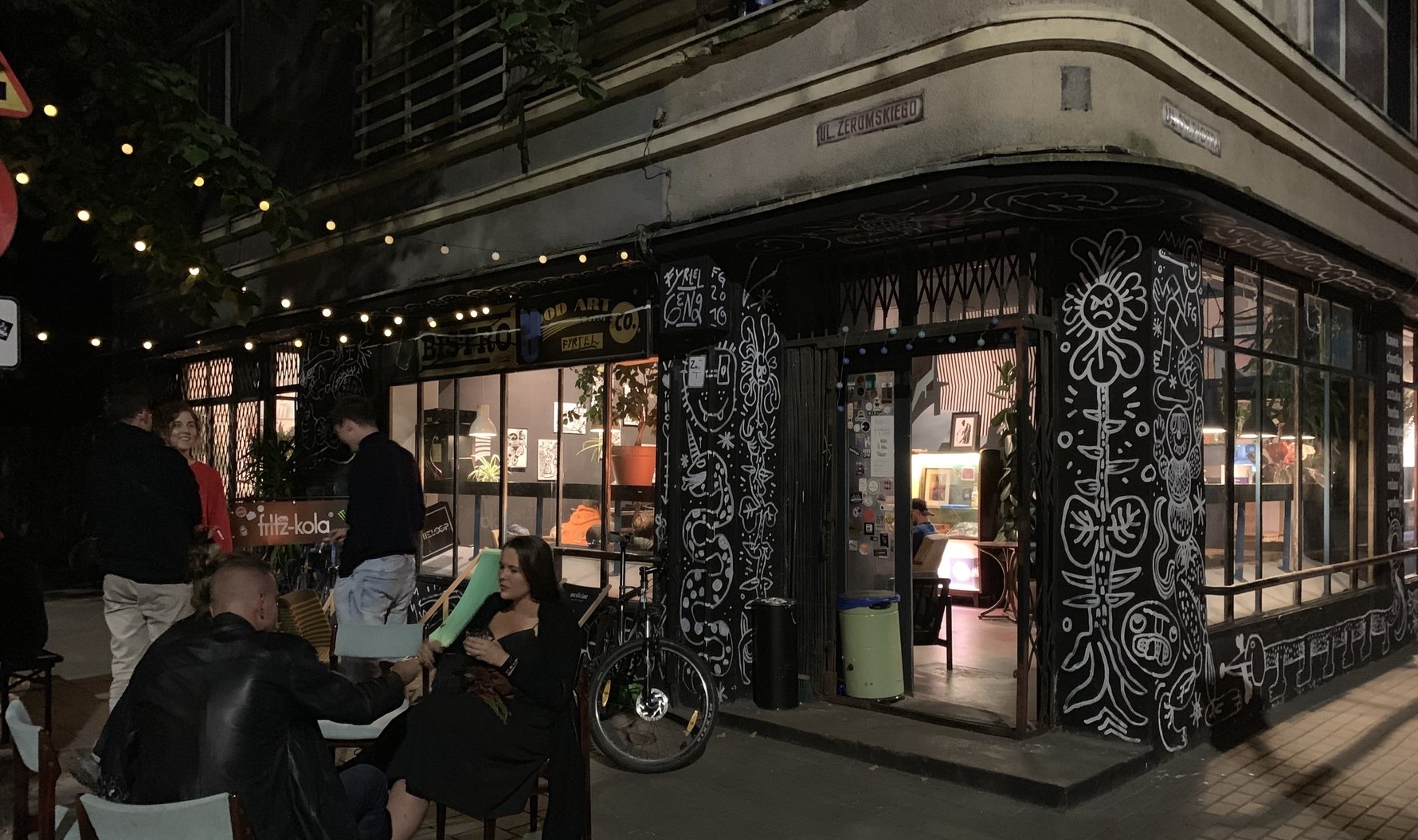 | psychedelic | clown-themed | hipster |
Much like Klubokawiarnia, this place is a little more obscure and harder to find. Between the shopfronts on Władysława and the apartment buildings behind, keep an eye out for the coloured-lights that lead to the doorway below the NO TATTOO NO ENTRY sign (don't worry, this rule doesn't actually exist) then ding-dong the doorbell. As the name may hint, the bar is themed around that age-old fear of clowns and the nightmarish circus that they have been keeping away from the public eye this whole time. The mismatch of furniture includes old-school cinema seating that springs back into place when you get up, a handly way to maintain space in this small venue.  The main area is a great little recreation of a big top interior complete with automated spotlighting, which is not just reminiscent of the circus but also the chaos following a prison break. Remember to bring cash, as their EFTPOS terminal often can't get a signal!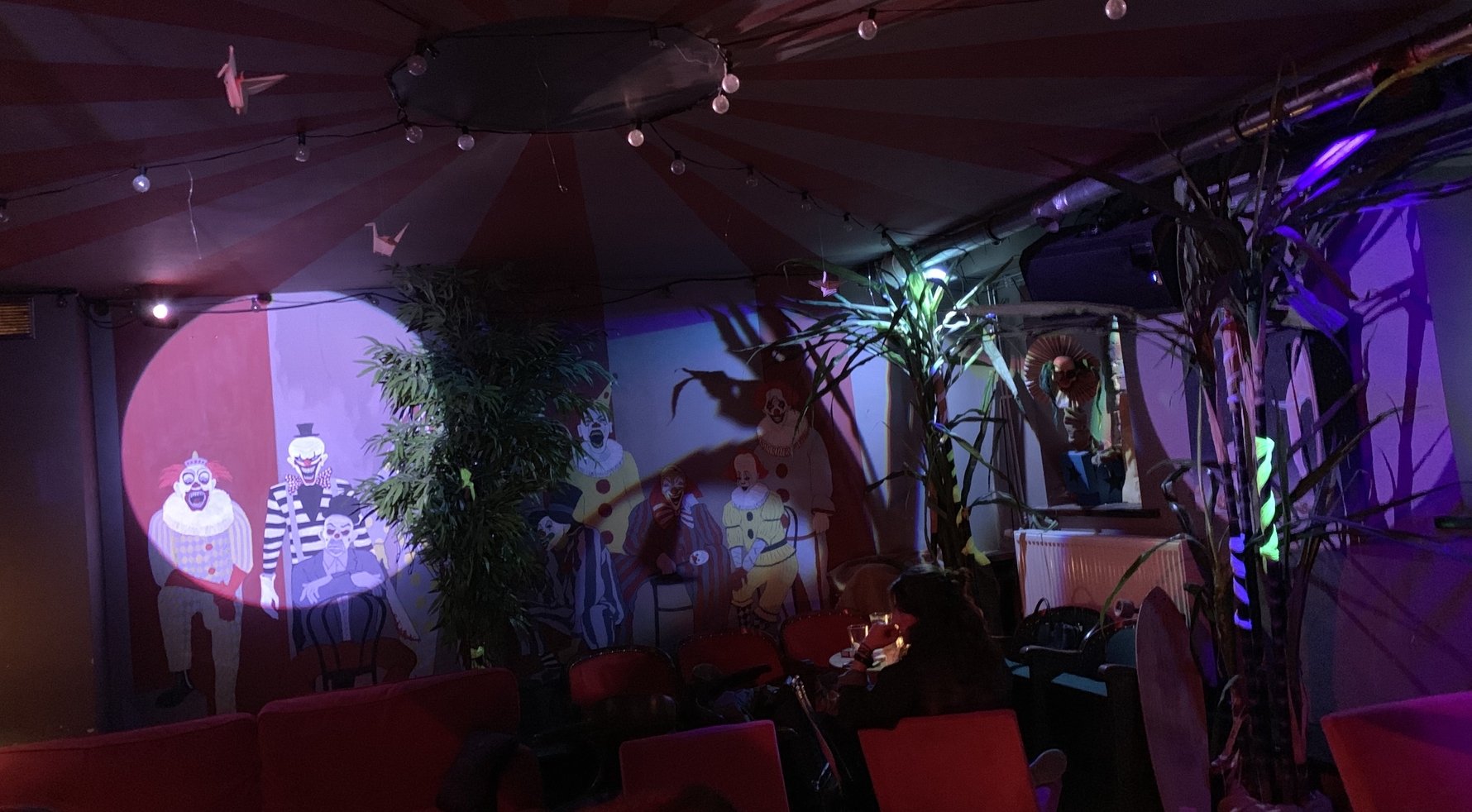 | rock 'n' roll | beer | spirits |
Sending tremors through the ground in the very centre of Gdynia, Rockhouse is the newest nightlife venue in town and the most 'mainstream' that is listed here. The name says it all: AC/DC, Metallica and Led Zeppelin are all on the playlist as well as some notable classics from the Polish scene and, fortunately, they've found a way to host live music as well! As for consumables, the bar is stocked with rocket & roll fuel - bourbon, rum, gin and a variety of whiskeys, the wreckage of which has been incorporated into the venue's lighting design! For non-spiritual individuals, there is a range of all-important beers on tap. The latest issue of Rockhouse Magazine, their fantastic menu formatted as a rock music publication, offers a pleasing variety of food from Chilli Con Carne to Toasted Sandwiches, Śledź (pickled herring) and Vegan Kulki (Fried Potato and Onion balls). So far the bar is proving to be popular with the student crowd, drawn to their reasonable pricing and fondness for classic rock!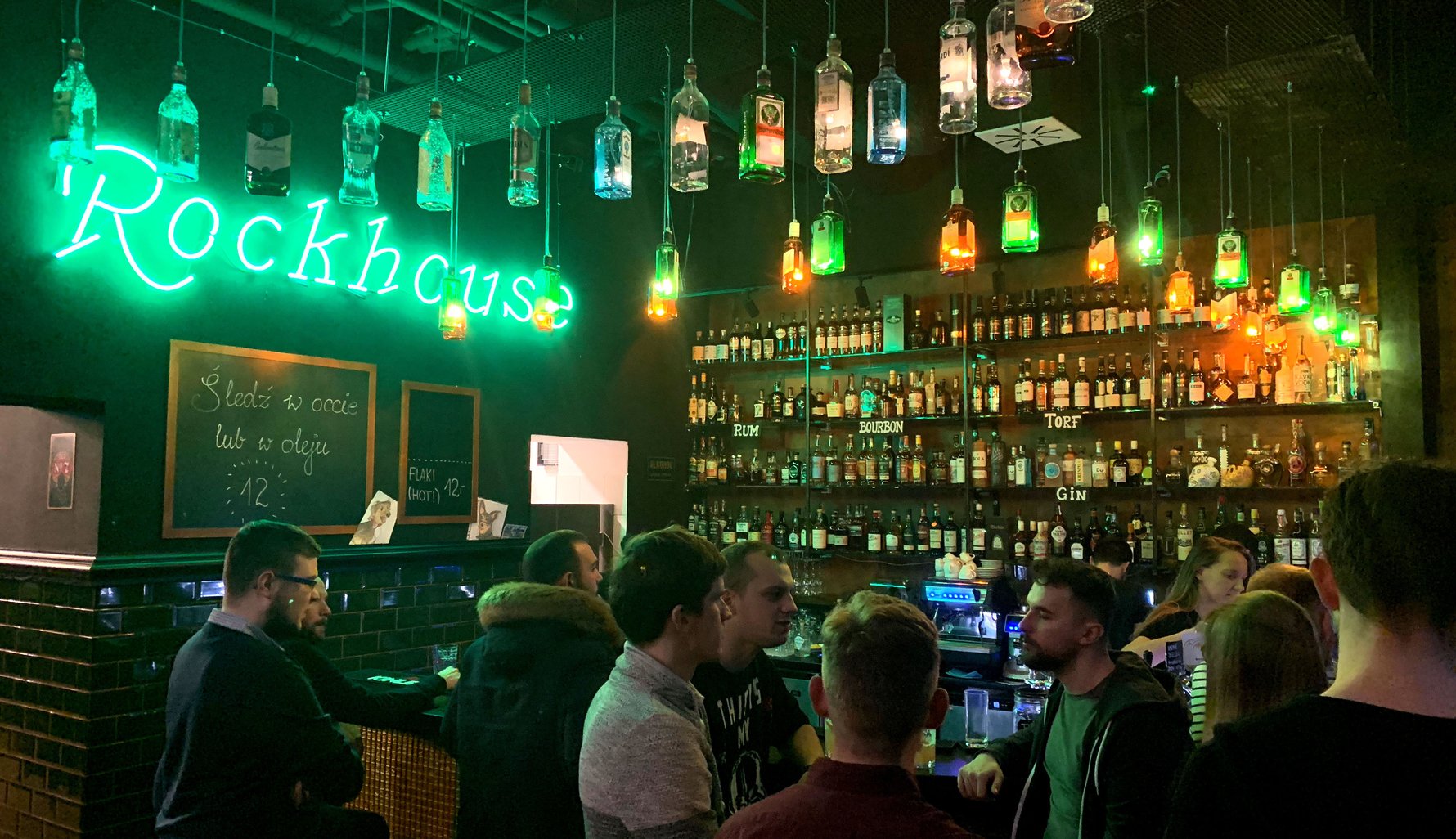 | live music | beer | coffee |
Saddle up to the long copper-plated bar, or else take to one of the tables to drink under the green glow of a banker's light. Always humming with activity, Desdemona is a way of life for the budding playwrights and in-between-job actors who ponce around looking profound. The real draw, however, is the venue's live music roster. Active in the 'off-season', head down the down the spiral staircase to the piwnica (ENG: cellar) floor stage, which pulls a decent crowd on most days of the week even when featuring artists performing everything guitar-and-drum-orientated: metal, rock, punk rock and jazz and beyond. They also regularly throw together a few local virtuosos to do improvised jam sessions, and the results are impressive! If you're lucky, one of their artsy mates will have a projector set-up and program some visuals on the back wall to accompany the 'experiment'.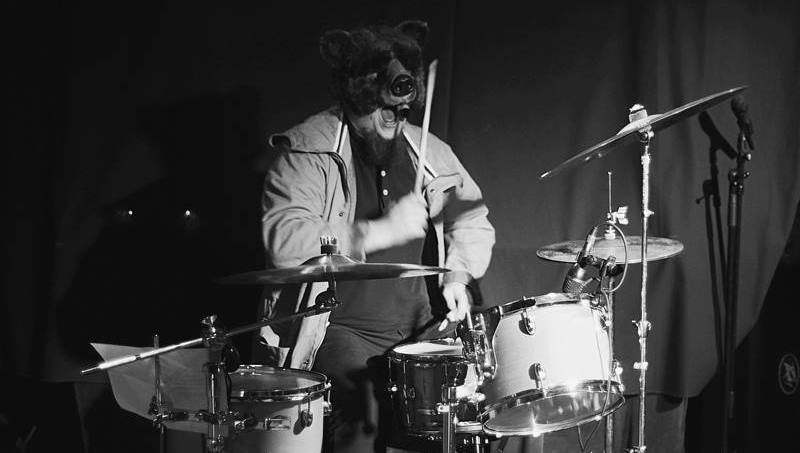 | live music | blues | burgers |
You may be visualising that this establishment is full of washed-up middle-aged guys and tobacco smoke. While this may have once been the case, thanks to weekly open-mic nights (Blues on Tuesdays, Jazz on Wednesdays) and younger bar-staff (male and female), the demographics are now much more diverse and, thanks to some recent refurbishment, the venue is much more inviting; that may sound more inviting or more disappointing, depending on what kind of experience you're in pursuit of. However, there is no denying the strength of their live music roster and it may very well be the best in Gdynia. Their Thursday and Sunday concert schedule of blues, roots and 'other' fusion artists come from all over the world to play here. This establishment also hosts to the internationally-renowned Gdynia Blues Festival, which takes place every June and the club is one of two sites where the performers take the stage.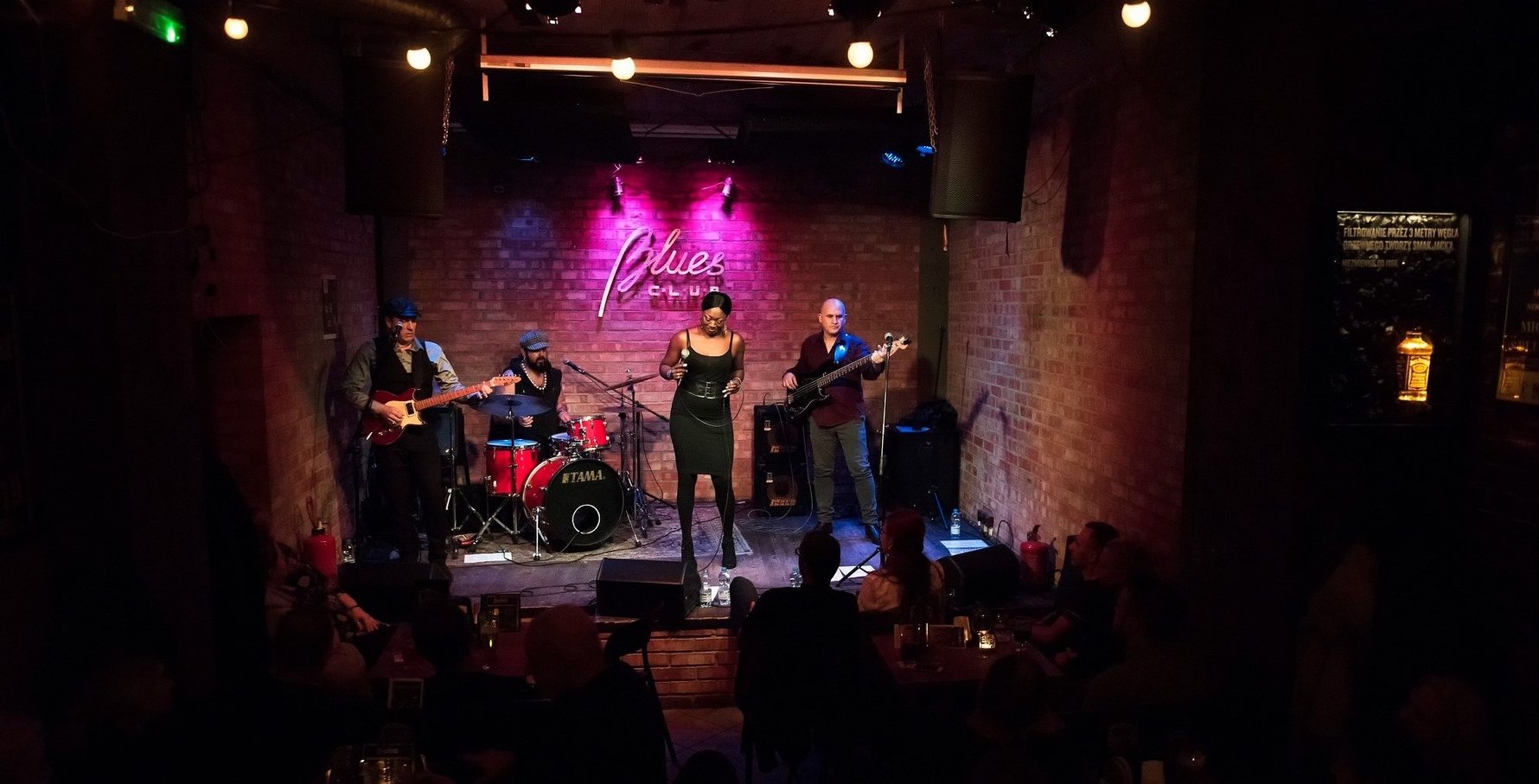 | old school | tavern | bygone era |
This fisherman's cottage, whose address is a bit misleading (you'll find it set back from the road by going down ul. Zeromskiego), is a unique experience and a soothing relief from the sepia blocks outside. Full of shambolic charm the interior presents a cavalcade of antique trinkets and oddities, including muskets, grandfather clocks and dolls with scary glass eyes. On the colder nights, the cast-iron stove generates a warming glow which only serves to heighten the atmosphere. Friendly staff makes it one of our favourite places in Gdynia. Empty during the week and packed out on weekends, we recommend calling ahead and reserving a table!