Every day thousands of passengers in Kyiv use the most convenient and reliable public transportation system, the metro. For the last half century the green neon letter

"M"

at the entrance to the system's stations has become a distinguishing part of the cityscape, much like the red Ms in Moscow and blue Ms in St. Petersburg. A ride on the system is an integral part of any visit to the city.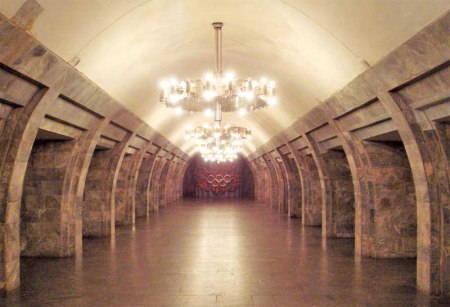 Kyiv was the third city in the Soviet Union to get itself a metro. The first four stations (Vokzalna, Universytet, Khreschatyk and Arsenalna) were opened in 1960, and were built to the classic Soviet ideal of serving both as transportation thoroughfares and as Palaces for the People.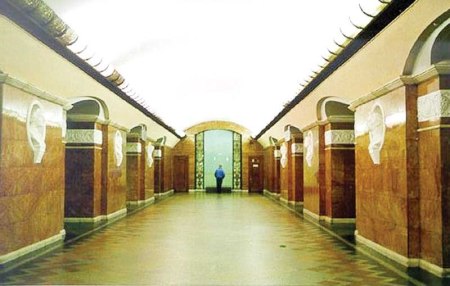 Of the four original stations, the most impressive is Universytet, which combines classical architecture with modern innovations. The entrance pavilion was built according to the concept of The Garden City, pioneered by the British architect Edward Howard. It is part of the Central  Garden, and is indeed often confused with the Garden's main entrance.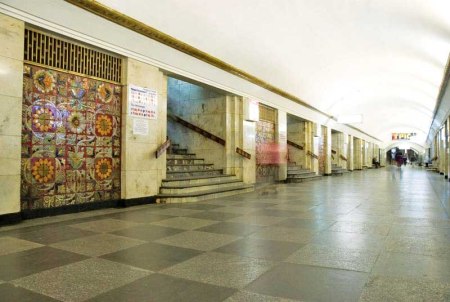 A similar entrance was built in 1963 at the Khreschatyk station on Instituts'ka St. The hidden lights in the station are a replica of those at Kropotkinskaya station in Moscow, which won the Grand Prize at the Paris World Exhibition in 1936. For many years the line at the edge of the platform had build-in lights, which blinked as the train approached. Unfortunately, this system is now defunct.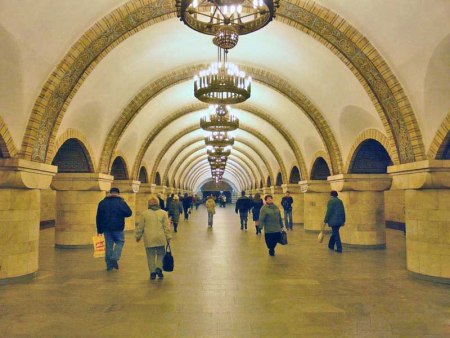 Slavutich is the most modern station on the Kyiv metro. It is always eerily empty, and the wind from the moving trains shakes the numerous lights under the ceiling adding a certain charm to the futuristic architecture. Zoloty Vorota (The Golden Gate) is the most beautiful of Kyiv's metro stations. This station embodies the history of Kyivan Rus, with mosaics on the brick walls showing the faces of all the leaders of the ancient Kyivan state. Also worth a look is Teatralna. It lost its huge Lenin statue in 1991, but it still looks like Lenin's mausoleum. The quotations on the walls are a great example of old Soviet propaganda (have a local translate for you).
Now of course they are accompanied by a new form of propaganda: adverts, some of which rather thoughtlessly interfere with station architecture.
Now more Palaces for the Masses than Palaces for the People, the metro remains the most reliable form of transport in the city, and more besides: a treasure that the city has finally realised is worth preserving.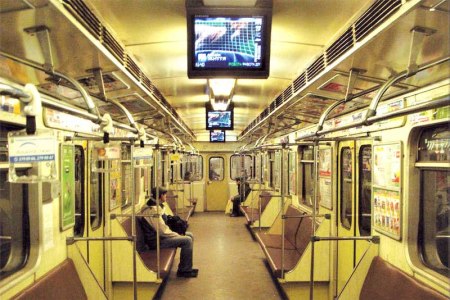 Kyiv Metro fees and map are here.