For a few days in late winter Lucerne goes wild. The streets are full of people in wild and wonderful masks, playing horrendously loud music on trumpets, horns and drums – this is fasnacht, the Swiss version of carnival.

The Swiss carnival called fasnacht is a major event in many cities. Like Rio has its samba tradition, several Swiss cities have their own enthusiastically cultivated fasnacht customs. And Lucerne has one of the liveliest and loudest ones. Many Luzerner literally live for this celebration which takes place in February or March, waiting all year for fasnacht to come, creating new elaborate costumes and rehearsing their music routines in many fasnacht- associations, guilds or brass bands (guggemusig).

Basically a mediaeval Christian tradition, fasnacht literally is the night before the fasting. An unruly celebration before Easter, it traditionally had to end at the latest by Ash Wednesday, when the strict 40-day fasting period started, where meat, alcohol and festivities were prohibited. With that prospect before them, it's no wonder that people took the partying seriously. The custom also has the function of scaring winter away and making way for spring.

During mediaeval fasnacht everything was turned topsy-turvy, you could make fun of authorities without fearing punishment and parody and satirical humour ran wild. Poking fun at the powerful is still a central aspect of modern-day fasnacht in Lucerne. And here they are especially proud of their arty masks, the so called grende. The associations put an unbelievable amount of handiwork and time into the production of these masks, as you will realise when you see them.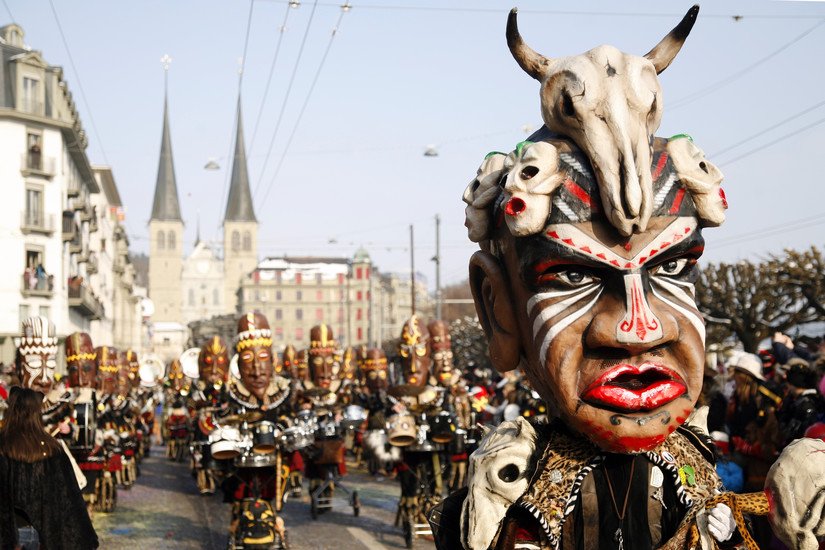 Lucerne's big and popular fasnacht starts at 5:00 in the morning on Dirty Thursday (Schmotzige Donnschtig), when Brueder Fritschi the imaginary chief of the guild Zunft zum Safran is the centre of attention, a figure which goes back to 1446 when the townsmen celebrated their victory in battle over the Habsburgs. Brueder Fritschi lands by boat at Schweizerhofquai and opens fasnacht officially with the Urknall (a loud bang) and the Fötzeliräge (confetti rain) on Kapellplatz. The celebrations continue with the Fritschi parade in the afternoon, continue on Monday with the Weyumzug , another big parade and end on Shrove Tuesday (güdiszischtig) with the so-called Monstercorso , a huge parade of carnival big bands (guggemusig) and lanterns in the evening.
In Lucerne there is no way to avoid fasnacht. Many firms and shops even close during fasnacht, so that everyone can take part! Luzern's streets and bars are packed especially on Thursday, Monday and Tuesday with masked groups and bands wandering through the streets (there are two stages for the bands) and people pouring in from all over the region to get in on the fun. It's boisterous, loud and colourful and if you want to see a different kind of local culture and get some partying in - it's for you. If you choose to visit during fasnacht you just have to participate - but most probably you'll choose the date on purpose anyway.