Lithuania prides itself on its folk dresses and costumes, which vary in subtle ways in each of the country's four regions. Once upon a time, Lithuanian peasants were the best dressed in Europe. The quality of the flax was all-important, and as for the handiwork, every woman had ambitions to become a famous weaver. These days, you're unlikely to bump into someone in traditional costume unless you're at a folk music festival, but in Vilnius it may be on show at the National Museum of Lithuania or next door at the Museum of Applied Arts and Design.

Dyes using plant pigments made the colours, and highly decorative patterns emerged in the weaving. In winter, rough and simply woven matted cloth was worn for outer garments. Knitting was limited to just mittens and socks. Styles varied between Lithuania's four ethnographic regions. But the basics were common to all: for women, two or more skirts, a long shirt, apron, vest and shoes. Optional accessories included a sash, scarf, shoulder kerchief, beads, napkins and headdress. Men wore rider-style outfits with boots and a sash.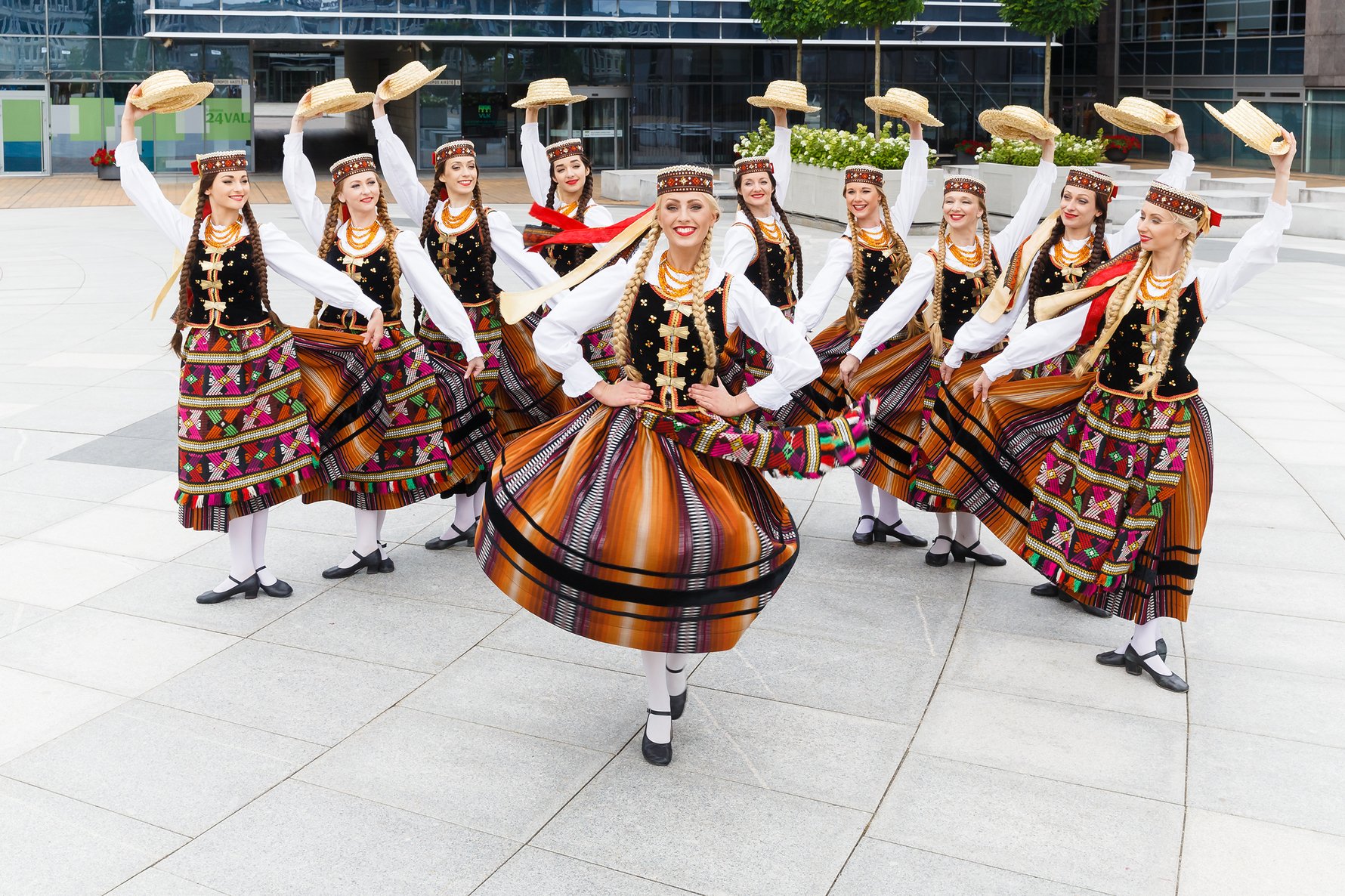 Aukštaitija
Up in the 'highlands', costumes were stylistically the most archaic of the regions. Women's shirts were long with shoulder tabs and red ornamentation, the sleeves decorative. Long linen skirts were usually white with a red border, but the more festive woollen skirts had four colours, green and red being dominant with small amounts of yellow and purple.
It was improper to be seen without an apron, which in Aukštaitija was white with red or red and blue stripes in a pick-up weave at the bottom. Bodices were especially detailed, woven in striped, curved and clover patterns, their shape borrowed from Western European baroque, rococo and other fashion trends.
The lads, meanwhile, wore an undyed grey or dark brown woollen coat and fairly simple shirts, though a key part of the look was a felt hat.

Žemaitija
Over in the 'lowlands', clothing was dominated by reds, woven into the narrow collars, long sleeves and cuffs. Skirts were cut wide with pleats, giving the women a very desirable largeness, and more than two skirts would often be worn.
The outer skirts had vertical stripes with multiple colours woven into the them – red, violet, green, yellow, dark red, black and white, with flower patterns becoming popular in the second half of the 19th century. Bodices had shortened waists, sewn under the breast, and several embroidered kerchiefs were often worn at once. Wealthier women wore leather shoes with laces; poorer folk had clogs – but these sometimes had painted designs and were turned up at the ends. Men wore high boots if they were prosperous, and unlike the rest of Lithuania wore decorated leather belts instead of sashes. They also wore intricately decorated kerchiefs, like the women, and caftans or urban-style coats.

Dzūkija
Way down south, amid poor soils and ancient forests, traditional clothing was worn well into the 20th century, but it had bright colours with smaller checks and stripes.
Women's collars, cuffs and shoulder tabs carried embroidered plant patterns, while skirts paired red and green and, later, dark reds, violets and blues. Sashes were important to everyone. The vast majority of women wore bast (tree bark) shoes, but also popular was unique footwear crocheted from thick threads and decorated with coloured threads. Girls wore ribbons, married women bonnets made of cotton, wool, lace and silk, the front edges embroidered with beads. Men's shirts were densely decorated with embroidery, white or coloured – influenced by the Slavic populations who lived not so far away.

Suvalkija
A battleground of old, laid waste by conflicts with the Teutonic Order until later centuries, clothing here was influenced by Lithuania's other regions. But shirts had wide sleeves, and while skirts tended to be dark, aprons were fancy, with stripes and ornamentation that was either horizontal (like the Aukštaitijans) or vertical (like the Žemaitijans), later with patterns of lilies, stars and other images. Sashes were precisely patterned and, unusually, had tassels into which were woven decorative scraps of cloth. Leather shoes were more common here, and in winter women wore greatcoats made of wool adorned with velvet and fur. Men's clothing was, of course, more modest but with patterned sashes around the wastes and hats decorated with flowers or feathers.

In all of the regions of Lithuania, urban fashions began to replace traditional clothing at the end of the 19th century. Skirts became less gathered, and just a single dark colour, while aprons and headdresses disappeared. The 20th century and its multiple attractions and influences had arrived.