As "actions of protest became a norm of life" and the political atmosphere across Poland became more unstable - teetering "at the edge of an abyss" in the words of General Jaruzelski, leader of PL's communist government - martial law was declared in December of 1981. Civil liberties were drastically restricted, independent assembly and political organisations were outlawed, university and school activities were suspended, censorship and a curfew were imposed, and political demonstrations were met with military force. Out of this threatening atmosphere came the genesis of the gnome as ironic political dissident. With the militia roaming the streets, anti-establishment graffiti was painted over with such frequency and diligence that seemingly every public space was white-washed with crude splotches of paint. Armed with paint cans of their own, Fydrych and his merry pranksters would then go out and quickly paint over the fresh patches of paint again - not with political slogans, but with gnomes.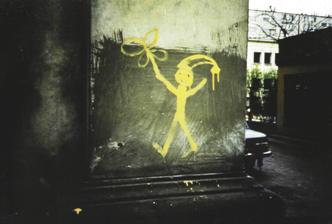 The gnomes illustrated the regime's fruitless attempts to censor public space, while poking fun at the militiamen who went around like fairies magically making anti-government graffiti disappear overnight. But more than anything it humiliated the authorities who were then (in their estimation) forced to go around the city painting over/censoring innocuous images of little gnomes; to the outside world it not only looked ridiculous, but pathetic - as did arresting someone for painting a picture of a gnome. By choosing an icon with no political connotation, Fydrych had created a brilliant political device. As the cheeky ploy gained popularity, gnomes soon began appearing in other cities as well. Detained in a Łódź police station for graffiti, Major Fydrych was happy to esoterically explain the gnomes to state authorities: "The thesis is the anti-regime slogan. The anti-thesis is the splotch of paint. And the synthesis is the gnome."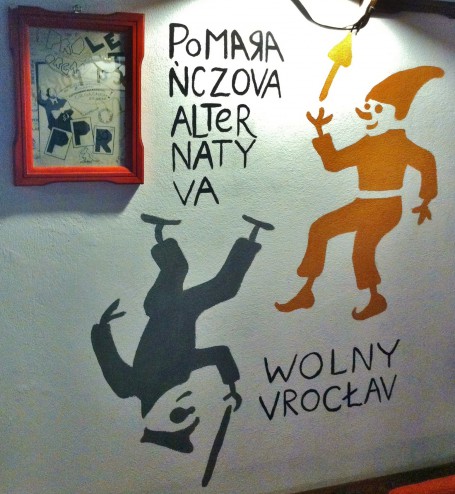 Beginning in 1986 Fydrych initiated a series of increasingly bizarre happenings that would indeed synthesise themselves into what became known as the Orange Alternative movement. Having learnt from the bloody protests of the early '80s, Fydrych sought to avoid aggressive confrontation with the militia by staging a series of demonstrations that were so silly armed intervention would seem ludicrous. One such action included thirteen protesters with individual letters printed on their t-shirts. Lined up together they announced "Precz z upałami" (Away with the heat), though whenever the police would turn their backs the chap wearing the letter 'u' would slip from view and the message changed to "Precz z pałami" (Away with the truncheons). Handing out iconic peaked orange gnome hats to passing pedestrians, Major lead nonsensical marches for gnomes' rights. The resulting arrests of orange-clad 'gnomes,' plus dozens of bystanders also detained for wearing orange, often made the nightly news and succeeded in making the authorities look idiotic. One parade saw 2,000 people march through Wrocław dressed as Father Christmas, their placards calling for the release of Santa Claus. Mass arrests followed, and in the confusion several store workers legitimately dressed as Santa were rounded up and thrown in the cells. For the anniversary of Russia's October Revolution Fydrych urged his cohorts to turn up with anything red: "Wear red shoes, borrow a red bag from your neighbour, paint your fingernails red, buy a bread stick with ketchup." Once more the authorities clamped down on the illegal gathering, with farcical scenes ensuing. The protest hit international television, where it served to make a mockery of the communist system.

Fydrych himself was arrested on innumerable occasions. He was once jailed for handing out tampons to women, though the general uproar that followed saw him released by the red-faced authorities after three months. As the Orange Alternative grew, more and more people began participating in absurd happenings all over Poland; 4,000 agitators took to the streets of the capital chanting "We love Lenin!" while 10,000 participated in a 'Gnome Revolution' event in Wrocław.