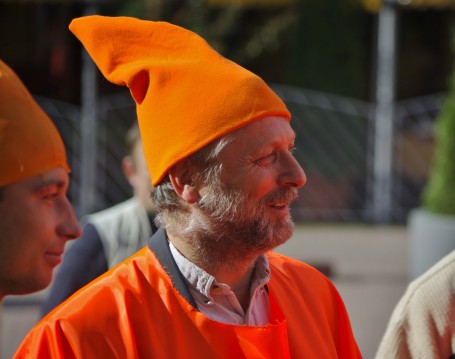 After the communist regime finally kicked the bucket in 1989, the Major sought a new life in France, working for several years as a painter and decorator and continuing to involve himself in anarchic happenings. Returning to Poland in 2001, he jumped back into the political arena by founding the 'Dimwits and Dwarves' party (Gamonie i krasnoludki) and running for Mayor of Warsaw in the 2002, 2006 and 2010 elections under the campaign slogan "When you vote for a dimwit, you vote for yourself." Though he garnered only 0.41% of the vote in 2006, he got more votes than the leader of the governing coalition party LPR - a fact the local media was quick to celebrate.

The Orange Alternative also played a role in Ukraine's Orange Revolution of 2004, with Fydrych and other supporters of the revolution travelling from Warsaw to Kiev in an orange battle bus, where, before a crowd of thousands, they presented President Yushchenko with a fifteen metre orange scarf symbolising Polish-Ukrainian solidarity. In 2005 Fydrych and the OA were honoured with an exhibition in the Brussels European Parliament, and in 2012 the Major earned himself a Ph.D. in Fine Arts from the Academy of Fine Arts in Warsaw. Today he spends much of his time in the capital no doubt inspiring those around him to be creatively subversive and subversively creative at every opportunity.
Wroclaw, City of Gnomes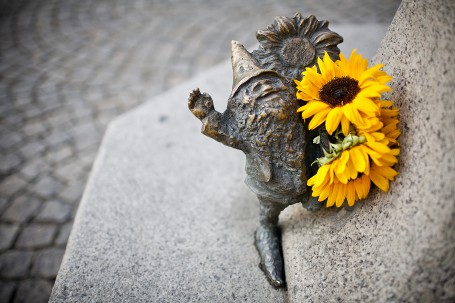 Thanks to the Orange Alternative, gnomes are inextricably linked with Wrocław, and in a somewhat ironic twist, what began as an act of vandalism has developed into an official icon of the city. In 2001 city officials decided to honour the legacy of the OA by placing a gnome statuette at the corner of ul. Świdnicka and ul. Kazimierza Wielkiego, where Orange Alternative demonstrations often took place. Standing atop a strange pedestal that resembles a large toe, Papa Krasnal is the largest of his progeny and proved so popular that in 2005 the city commissioned local artist Tomasz Moczek - a graduate of the Wrocław Academy of Fine Arts – to create five more gnomes. Envious local businesses quickly got in on the game by contracting other local artists to produce more, and in almost no time at all gnomes had proliferated around Wrocław to the point that they now constitute a veritable 'sub-population' of the city. The little devils are currently rumoured to be running rampant to the score of over 300(!), making it literally impossible for us to try and keep track of them, or for visitors to try to find all of them on their own. Seeing how many gnomes you can spot while you're in Wrocław, however, is an incredibly fun alternative to traditional sightseeing, and a great way to keep the kids involved while tramping around town. To help you out we've included 25 of our favourite gnomes on our website, with the exact address and GPS coordinates of their location, which means you can use In Your Pocket's mobile platform (m.inyourpocket.com) on your smart phone to easily find some of the city's most popular gnomes. [Those with an iPhone can also do the same with our free mobile application.]

If that's not enough, you can also pick up a special map from tourist information (Rynek 14) showing where to find 30 of the most centrally located gnomes, and there is even a special, dual-language (Polish and English) website dedicated to Wrocław's gnomes - www.krasnale.pl – where you can find their history, photos and other information, including downloadable maps of their various locations. Spend an afternoon as a gnome-watcher and see how many of these mischievous miscreants you can spot as you stroll around town. Happy hunting!