As the historic bricks-and-mortar (and chimney-smoke) heartland of Poland, Łódź hasn't always been the top choice for domestic and international tourism. That, however, has started to change. The city has been undergoing a continuous post-industrial revolution for over a decade now, a measure of which has recently been selected as a National Geographic Traveller's Choice in the Sustainable Development category! Old factory complexes are being scooped up, revamped, repurposed and reopened to the delight of locals and the seasonal student population who are enjoying the exclusiveness of it all...and it's still relatively unknown to the rest of the world who think East Berlin and Brooklyn NY are the be-all and end-all. The latest, the most impressive of these red-brick beauties to be brought back to life is Monopolis!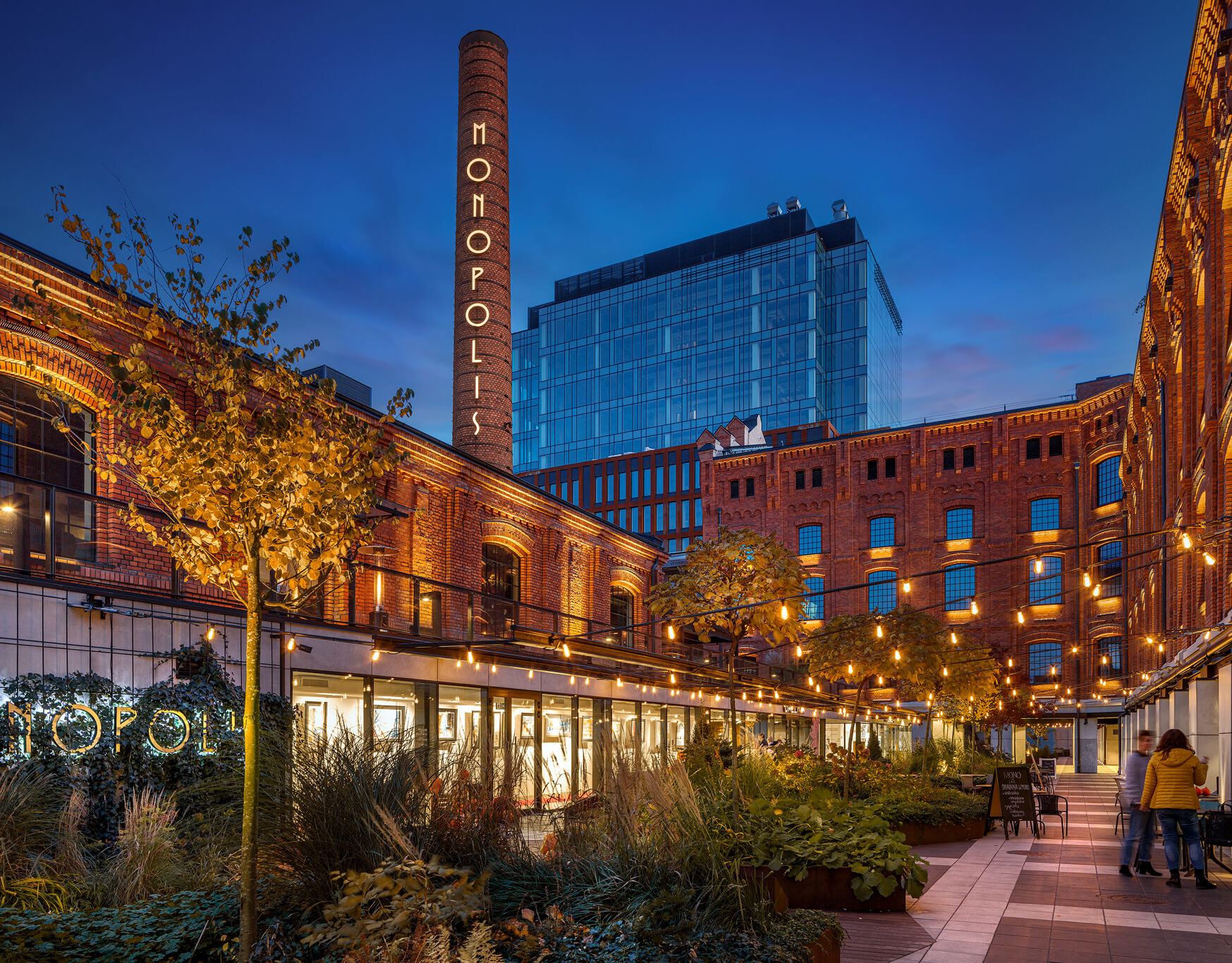 Opening as recently as 2020, Monopolis holds an enviable position on the corner of Al. Piłsudskiego and ul. Kopcińskiego, covering a total space of 29,900m2, and sports a whole host of attractions for visitors. The site held in high-regard not just in Poland, but further abroad as well. Most notably, it garnered 'Best Mixed-Use Development' at the 2020 MIPIN awards, also known as the 'Oscars of Real Estate'. Domestically, it took the 2020 Prime Property Prize in the 'architecture' category, beating out marvels like Elektrownia Powiśle and Browary Warszawskie in the Polish capital.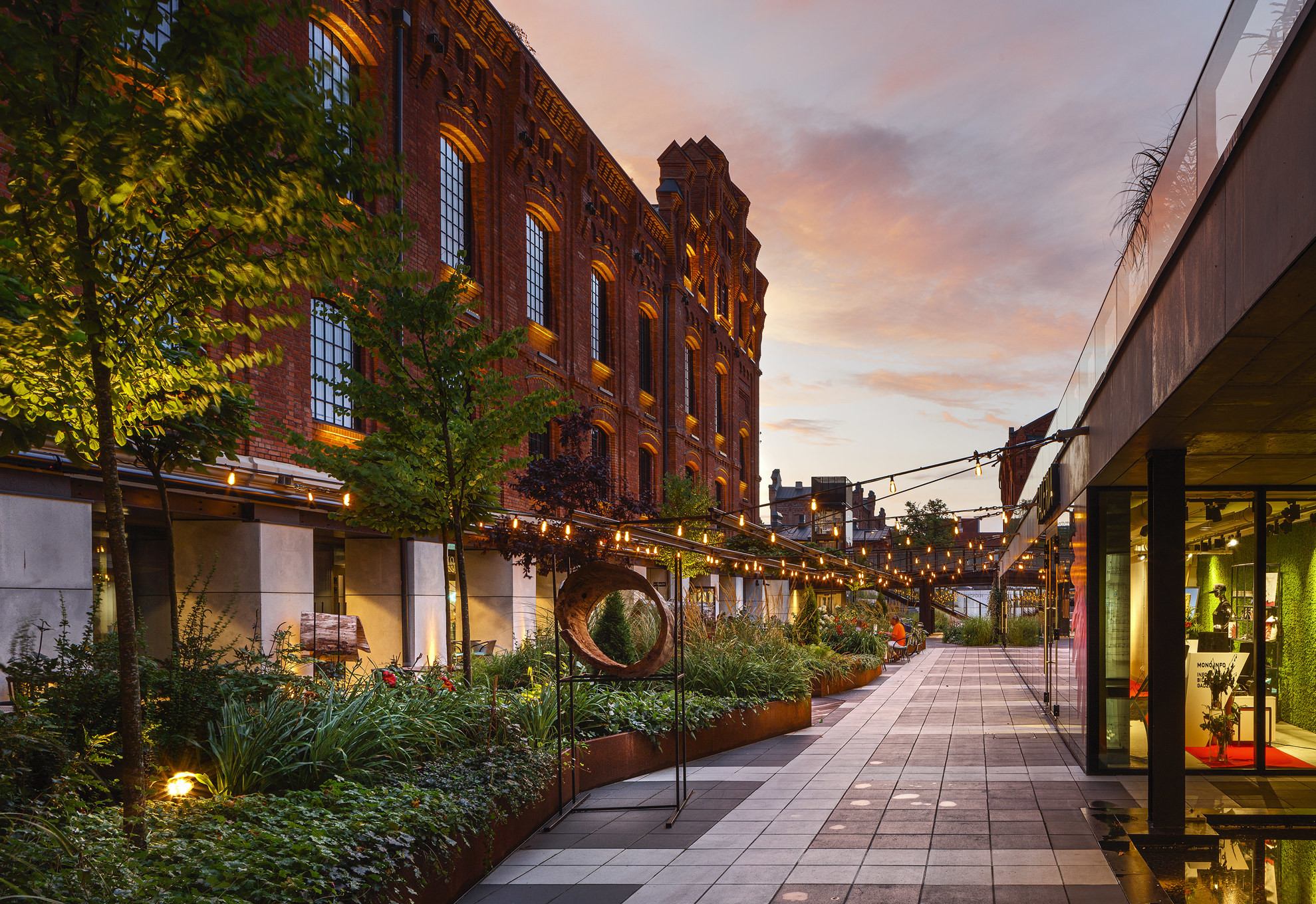 In another life, this complex was the 'Monopol Wódczany', the 3rd largest industrial site in Łódź, which opened way back in 1902. In case you're wondering, 'Wódczany' means 'vodka distillery', which is a total anomaly considering the fact that the whole city was almost geared towards textile manufacturing (then again, someone has to provide for the fun!). Conscious of preserving the history of the site, not to mention the know-how of the quintessential Polish firewater, the centrepiece of the Monopolis operation is the Museum of Vodka Production, which certainly gives the one in Warsaw a run for its money! But more on that shortly...  Back in the early 20th century, it wasn't all about vodka, however. It was also a centre for social and cultural events, as well as possessing an on-site nursery for working families, a library, and even a theatre. For this reason, the Monopolis as we know it today has not strayed too far from its original purpose.
What to do at Monopolis in Łódź?
Today, Monopolis in Łódź serves many purposes for the local community. For starters, you are spoilt for choice in terms of cafés and restaurants. The self-dubbed Gastropassage transcends Central Poland and presents you with an unbeatable choice of quality international cuisines with a pleasant backdrop of red-brick, greenery and fairy lighting. This is a communal space, associated with spending quality time with friends, family and the wise strangers that have made the Monopolis discovery as well! To fill in the gaps, there's also a café and bakery for those necessary indulgences. For those visiting in the warmer months, this is a must-visit in Łódź!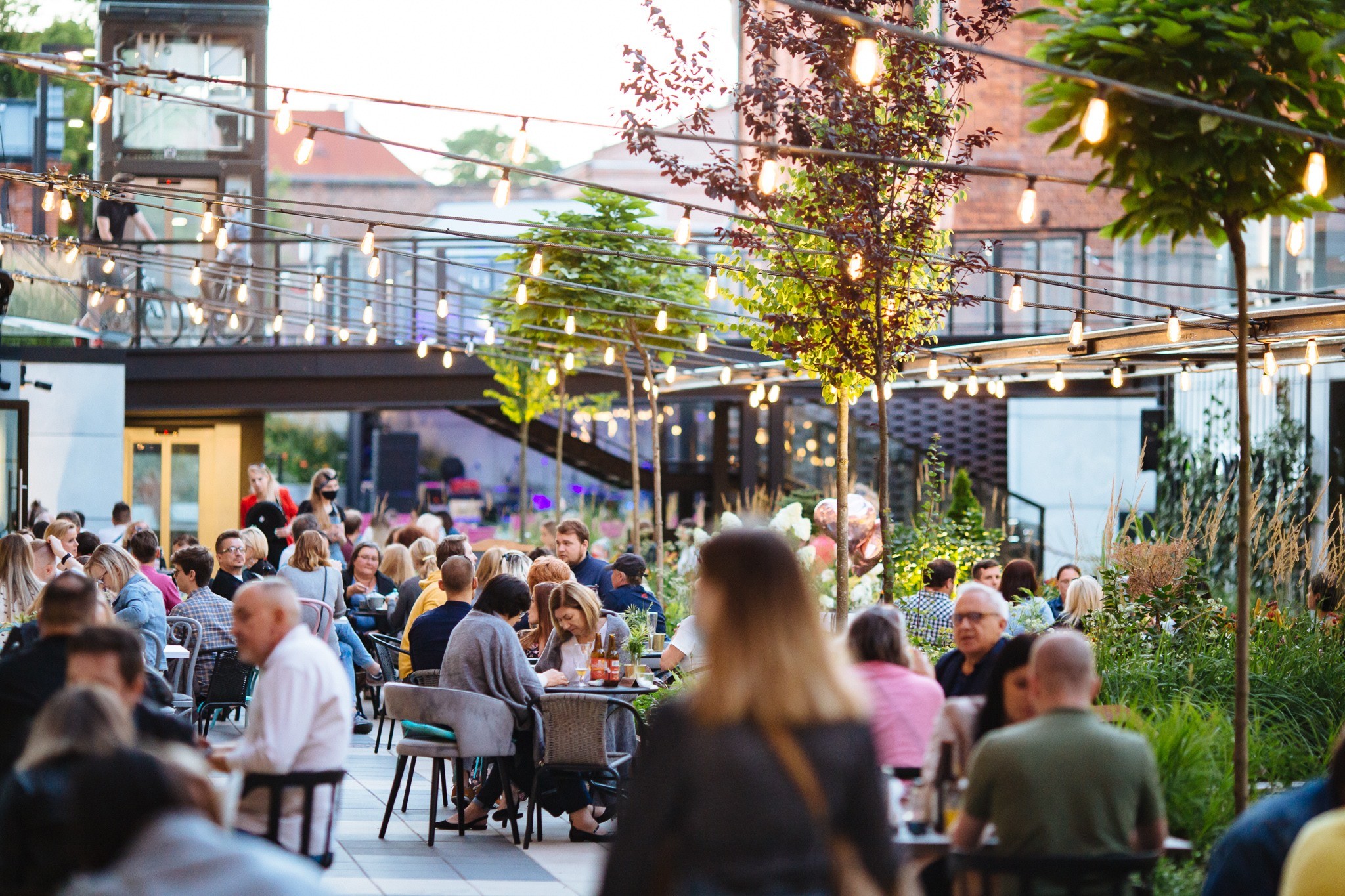 Furthermore, you can find a state-of-the art theatre venue - Scena Monopolis - contributing to Łódź's arts and cultural scene with great force. An impressive program of live music, theatre, film and performance art is happening throughout the year, as well as exhibitions, photo and film sessions, and fashion events. Outfitted with the entertainment industry's highest quality equipment, there are even mobile stands that allow events to break free from the stage area and create a unique space for just about any type of event is possible! Scena's operator is ArtKombinat, who is also responsible for space rental and the organization of events, conferences and concerts.

Finally, servicing the city's business community, Monopolis is home to two new modern buildings, augementing the historic architecture with functioning office spaces. Known respectively as M1 & M2, these consist of 4 above-ground floors of a total 7,000 square metres of floorspace. The raised floor offices are air-conditioned with suspended ceilings and carpeting, not to mention ideally-located beside the gym, shopping and gastropassage.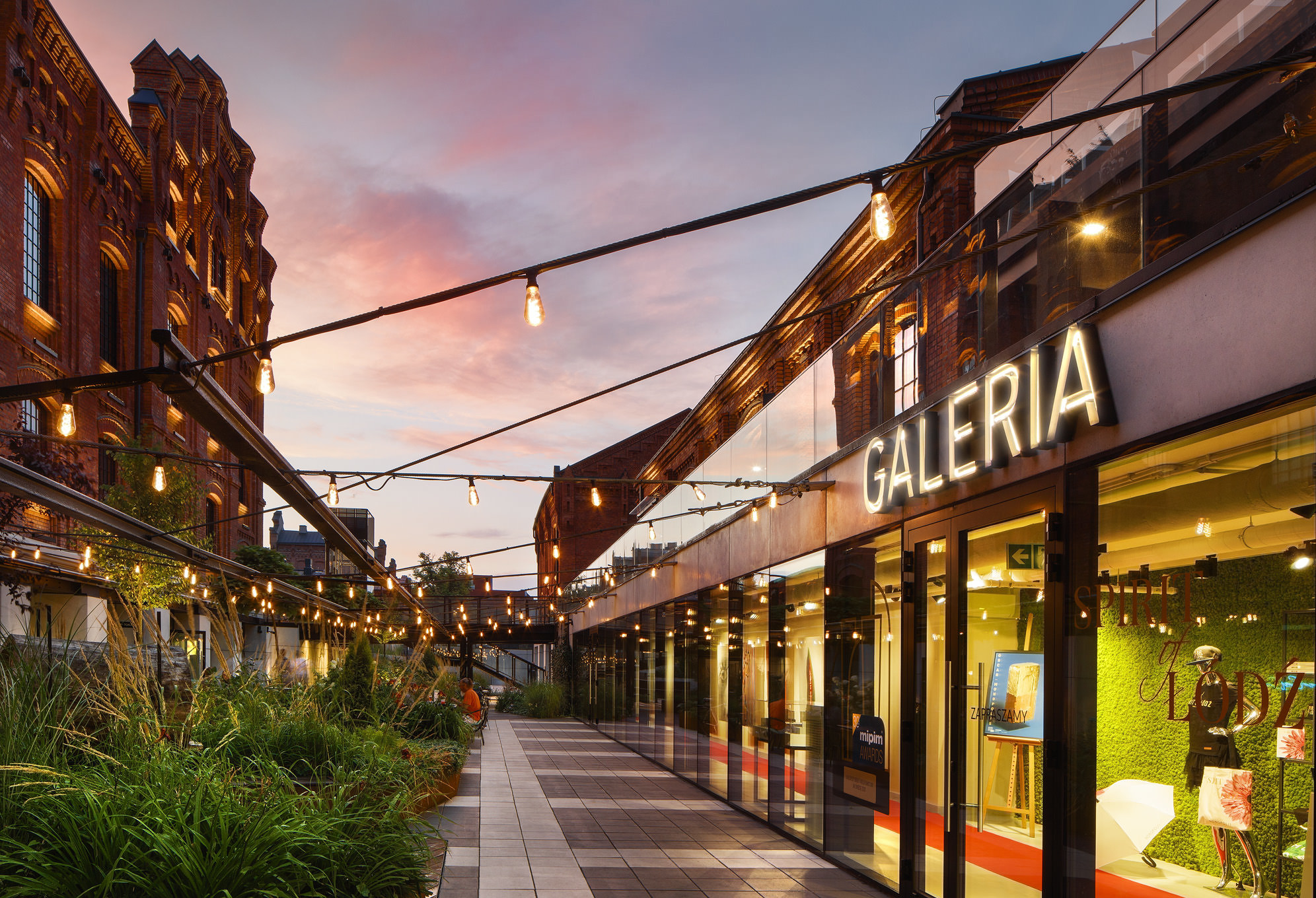 Accessibility and inclusion at Monopolis in Łódź
All walks of life are welcome at Monopolis. 'The City of Four Cultures' is an open-minded community, conscious of inclusion and have kept accessibility in mind when approaching the rebirth of Monopolis. The open Gastropassage is perfect for adult meet-ups as well as families with children in tow. On the latter note, young families can make use of the play area for children, and, if they aren't already wowed by the interior space of Monopolis, they will certainly be happy to burn themselves out in there! Elsewhere, you can make use of the gym and pool, an added perque for the local community (again we can't stop emphasising the unforgettable space that they reside in). Monopolis is fully accessible for disabled and physically-impaired individuals. There are elevators servicing all levels, special toilets, and numerous places, which are suitable for people using wheelchairs.
Alchemia Produkcji. Muzeum Monopolis
Opened in 1902, Monopol Wódczany was once the most prominent vodka distillery in Poland. Reaching great heights in the 1970s under the name Polmos, with labels like 'Prezydent' and even outputting the Polish classic 'Żubrowka', production had just about ground to a halt by 2007. Things changed, however, when Virako took over remaining operations in 2013, and the company president Krzysztof Witkowski came up with an idea to link the new investment with the history of the place and paying homage to those that have proceeded them. Working with ethnologists and anthropologists from the University of Łódź, the museum's main exhibition has been exceptionally crafted, giving the former glory of the city's vodka industry a new purpose!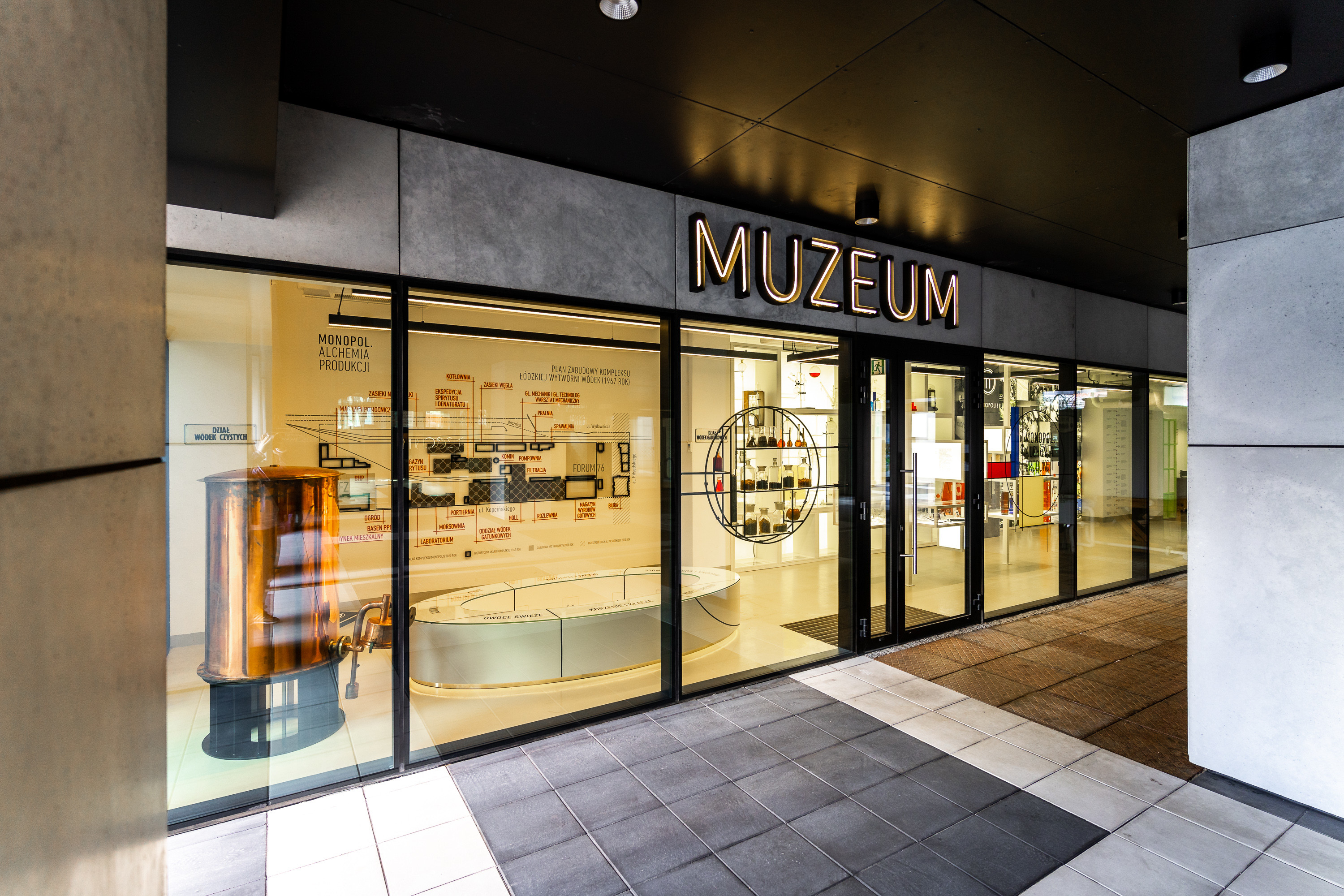 So, what can you see at the Vodka Museum? Well, there are over 200 different exhibits on display, including original bottles, (some with their original contents), glasses and gadgets bearing the Polmos logo, numerous fascinating archival documents, photographs, and charming advertising media from the time. Remember that time that Polmos was the official sponsor of the Łódź football team? Now you do! You can also see player uniforms complete proudly branded with the Polmos name! Additionally, original workplace props and tools are on display, generously donated by former employees who remain an active part of the Monopolis community. There's even an original office room furnished and equipped according to the standards in force at Polmos many years ago! I wonder if there are a few spare bottles in the desk drawer?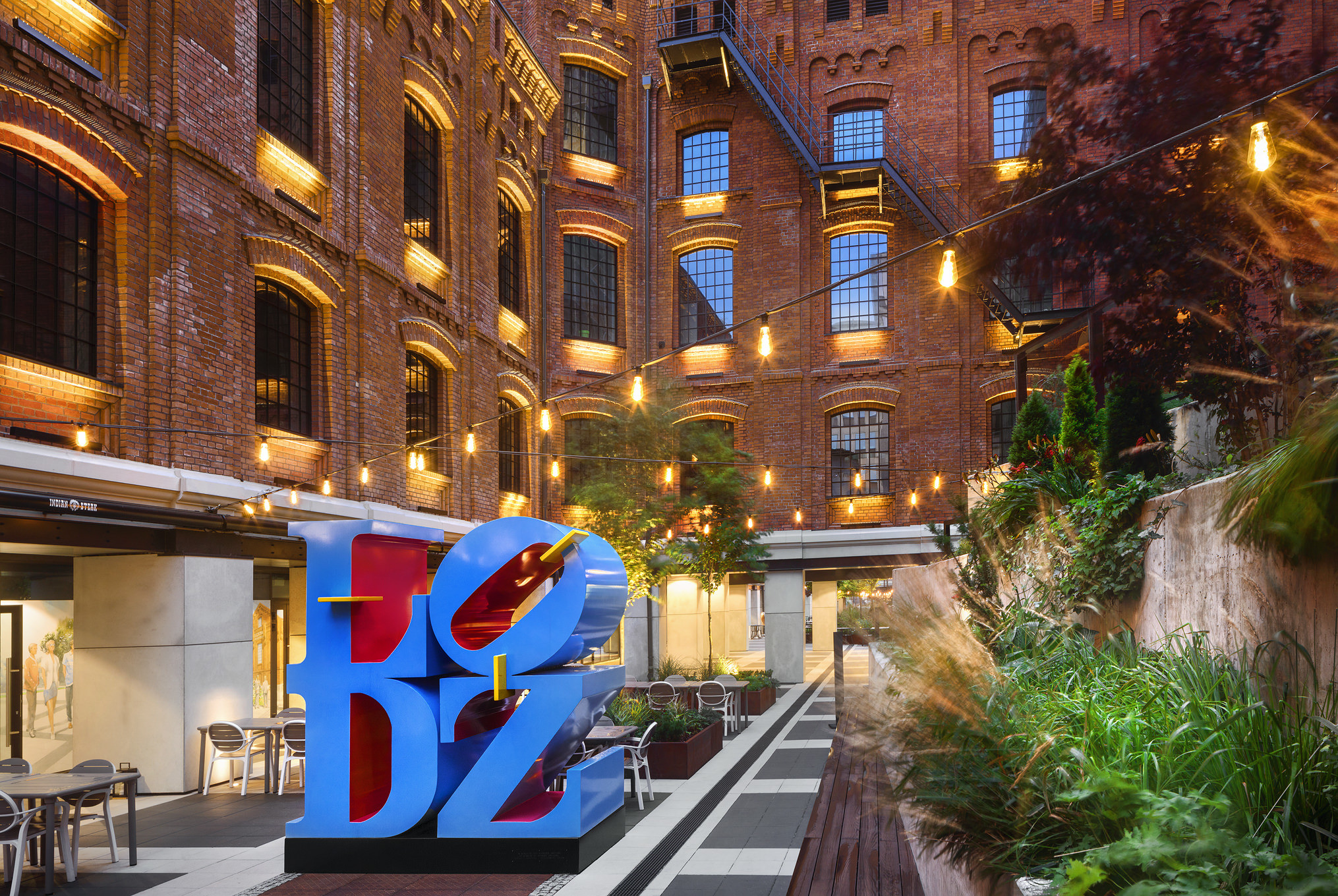 How to get to Monopolis, Łódź?
Monopolis is located in the very centre of Łódź, with direct access from Kopcińskiego and Wydawnicza streets. Furthermore, those travelling by car have direct access to the A1 motorway. If you have downsized even further, bicycle routes in the immediate vicinity. Additionally, the excellent road access works hand-in-hand with public transport.
Monopolis is 5 minutes drive from Łódź Fabryczna Railway Station.
Monopolis is 10 minutes drive from Łódź Widzew Railway Station.
Monopolis is 15 minutes drive from Łódź Airport.