Bosnia and Herzegovina is a strange place. You don't need us to tell you that, just spend a couple of late-night hours in the Pavarotti Centre for all the proof you need, but this magnificent country has more confusing elements than most. It stands to reason then that one of its most iconic pieces of cultural heritage is a collection of medieval tombstones that contain curious designs and people with massive hands, tombs that spanned all Christian denominations and still amaze to this very day.

The stećci are an integral part of Bosnia and Herzegovina's history and culture. More than 60,000 of the things can be found across the country (with a small number also found in neighbouring Croatia, Serbia and Montenegro [as in Serbia and also Montenegro, not the defunct state of Serbia and Montenegro]), but it is the medieval Bosnian Kingdom to which they are closely allied. The word 'stećci' (itself plural for 'stećak') means 'tall, standing thing', a marvellously vague way of describing limestone slabs that come in a number of shapes and sizes. That number, by the way, is seven; slab, chest, chest with pedestal, ridge, ridge with pedestal, pillar and cross. The majority fall in the slab or chest category.

When did these curious buggers come into existence? General opinion answers that question with a confident '12th century', although it wasn't until the 14th and 15th centuries that they began to spread in earnest. The necropolises were usually found in the areas people liked to spend eternity; forests, hilltops, lakesides, massive fields, that sort of thing. Families would be buried close to each other for obvious reasons, largely that whole 'eternity' thing mentioned previously, and the tombs were decorated with that in mind. Phrases, images, animals, descriptions and all the rest can be found etched into the limestone slabs.

Discussions about the meaning of the descriptions often go long into the night. What does it all mean? Well, apologies for throwing ash on the fire, but more often than not the descriptions were entirely decorative, with a little sprinkling of symbolism for good measure. Religious phrases and moral lessons dominate, with the occasional description of a heroic death or slice of information thrown in for good measure. 


Like many parts this charming country's cultural heritage, numerous groups have tried to claim the stećci as their own, with varying results, ticking the depressingly frequent 'claimed by all, neglected by all' state of affairs. The stećci were a Bosnian Kingdom phenomenon that covered all faiths and cultures, all denominations of Christianity and no single one. No, they aren't proof of Bosnia's much-desired Bogomil history, no matter how much we'd like them to be. 

Truth be told, the stećci of Bosnia and Herzegovina throw up more questions than answers, but isn't that how it should be? If you want your history and culture cutely tied up with a little bow on top, this ain't the place for you. BiH is for those willing to make an effort, after all. The intrigue created by the stećci is yet another example of this, and an effortlessly-aesthetic one at that.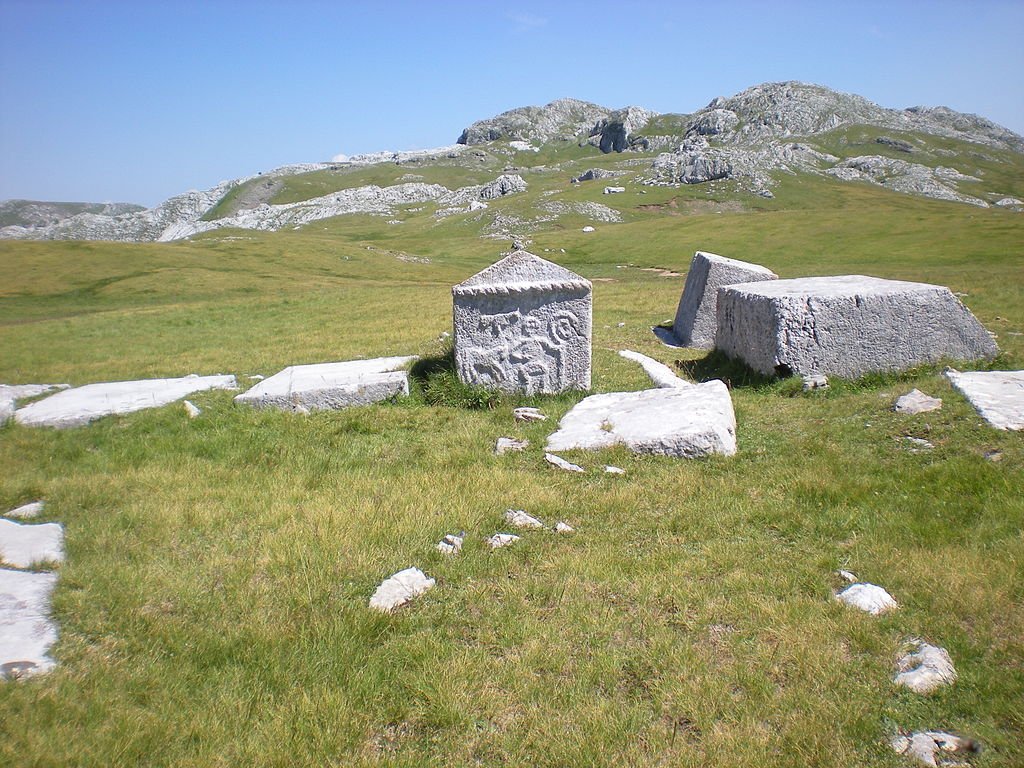 The famous necropolis just outside Stolac is the numero uno destination for stećci hunters. Radimlja is 3km west of the country's oldest town, a 133-strong necropolis carrying some of the most delightful inscriptions that you could hope to find. You may have seen the chap with the massive right hand, welcoming you to wherever it is you are arriving; this is his home. Radimlja is the most famous but by no means the exception; there are countless potter's fields across the country, 22 of which have been designated as UNESCO World Heritage Sites. Our favourites? Okay, fine; Radimlja is a no-brainer, Ljuburica Pole near Sokolac is a delight, the Visočica mountains take picturesque to a new level and the lakeside setting of Bileća is the sort of place we're happy to spend days gawping at. 

A spot of stećci hunting is a tremendous way to interact with the long and storied culture of Bosnia and Herzegovina. There are all sorts of companies utilising these charmers for the greater good, so get yourself some merchandise from BulBul and check out Stećak Map for more information. Happy hunting.