Art nouveau architecture is one of Riga's claims to fame, and rightly so. Not to be confused, as it often is, with 1930s art deco that is so famously illustrated in the Chrysler and Empire State buildings of New York, the 'new art' or 'new style' often referred to as Jugendstil is a slightly older form of expression that gained popularity at the end of the 19th and beginning of the 20th centuries. Confused? A general rule of thumb is that if something looks sleek, angular and shiny it's probably art deco, but if you're faced with elaborate, flamboyant naked maidens, floral motifs and funky gargoyles, it's most likely art nouveau.

Over a third of all buildings in Riga are examples of this unique school of design which begs the question: why are there so many in the Latvian capital? The answer is actually quite simple. When art nouveau was at the height of its popularity, Riga just happened to be at the zenith of an unprecedented financial boom. This incredible wealth also coincided with an earlier lifting of a ban against erecting masonry buildings outside the city walls. In medieval times, all of the wooden buildings outside the ramparts would be razed to prevent an invading army from using them for shelter.

By the mid-19th century it finally dawned on the Russian authorities that 'modern' warfare had rendered the city's ancient walls and fortifications obsolete. The result was an incredible era of construction that lasted much longer than the city's most recent boom that ended in disaster both aesthetically and financially speaking. If only someone could have built an art nouveau shopping centre after independence instead of the boring, functional metal and glass monstrosities that now litter the city!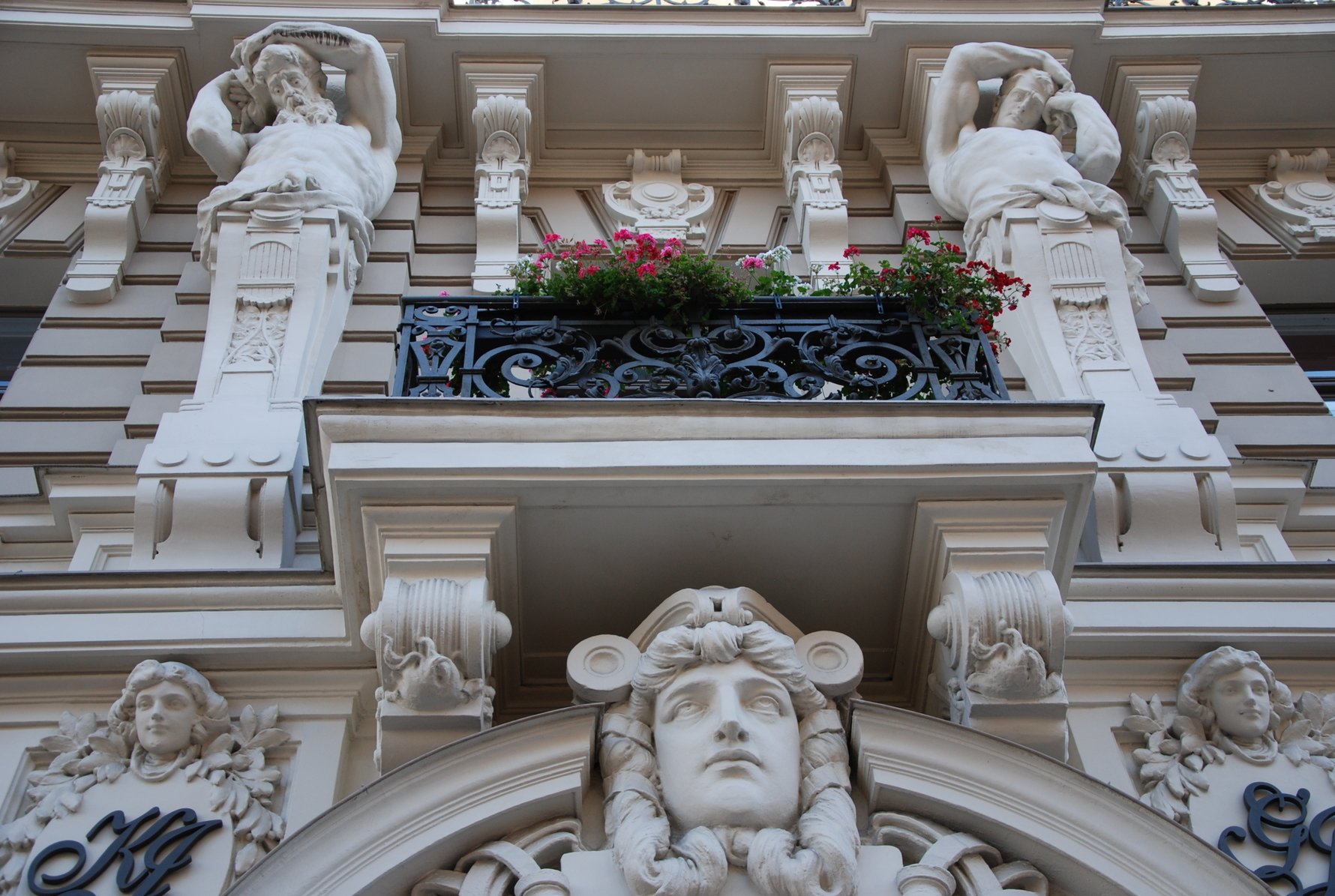 One of the city's most prolific art nouveau architects was Mikhail Eisenstein (1867 - 1921), father of the legendary Russian filmmaker Sergei Eisenstein who gave the world such cinematic treasures as Battleship Potemkin and Ivan the Terrible. He is best known for his collection of buildings on Alberta iela that is famous for its unusual sculpture, coloured bricks and tiles, geometric ornaments and uniquely shaped windows.

Latvians would also leave their mark on Riga and Konstantīns Pēkšēns (1859 - 1928) designed no less than 250 buildings including the iconic edifice at Alberta 12, which the architect once called home and that now houses the Riga Art Nouveau Museum. A founder of the Riga Architects Union and a Riga councilman, he embraced all of the styles of the times and moved on from the eclecticism so popular in mid to late-1800s Riga to art nouveau and its later offshoot, national romanticism. The latter was an attempt by Latvian architects to incorporate elements of ethnic mythology and folklore into their designs.

But art nouveau wasn't only relegated to the façades of the city's buildings. The flowery style became a part of everyday life and was present in well-to-do homes in furniture, flatware and fashion and was commercially used in graphic design, most famously in advertisement posters. For a fascinating look at an art nouveau apartment where even the bathroom and kitchen are adorned with Jugendstil elements visit the Riga Art Nouveau Museum where the staff give tours dressed in period costume. The shop across the street sells excellent art nouveau gifts and souvenirs.
Essential art nouveau buildings
Alberta iela
Nearly every building on this street is an art nouveau masterpiece and roughly half of them were designed by Mikhail Eisenstein including the buildings at 2, 4, 6, 8 and 13. The most stunning example is arguably the latter that boasts a massive woman's face, a screaming woman, a satyr and large busts of crowned representations of lady liberty. The building at No.11 is a classic example of Latvian national romanticism designed by Eižens Laube in 1908, another prolific local architect of the age. You'll also find a sphinx or two guarding entrances and windows shaped like old keyholes. The famous philosopher Sir Isaiah Berlin (1909 - 1997) lived at No.2 and a plaque commemorates this fact.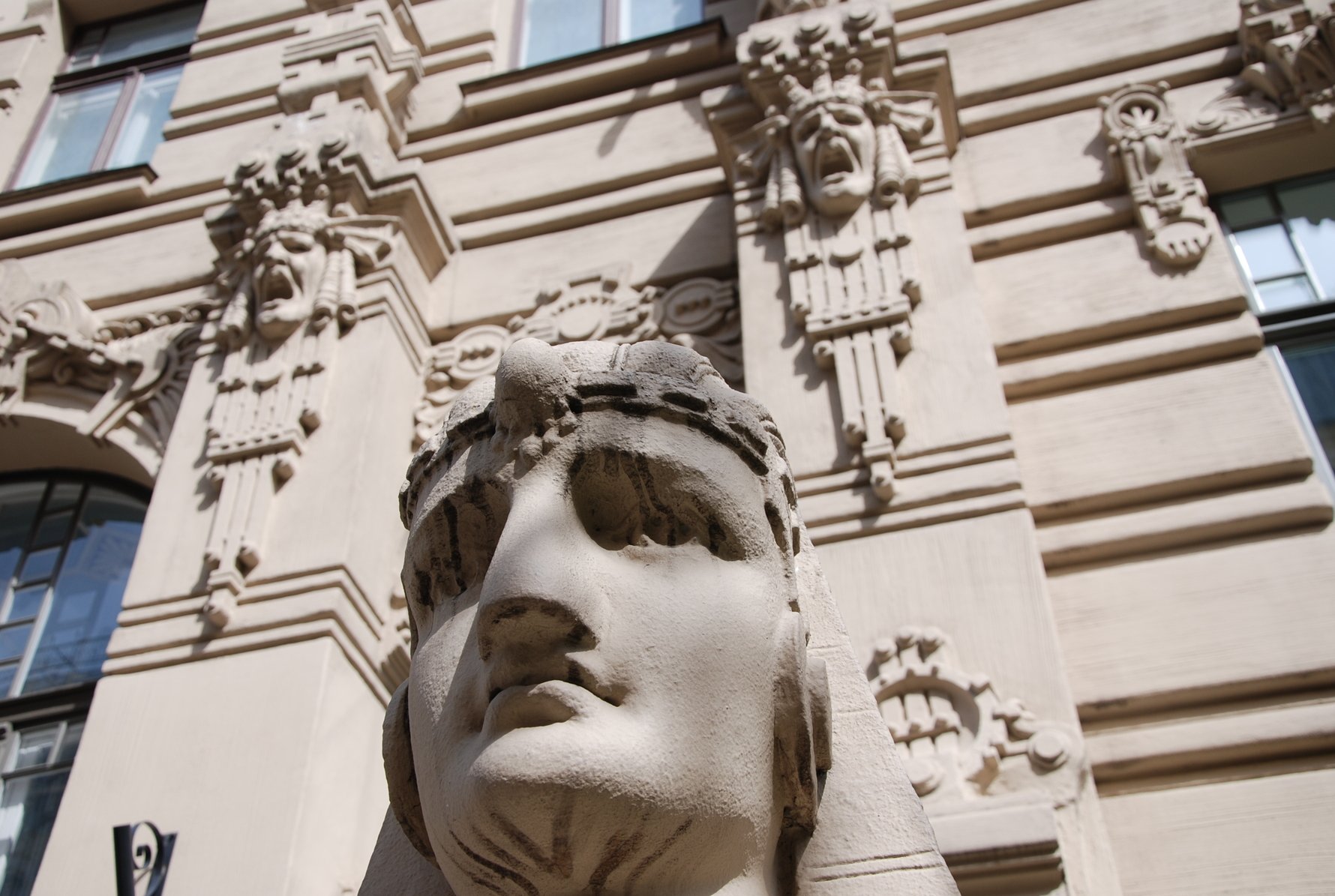 Blaumaņa 28
Punctuating the narrow space where Blaumaņa and Pērses streets meet at Barona, this classic art nouveau building designed by Karl Johann Felsko in 1903 looks like something only Bram Stoker or Mary Shelley could conceive. It's covered in dragons, wolves and a variety of hideous gargoyles with gaping mouths – art nouveau's dalliance in the macabre.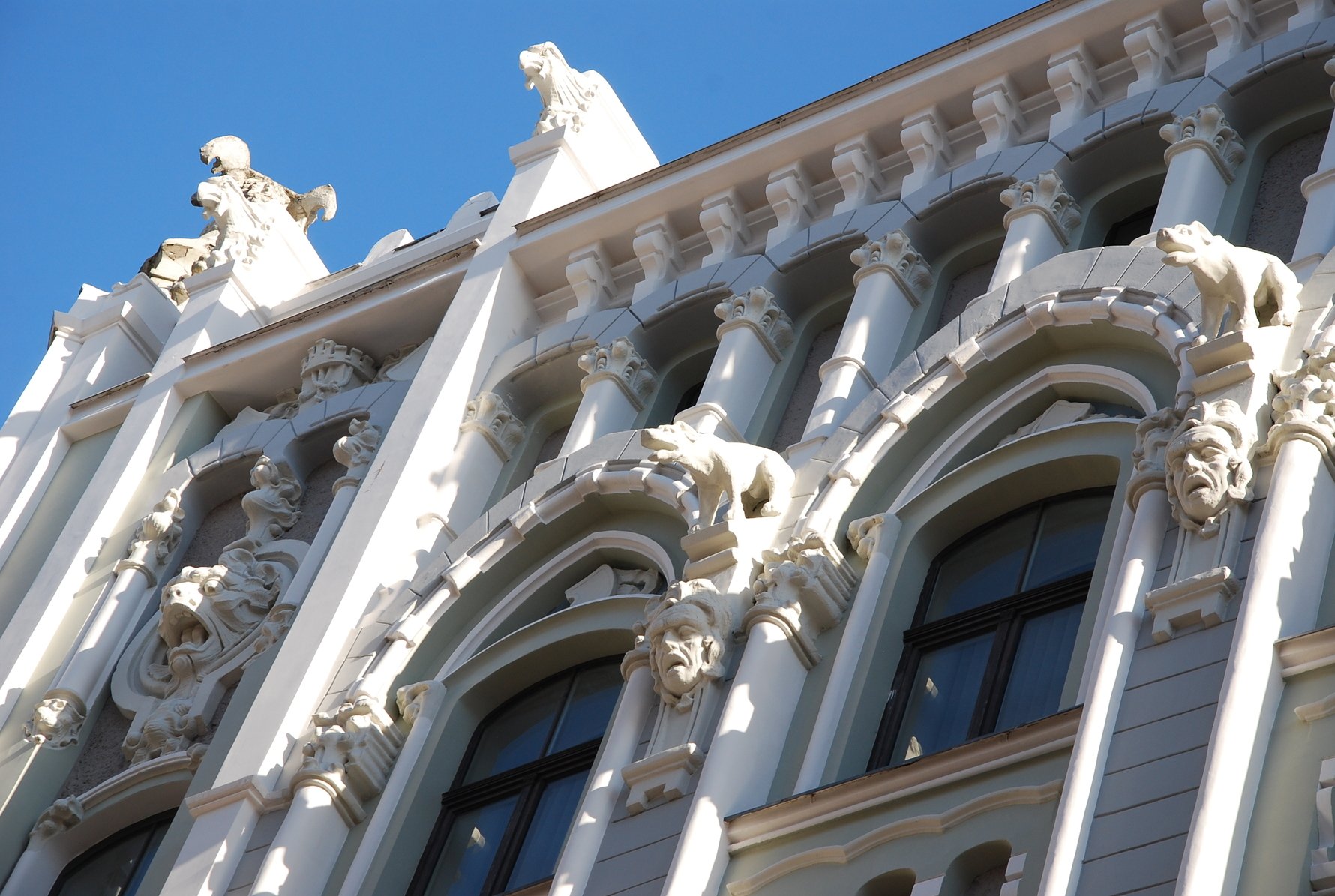 Elizabetes 10a & 10b
Two of Eisenstein's most iconic buildings can be found next to one another at the corner of Elizabetes and Antonijas streets. The blue façade on the left with the incredibly long faces at the top is one of the most photographed buildings in the city and the one on the right is no less impressive with it's oddly shaped windows and smiling sun face under the balcony. The building across the street at No.33 is also his creation.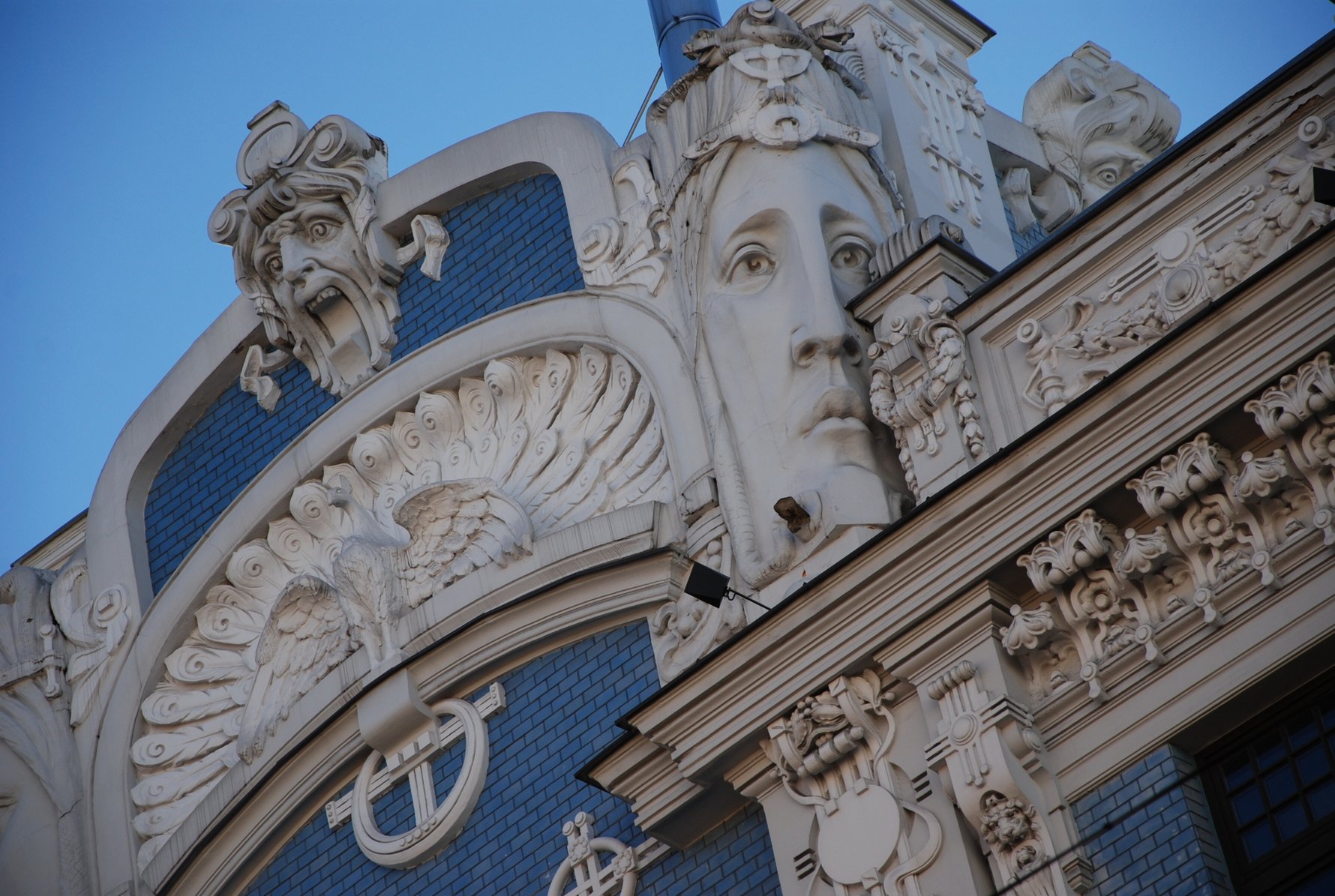 ​Jauniela 25/29
This massive yellow edifice that replaced several Old Riga buildings in 1903, stood nearly abandoned after independence until it was finally re-opened as one of the city's premier design hotels – Neiburgs. It's a blend of art nouveau and eclecticism and is famous for the enormous head hovering above the entrance. It was designed by a Riga architect with the decidedly German name of Wilhelm Ludwig Bockslaff.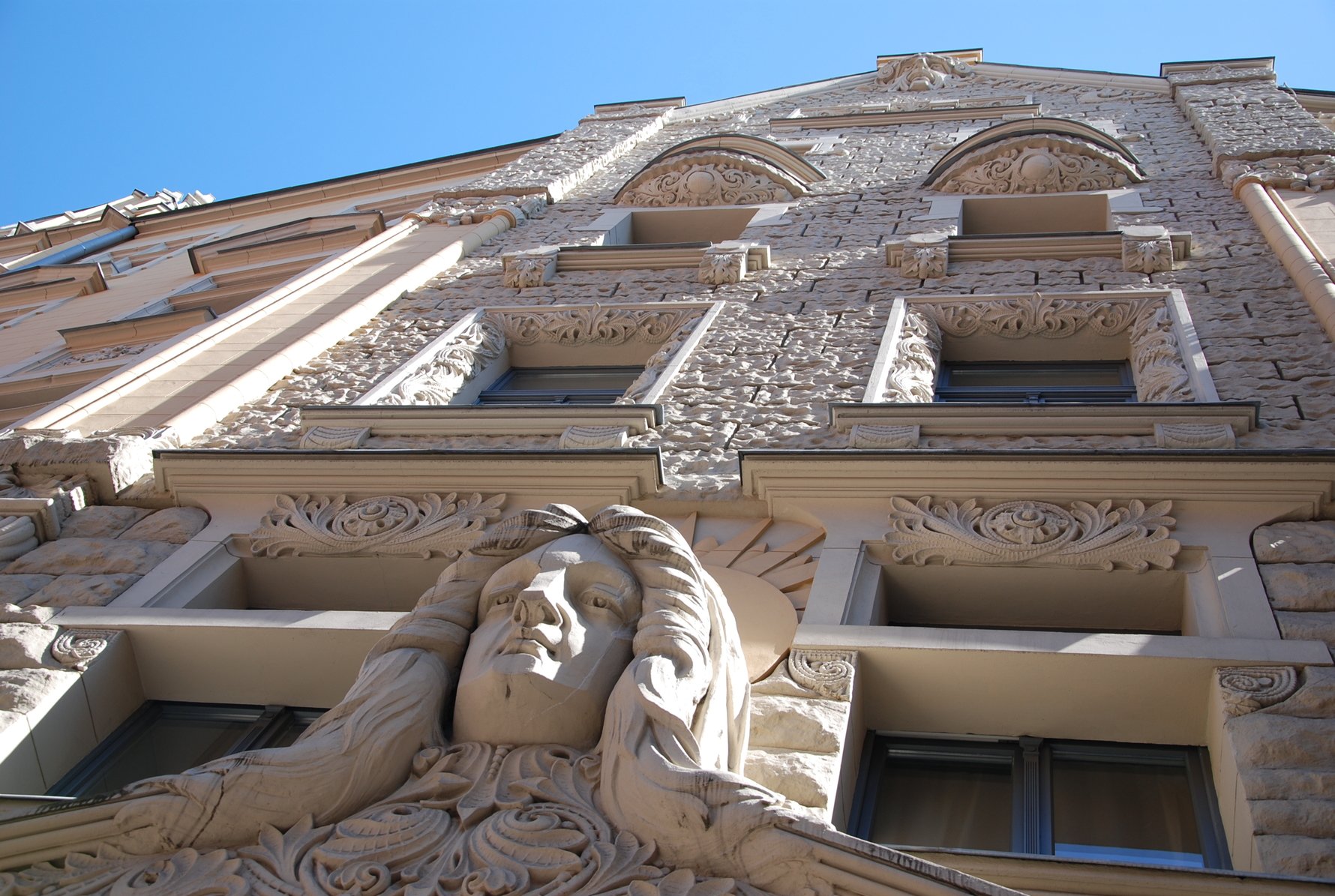 ​Kalēju 23
One of Riga's most beautiful buildings was the brainchild of Pauls Mandelštams, who is also considered to be the city's first Jewish architect. You can't miss its grand entranceway embellished with daisies and a hanging lamp made to look like a flower, not to mention the golden sun above.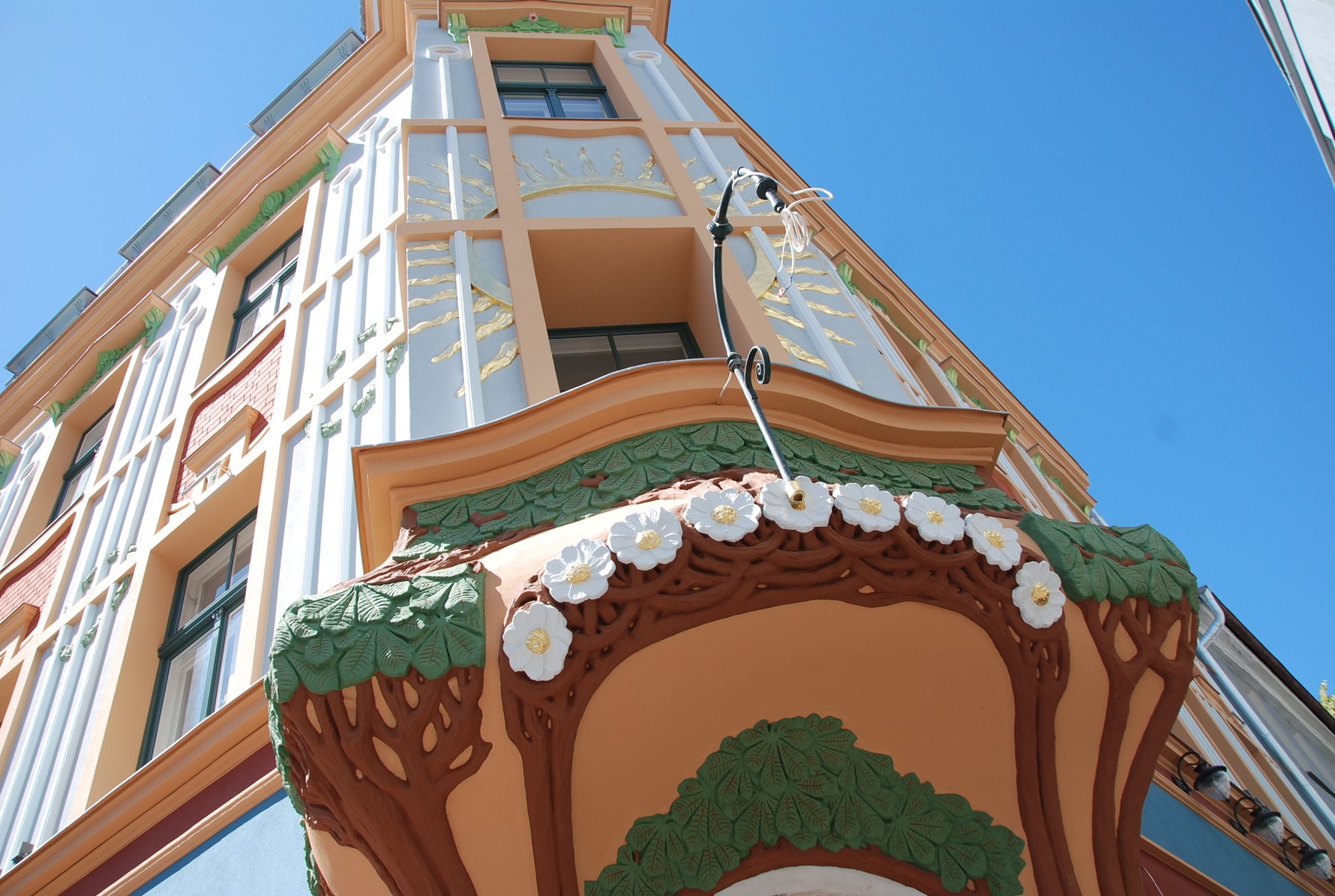 ​Šķūņu 10/12
This striking art nouveau building completed in 1902 was designed by the Baltic German duo of Friedrich Scheffel and Heinrich Scheel. Unfortunately, most people don't even notice it because the street is so narrow. Its beautiful features including the watchdog at the top of the façade are best appreciated from Amatu iela.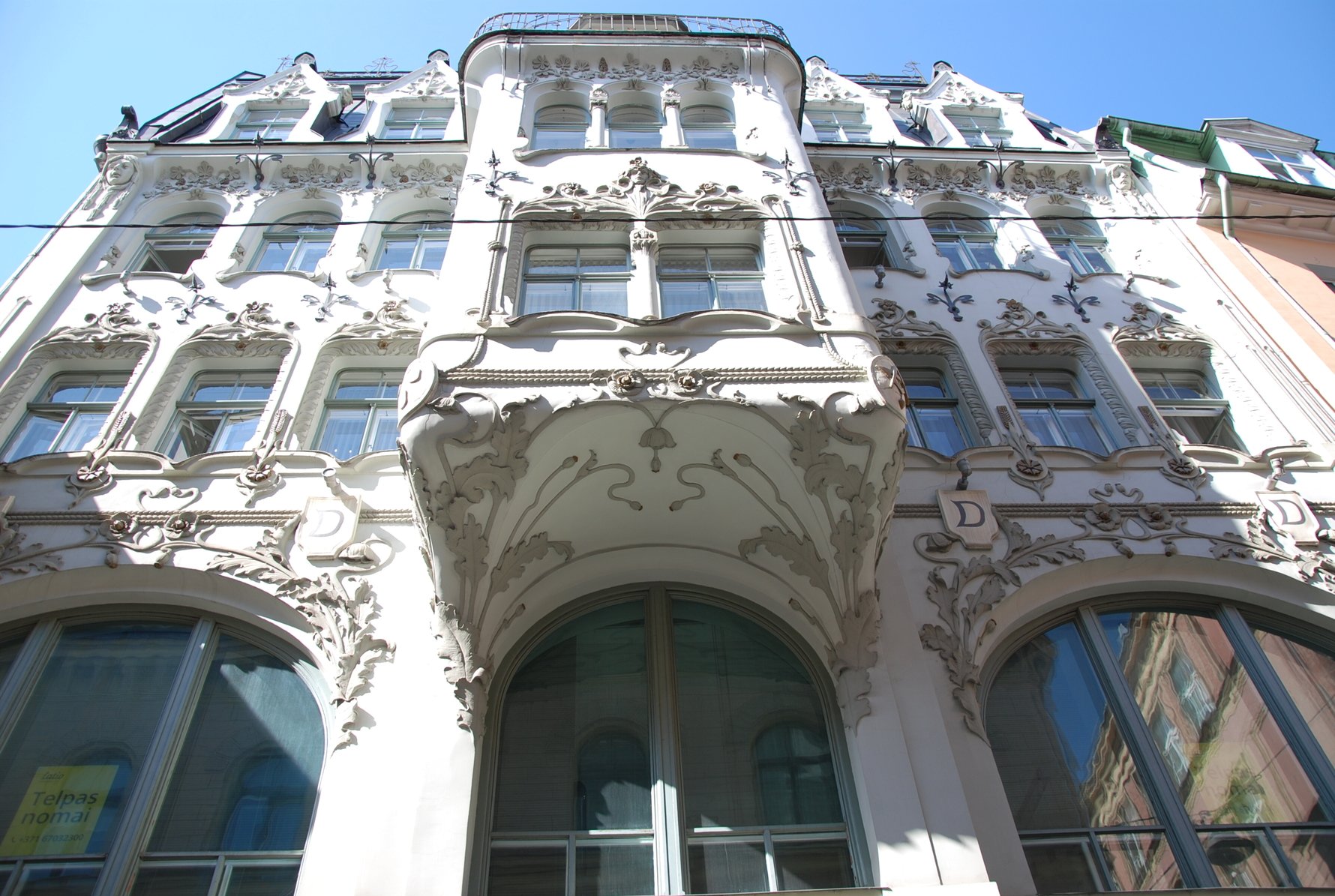 ​Smilšu 2
Built in 1902, this red brick building that looks like it has been overgrown by a forest of trees and common as well as mythical creatures is an early example of Konstantīns Pēkšēns conversion to the ideals of art nouveau. The naked figures of an Atlas-like man and woman growing out of tree trunks prop up the centre of the façade, which is adorned with a stele of a peacock – a popular symbol of art nouveau.
​Smilšu 8
This beautiful Old Riga building dates back to 1902 and is yet another example of the creativity of Scheffel and Scheel. Its façade is embellished with some odd-looking gargoyles, chunky cherubs, a woman's large face with her eyes closed and two naked maidens holding a wreath – a symbol of peace and harmony.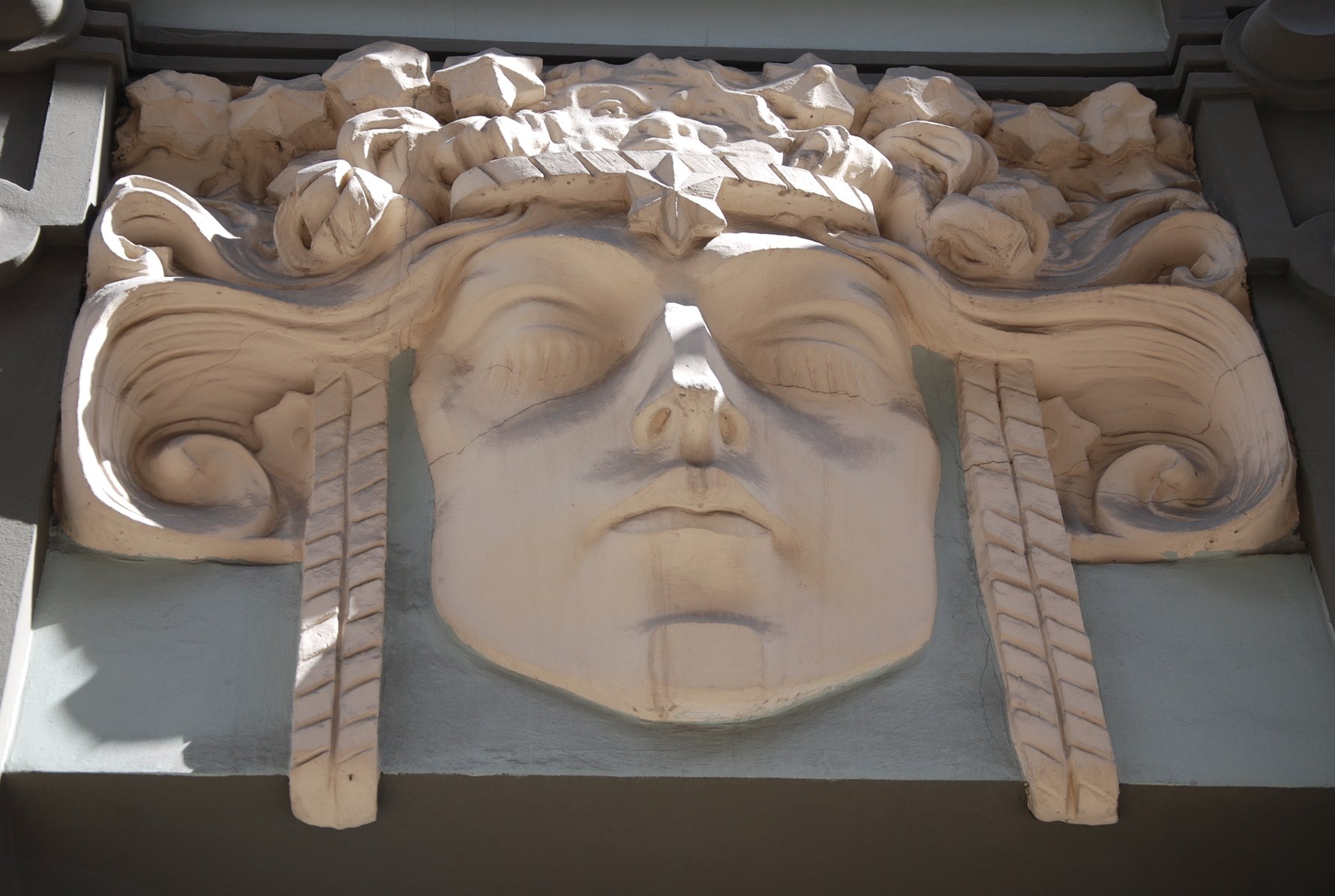 ​Strēlnieku 4a
Another Mikhail Eisenstein masterpiece, this blue building dating back to 1905 currently houses the prestigious Stockholm School of Economics in Riga. Although much of the interior didn't survive years of Soviet neglect and the subsequent renovation, its façade is an amazing sight to behold.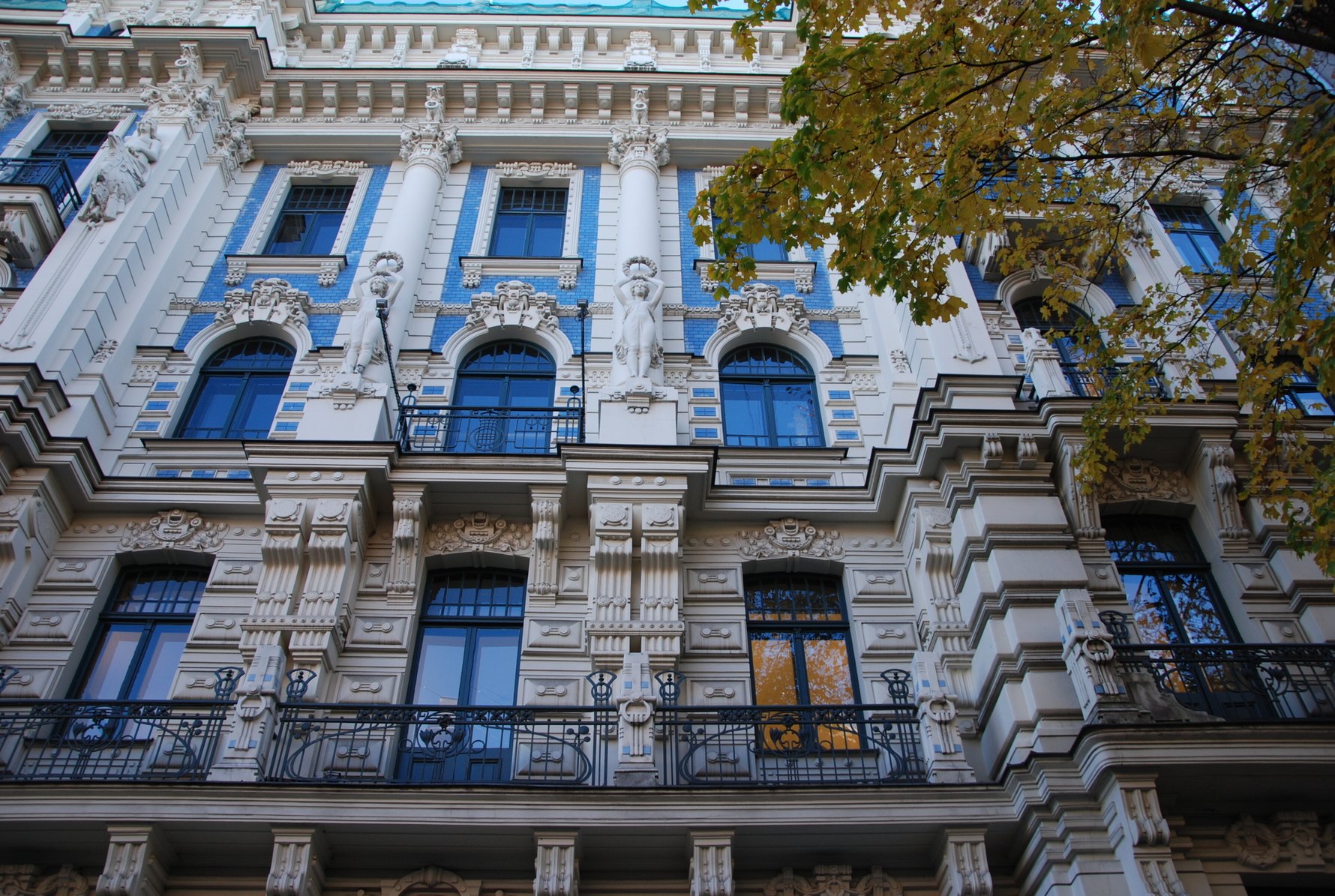 ​Vīlandes iela
This quiet street is home to many examples of art nouveau, but unfortunately quite a few are still in desperate need of renovation like the beautiful, yet neglected 1899 edifice at No.11, one of Riga's first art nouveau buildings. On the other hand, the building at No.10 is another masterpiece by Konstantīns Pēkšēns, which has been restored to its former glory.