When people think of Dalmatia they usually think of the Adriatic coast, complete with its beaches, islands and swaying palm trees. What is often forgotten is that Dalmatia also has a huge tract of inland territory, much of which is just as exotic and just as interesting as the seaside but much less visited, making it more than ripe for discovery.

Much of inland Dalmatia is covered by the label Dalmatian Zagora (Dalmatinska Zagora); Zagora literally means 'behind the hills', a reference to the mountains that run along a good deal of the coast. Indeed much of the Zagora is a mountainous, arid place, known for the scrub-covered hills and rocky wastes known as kamenjar ('stone fields') – but also for its neat towns of stone houses and intensively cultivated islands of agriculture.

The Zagora may be a blind spot as far as tourists are concerned but it has never been so to the Dalmatians themselves, who have a high regard for its resourceful, hard-working inhabitants. The inhabitants of the Zagora are frequently termed vlaji by their coastal neighbours (a mocking reference to the Vlachs, the semi-nomadic sheep-rearers who roamed the Balkan interior in centuries past), although the term conveys a positive sense of hardy self-reliance as well as country-bumpkin simplicity. The populations of the coastal towns have always been fed by immigration from the interior, and settlements such as Zadar, Šibenik and Split have always faced two ways, serving as seafaring Mediterranean cities as well as 'capitals' of their extensive hinterland.

Much of the Zagora's haunting beauty comes from its extensive areas of arid, maquis-covered plateau. However it's also an area of much geological drama, with canyons and waterfalls around the Krka National Park and the Cetina Gorge, deep mysterious lakes at Imotski, and tortured limestone features almost everywhere. Roman remains at Burnum, and medieval fortress at Drniš, Knin and Sinj, provide a sense of historical depth.

The gastronomy of the Zagora is also distinctive, placing more emphasis on sheep, cattle and freshwater fish than the coastal parts of Dalmatia. The practice of roasting meats in a lidded metal vessel covered in glowing embers is a Zagora speciality, and is found almost everywhere inland. You also come across numerous regional specialities: freshwater fish inland from Omiš, slow-cooked veal risottos around Skradin, delicious home-cured pršut ham from Drniš, and frogs' legs from Trilj. As far as local drink is concerned, Bibich, with vineyards in the hills above Skradin, produces boutique wines that are highly sought-after. There's also a growing wine industry around Imotski, whose blended reds and indigenous Kujundžuša whites are increasingly highly rated – indeed Imotski winemaker Grabovac has opened a wine bar in the coastal resort of Makarska to promote the local tipple.





What follows is our list of ten places you should visit in order to get an authentic flavour of the Dalmatian Zagora.
TEN MUST-VISIT PLACES IN INLAND DALMATIA
SKRADIN
Located on the shores of Prokljansko Lake, just inland from Šibenik, Skradin is both the gateway to the Krka National Park and an attraction in itself – a typical Mediterranean town made up of stone-paved streets and arched alleyways. There's a lakeside marine full of yachts, and a handful of superb restaurants serving traditional Skradin cuisine. www.skradin.hr
DRNIŠ
​A pleasant market town midway between Šibenik and Knin, Drniš is famous for its crag-hugging medieval fortress, and the nearby village of Otavice, site of the Chapel of the Holy Redeemer built by sculptor Ivan Meštrović to serve as his family burial chapel. www.tz-drnis.hr
KNIN
A strategic railway-junction town lying in a bowl between mountains, Knin is famous for the huge fortress, built in the time of Croatian King Zvonimir, that hovers above town from its suitably dramatic rock. With much of its walls intact, it's an extensive site, and comes with fantastic views of the surrounding Zagora landscape. www.tz-knin.hr​
KRKA NATIONAL PARK
With wooden walkways leading past lakes and waterfalls, and boat trips to monastic islands and haunting canyons, Krka National Park is quite simply breathtaking, and can easily fill well over a day of holiday time – especially if you have your own transport, in which case you can visit the Roman ruins of Burnum and the wild, little-visited, northeastern reaches of the park. www.npkrka.hr
VRLIKA
Situated on the Vrličko polje plateau 66km inland from Split, Vrlika is a typical Zagora market town sprawling around the base of a fortress-capped hill. Vrlika is famous above all for the Vrličko kolo, an energetic circle dance that's considered to be one of Croatia's natural cultural treasures and features on the repertoire of many a folklore group. The dance also features in the Gotovac/Begović opera "Ero the Joker", part of which is set beside the Vrlika Fountain or Vrlička Česma, located in the town park. The pre-Romanesque Church of Holy Salvation, one of the most iconic early-medieval buildings in the whole country, is in the village of Cetina, 8km northwest of Vrlika. www.visitvrlika.com
VRGORAC
Birthplace of the famously bohemian Croatian poet Tin Ujević (1891-1955), Vrgorac is another small town that sits beneath a medieval fort. The place is famous for the number of surviving towers built by wealthy families and military captains (Vrgorac was on the border between the Venetian and Ottoman Empires) to serve as both living space and fortified refuge. The nearby village of Kokorići, full of traditional stone houses and dry stone walls, is being developed as an ethno-village complete with accommodation, traditional inn and a display of handicrafts. www.tzvrgorac.hr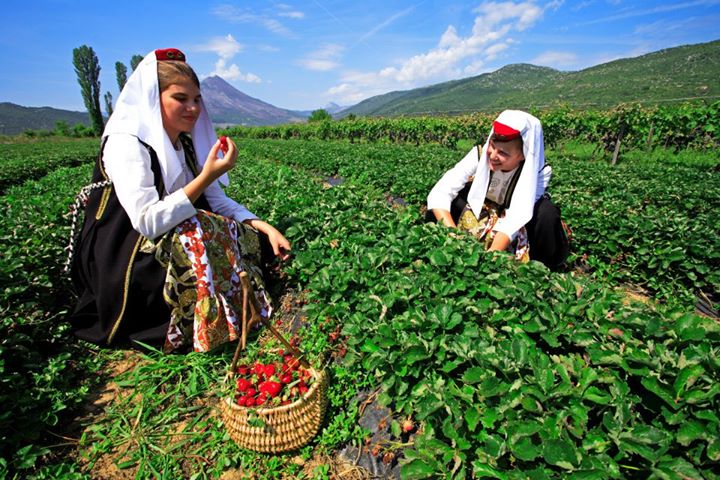 Photo by Andrija Carli

ZAGVOZD
Nestling on the sleepy side of Mount Biokovo, the massif that rises just inland from the Makarska Riviera, Zagvozd is home to one of the oddest but longest-running of Croatia's cultural festivals, Actors in Zagvozd (Glumci u Zagvozdu; July-Aug; www.glumciuzagvozdu.hr), when the cream of the country's thespian talent converges on this small country town to perform plays and give recitals, often in the open-air, and frequently to huge audiences. Drinking and feasting usually follows; Zagvozd is well worth a visit during the festival whether you're following the plot or not.
SINJ
A handsome old town lying half an hour's drive inland from Split, Sinj is home to a famously alluring, miracle-working icon of the Virgin that hangs to the left of the main altar in the main parish church. There's also an old fortress that's well worth visiting on the hill above. On the first Sunday of every August crowds from all over Dalmatia descend on Sinj to witness the Alka, an age-old tournament in which horsemen gallop downhill with lances in their hands, hoping to spear a ring that hangs above the end of the course. The riders wear traditional costume, and the whole occasion is one of festive pageant. www.visitsinj.com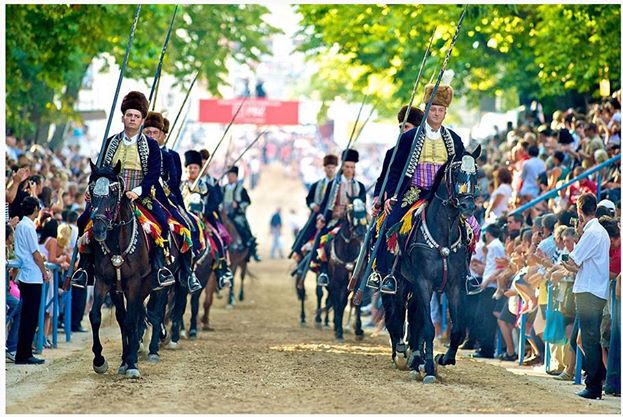 Photo by Branko Čović
THE CETINA GORGE
Coastal Omiš is the place to take boat trips into the lower reaches of the Cetina Gorge, where riverside restaurants serve trout and other local delicacies. Travel agents in Omiš also organize rafting trips on the higher, white-water sections of the Cetina. If you have a car, head for the inland town of Zadvarje, where a lookout point above the upper parts of the gorge offers dramatic views of waterfalls. www.tz-omis.hr
IMOTSKI
If there is one place in the Zagora you absolutely must visit then it's Imotski, an old Venetian town on the Hercegovinian border that is renowned for the two natural wonders on the edge of town, the Blue Lake (Modro jezero) and the Red Lake (Crveno jezero). Both of them are dramatically deep depressions formed by the collapse of limestone caves, and filled with water – the level of which rises and falls depending on seepage and seasonal conditions. Extraordinarily beautiful in real life, but difficult to convey in two dimensions, the Imotski lakes are really something you have to go and see yourself. www.tz-imotski.hr