The neoclassical colossus that is Vilnius Cathedral stands confidently at the centre of the city. But it hides a tumultuous past, a violent history, and even a curse.
These days, Vilnius Cathedral is a pale and noble neoclassical structure that has survived centuries of conflict, invasion and occupation. It was even scarred by Stalin. Its creepy crypt conceals as many mysterious questions as it has answers. But the structure began life as a revered, serene and humble pagan sanctuary.
The pagan temple on this spot was dedicated to Perkūnas, the local tribes' god of thunder, fertility and morality. An array of beasts including snakes, toads, goats and cocks would be kept close by, ready for sacrifice on a five-metre-high altar. A sacred fire was constantly kept by virgins selected for their beauty, according to early records written by missionaries. If they failed in their task they were drowned together with a cat and a snake or were buried alive.
Lithuania was the last pagan state in Europe to hold out against repeated brutal Catholic crusades. When its rulers finally relented, the temple was destroyed and the first cathedral was built here in the 13th century. A couple of terracotta tiles from that time are on show today as you journey down into the crypt, where you'll also see a fascinating cross-section of the cathedral's different floors – 12 of them in all – as the building was reconstructed repeatedly over the 800 years since those pagan times. The earliest floor lies almost three metres deep.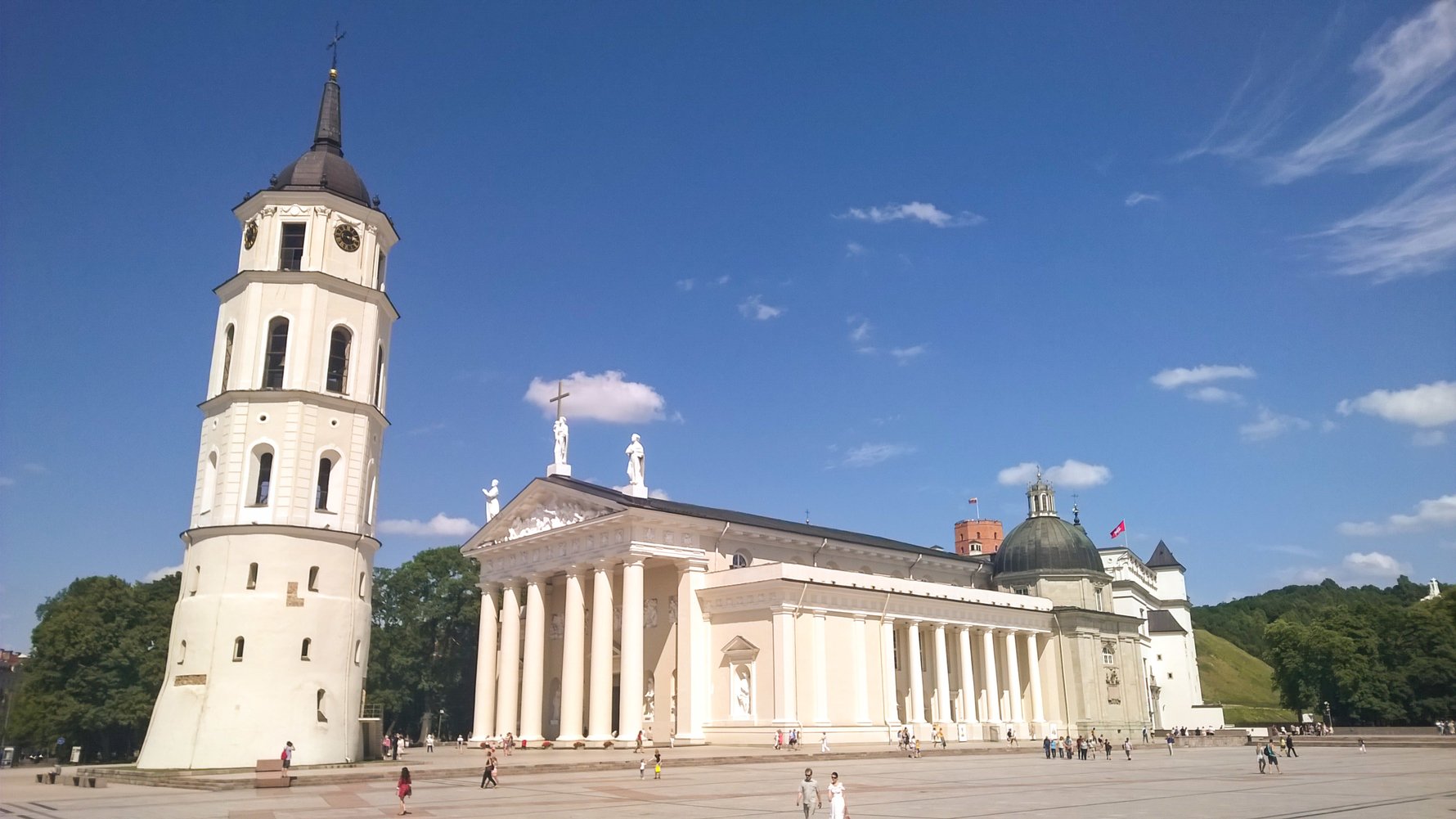 Vilnius Cathedral was at one time elegantly red-brick and gothic, like nearby St Anne's, reaching eight metres taller than the present structure. It stood like this for 300 years, from 1430, but was damaged again and again by fire and rebuilt. In the mid-18th century, the foundations began to sink in the low-lying marshy ground and water often flooded the cellars. When cracks appeared on one side and, on another, a tower crashed to the ground during a storm killing six people, extensive reconstruction was finally commissioned.
A Lithuanian architect by the name of Laurynas Stuoka-Gucevičius (1753-1798) took the job. His idea to give the outward and inward appearance of a Greek temple was de rigueur at the time. Having already designed such grand Vilnius landmarks as the Town Hall, Verkiai Palace and an unusual circular church in the village of Sudervė, the cathedral was his last work before he died aged 45.
Probe further into the crypt and you'll find that this shadowy space was the final resting place for grand dukes and their wives, for noblemen and archbishops. No one knows exactly how many rooms are down there as some, including one rumoured to hold the remains of Grand Duke Vytautas the Great (1350-1430) have yet to be discovered. This is partly because of fears of a Tutankhamun-like myth that curses all who desecrate the place. A Latin inscription on the front of one of the cathedral's chapels reads, Violator operis infelix esto (May he who desecrates this creation be unhappy).
A Polish historian who tried to investigate the vaults in the 1930s died a sudden death, as have the 'violators' of similar crypts like the one in Kraków's Wawel Cathedral. Napalys Kitkauskas, who headed a team that explored the Vilnius Cathedral crypt in the 1970s, beat the curse. He contracted pneumonia twice but survived.
One of the hauntingly lit chambers in the crypt is a mausoleum to the two short-lived wives of the ruler Sigismund II Augustus, Elzbieta (1526-1545) and Barbora Radvilaitė (1520-1551). Local girl Barbora is the stuff of legend in Lithuania. Accused of promiscuity and witchcraft at the time, probably falsely, she was mythologised in later centuries for her tragic love affair with her future husband while his sickly first wife was still alive. There are tales of secret tunnels beneath the streets of Vilnius through which Sigismund or Barbora would sweep en route to another rendezvous. Barbora herself was widowed and conservative Polish nobles frowned on the tryst. The couple married in secret in 1547 but Barbora wasn't crowned until 1550, shortly before her death following complications from a miscarriage.
The crypt contains other intriguing details including Lithuania's oldest fresco, dating back 600 years, and cracked chunks of marble that were parts of a burial bas relief smashed by invading Russians and Cossacks in 1655, a chaotic battle in which the cathedral was plundered and around 20,000 inhabitants of the city lost their lives.
The cathedral faced another great test under Soviet occupation. Practical uses were found for it and it was converted into a vehicle repair garage, the three huge statues of the saints on the pediment hauled down and destroyed. After Stalin's death it became, somewhat less controversially, an art gallery. Replicas of the saints' statues were finally put in place on the grand façade in 1996, the sun glistening on the central golden cross. But in the crypt deep below, many mysteries still remain.