This one is for the fashion lovers: just south of Warsaw, in the historic town of Piaseczno, is a retail gem called Designer Outlet Warszawa.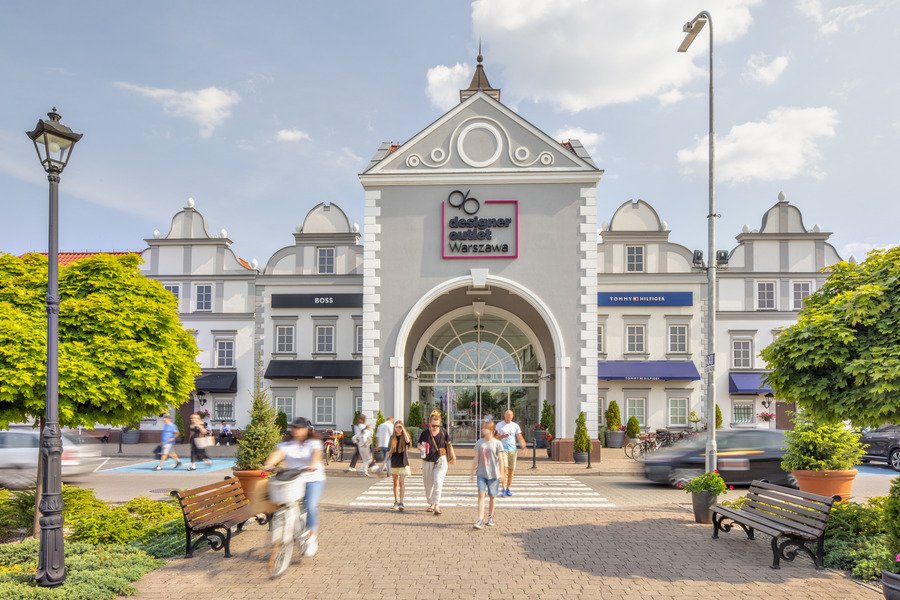 The complex is, at face-value, simply gorgeous to look at – and that's before you even enter the 23,000-square-foot space! 
Though it was built in 2005, you wouldn't guess it from the style. The building has a pastel-colored facade with little baroque-style details reminiscent of buildings in the Old Town. The effect is that the whole place looks like you've stepped into a magical little city of its own.
Inside, you'll find an airy, light space designed to feel like you're outdoors, complete with two-story interior buildings and tons of windows. Nice touches include sleek stone floors, tons of greenery, lamp posts with hanging potted plants, and of course, cafes, restaurants, and shopping. You're inside, but it feels like you're meandering down a little avenue in Paris or Rome. 
But the thing about this spot? The prices are much better than anything you would find in Paris or Rome. It's the largest premium outlet in the entire country, offering 130 different designer brands at anywhere from 30% to 70% off. 
All of that has led to Designer Outlet Warszawa's stellar reputation; it was awarded Best Performing Fashion Outlet Project by the Central Eastern European Retail Awards in 2023, a 2022 award for Project of the Year - Retail Expansion from the CEE Retail Award and Maketplace.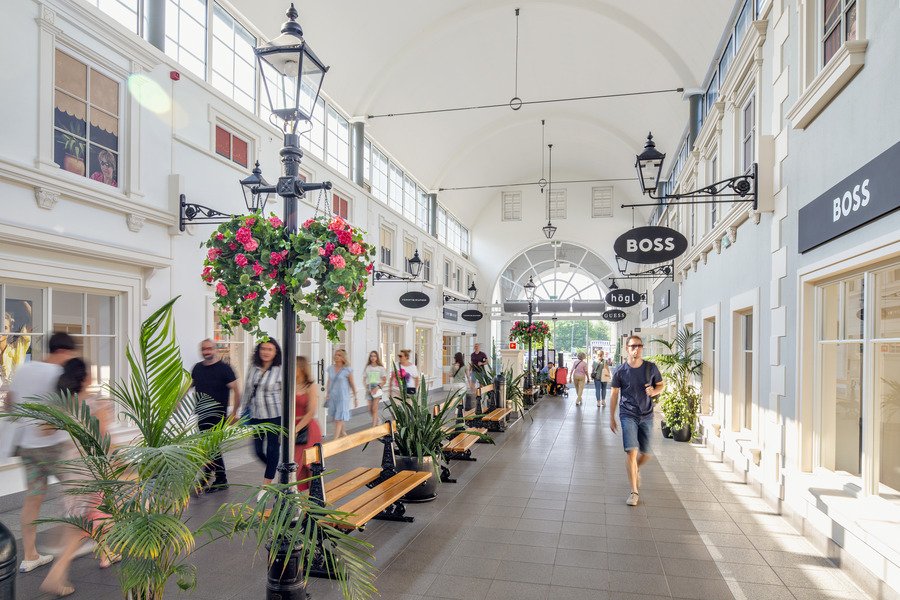 All Your Designer Needs!
If you want to break away from the center of the city for an afternoon and get some shopping in, this is the place to go.
There's an array of designer shops here—many of them exclusive to this very complex, including the country's only Polo Ralph Lauren and Hour Passion shops (along with other luxury watch brands: Longines, Rado, and Certina). You'll also find the only outlet in Poland for Armani, Coccinelle, Furla, Hogl, Luisa Spagnoli, Michael Kors, Pandora, Swarovski, Tous, and Twinset. 
It's also the flagship outlet of Boss and Tommy Hilfiger, and offers other premium brands like Calvin Klein, Gant, Guess, Lacoste, KARL LAGERFELD, Marc O'Polo and many premium Italian brands as well. 
It's not just fashion, either; Designer Outlet Warszawa offers plenty of other shops, too. Swing by The Cosmetics Company Store or Pretty London for makeup and skincare, or Hairpoint for top-tier hair products. 
There are even plenty of offerings for home goods supplies – at prices you likely won't find elsewhere. Want a new pot-and-pan set? Swing by Le Creuset. Are you in the market for high-end ceramics? Villeroy&Boch, which has been a homeware institution since the 1700s, has you covered.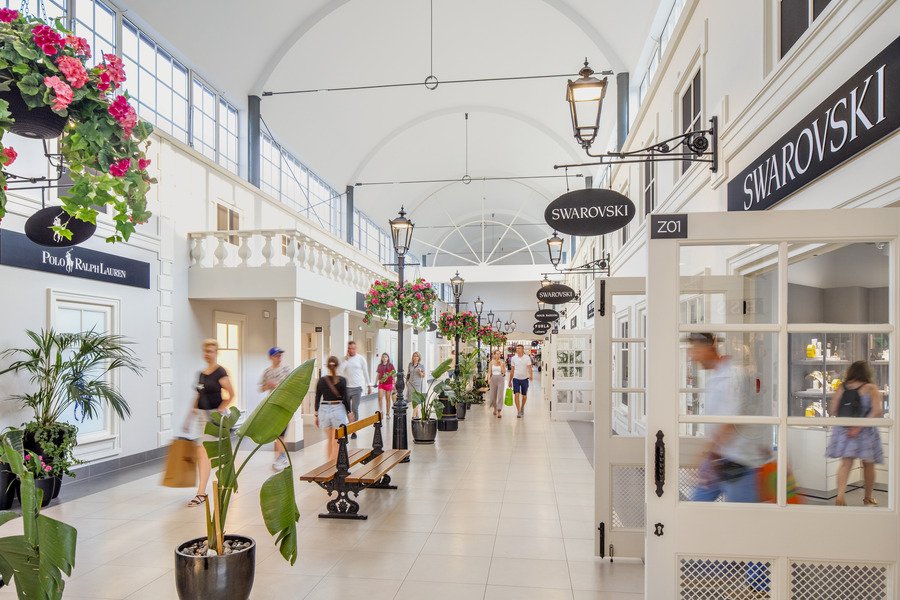 Simply put, Designer Outlet Warszawa is a kind of shop-till-you-drop place. 
And if you're ready to drop, well there's plenty of options to take a break – without even leaving the mall! 
If you need a pick-me-up, swing by the Green Caffè Nero for a coffee, tea or flaky pastry. The popular cafe has comfy leather seats and little tables, offering a cozy cafe experience in the midst of a bustling retail hub. If you want some variety, there's also Vita Cafe, with exposed brick walls and contemporary hanging light fixtures; this is where you come for your pączki fix (the name for the popular Polish donut filled with jam and topped with icing sugar and candied orange peel). 
Or, if it's a full meal you're after, stop by Los Santos Bar, the brick-and-mortar version of a long-beloved food truck, which has an array of international foods including juicy burgers, nachos, burritos, chicken strips and more.
Parents will be relieved to find a lot of family-friendly amenities, too, from changing rooms to strollers, to even lockable cabinets where you can store belongings for the long shopping day ahead.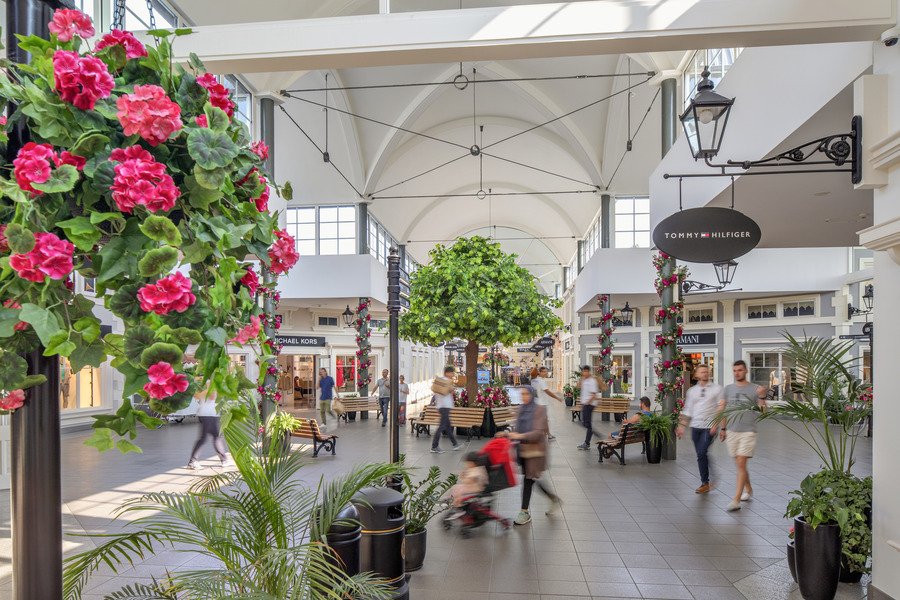 Getting There...
Though the space is located outside the center of Warsaw, it's basically a straight-shot from the middle of the city, and very easy to get to. 
By car:
Take al. Niepodległości south all the way to Energetyczna, where you take a left. It's about a 35-45-minute drive from the center, depending on the time of day. (An Uber will run you about 60 zł or 13 Euro).
By public transportation:
Take the M1 south from the Centrum Metro Station (buy a 75-minute ticket at the kiosks in the metro station - you can use it despite the transfer) and get off at Wilanowska. From there, you walk down to Metro Wilanowska and take the 709 bus down to Piaseczno Energetyczna 01 and make a quick walk to the mall. It's about a one-hour ride.
If you prefer trams, you can hop on the number 4 tram (also with that 75-minute ticket) and transfer to the 709 bus at Aleja Lotników.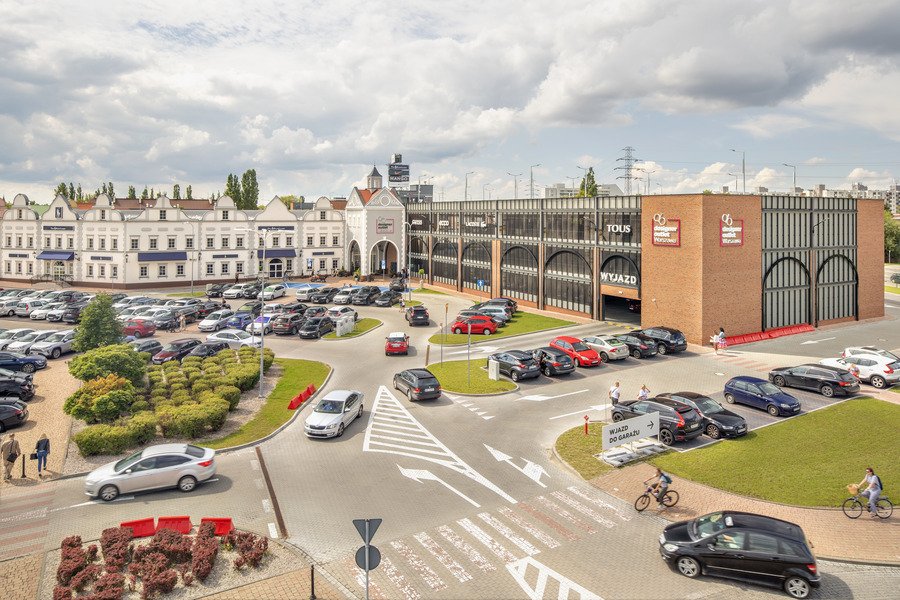 An Historic Market Town 
It's fitting that this popular market is located in this particular town because Piaseczno has a long history as a retail and market hub. The town is one of the oldest in the Masovia region, dating back to the 1300s and, starting in the 1500s, it was known as a hub for fairs and markets. That status was bolstered in the 19th century when a road was built from the center of Warsaw, running through the town of Piaseczno. Then, in the 1930s, a railway line from Warsaw to Radom that ran through Piaseczno further cemented the town's position as a retail hub by bringing even more visitors to the historic place. 
The modern renaissance of Piaseczno started in the 1990s, when the first Auchan hypermarket in Poland opened in the city, followed by the creation of the Piaseczno district, shortly thereafter. Since then, Piaseczno has seen a boom in tourism and in its general population, and it's beloved by visitors and locals alike as the place to go for shopping. While you're in the area, don't forget to check out the nearby spa town, Konstantin-Jeziorna. There's a lot to be said for taking a day trip down south of the center! 

Designer Outlet Warsaw Puławska 42E05-500 Piaseczno. Telephone: +48 22 737 31 15. The complex is open Mon-Sat 10:00-22:00. Closed on Sundays.