It's rare that a modern shopping centre opens up in Warsaw that doesn't garner a collective eye-roll from everyone but the property developers themselves. However with the opening, or rather the re-opening of Hala Koszyki, the script has been flipped and everyone and their grandmother are rushing to see and be seen in what could easily be called the trendiest building in all of Poland. In Your Pocket takes a closer look inside and out and gives you the lowdown on this gorgeous new architectural addition to Warsaw's gastronomic, cultural and economic landscape.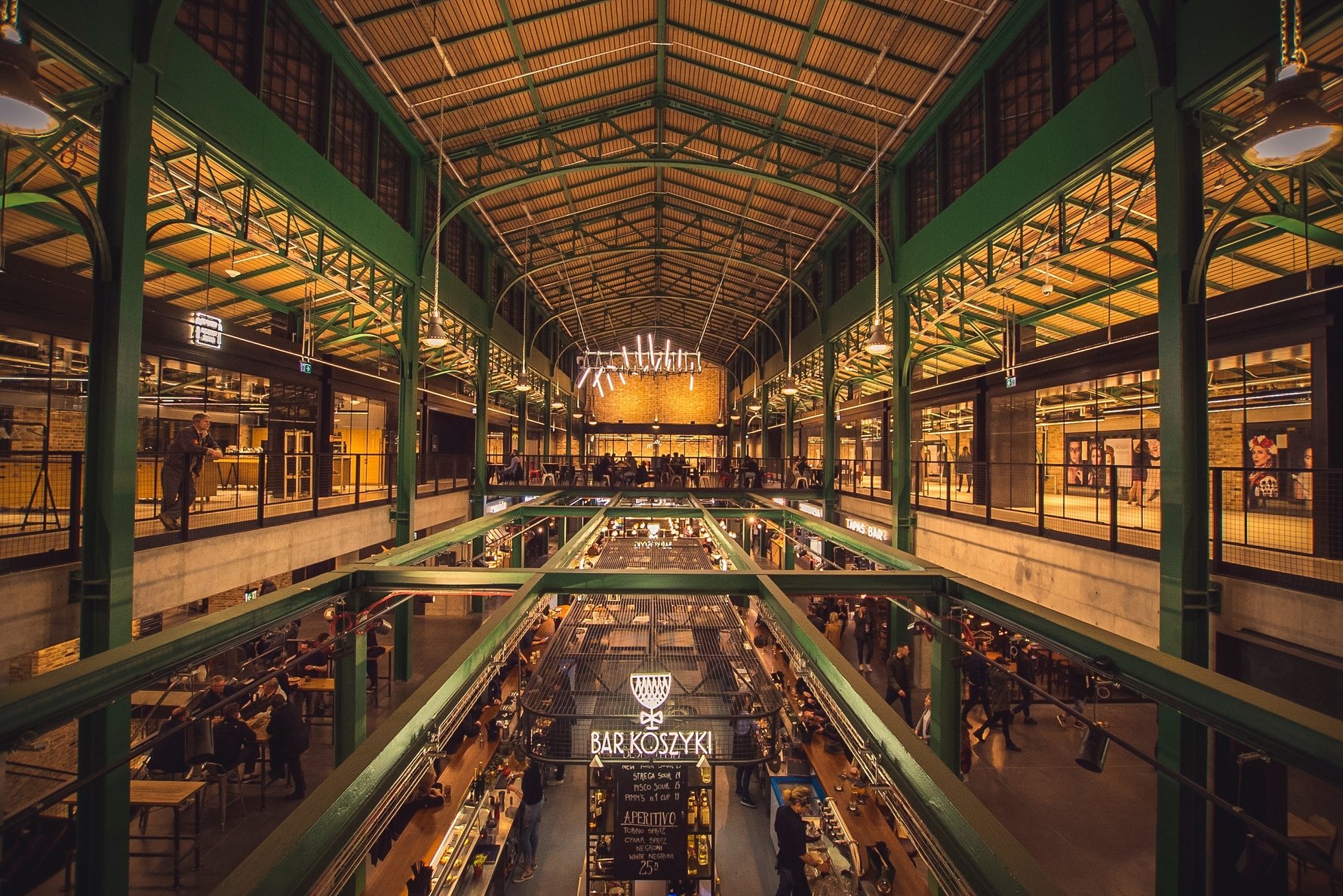 THEY JUST DON'T BUILD 'EM LIKE THAT ANYMORE
Once you get over the initial aesthetic awe and the deluge of design delight that sets in once you see the hallowed Hala yourself (the pictures don't nearly do it justice), the above sentence may perhaps be the first thought that pops into your head. And in fact you would be absolutely correct. The 'new' Hala Koszyki was actually a giant 5-year restoration and revitalization project helmed by Griffin Real Estate and designed by JEMS Architects. Their mutual love of the original market hall – designed in the secessionist style (art nouveau) over 100 years ago by Juliusz Dzierżanowski in 1906-09 – is apparent in every last detail, right down to the cleaning and the reusing of original individual bricks, restoring original lattice metalwork and sculptural details relating to products on sale in the original market by sculptor Józef Zygmunt Ott.
Thanks to many of the modern design tweaks and incredible aesthetic details like the daily curated background music which changes mood and genre to reflect time of day, walking through the halls, perusing the stalls and climbing the catwalks of Hala K is a wholly unique experience. It's almost like taking a step back in time and forward into the future, at the same time. This is not only a difficult balance to strike it's all but unheard of in the plastic fantastic, cooker cutter, glass and steel, whitewashed world of shopping center design. But that's just it, Hala Koszyki isn't exactly a shopping center and it is perhaps the furthest thing from an American style 'mall' you may ever find. The designers and investors were certainly inspired by the mission and functionality of the original Hala – a community marketplace where locals could do their daily or weekly shopping, commune over some good food, gossip a bit and maybe pick up a light bulb or two. With the entirety of the central hall devoted to eating establishments with a big old sexy bar in the middle, they took this initial communal concept and multiplied it times Warsaw.

 
FOOD COURTING VS. BAR HOPPING
So how many world cuisine eateries, of various sizes, can you squeeze into one space and how many is too many? One of the biggest 'problems' the new Hala Koszyki poses to visitors is where and what to eat? Not eating is in fact out of the question. Any time of the day or night you enter the building your taste buds are immediately assaulted by smells and flooded with flavors wafting from many of the gastronomic outposts in the main hall. The creme dela creme of the last decade of Warsaw's gastronomic trends are all on offer including hummus, sushi, burgers, curry (Indian and Thai), seafood, grilled meats and artisanal sandwiches galore (check their website for a full list). Top class little independent bistros sit next to some of Warsaw's biggest chain restaurants and, of course, the Gessler clan is in the house in the form of wunderkind Mateusz Gessler's new Warszawski Sen restaurant and the buzzing 24/7 cafe Ćma (moth).

With so many choices to dine finely, making up your mind may take some time. On our first visit it took us three full turns around the hall before we settled on a Tuk Tuk fish curry. Actually, truth be told, fate may decide what you'll eat, as it's almost impossible to get a table anywhere at most times of the day or night in the open hall so if you value a seat, eat near where you sit or take the easy route and head to one of the more classic seated restaurants (Bierhalle, Weranda Bistro , Semolino etc.).

But what about that bar… This is without a doubt the single biggest attraction of Hala K and not just because Poles are no strangers to a tipple or two. It immediately gives the hall the laid back ambiance of an after hours lounge without which the food stalls would just seem like an above average food court. In fact, thanks to the bar, all of the food vendors also offer their own alcohol and many of them offer different craft beers on tap and in bottles, artisanal ciders, bio-dynamic wines, original cocktails plus a bevy of alternative non-alco beverages from mango lassis to John Lemmons and everywhere in between. This is all well and good but it also means that once you finally find your food of choice, you'll have to do a second round to find the perfect beverage to wash it down with!
THE BASKET CASE
Food and beverages aside, there is indeed a "market" hiding in here somewhere we promise. The name itself, 'Koszyki', is actually a play on words as koszyki means baskets, as in shopping baskets (that or it's just a shortening of Koszykowa St.). So what can you actually put in your basket you may ask, excellent question. If you enter the market through the left wing you'll undoubtedly run smack into the meat stall ie Crazy Butcher. They offer cuts of meat that you can normally only find in the finest restaurants in the city. Keep heading further back and you'll find the Bazar Koszyki which has all sorts of specialist products, meats, cheeses, hummus, olives, cakes, wines, plants etc. Next door you'll find Smak Natury which is a deluxe health food emporium. Elsewhere on the ground floor you'll find a luxury cosmetics shop, a tea shop, a kitchen shop, a mediterranean deli and Aromat, one of the best new bakeries in town.

Leave all the hustle and bustle of the ground floor level and take a peek at the ominously deserted basement level which is home to Sobremesa Tapas Bar, probably the quietest Rossmann in town, an excellent cheese shop and a dry cleaner in case things get ugly with a curry upstairs.
INSTA-GRAND
Now that your basket's full, take the elevator to level 1 for a bit of culture in the in-house modern art gallery. There's currently a fascinating photo exhibition about Polish "roadside 'attractions or just take a few moments to stare at the kinetic light sculpture 'Big Dipper' by Australian artist Michael Candy. This level is also home to a culinary school and a yoga studio – plus plenty of soon to be coworking spaces (your desk could be here!). Stroll along the catwalks and just try and resist the urge to pull out your smartphone and instagram the hell out of the unsuspecting revellers below. Don't worry, you certainly won't be alone. Hala K was recently voted as one of the top 10 instagrammable spots in the city and looking at the photos, you can probably see why.

In just half a year of being open Hala Koszyki has already, rather unsurprisingly, proved amazingly popular amongst the young and the beautiful, who flock here like lithe gazelles around a watering hole. In fact it will probably remain THE place to be seen for some time to come - mainly because it's easy to be seen, due to its open plan layout and of course because of its gastronomic prowess. It also appears to have an ambitious cultural agenda which aims to bring concerts and performances from different genres to help pull in a larger demographic than just the after work punters and millennial selfie enthusiasts that peppered the hall when we visited. We are most curious if this impressive place and incredible space will actually fit into the fabric of modern day Warsaw and live up to its own branding of being an actual melting pot for locals, expats, tourists and even neighborhood grannies who used to come here for eggs and milk in their jammies not so long ago! Regardless of its future, there is no questioning this is the place of the moment so get there in a jiffy and don't forget to look up, down, sideways etc. as beautiful hidden details abound!