There is a new attraction in town which takes visitors to a whole different and higher level of experience. Rise 200 meters above the city and discover a stunning view of the whole Warsaw skyline. In addition, experience an attraction that will literally knock you off your feet and change the angle of your view on things.

This is Skyfall Warsaw...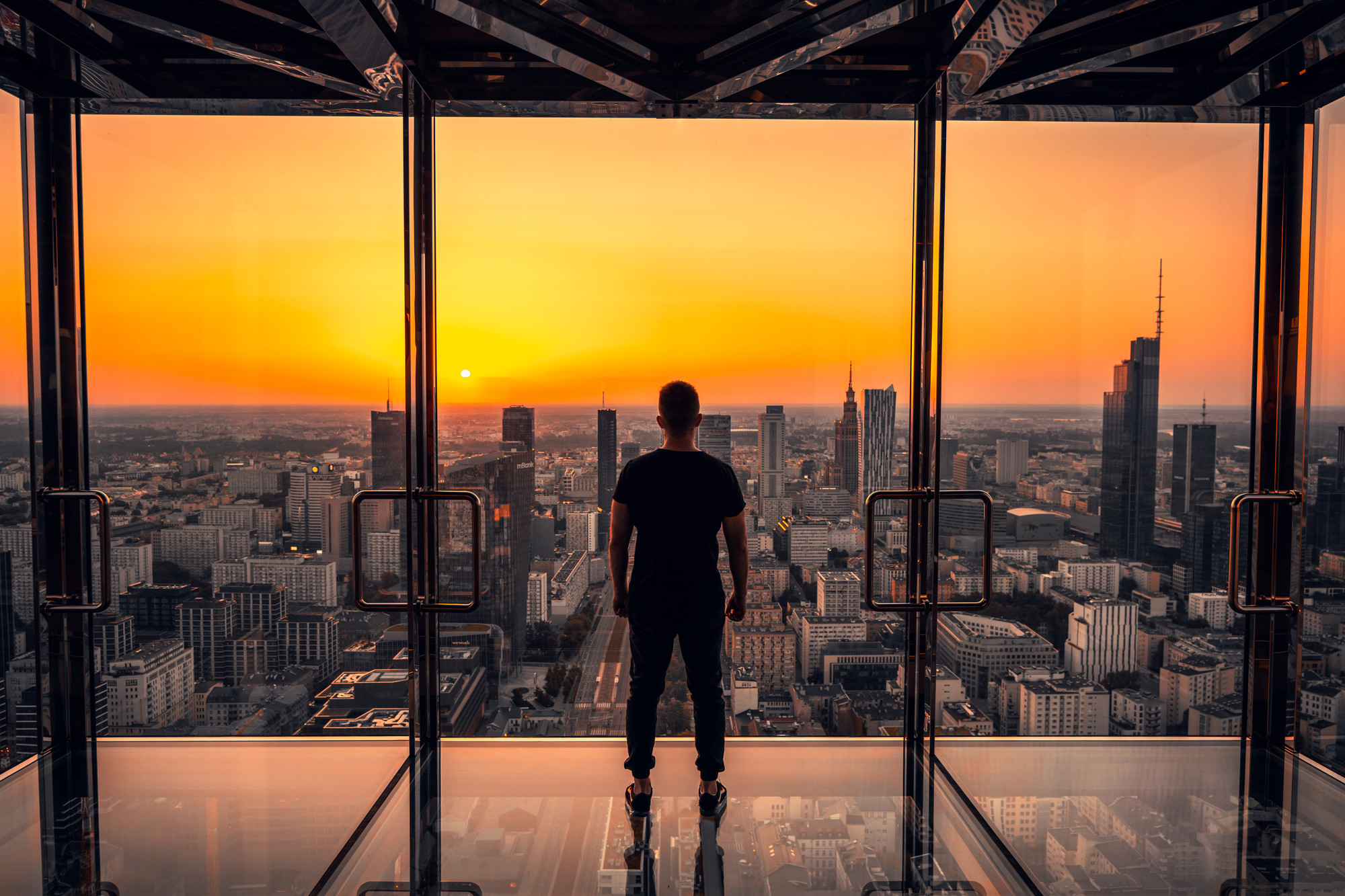 When thinking of the "above the clouds" view of the Warsaw skyline most Varsovians and visitors instinctively think of the Palace of Culture and its viewing terrace. That will most likely not be the case for much longer, as the famous viewing terrace of the Stalinist skyscraper's 30th floor doesn't allow for a fully immersive experience of Warsaw's centre. If you actually want to see Warsaw from above and get a view of the whole skyscraper repertoire of the capital you have to head further out west to the Wola district. Such a piece of advice would have been laughed off by locals a few years ago, as high-rise buildings in Wola were scarce if not non-existent. But that has well-and-truly changed...
 
Taking it to new heights...
Enter 'Warsaw UNIT' – the Polish capital's 5th tallest building, clocking in at an impressive 202 meters and completed in 2021. Located at Rondo Daszyńskiego, this construction is part of the latest surge of skyscraper development in Warsaw, which turned this former industrial area of Wola district into a real "new Manhattan", not to mention a thriving office hub!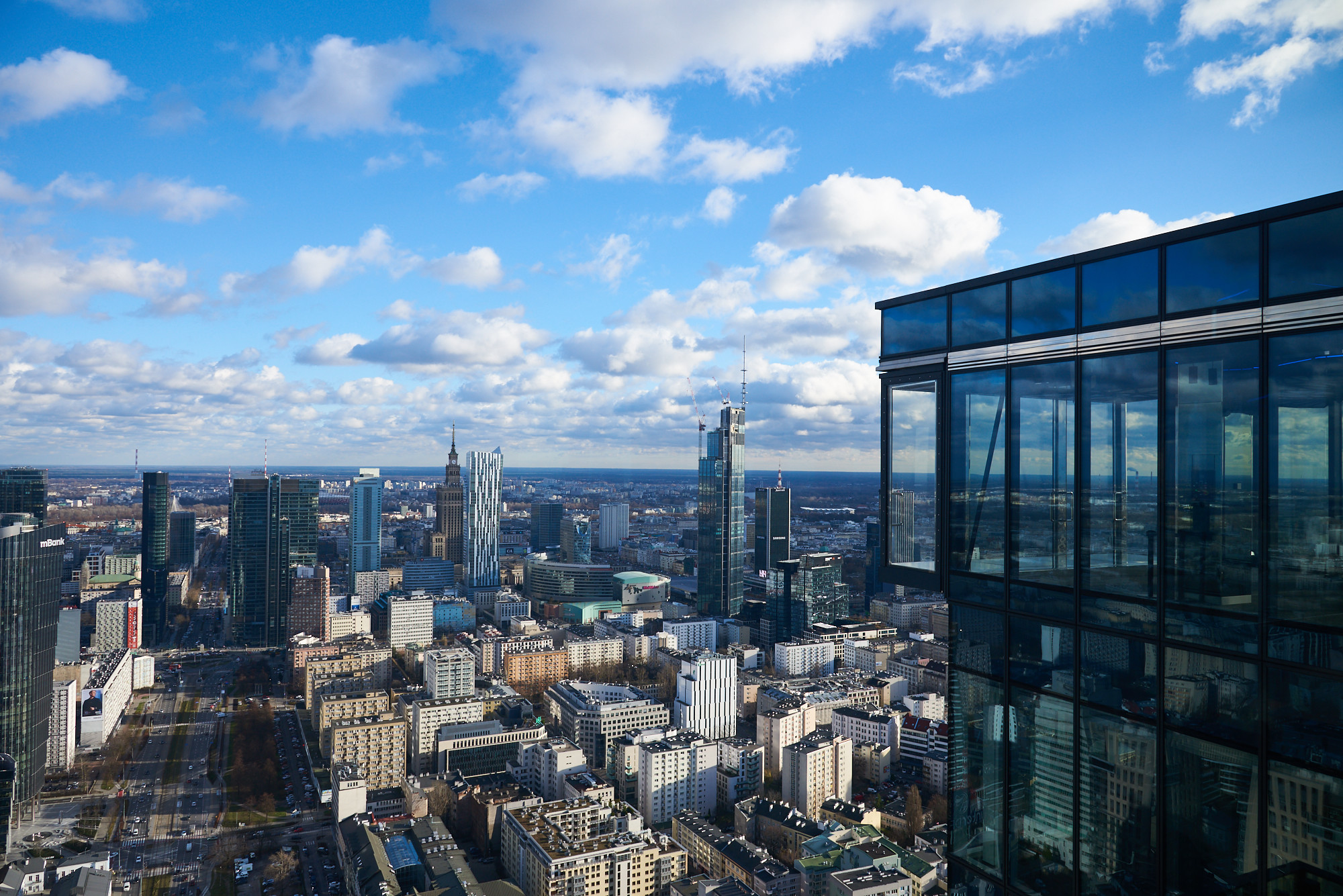 However, Warsaw UNIT is more than just an office building. Head up to the 46th floor to witness a stunning new attraction. Here you will find Skyfall Warsaw - the highest viewing deck in Poland. And the only one that offers a view of the whole Warsaw city centre and all the skyscrapers (including the Palace of Science and Culture). You can watch the rising sun in the east waking up from behind all the skyscrapers. Likewise, you can watch it set in the west behind the horizon without high-rise buildings blocking your view!

Change the angle of your view...
But there is much more to Skyfall Warsaw than simply offering pleasant city views. As the great Alfred Hitchcock put it: 
"A good film starts with an earthquake and should be followed by a rising tension." 

Well, the creators of Skyfall Warsaw must have been students of the late director. The nearly 200-metre viewing terrace is the earthquake, and the tension definitely rises afterwards...or should we say adrenaline? You see, a key attraction of the terrace is a glass viewing terrace, large enough to fit just four people. Fully glazed with a transparent floor, which should already give you goose bumps and send adrenaline rushing through your body, considering how high the platform is raised above the city!

Now imagine yourself there. The urban abyss below your feet. And suddenly the floor moves…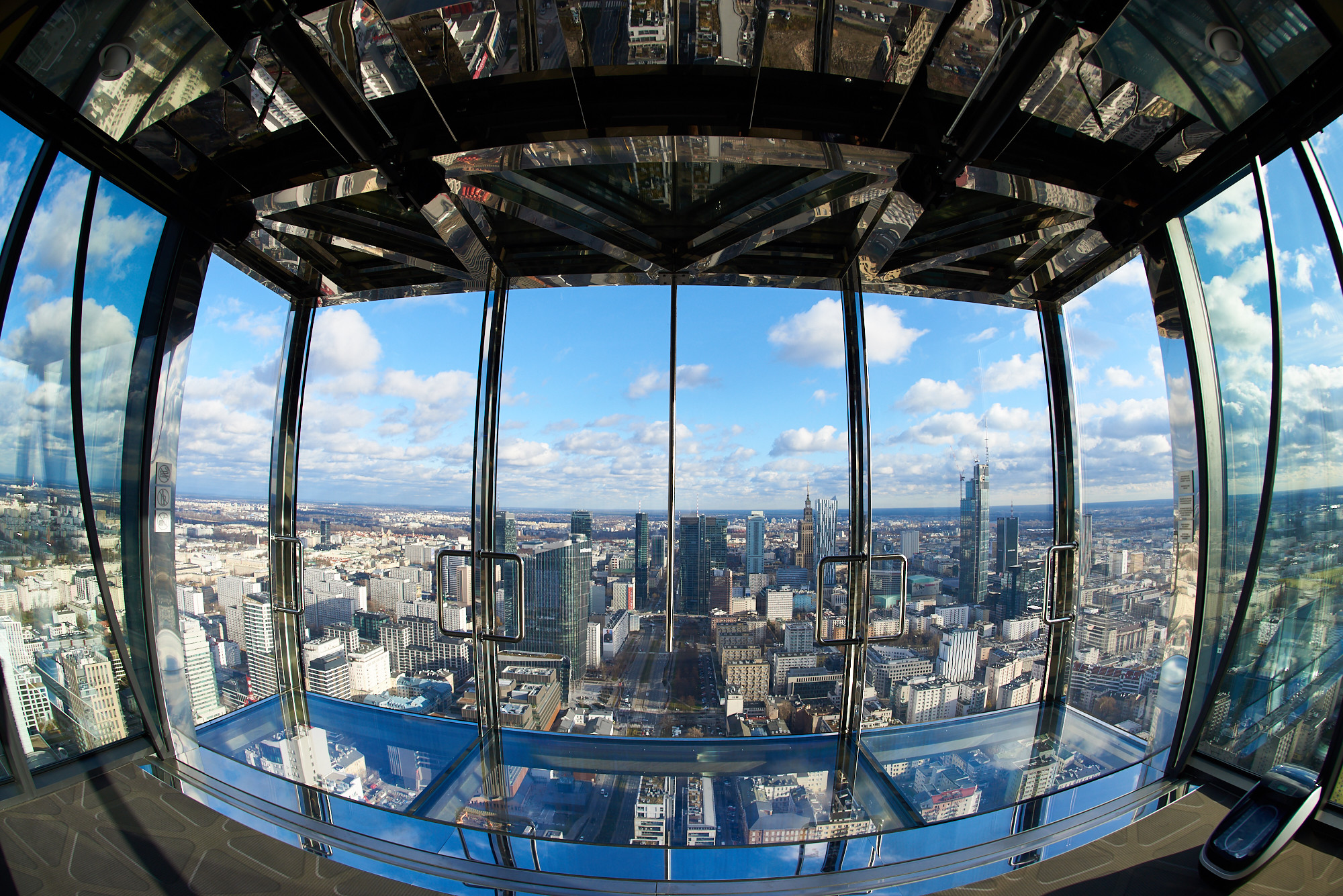 Yes, you read correctly! Propelled by hydraulic levers, the glass platform tilts slightly forward by 15 degrees giving you the impression that part of the terrace is actually falling away from the building! This will literally and figuratively knock you off your feet. Skyfall Warsaw is the only such attraction not only in Poland, but also in all of Europe – so it's an absolute must.
 
Taking the body and soul to a new level...
Such an experience for most of us would definitely require a drink to calm the nerves. Well, guess what? Skyfall Warsaw has its own bar – a SKybar, if you will – offering a wide array of hand-crafted cocktails (including non-alcoholic ones), premium spirits and a rich line-up of sweet and savoury snacks to go along with enjoying the only panorama of the Warsaw skyline from the west.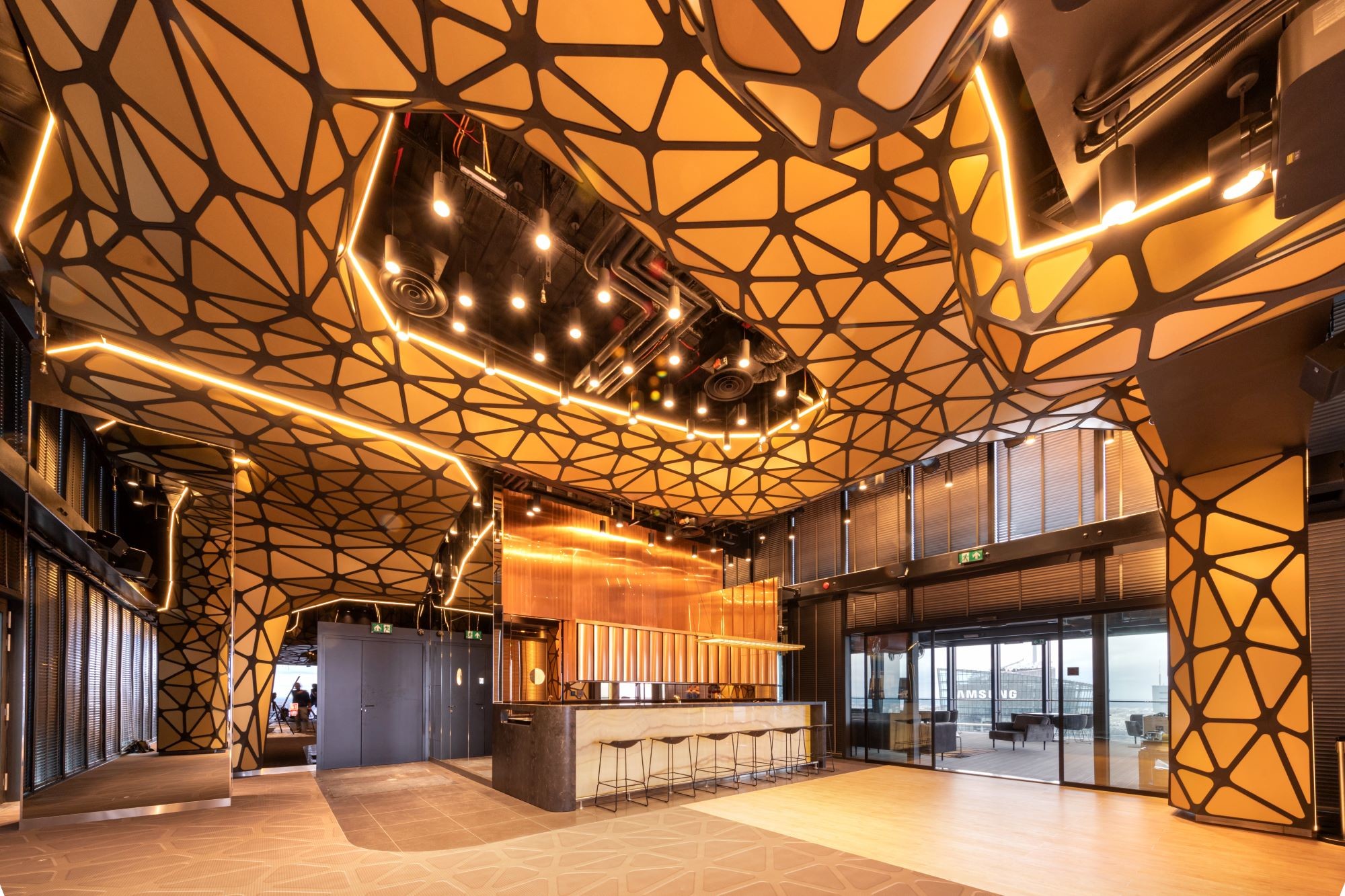 Skyfall Warsaw's offer goes even further. It has something for both the soul and the body. As far as the former goes, Skyfall has ambitious plans to provide the highest (literally and figuratively) form of artistic performances such as live music theatre. As for the healthy body, Skyfall Warsaw has been the stage of fit morning pilates sessions. Seeing the whole city from way above basking in the first rays of the morning sun (while doing the Sun Salutation pose) is a truly unforgettable experience!
 
Heaven for events...
Skyfall Warsaw is also available to host organised events. It has all the necessary multimedia, helpful, friendly and competent staff, and, needless to say, an extraordinary, one of a kind event space of the highest (again!) level. The easily-utilised space of Skyfall Warsaw comes to an impressive total 500 square metres, which allows for organising events for up to 200 people. That includes the bar, as well as two open air terraces which can be roofed upon request. The interiors were designed by the renowned Mac Stopa from Massive Design – known for his innovative and unorthodox projects.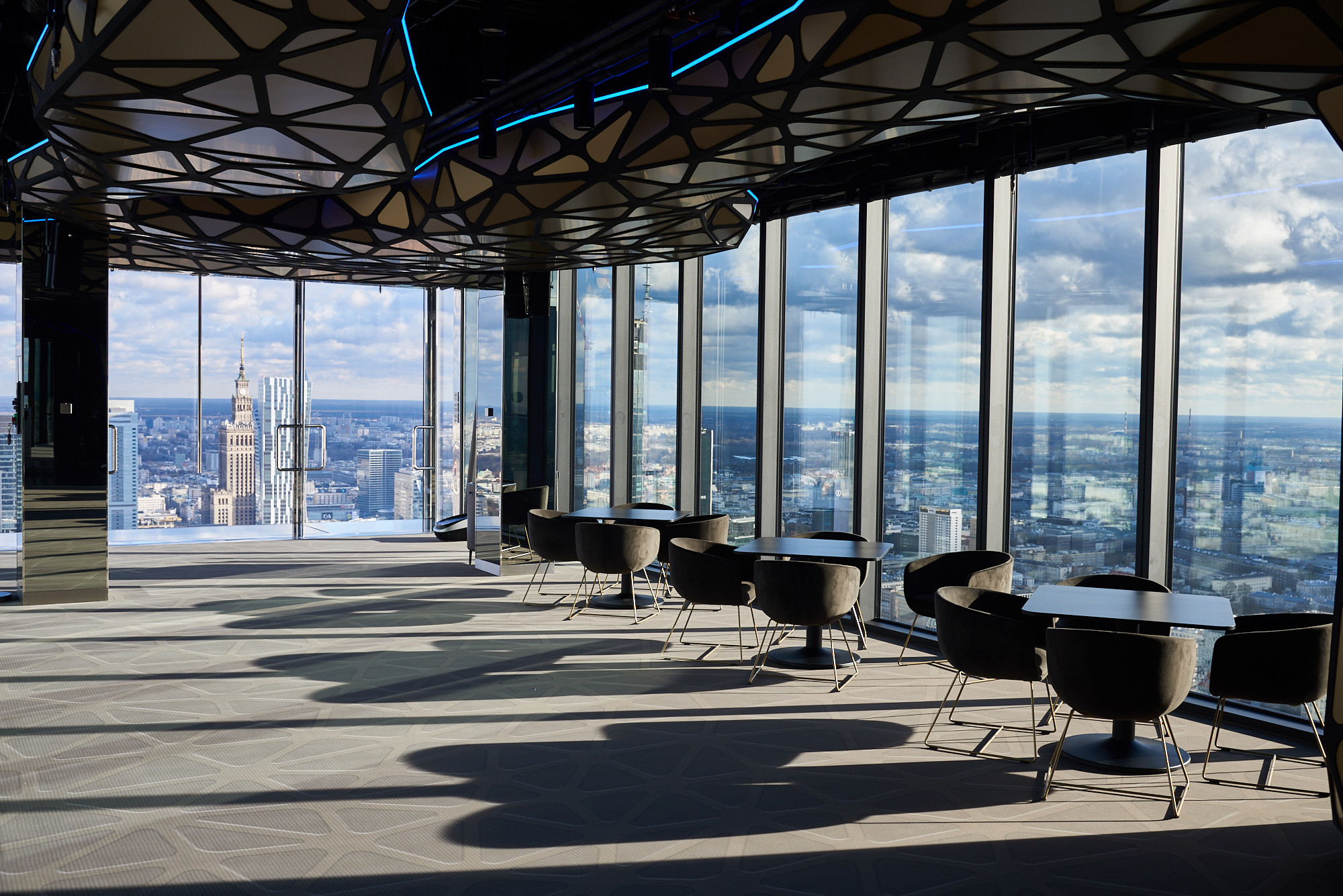 Reaching the Skyfall Warsaw level is also an experience in itself. A separate elevator takes guests up to the top from a ground-level entrance from Prosta street. The trip to the 46 floor lasts... a mere half a minute!

So far, the Skyfall Warsaw terrace and platform are solely opened for organised events and conferences. We have good news, however. You won't have to wait long until the space is opened to individual guests! And when it does happen, that is, by no means, your only option. In the meantime, you can experience Skyfall Warsaw's amazing terrace view during the warm glow of Wednesday-morning Pilates sessions! More details of this event, organised in conjunction with Warsaw Pilates, can be found on Skyfall Warsaw's social media accounts.
Details about prices and terms of entry can be found on the Skyfall Warsaw website. Furthermore, if you are in Warsaw and looking for a unique venue that offers a truly unforgettable experience for you and your guests, get in touch with Skyfall Warsaw today!