Poznań Bars, Pubs & Clubs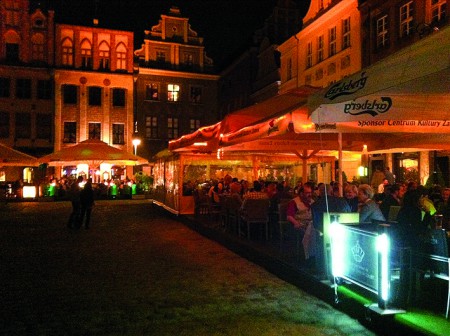 Here are a few suggestions depending on what you are looking for:
Lads:
Newcomer Ministerstwo Browaru emphasizes plenty of obscure beers (including their own brew) for connoisseurs. If you're looking for something more upmarket then check
Someplace Else
in the Sheraton, while
Brovaria
has excellent lagers brewed on-site. Also consider heading to
Kriek
to sample more than 160 types of beer poured into their appropriate glasses.
Splurge:
The best cocktails in Poznan are found in the
Blow Up 50 50
, which is conveniently situated close to the most exclusive danceteria in town –
SQ
. Look the part if you want to be accepted into either.  
Cocktails of Dreams
is focused on exciting drinks produced with plenty of bartender flair, while
Piano Bar
mixes luxury drinks and atmosphere for a well-roundedly swank experience.
Couples:
Another vote for
Blow Up 50 50
, the best destination for seduction cocktails. If it's entertainment you're after check out
Blue Note Jazz Club
, which attracts great international performers to serenade your better half.
Basilium
 does an excellent job of combining cocktails with cosy spaces  as well. 
Local:
Brave the dark basement to experience
Kawiarnia Nocna 
Kisielice
, a Poz mainstay that locals love for the music and unique 'K-hole' atmosphere. Glimpse the past by drinking in the commie themed confines of
PRL
and
Proletaryat
.  And be sure to end your night in typical Polish style at
Białe Wino i Owoce
, a 24-hour eatery on the Rynek that will help you offset your hangover with piles of white sausage and tripe soup.
Square:
Without doubt the most popular place to drink on the square is
Brovaria
, which regularly sees people queuing for tables to become available from where they can enjoy the in-house brewed beers.
Bee Jays
is popular with a slightly older club crowd, and
Crime Story
never lacks a full dance floor. Recent addition Lollipop will cure your craving for something sweet and decidedly sexy (yes, those are girls behind the glass).