Let's Gdańsk!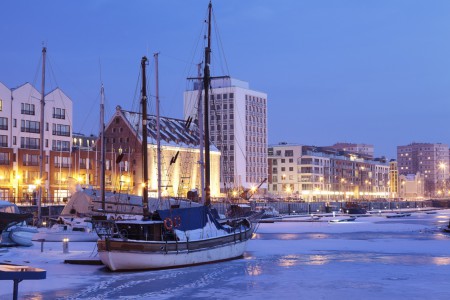 The Motlawa river regularly freezes over in winter
Grzane Wino or Piwo
until the sun reappears.
We've compiled a selection of ideas of what to do, both inside and out in 
Gdansk
, 
Sopot
 and 
Gdynia
 and given you a list of places where you can ski, drive a go-cart or pack a bunch of sausages and be taken out into the countryside on the back of a horse drawn sledge to warm yourself with the local spirit while grilling your lunch.
There's also a pointer to
an area of Gdansk old town
that has quietly gathered a collection of the best places to eat in the Tri-city plus lots of other independently checked and written info to help you make the most of your stay here.
We also look at
why standards of service appear to be falling
in many restaurants, bars and other places supposedly geared to attracting the foreign guest. We don't just want to complain though – we'd like your help identifying examples of great service so that we can make offer some cash prizes to those servers who are doing a good job – and hopefully encourage others and more importantly their employers to try to raise standards. If you are lucky enough to be treated very well, let us know who by and where to the email address below. And we also look at one group who are only too eager to help you and that's the group of young women handing out strip club flyers in the heart of the city each evening. Isn't that just making the city look tacky?
Whether you're reading this in our print issue or on our
website
remember you can now reach us via your mobile device either by downloading the
tablet friendly electronic version
of the print guide or via our specially adapted mobile site which shows you what's available and how to find it. Don't forget that free-access wifi is widely available both in venues and in the city itself so get online now and take a look at
m.inyourpocket.com
And finally in this age of the smartphone and tablet don't forget you can go to the iTunes store and download our
iPhone app
which, unlike many, is designed to work offline. Alternatively if your phone has run out of power, there is no Wifi where you are and your roaming package is costing you a fortune it's all there in our compact A5 magazine (which also works as an umbrella in an emergency).
As always please feel free to drop us a line to
editor_poland@inyourpocket.com
whether it be a tip, criticism or whatever , and you can leave comments about all the venues listed here (and more) on our 
website
 at
inyourpocket.com/Poland/gdansk
.
We sincerely hope you enjoy your time in Gdansk and the guide we have put together. Be sure to keep an eye on 
Facebook 
(
facebook.com/gdanskinyourpocket
) and follow us on
 Twitter
 (
Twitter.com/gdanskiyp
) for all the latest on what's happening in the three cities.