Not that there's nothing fun to do in Dublin on a regular day. Sure there's plenty of craic to be had. But Dubliners, if not the Irish in general, are professionals at celebrating and one of these events is a sightseeing must on your to-do list, which is why we've fitted in a full 15 rather than our standard 10. And since every season is covered, you have no excuse to miss anything!
Tradfest (January) 
What better way to kick of the cold beginning of the year than with a traditional music festival that aims to scare the winter away? This legendary festival dedicated to celebrating the variety of homegrown and international folk music stages the known and the to-be-known artists in historically most significant venues in the city. You will find a number of ticketed and free events at castles, churches, music venues, pubs, theatres and even jailhouses and army barracks!
Dublin International Film Festival (February)
For its relative smallness, Ireland has quite a high amount of cinemagoers, commercial and underground cinemas, and this festival occupies the center of it all. Hosting international stars like Al Pacino and Richard Dreyfuss, shipping Irish cinema across the sea (this year to the Shanghai Film Festival!), the films are screened at some of the most awesome cinemas around town, the Irish Film Institute, and the Lighthouse Cinema to name just two.
St Patrick's Day (March)
Each year, on the 17th of March, different parts of the world remind us of the Irish in each and every one of us, like the city of Chicago for example, that has been dying its river green since 1962 in honor of Paddy the saint! It  is the recognizable color and if you dare not wear it you will get pinched and they will all shamelessly blame it on the leprechauns! Especially if you are at the epicentre of it all, Dublin city, glimpsing at the parade through a sea of beer-shaped hats and clove-painted cheeks. A 5 day craze of green flashing before your eyes.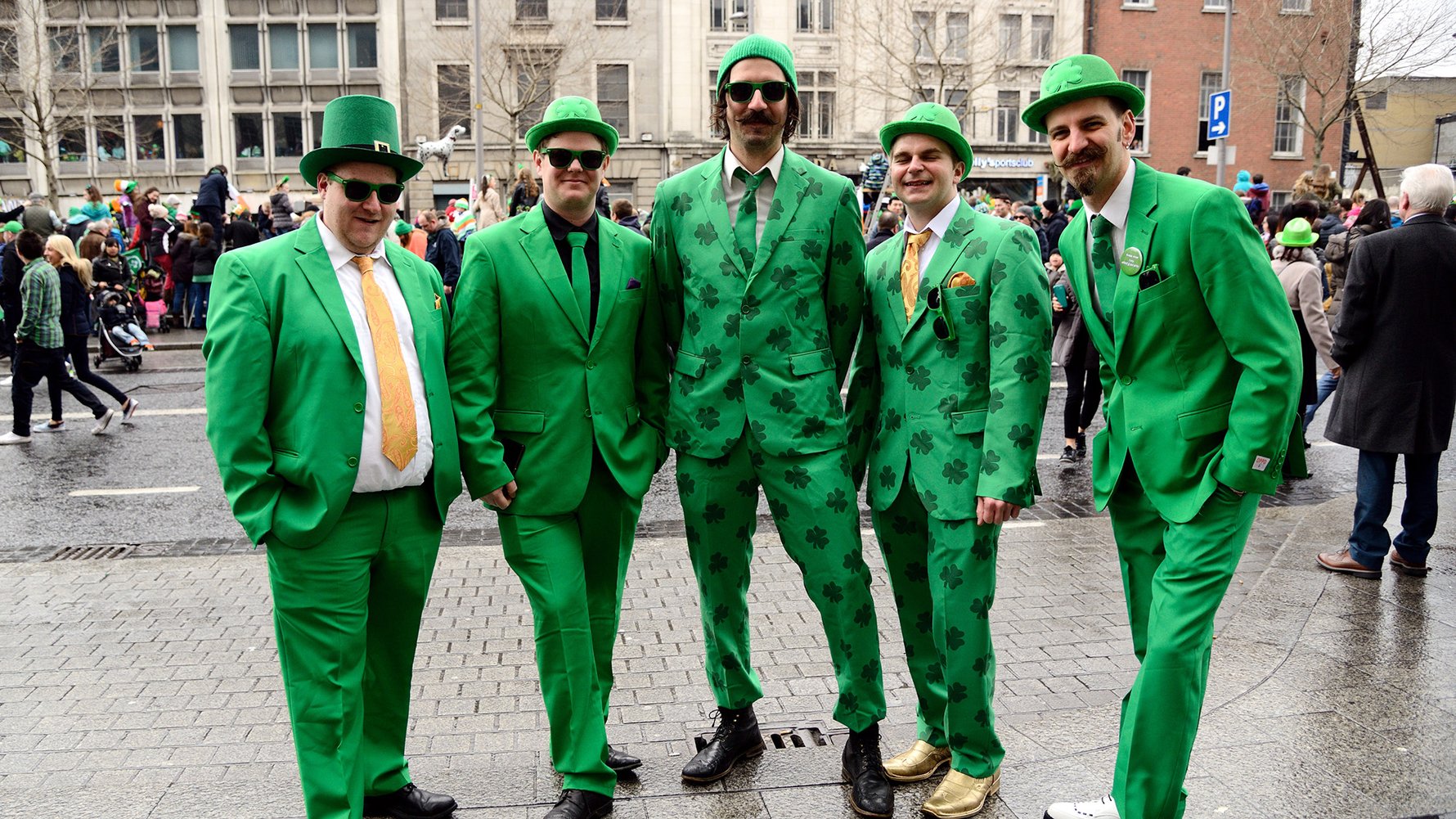 Dublin Dance Festival (May)
How far can one go with dance? In Dublin apparently, pretty far. Founded in 2002, this festival has developed into one of the most important dialogues between art in the form of dance and politically relevant questions of contemporary times. The Bounce Club Night held at the well-known Button Factory in Dublin for the first time this year club explored the possibility of clubbing for adults with intellectual disabilities. Another recent project, the Phoenix, brought up questions regarding today's technological toys and difficulties people in Gaza have with internet connection. From kids to adults, the festival might not be as known as some, but it sure contributes its end to intelligent and provocative artistic production in the city. 
PhotoIreland Festival (May - July)
Ever heard of hurling? Yeah, well if you haven't seen this year's cover photo of the Irish International Photography and Image Culture festival we can't blame you. Because that photo would get you asking - what on earth are they doing? Just one in many interesting exhibits of international and Irish photographers, it is clear that this festival richly supports an alternative and more in-depth story of Dublin and Ireland. If you want to experience visual memories worth remembering, do check out an event - you basically have a third of the year to do it!
Dublin LGBTQ Pride (June)
Leprechauns are  not the only ones who get to hide a pot of gold at the end of the rainbow. In tandem with LGBTQ supporters across the globe, Dublin contributes no small festivity. What started in the 1970s as picnic in Merrion square and a march in protest of the criminalisation of homosexuality that counted 10 people, this parade and its events now invite an audience close to 100 000! Usually set in June, the parade covers just one day in a series of events such as rugby tournaments, pole dance shows, educational tours and much, much more, that enable everyone to salute a community of inclusion.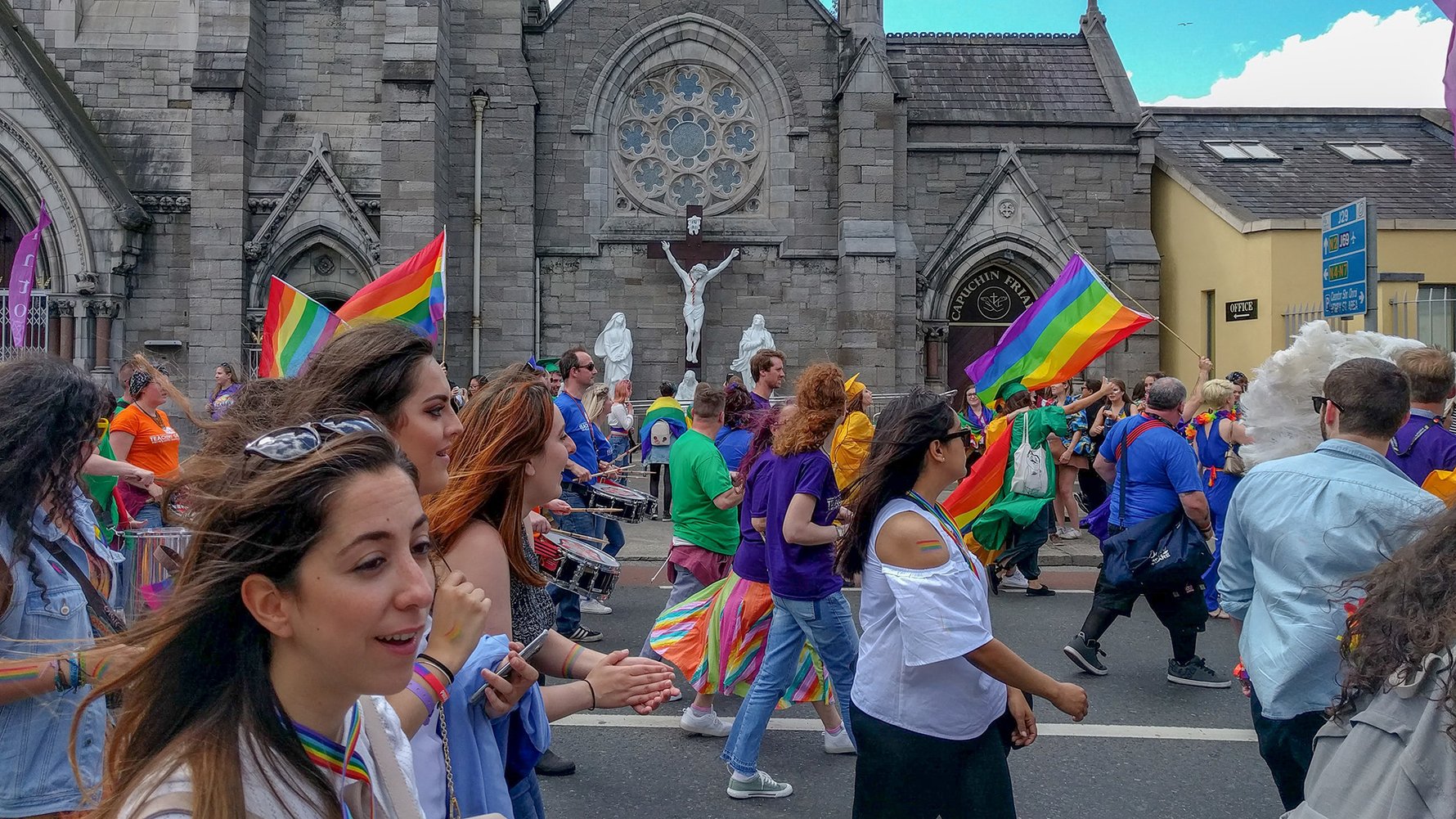 Bloomsday Festival (June)
The day of Bloom that is 26th June celebrates one of Ireland's most legendary writers James Joyce and his incredible work of literature, the novel Ulysses. One of the reasons for its incredulity is that in spite of the plot being quite simple - the protagonist Leopold Bloom wanders around the streets and establishments of Dublin while his wife cheats on him - the way it's written earned it a place in the top 20 most difficult books to read of all time. And the best thing about it all is - you don't even have to read it to enjoy it! Witness the fans take their delight in reading out parts of it dressed in frocks and hats of 1900s Dublin. Take a tour or a pub crawl to visit all the places Bloom set his foot in on his voyage. To know about this day is to know about Dublin. 
The Festival of Curiosity (July)
Curiosity killed the cat. Many cats, probably. The European Capital City of Science in 2012, Dublin didn't seem to care much about these cats. Much to their meowing protest it boldly went and set up a festival of Curiosity that would start a tradition aimed at tickling human, and not necessarily only cat's curiosity in most innovative ways, through visual play and interaction of science, technology and art. Divided into playful days for kids and families and no less curious nights reserved for adults, the festival brags its yearly sellout. 
Laya City Spectacular (July)
Swordswallowers and daredevils, acrobats and magicians, ventriloquists and football freelysters, danger comedians, mad scientists, living statues, citizens and visitors of Dublin beware! The tradition of travelling circuses, music-halls and vaudevilles is back and all they ask is for you to be entertained and show your appreciation and support by throwing a coin or two in the hat. Two remarkable days of free street performances accompanied by dance classes, fitness camps, graffiti workshops and other activities take over Dublin's Merrion Square over two days in July in the name of health and creativity. 
Longitude (July)
For roughly 362 days a year, the spacious Marlay park in the south of Dublin offers long walks and views of the Dublin mountains. You would find families with children, dogs, joggers, picnicers. For the other three days set in the heart of July, the area transforms into the biggest outdoor music festival in Dublin. We're thinking thousands of young people dressed up as if it's 30 degree celsius, taking fashionable selfies with the gardaí and shaking it to the hottest hiphop, grime and dance stars in the music industry. Asap rocky couldn't make it this year, but Cardi B did, and so did Stormzy, Vince Staples, Bugsy Malone, JPEG Mafia, Sheck Wes, Rae Sremmurd… Need we say more? Tickets usually sell out pretty quick.  
Dublin Horse Show (August)
The Connemara, the Draught, the Gypsy Vanner,the Kerry Bog, the Hobby and the Sport. They could easily be mistaken for dangerous Irish whiskeys down at Temple Bar. And while they are born and bred in the idyllic green Irish pastures, what they actually are is local breeds of horses! Who would've thought? And where best to see them at it, strolling down the catwalk, or should we not make irrelevant cat references and rather call it what it is - the green pastures and mud they were raised in, than at the traditional annual Horse show!? In no way limited to Irish breeds, this institution and most notable equestrian event in the country has been at it since 1864, and offers the stage for showing off, riding and jumping on horses. What we mean is, jumping while sitting on horses. And speaking of showing off, it's not all about the hooves, there is something to be said about the shoes as well. And hats. And designers.  Ladies day offers an opportunity to win a Best dressed Lady / Man, most creative hat or some kind of elegance equivalent of a horse award which grants you a handsome refund for all those investments spent chasing that title! 
Dublin Culture Night (September)
It's best that you cancel all your previous plans, change your tickets and accommodation bookings and just center everything around September 20th. And then clone yourself, so you can travel all around the island in one night. Not only Dublin, the whole of Ireland joins in making this night all about cultural heritage! Many cool institutions such as the Dublin castle,  stay open after hours and let you in for free. One of the highlights is a visit to the President's crib, the Áras an Uachtaráin. Only if you're lucky enough though and your application wins the lottery!
Dublin Fringe Festival (September)
Sibling of Edinburgh Fringe, the world's most recognized arts festival, the Dublin equivalent started in 1995 and was initially oriented towards small theatre productions. Today it offers an intense 16 days and nights of theatre, dance, art performances, interactive lectures, comedy, spoken world, parties, circus and cabaret shows and workshops for festival goers and artists alike. Occupying a total of 36 venues for 545 local and international performances in 2019, the latest festival questioned subjects of pleasure, power, and the included a most curious collection of spots in the city -  a hairdresser's, a gothic chapel, the irish railway and more - into stories told through the fringed face of art.
Dublin Theatre Festival (September/October)
For all you theatre aficionados, this compelling theatre festival really makes life all about drama. Not only tragic, but eminently thought-provoking, bold, humorous, quality performances that vow to use the many theatres and performing arts centres scattered throughout town to showcase the best of what is Irish and the best of what Ireland should see playing in its capital. They say there's nothing like theatre to  mirror society, and there is really no better way to know about life and passions in Dublin and Ireland than to witness its inhabitants at their most creative. 
Bram Stoker Festival (October)
"The blood is the life!" Obviously true for for a vampire, and what a vampire that Dracula made out to be! Another interesting character of Irish national literary tradition, Bram Stoker, would become the recognized name behind the creation of the widely adapted pop horror novel written in 1897. If in Dublin during the Halloween euphoria, attending this festival brings a fun twist to the experience. As many a literary festival in Dublin, half of the attraction are the venues in which the stories, trails, crawls, performances and workshops happening in the mysterious and creepy atmosphere of the world of the protagonist. Be prepared to walk antique churches and libraries, learn about how to reproduce the most authentic sound of a spike piercing human flesh and read horrifyingly entertaining stories on Instagram!