Whilst most of us abandoned our architectural aspirations the moment the Lego set was mangled by the dog Daniel Libeskind has gone on to become one of the world's most eminent architects and one of Łódź's proudest exports. Born here in 1946 to Dora and Nachman Libeskind, both Polish Jews and Holocaust survivors, Libeskind displayed an early inclination for the accordion rather than architecture, a talent that earned him a scholarship in 1959 to play alongside a then-unknown Itzhak Perlman at the America Israel Cultural Foundation. Shortly afterwards the Libeskind family put Poland in their rearview as they left for New York City on one of the last immigrant boats.

It was there that Libeskind shelved the accordion and turned to the trade that would make him famous. In 1970 he graduated from Cooper Union for the Advancement of Science and Art followed by a postgraduate degree from the University of Essex in history and theory of architecture. It wasn't all work for Libeskind, however, as he met wife and business partner Nina while at Camp Hemshekh in upstate New York in 1966 and married her several years later. As architecture devotees the couple decided to forsake the traditional honeymoon and instead traveled the United States visiting various Frank Lloyd Wright structures on a fellowship.

Following school Libeskind held a variety of jobs, including being an apprentice to architect Richard Meier and a brief stint at the New York Institute for Architecture and Urban Studies. While employed as the head of the architecture department at the Cranbrook Academy of Art Libeskind won the first four design competitions he entered, including his proposal for the Felix Nussbaum Haus in Berlin. This museum housing the works of the German-Jewish painter who died in the Holocaust was completed in 1998 and would be his first finished building (for those keeping track, that means Libeskind didn't see a building constructed until age 52).

Libeskind didn't become a Wright-level household name until he rocketed to fame when he won the commission to design the Jewish Museum in Berlin in 1989. Although it took ten years to complete it proved a design masterpiece and put the architect on the map. More commissions quickly followed, including the Imperial War Museum in Manchester. To many though he will be most familiar as the man who won the contract to create the master plan for the World Trade Center site following the 9/11 attacks. Libeskind's design envisaged a 417 metre Freedom Tower (the height of the original World Trade Center North Tower) with an antenna that will rise to the symbolic height of 1,776 feet – a reference to the year in which Declaration of Independence was signed. While plans are moving forward for the Freedom Tower wranglings with the other architects and developers involved meant that today Libeskind had been completely squeezed out of the project.

Today Studio Libeskind, which is headquartered just two blocks from the World Trade Center site, is working on multiple projects around the globe like Beth Shalom synagogue in Munich and a 23-storey apartment building in Brescia, Italy. Recent completions include The Ascent at Roebling's Bridge in Kentucky and the Contemporary Jewish Museum in San Francisco. Interestingly, Libeskind also uses his design skills to create opera sets, and his work has been used in productions like Tristan and Isolde and, appropriately enough, The Architect.

Złota 44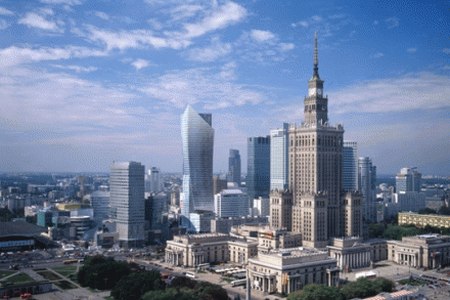 Photo: Courtesy of Orco Property Group

While Daniel Libeskind's work is known the world over, it wasn't until recently that the Lodz-born architect decided to bring his designs back to his native country for the first time. If your journeys take you through Warsaw you will undoubtedly see this project, Zlota 44, currently under construction on the city's skyline. This landmark 192 metre shiny glass skyscraper perched between the InterContinental and the Palace of Culture is shaped like a bendy Arab cutlass and will be home to 251 luxury apartments (including a number custom designed by Libeskind himself), a 25 metre stainless steel swimming pool and a top floor wooden sundeck. Sound like somewhere you'd like to live? Think again. At around 7,000 euro per square metre we're guessing it's out of your price range – but not for stars like ski jumping legend Adam Malysz and former national football captain Jacek Bak, who have already allegedly reserved their places. Of course much like any major project started pre-recession, Zlota 44 has seen its share of dramatic ups and downs. Construction was originally slated to be finished in 2009, but the project became the subject of a long-running court battle over whether it had the necessary permissions to be built and its developer, the Orco property group, found itself in difficult financial waters. Fortunately all finally seems to have been resolved and construction on the skyscraper has resumed. Now scheduled to be completed 2 years behind schedule in 2012, it appears that Poland will finally have a completed Libeskind masterpiece to call its own.