Despite the popularity of Croatia's coast with tourists there are still plenty of places which have remained sheltered from the tides of tourists. Here is a selection of island hideaways where you can find your own personal paradise.
Susak
Tiny Susak makes up for it slack of size with personality. The local dialect is a curious mix of archaic Croatian blended with vocabulary from Italian, French and German. Not even visitors from other parts of Croatia can decipher it.
In 1912 an Austrian doctor deemed Susak ideal for convalescing children. A hotel was designed by a Viennese architect and built in the Bok bay, but with the First World War tourism halted and never really picked up again. Which means that the island remains utterly unspoilt. Susak is unusual among Croatian islands in being covered with sand which is held firmly in place by reeds planted by farmers to prevent erosion. There are no roads, only sandy paths – you can pretty much go barefoot! The island is surprisingly fertile and was once well known for its wine, an industry which is slowly being revived. With no cars and those shallow sandy bays it's a paradise for families with small children. There are no hotels, but you can rent a room or private apartment. Come summer you'll find yourself joined by a host of Americans, returning emigrants and their offspring. Pensioners returning to live out their days on the island are lending a curious Transatlantic touch to the architecture. Other visitors include women who come to bury themselves in the sand at Bok and Spiaza bays, reputed to restore fertility. Susak island culture includes possibly the only folk costume to feature a colourful mini ra-ra skirt. Definitely one of the more intriguing Croatian islands!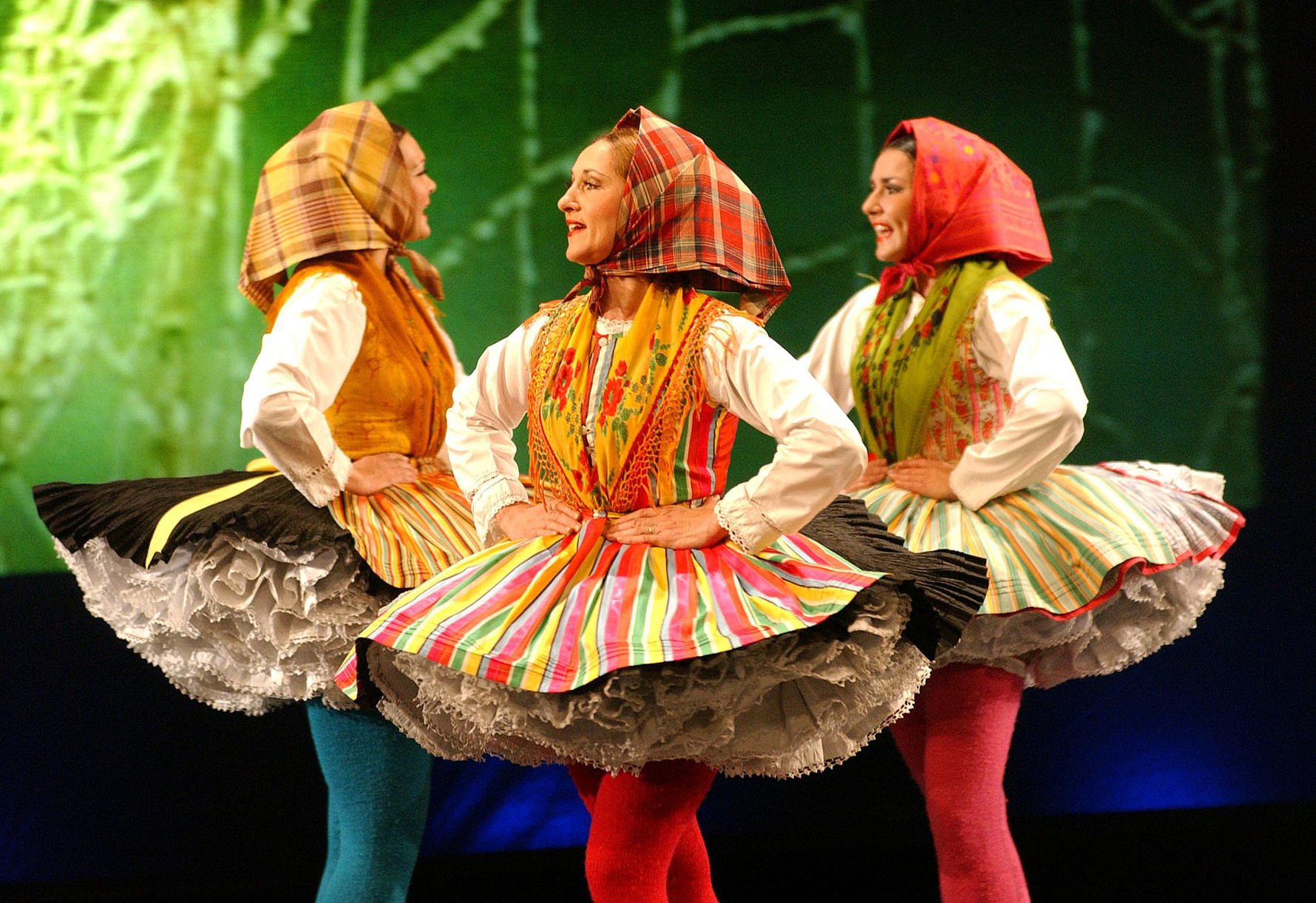 Folk Custume - Island Susak 
 
Silba
With no cars and just one settlement, Silba is enjoyed by escapists who need a little culture along with their days of relaxation. Silba features six lovely churches and chapels,and romantic villas built by wealthy sea captains and ship owners. Since the island was vulnerable to pirate attacks you'll find a 16th century castle, while a hexagonal watchtower, the Toreta, a slender edifice with a spiral staircase tracing round the outside, testifies to the enduring love of a roving sailor for his love back home.
Since the hedonistic 1970s Silba has had a loyal base of visitors from Croatia's alternative cultural scene, so you'll happen across cute boutiques and low-key performances. There's a gallery of sculpture by Marija Ujević-Galetović, a contemporary artist who does fantastic things with the human form. Silba's pristine beaches recall the island's silvery name with shimmering shingle beaches and shallow coves ideal for children. The waters are an unusually vivid turquoise colour set off by the dark green vegetation.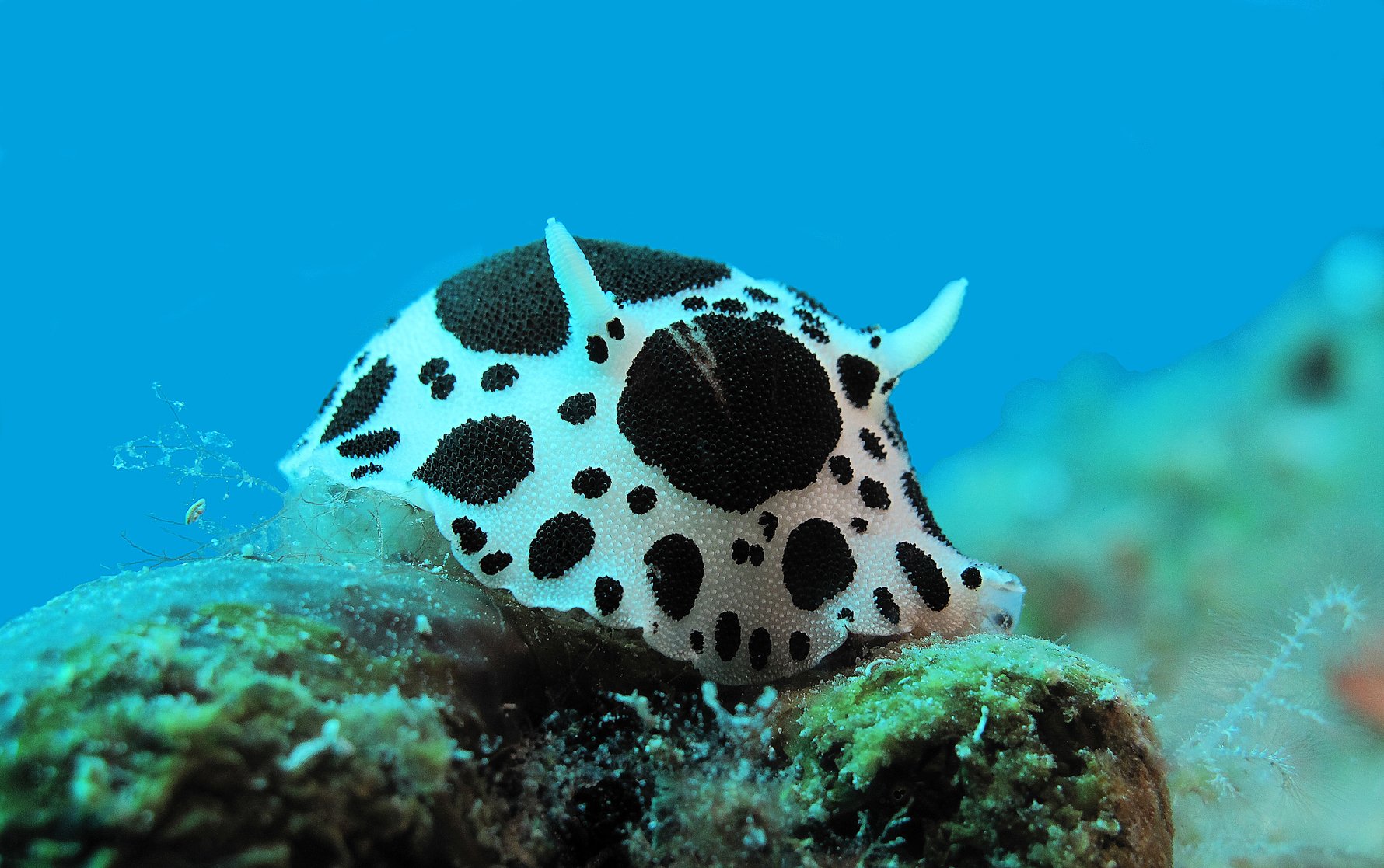 Prvić
Prvić is perfectly placed for exploring Šibenik, the Kornati National Park, neighbouring islands such as Zlarin and Kaprije and the Krka and Plitvice National Parks inland.
Prvić is small and perfectly formed, with two settlements and no cars. Prvić Luka's pretty waterfront features a striking onion-domed church. There are lovely bathing spots with views over the surrounding islands and the mountains on the coast.
Among the children who have been lucky to spend their summers here was Faust Vrančić, known as the Croatian Leonardo da Vinci. A linguist, historian, mathematician and physicist, he was the inventor of the parachute and creator of the first Croatian dictionary. You can see models of his inventions in the local museum.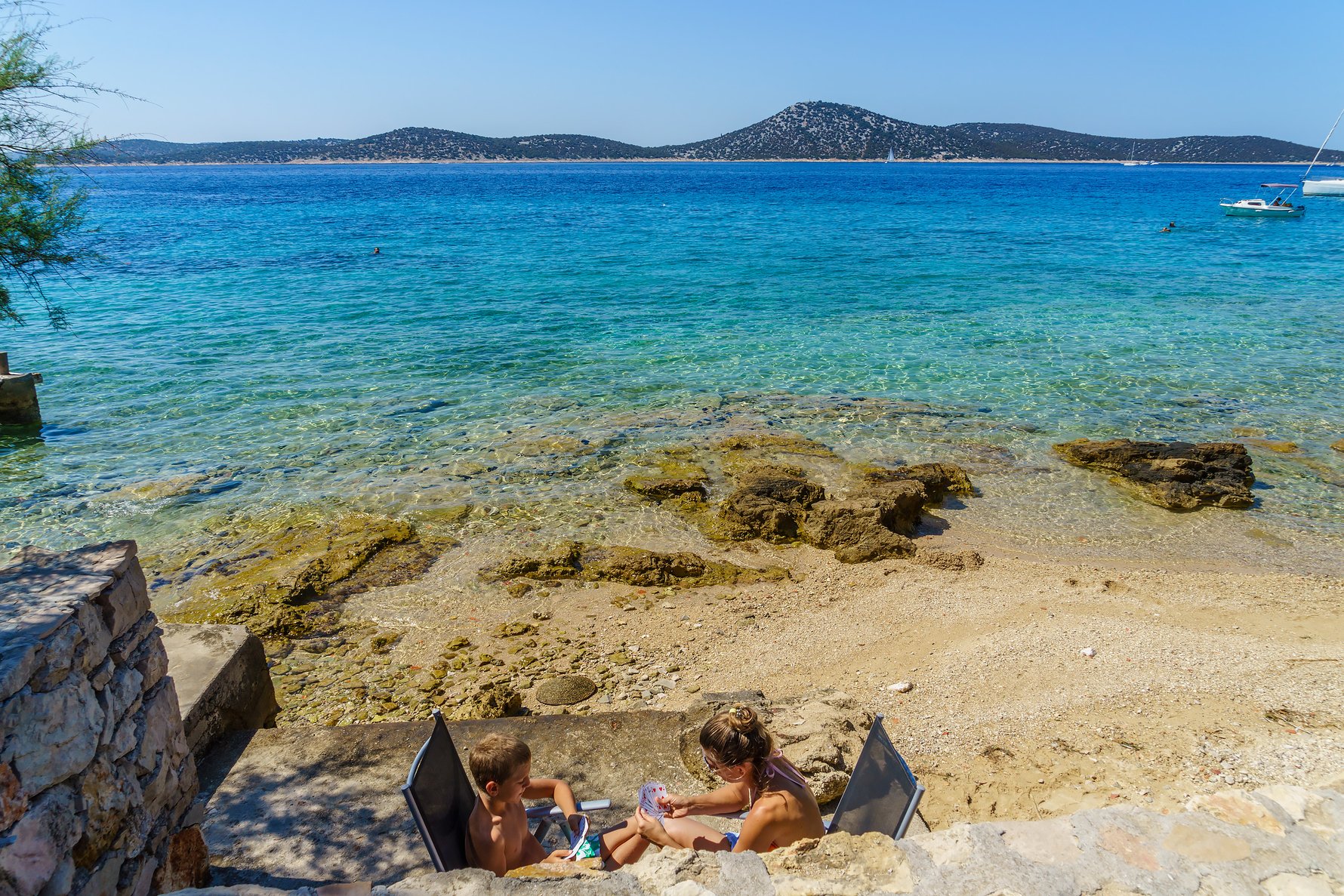 Island Prvič - Photo by Andrija Carli

Šolta
Just opposite the port of Split, Šolta is super easy to get to, but for some unfathomable reason it has been almost completely overlooked by tourists. All the better for people looking for an authentic Dalmatian refuge from the passage of time.
Legend has it that Illyrian Queen Teuta built her palace on the hillside at Senjska cove on the south side of the island. Roman Emperor Diocletian of Split chose Nečujam to build fish farms. More recently, oligarchs and millionaires have been seeking refuge in a 16th century waterside castle at Maslinica that has been transformed into a breathtakingly beautiful hotel, the Martinis Marchi, with its own beautiful little marina.
Wine lovers should try Šolta's local variety Dobričić, thought to be a forebear of Zinfandel and rated highly by experts. Don't neglect to visit the villages in the interior - the narrow stone streets basking in the sun are full of atmosphere. In Grohote you'll find a gallery with a permanent exhibition of work by famous artists that were born in Šolta.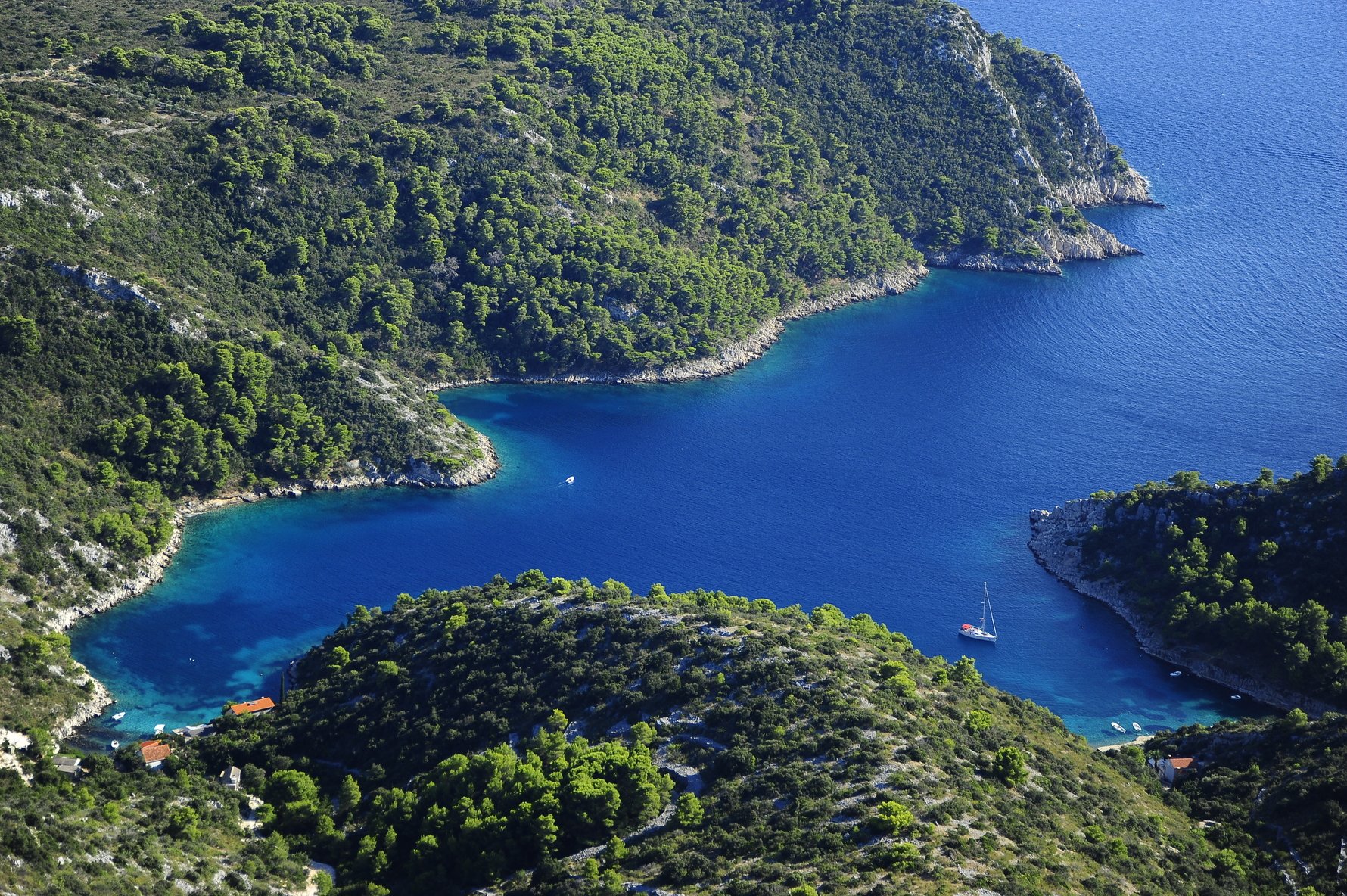 The Elafiti Islands
The Elafiti islands are a short boat trip away from Dubrovnik, meaning you can easily enjoy the delights of island life and hop over to the city when you fancy. Each island is a little treasure. Wealthy Dubrovnik families of times past had their summer homes here, lending the islands echoes of the Renaissance.
 
Koločep
The ferry's first port of call is a popular spot for day trippers from Dubrovnik and as such is rather busier than its neighbours. Two hamlets, Gornje Čelo and Donje Čelo each have sandy beaches. The island is very green, with abundant olives, oranges and figs. Lazing on the beaches in Porat and Saplun in the evening you have a free ticket to open air concerts in Dubrovnik just over the water!
 
Lopud
For a tiny island Lopud has a wealth of churches, monasteries and villas. A lovely spot to linger is Mayneri park right on the waterfront, somewhat unkempt but boasting fine views, planting and statuary. Nearby you'll find the Thyssen-Bornemisza art pavilion where the installation Your Black Horizon by Olafur Eliasson and David Adjaye is housed. Architecture buffs might like to explore (with caution) the disused modernist Grand Hotel. Lopud has one of the best sandy beaches in Croatia at Sunj bay. A handful of lovely stone villas have been turned into small hotels with excellent accommodation and good restaurants.
 
Šipan
The most distant of the three populated Elafiti Islands, you can wander Šipan's shoreline and hardly meet a soul. Šipan boasts 36 churches and chapels and 42 historic summer villas. With two settlements this island has a bus service! Suđurađ is where the ferry arrives, while Šipanska Luka (Port of Šipan), in a pleasing twist, has no ferry service.
Apart from stumbling over fascinating old buildings, the pleasures of an island walk include taking in olive and fig, carob and vine… The island has a scattering of pleasant smaller hotels and decent restaurants.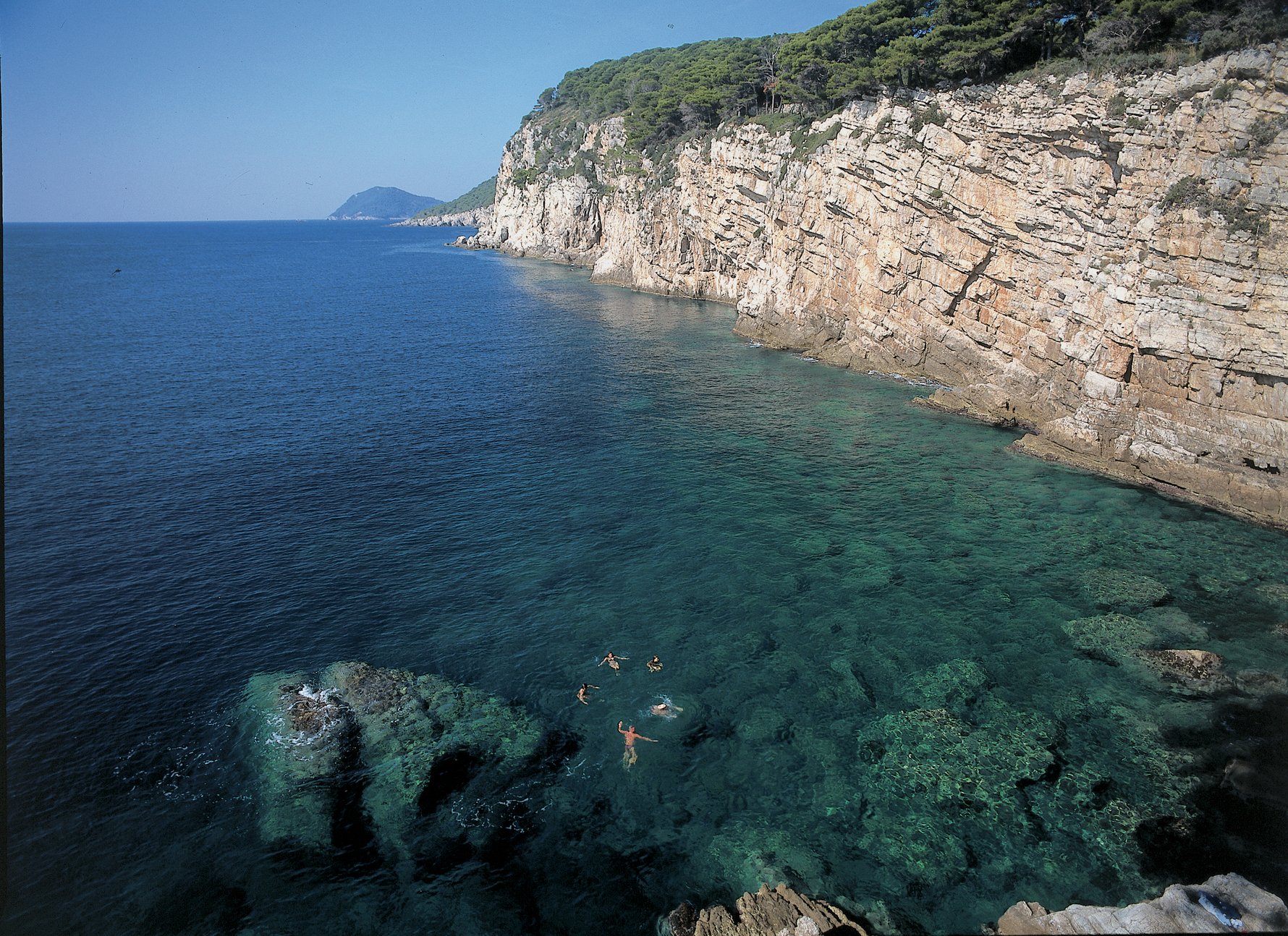 Island Koločep - Photo by Andrija Carli