'Every government and church says, "We tried to help the Jews," because they are ashamed, they want to keep their reputations. They didn't help, because six million Jews perished, but those in the government, in the churches - they survived. No one did enough.'

Born in Łódź in 1914, and originally named Jan Kozielewski, Jan Karski is remembered in the history books as the man who tried to stop the Holocaust. The son of a local factory owner and the youngest of eight children, Karski read law at the University of Lviv, from which he graduated with flying colours. Gifted with a photographic memory and a fluent command of foreign languages he soon came to the attention of the Polish diplomatic services, landing prestigious posts in London and Paris. With Europe gearing up for war, Karski joined the horse artillery, and his unit found itself shunted across Poland as the nation made a desperate bid to defend its borders from Nazi and Soviet invasion. Captured by the Red Army, Karski avoided certain death in the forests of Katyń when his Soviet captors handed him over in an exchange of prisoners with the Germans. Escaping from a train bound for a POW camp, Karski headed to Warsaw where he quickly made contact with the Polish underground.
 

Realising the value of his remarkable memory his superiors decided to employ him as a courier, a perilous position that involved crossing frontlines in order to swap information with other allied nations. It was during this time he assumed the pseudonym 'Jan Karski,' and one such foray saw him captured by the Gestapo while crossing the Tatra mountains in Slovakia. Subjected to intense torture, he slit his wrists and found himself in a closely guarded hospital in Nowy Sącz.

Determined not to lose their star courier a crack team of Polish troops broke him out and Karski resumed his duties once he had recovered. In 1942 he was chosen to undertake a daring mission to meet Władysław Sikorski – Prime Minister of Poland's government-in-exile – in London, and reveal the true extent of German atrocities taking place in occupied Poland. To gather information he was smuggled into the Warsaw Ghetto, and given a graphic tour of the hunger and horror manifesting behind the walls. The experience proved so powerful that Karski later found himself questioning his own memory, and decided a second visit was in order to confirm that what he had seen was real. This time, disguised as a Ukrainian guard, he infiltrated a transit camp, and was witness to random brutalities, as well as cattle waggon transports leading Jews to the gas chambers. He successfully made it to England via Germany, France and Spain, and was granted an audience with foreign secretary Antony Eden, as well as Sikorski and the leader of the Jewish Bund. His revelations fell on deaf or disbelieving ears, however, with most dismissing his account of mass-exterminations as the fruit of an over-productive imagination. He fared little better when meeting US President Roosevelt months later, and found his testimonies criticised as Polish propaganda.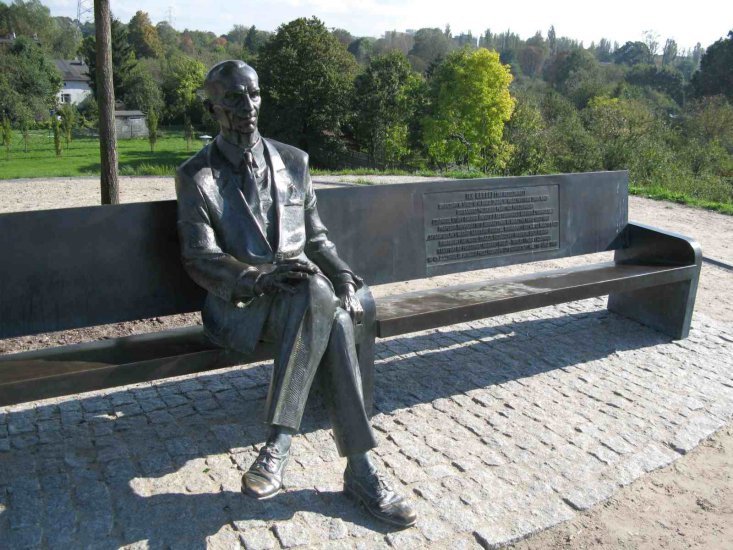 In spite of this Karski chose to remain in the United States, and published his report to the masses via a wartime best-seller: Courier From Poland: The Story of a Secret State. After the war he taught for four decades at Georgetown University in Washington D.C., lecturing primarily on Eastern European issues. In the following decades his attempt to stop the Holocaust faded from public consciousness, only returning with the 1978 release of Claude Lanzmann's epic documentary, Shoah, in which Karski was interviewed extensively. Karski became an overnight hero; in 1982 he was named 'Righteous Among Nations' by Israel's Yad Vashem Institute, and in Poland he was awarded his country's highest civilian and military honours. He died in Washington D.C. in 2000 at age 86, eight years after his Jewish/Polish wife, herself a Holocaust survivor, committed suicide. In May 2012, Karski was posthumously awarded the Presidential Medal of Freedom, the highest civilian honour in the United States, by President Barack Obama. 2014 was celebrated in Poland as the 'Year of Karski.'