Jump to:
North of Zadar
Embark on a journey where the two small tourist places of Nin and Zaton will surely amaze you with their anecdotes of history, buildings, artefacts and natural surroundings. Located a mere14 kilometres north of Zadar, these Adriatic gems have their very own story to tell.
Nin
The region of Nin has been inhabited for over a staggering three thousand years. It was initially founded by the Illyrians who named the area Aenona. When the Romans gained control, the town had flourished as it was an important harbour in the Eastern Adriatic Sea – the growth and development of import, export and migration attracted merchants and other settlers to the area.
The beauty of Nin and neighbouring Zaton is twofold. Visitors are immersed in the historical treasures of the tourist places whilst also fulfilling the true holiday experience of picturesque beaches and breathtaking surroundings.
The historical town of Nin is situated in the middle of a shallow lagoon, whilst the historical part of the town is located on a small island that has a 500 metre radius. Visitors can enter the old town via one of two bridges which lead to the blissfully preserved historical city gates. The arched gates are the steppingstone to a sightseeing tour of the city walls and the many valuable and historical monuments.
Some of the archeological highlights include two original and reconstructed old Croatian ships 'Condura Croatica', (11th Century) that were found at the entrance to the harbour, the ruins to the biggest Roman Temple (from the 1st century) on this side of the Adriatic, the gothic chapel of Saint Marcela and the pre-Romanic Church of the Holy Cross (9th century) which is also known to be the smallest cathedral in the world. The gold and silver of the town as well as the historical treasures provide for a feast of culture.
The other attractions that Nin and Zaton boast are their long sandy beaches which are perfect for that summer holiday. The blue sky waters are striking and the accommodation on offer includes hotels, nicely decorated apartments, holiday villas and small idyllic camps.
A hidden advantage that entices many to this region is the 'Nin Curing Mud Peloid' which has been used for medical purposes since the Roman times. Supervised medical personnel assist visitors and patients with therapy. The curing mud effect can be seen through its medical, mechanical and chemical effect. The therapy is performed in a cosy natural environment and it includes bathing and swimming in warm sea water.   
As you wander through Nin or Zaton, you'll find that nothing much has changed over the years; ancient buildings built from Dalmatian Stone still stand in their purest form. What visitors cherish the most are these magnificent historical structures entwined with the natural ambience of mother-nature that provides the perfect getaway.



 
Novigrad
Novigrad (literally "New Town", somewhat of a misnomer), a castle ruin perched on a hill above the town of the same name, also has had a turbulent history. The Romans, and before them, the Liburnians, built forts on the same spot. Some of the walls date from Roman times, but Novigrad has been modernized. It has several restaurants and cafes right on the water, offering nice views of the harbor. Located 31 km east of Zadar via route 502, Novigrad has been the front line in several conflicts. During dynasty wars (1385-1387) in what is now Croatia, two woman of royalty, Mary, the wife of Croatian-Hungarian King Sigismund Luxemberg, and her mother, Elizabeth, were murdered there. During the Kandian Wars (1645-1669) it was an important point of Venice's defense against the Turks, who occupied the town during 1646-47. When the Venetians retook the town the castle was substantially destroyed. During the more recent war of 1991-1995 after the break up of Yugoslavia, the Serbs also held the town for two years. There is another spectacular view of the modern day town and the sea from the ruins, which are accessible from several trails. The easiest to find (again, no signs!) starts from the top of some wide stairs that ascend from the east side of town. Go right at the top of the stairs and then left after about 10 meters. It takes around 10 – 15 minutes to reach the castle.
Paklenica National Park
The Paklenica National Park lies just north of Zadar within the Velebit mountain range. Two streams, the Velika and Mala Paklenica, carve their way through the soft limestone leaving gorges with cliffs up to 400m high, and fascinating rock formations characteristic of karst territory. The scenery is incredible: the interior is unexpectedly lush due to large quantities of pure spring water, allowing dense forests and lush meadows to flourish. Local residents include the rare Griffon vulture, sparrowhawks, chamois, wild boar, brown bears, wolves and lynx.

The park is a favourite destination for hikers and climbers. Over 150 km of hiking trails include the walk from the park entrance through the Velika Paklenica Canyon to the Paklenica Mountain Hut (about 2 hours), though there are many more demanding routes. The park administration publishes excellent maps. Mountain hut accommodation is available – reserve in advance on (+385-23) 30 16 36 or e-mail: pd.paklenica@zd.htnet.hr. There is also a campsite with a beach (prices are on www.paklenica.hr ). Starigrad, the town at the park's entrance, has excellent pebble beaches and a number of restaurants that offers dalmatian specialities.



Zaton
This small tourist town is a popular holiday destination for many visitors and is located between the two historic cities of Nin (2 km) and Zadar (13 km). It is the perfect escape for a family holiday and action packed vacation because of its great climate, preserved nature, the abundant sports activities available (horse riding, water sports etc.) and for its rich cultural and historical heritage. 

As summer nears, Zaton springs to life and as history books would have it, remnants of life and culture also existed in the area as far back as the Bronze Age, over 4000 years ago. Throughout the Roman period, Zaton was a port that was owned by Aenona (present day Nin) and the town started to gradually develop towards the end of the 17th century after the Turks had withdrawn from the area. 

One of Zaton's landmark symbols and a frequent postcard motif is the Saint Nicholas Church, which is situated on a small little hill in the middle of a field. It has three circular bases and one rectangular niche as well as the dome above its center. The church was built with traces of the Romanic style from the end of the 11th and the beginning of the 12th century. A watchtower was built on the dome during the Turkish wars. 

The 16th century Kaštelin Tower was built as a defense structure against potential invaders. The engraved Latin inscription and coat of arms above the tower indicate that it was built by Hannibal Cirysagus, in 1593. This is one of three towers raised by the Venetians to defend Nin from Turkish raids. The parish church in Zaton is sanctified to the Birth of the Virgin Mary and was built in 1670, elongated in 1870, and extended in the shape of the cross in 1969. The remains of the Church of Saint Andrew is an extremely valuable object from early Christian times (built in the 6th century) which was, with various changes, used for cult purposes until the 16th century. 

In addition to the historical buildings and artifacts that encompass the area, visitors who are looking for somewhere to stay can find something to suit everyone's taste and budget. Zaton is filled with private accommodation spots, well equipped camps and apartment hotels. The Zaton Holiday Resort is a famous tourist village which is located in the bay; it is secluded from the wind and surrounded by beautiful pine forest. This truly is an ideal place for an unforgettable and peaceful family vacation whilst also making most of the numerous sporting activities available including tennis, horse riding, cycling and adventurous water activities. Beach facilities for the disabled are also in place. The 1.5 km stretch of sandy and pebbled shoreline is perfect for families with children. 

If you are craving peace, an idyllic sunset, crystal clear waters with a lush green backdrop, then Zaton is your answer to that unforgettable dream getaway.

 
South of Zadar
South of Zadar and following the coastal road you will find yourself in Biograd and municipalities like Pakoštane, where extends several kilometres of coastline under the Vrana lake in its present lively and romantic Riviera.
Biograd n/m
The small but lively town of Biograd was once an important political centre of the Croatian state and the seat of kings. Croatia's crowned heads of the Middle Ages were peripatetic – travelling throughout their territories between their power bases – often smaller towns, since larger cities such as Zadar functioned almost as individual states. Biograd was one of these royal towns, as was Nin. One of the most important moments in Biograd's history was the coronation of Koloman as Croat-Hungarian king in 1102 – the first time that the states of Croatia and Hungary were joined under a single crowned head – this time, by treaty.

You can still see evidence of this proud yesteryear in Biograd's pleasant old centre: an obelisk bearing the date 925, the date of the coronation of Tomislav, the first true Croatian king and a figure with almost mythical status. It was he who united Pannonia and Dalmatia into a single Croatian state and built the country into a military power rivalling Venice. The 11th century Basilica of St John was one of the few buildings which escaped after the Venetians attacked Biograd in 1125. There is an early Romanesque Church of St Anthony (13th century), the Church of St Rocco (16th century), and the imposing Church of St Anastasia (Sveta Stošija) built in 1761, with a fine clock tower, a decorative well in front and baroque altars inside.

Fans of history should visit the Homeland Museum, which has archaeological, ethnographic and art collections, and presents a fascinating picture of the town's colourful and turbulent past. It's at Obala kralja Petra Krešimira IV 20, tel. (+385-23) 38 37 21, www.muzej-biograd.com. Open 08:00 - 14:00, 19:00 - 22:00, Sat 09:00 - 12:00, 19:00 - 22:00. Closed Sun. Admission 20/10kn.
Biograd is, however, far more than a destination for history nuts. The old centre is picturesquely laid out on a peninsula with a view over Pašman Island, which you can reach by the ferry which leaves from the town quay. Pleasant seaside promenades are lined with cafes and palms, and are attractively planted with lawns and flowerbeds. To the east of the centre is a large pine forest, within which you can find the tennis centre. The pebbly Blue Flag Dražica beach is just a ten minute walk from the old town. Voted one of Croatia's best beaches, it's isolated from traffic but has a car park. You can take part in watersports, and there's an aquagun and a host of other amenities.
The pinewoods extend further, providing a healthy and scented environment with a number of campsites, hotels and apartment complexes. A coast path through them leads you past more beaches. Some, such as Soline, are shallow and partly sandy, so particularly suitable for children. Be aware that some of the more secluded beaches along the coastline here are "clothing optional", while at Crvena Luka you'll find a proper FKK naturist beach. Crvena Luka is a deep bay with a holiday village behind.


Apart from the aforementioned tennis centre, Biograd is well equipped with diving centres, and is a gentle place to learn to windsurf. You'll also find many opportunities to try your hand at waterskiing. Another activity we can recommend is a bike route which takes you from Kumenat (a neighbourhood just east of the centre) through Crvena Luka, Pakoštane (a nearby resort) and to Lake Vrana (Vransko jezero). This lake, just south of Biograd, provided the water supply for Zadar since Roman times, and is a pristine Nature Park, with a rich stock of birds and aquatic life. As such, it's a mecca for fishing and birdwatching. The land there is very flat, so it's perfect terrain for biking - it's encircled by a 30km bike trail, which gets more hilly and interesting to the north of the lake. There's a peaceful campsite which has a great fish restaurant. It's a nice break from the hubbub of the coast.

Other trips you can take are a boat to the islet of Saint Katherine, just a hop away from Biograd's shores. There's an old lighthouse there and it's great for bathing. Ask your host if they can arrange for a day trip for you. And a highlight of the entire Zadar region must surely be the Kornati archipelago lying scattered beyond the island of Pašman. Kornati is one of the most spectacular sights in Croatia, and dare we say, Europe.




Inland from Zadar
Benkovac
The town of Benkovac lies 37km from Zadar, at the point where the rock and scrub of the Bukovice karst region meet the fertile Ravni Kotari plains – all part of Zadar County. The first records of the town's name date back to the 15th century, when it was known in Latin as Castrum Bencovich. Benkovac is at a central point to all the other settlements of the Zadar region, and though it always had good communications with the coast and the capital, today its situation is even better after the building of the motorway which skirts to the south. Today, what is most painfully obvious to see is that this is a town which has suffered both war damage and economic problems. From its present appearance you would hardly guess the leading role the town once played in the region. Countless cultural and historical remains in the town itself and the surrounding countryside testify to this role. The remains hark back to the Middle Ages, to the Roman Empire and before.
At Asseria, near Podgrađe, 6km east of Benkovac are the remains of an urban settlement almost a kilometre long. Asseria was founded long before the Romans set foot on these lands. It was a powerful centre of the Liburnian tribe, whose territories stretched for miles along the eastern Adriatic coast. When the Romans later occupied these lands, Asseria grew to become a municipality with a governing council. The town was inhabited from the Bronze Age right up until the late Roman period – a time span of at least a millennium.
Asseria's blossoming as a town took place during the 1st and 2nd centuries AD, when it was one of the main settlements of the Liburnians. The oldest remains in Asseria which have been found to date are from the 5th century BC, and show us a town with walls 7m high and 3.2m thick, built as part of the military belt protecting the rich cultural life on the coast from barbarian invasion from inland. Built on the proscribed lines of a Roman city, Asseria had a town square, a water system, public baths and a necropolis where cylindrical gravestones known as "cipus" have been discovered. The most important Roman monument is a triumphal arch, one of seven entrances into the city, built in 113 AD in honour of Roman Emperor Trajan.
Annual archaeological digs at Asseria are revealing more and more fascinating layers of history beneath. Ceramics from the Greek period that predated the Roman settlement here have been unearthed, and also from the age of the Liburnians before them. As you'll know if you've visited the Archaeological Museum in Zadar or Nin, such relics of one of the oldest European civilisations are not only awe-inspiring due to their age, but also because of their simple beauty. Visiting Asseria is a chance not only to see more of these, but also to experience the scale of such an old settlement in its entirety.
The Church of St Martin near Benkovac yielded a few surprises some years ago, when an old storeroom was opened up and found to contain more than 2000 silver pieces from the treasury of King Koloman (or Kalman) of Hungary, part of the riches he used to finance his quest for the Croatian crown. (His quest was successful – as part of a treaty, he was crowned King of Croatia in 1102 in Biograd, the first time in history that the Kingdoms of Croatia and Hungary were joined).
The golden era of Asseria came to an end when Avar (and sometimes Slav) tribes swept across the plains of Europe, and the Roman Empire crumbled. The last mention of the settlement is from the 11th century.
You can also see remains from the days when this whole area boasted influence and might at Nadin (Nedinum) and Karin (Corinium). Karin lies on the mouth of the river Karišnica, where it widens into the lagoon named the "Karin Sea", with clear water for swimming and curative mud in some places. Here stands a fine example of medieval religious architecture, a 15th century Franciscan monastery, built on the site of a Benedictine monastery. There is a medieval fort at Perušić and a beautiful 15th century fort at Kličevica.
Another important historic site near Benkovac is the small town of Sopot, where a part of the estates of Prince Branimir, historically the most important Croatian ruler, was found - a 9th century fragment from a pre-Romanesque basilica with an inscription testifying to his rule and the existence of a Croatian state (dux Cruatorum).
In Benkovac itself, the Kaštel still stands today – a proud and austere fort with two south-facing towers, which now houses the local museum (Obitelji Benkovića 9, tel. (023) 68 10 55. Open 08:00-15:00. Closed Sat, Sun). It was built at the beginning of the 16th century by the Benković family (after whom Benkovac most probably takes its name). The nearby Church of St Anthony of Padua was built at around the same time, according to archives in the bishopric of Nin. Once upon a time, the Kaštel acted as a strategic defence point guarding a county called Luka and its main thoroughfare called "The Great Road" (Velika cesta, or Via Magna), which passed on its way to Oštrovica – an important fort belonging to the Šubić family, prominent in Croatian history.
Over the past decades, Benkovac and its surroundings, like much of Dalmatia, have suffered the same fate of depopulation, as young people leave in search of work. Despite the additional trauma of war, today's Benkovac is building its economy by making the most of the potential of the surrounding countryside and the unparalleled treasures of Croatian cultural history that are hidden within. See also our report on agrotourism in Zadar County.



Agritourism
Islands
Don't make the mistake of missing some of these great places in Zadar's surrounding areas. Many of them are somewhat neglected by guide books, and therefore all the more delightful to discover.
Dugi otok
Although it's easily accessible from Zadar by boat, Croatia's "Long Island" is rather far out to sea, and so remains one of those few places where you can enjoy tranquillity even in high season. Its capital, Sali, is a simple, historic and attractive fishing town with a summer cultural festival running from mid-July to mid-August. The climax of this is a festival called Saljski užanci - three days of music, fireworks, fresh grilled fish, drinking, dancing, donkey racing and parades in traditional local costume in a friendly atmosphere. The festivites sometimes get rather wild and climax in revellers leaping into the sea in full national costume! Another unique element is the strange and haunting folk music of the island, played on old irons filled with stones, and on enormous horns poached from some poor beast.
If that all sounds too hectic, head for the smaller village of Božava. The exceptionally clean sea makes it a haven for divers. Nearby is a white sand beach called Saharun. There are other sandy beaches in this area on the north tip of the island. Treat yourself and hire a boat and explore to your heart's content – it's the best way to explore any island. Beaches away from settlements and people are, of course, clothing-optional zones.
A trip to the Telaščica Nature Park is an unmissable part of a visit to Dugi Otok – it's within biking distance from Sali. Telašćica Bay is a 10km deep inlet dotted with bays, islets and cliffs. A spectacular saltwater lake lies next to the bay – the water is warm and said to be curative, and you can swim there. Legends abound about hidden treasure and ancient inhabitants with five horns on their heads. More visible treasure is the wildlife that abounds there, from pine to fig to olive to moufflon (a kind of wild sheep). Although the park is not commercialised, there are facilities for tourists providing fresh fish and local wine. Paradise indeed.
Ist & Molat
Molat is a relative giant of the Zadar archipelago, having 3 – count 'em! – attractive little hamlets. OK, we got a bit carried away – they are very, very small. With only one ferry a day, Molat really is far from the madding crowd. There are only a handful of restaurants and shops on the island. Molat is covered by low-lying shrubs feeding a few goats and sheep. It's great to spend the day exploring the pretty coastline by boat. Some of the best beaches are around Brgulje, where the ferry docks.

Neighbouring Ist is tiny, measuring under 10km2. It has sandy beaches, vineyards and olive groves, and is good for sailing, fishing and total relaxation, absolutely uncommercialised.

Iž
The Ceramics of the Island of Iž
Meet a man who has been working as a potter for 26 years and presents the making of traditional ceramics with glass. Petrović mastered his craft from his fellow islanders and is now the island's last remaining potter, a tradition that has been upheld since 1530. The most characteristic feature of Iž pottery is the mixing of clay and calcium with feet on leather and baking it on an open fire.
On photo family of potters in island Iž, Predrag Petrović - Pepi, wife Jadranka Bukić-Petrović and daughter Nika Petrović.

photo by Tomislav Rastić


This is one for those of you with jangled nerves - a green, low-lying island with only two picturesque villages: Veli and Mali Iž. Veli Iž's Hotel Korinjak serves only vegetarian food, and offers personal development programs including yoga and massage. In the town, you can visit a shop and gallery displaying terracotta pots that have been made here in the same way since Neolithic times. Islanders used to take it to Zadar market every day, and it was traded along the whole Dalmatian coastline.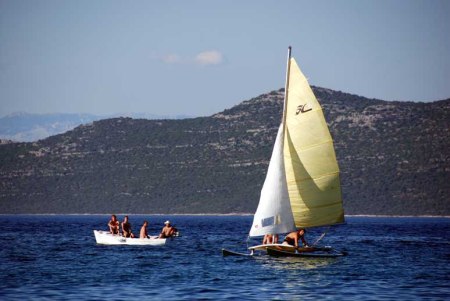 The streets are too narrow for cars, but luckily the locals are renowned for being a jolly and friendly lot, and will come to your aid with trolleys for your luggage. The town's festival takes place over 3 days in August, and showcases a local oddity, water basketball. Mali Iž has lovely beaches. The islanders live from fishing, olives, making great wine and a special rakija made with Japanese herbs that they say is good for the heart. If you're really nice to them, they might take you to the islet of Rutnjak, great for swimming, fishing and diving. If not, you can always swim there.



Pag
Pag is one of the most unusual Adriatic islands. Parts of it are extremely rocky and devoid of vegetation, and look like the moon. Other parts are reminiscent of Spaghetti Westerns, with desert-like scenery and the odd spiky cactus. It's not what you'd normally expect from the Mediterranean. But that's not necessarily a bad thing.

There are many other weird and wonderful things about Pag. It's oddly squid-like in shape, with the "tentacles" forming lagoons. The sea is very calm here and the water has an exceptionally high salt content. There have been saltpans here for centuries: you can still buy Pag salt normally in any supermarket. It's completely natural and has a high mineral content. The salty winds mean that on many parts of the island, rather little vegetation survives except scrub and herbs, so sheep farming is the main agricultural activity. These salty herbs lend a special flavour to the animals' meat and milk, which makes great cheese. Pag cheese is highly valued – it's one of Croatia's most famous export products. A good Pag cheese is mature, strong tasting and hard, a little like Parmesan. The real Pag cheese is expensive, so don't be surprised if cheaper offerings disappoint. We recommend being adventurous and trying to get hold of some home made stuff on the island itself. Ask your hosts to recommend someone, or look out for signs saying "Paški sir". Pag island lamb is also regarded as a delicacy – do try it if you have the chance.

The island's other renowned cottage industry is lace making. Since, once upon a time, there was nothing better for the women of Pag to do than keep an eye on a few sheep, watch salt dry and wait for hubby to come home with the day's catch, they kept idle thumbs at bay by lace-making. Over the centuries they evolved a style so ethereal that it is considered one of Croatia's most highly prized products. Hours of work goes into a tiny piece, so it is quite expensive – expect to pay from 200kn for a small piece direct from the maker, or around 400kn for a mounted example from a Zadar gallery (try the Lik gallery, see "Shopping"). But it is a beautiful memento of your holiday, and your purchase supports a vital cottage industry.

In the mid 15th century, the Venetians commissioned Juraj Dalmatinac, Dalmatia's most famous architect, to design the island capital, Pag town. It has a planned symmetrical layout, with a modest, drowsy feel. Walking through the streets, you intimately feel the life that goes on inside the little cottages, The town's most striking church, St Mary's, was also designed by Dalmatinac. He combined a Romanesque Dalmatian spirit with Renaissance and Gothic elements to create a striking edifice. The town has a few other interesting churches and palaces, wonderfully clean pebble beaches and several good restaurants.

In the last few years, Pag has also built the reputation as Croatia's party island, and the place where it all happens is the town of Novalja. Novalja, though not the capital, is the island's most populous settlement, and has most of its facilities such as clinics and schools. A couple of kilometres from town is an excellent Blue Flag beach, Zrće, where a number of bars and clubs, including coastal versions of some of Zagreb's most famous names, have opened to create Croatia's answer to Ibiza. There are restaurants, ice cream parlours, pools and more. It's wildly popular. Because of that, some might find it a bit too noisy and commercialised in high season. But never fear, Pag has the longest coastline of all Croatian islands (270km), and there are many places where you can escape the crowds. Expect lunar landscapes, white pebbles, crystal clear water and, on the north side of the island, spectacular views over the Velebit peaks on the mainland. One of our favourites is the Ručica beach near Metajna – turn left at the wooden sign before the village, and follow the road to the end. You'll need to walk the last bit. It's wonderful to watch the sun go down, turning the rocks pink as you sit on pristine white pebbles by the crystalline, lagoon-calm sea.
Pašman
You can reach Pašman either by crossing the road bridge from Ugljan, or by taking the ferry from Biograd to Tkon, the island's main settlement. Like Ugljan, it's fairly low-lying and fertile, with olive groves and vineyards. There are a couple of sand beaches at Kraj, a pleasant hamlet with a wonderfully preserved Franciscan Monastery, St Dominius, dating back to the 14th century. Tkon also has a 12th century Romanesque Benedictine convent, sited on Ćokovac hill, overlooking the town. In general, Pašman consists of peaceful hamlets and coves to explore on land or by boat, to relax and enjoy healthy local produce, or even stay in an eco-cottage. If you fancy a little café society, head to Ždrelac, an idyllic little place where you'll find a great lounge bar, also fine for morning coffee. 2km from Tkon, there's the Sovinje Naturist Camp (http://fkksovinje.hr), which has lovely clean sandy beaches.



Silba, Olib & Premuda
These small green islands with one village apiece, each necklaced by sparkling-clean beaches, are well off the usual tourist repertoire but easily accessible by boat from Zadar (see "Getting around").

Silba, despite having no cars, is the liveliest of the three, and is favoured by artists so has a rather bohemian atmosphere. The nightlife there is relaxed with great live music, including jazz (of course), and a disco. Café Mik, by the church, plays jazz (sometimes live sessions in the evenings), and has a large space for art displays inside. Walk to the lovely gravelly beaches with agaves accompanying your way, learn to windsurf, rent a boat or (if you're energetic enough) have a game of tennis, basketball or volleyball. Although only 15km2, Silba has 6 lovely small churches, some of them dating back to the 17th century. Sadly, they are not in a great state of repar. The island has an unusual monument – a 30m high tower (known as the Toreta) built by one of the island's sea captains so that his wife could look out to sea and know when he would return (and know when to get his dinner ready?). Some people are a bit less cynical than us and see it as a symbol of love.

Olib and Premuda are rather more sleepy. Like most Dalmatian islands, sandy Olib has no water sources, but unusually it has an undersea pipeline bringing Velebit's renowned pure water to the island. It also has many pheasants and rabbits, which people run after with pop guns. Some say Olib's cheese is better than the more famous one made on Pag, and the local wine and olive oil are also great stuff. Olib has a lovely little fort, the remains of a monastery, and five churches including the Church of the Assumption of Mary, where you can see a document written in the Glagolitic script – the alphabet in which Croatian was first written.

Premuda is a superb place for diving enthusiasts – it has an underwater cavern known as The Cathedral to explore, and the wreckage of a ship, the St Istvan. Apart from that, expect nothing other than true, idyllic island life: stone houses, oleanders and bougainvilleas, olives and figs and clean, clean shingle beaches. The perfect getaway.

Ugljan
That tower you see on the pinnacle on the island opposite when you look from Zadar is St Michael's Church, an easy hike from the village of Preko on the island of Ugljan. The island's name comes from the Croatian word ulje, meaning oil – olive oil production used to be one of the main activities here. The gentle slopes facing Zadar are fertile, and there's a pleasant agricultural feel away from the coastal settlements – you'll see ladies walking along the road carrying the day's harvest.

Kukljica is the main tourist development on Ugljan, and is a great starting point for hiking and biking, a great way to see the numerous historical sites on the island. There are a number of routes outlined by the Tourist Board – call into their office or check out the website below. A 15 minute walk takes you to the other side of the island where you come to excellent beaches at Sabuša and Jelenica, some of which are sandy. The nearby cove of Kostanj also has a lovely shallow beach and the 13th century Romanesque Church of St Jerome (Sv. Jerolim) is nearby. Close to Kukljica is the Zelena Punta (Green Cape) peninsula, a tourist settlement where you'll find a fantastic beach formed of a promenade with deep shade from pine trees, super-clean water and shingle and sand in the water.  The islet of Ošljak is also popular for bathing – two Jadrolinija ferries call here per day, taking you to Zadar or Preko.

On August 5, Kukljica celebrates

t

he festival of Our Lady of the Snows - apparently it snowed once here in August - and everybody complains about how bad the weather is these days! A convoy of fishing boats travels ceremoniously to a nearby church. The port of Kali also celebrates this occasion – the townspeople are famous for being great fishermen, and oddly enough, 90 percent of them went to Panama and still can be seen fishing there to this day.
Biking
Zadar's surroundings are ideal for a spot of hiking and biking even in high summer. The Ravni Kotari plains in the hinterland offer gentle terrain for a spot of touring. One of the oldest cycling route is between Zadar and Benkovac, where you can experience local hospitality in the surrounding villages and visit the ancient ruins of Asseria. The Nature Park and lake Vransko Jezero offer gentle terrain, though some routes pass canyons and higher spots where you can enjoy great views. The islands of Ugljan and Pašman have a particularly well-developed tradition of active tourism, and a number of routes cater both for those wanting a gentle sight-seeing tour allowing you to see some of the islands' finest churches and monasteries, and for thrill-seekers demanding more challenging terrain. Pag island is excellent for intermediate cyclists, as it's not too mountainous and there's plenty to see and do. The best kicks and the most spectacular scenery are to be found in the Paklenica National Park. For more info call into the Zadar County Tourist Office, Sv. Leopolda B. Mandića 1, Zadar tel. (+385-23) 31 53 16, www.zadar.hr.
MINI GUIDE SUMMER 2015