Primorska (or the Slovenian Littoral as it is sometimes translated in English) is the most developed, promoted and consequently well- known of Slovenia's three wine regions. Comprised of districts Brda (or Goriška Brda) in the north, the Vipava Valley (or Vipavska Dolina in Slovene) further south, Kras along the border with Italy, and Slovenska Istra in the area on and adjacent to the Slovene coast, the Primorska region is slightly smaller than Podravje in terms of total hectares cul- tivated, but produces nearly 30% more wine, with an output of well over 25m litres per year. The region has an undeniably strong Italian influence, not only in terms of viticulture, but also architecture, cuisine, language and culture in general.
Goriška Brda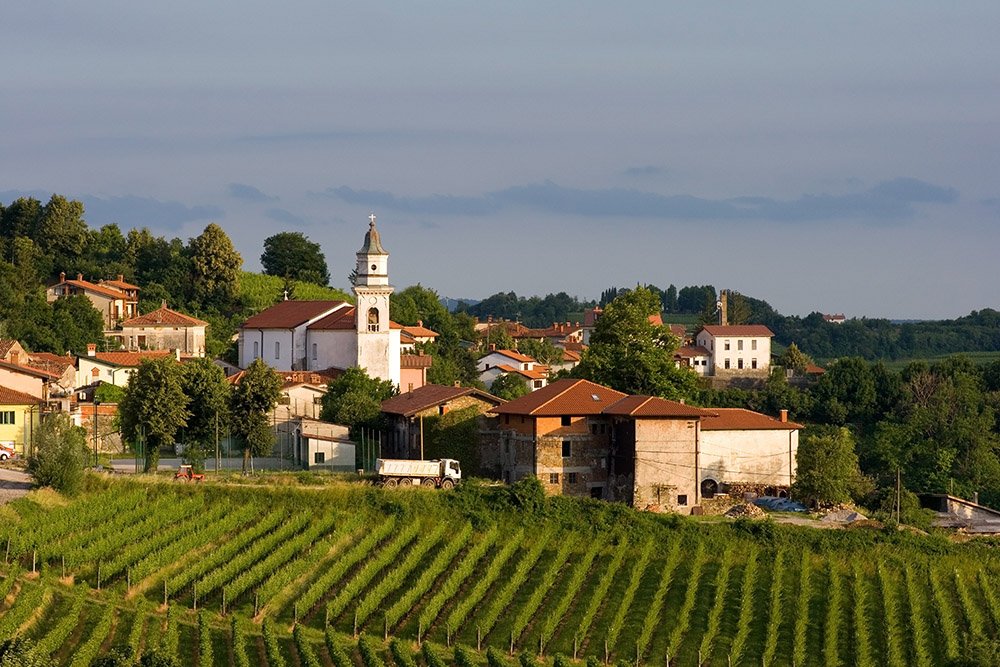 Covering 72km2 of rolling hills between the Soča River and Italian border, Brda is one of Slovenia's foremost wine-growing areas and only an hour's drive from Ljubljana. Often described as a miniature version of Tuscany, every hill seems to be topped with a large church (there are actually only 30 in all) surrounded by a charming little village, while the hillsides and valleys in between are blanketed with vineyards, orchards and winding country roads. Aside from a few larger estates and one cooperative, most of the vineyards are smaller family-run operations, and almost all offer some combination of wine tastings, tours, meals, accommodation and of course wine sales. The region is also known for its traditional Italian-influenced cuisine, and a trip to Brda without enjoying a slow multi-course meal on a terrace overlooking the vineyards almost defeats the entire purpose. The tourist information office at Dobrovo Castle is well-stocked with multi-lingual maps, brochures and other literature, and a great place to start for first-time visitors.
Vipava Valley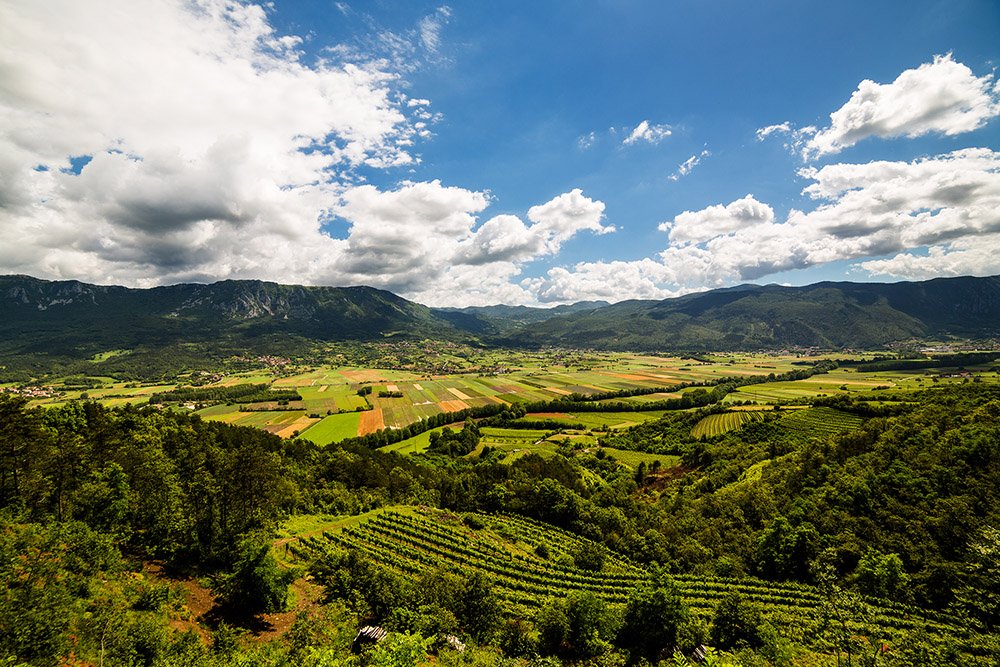 While the valley stretches only some two dozen kilometres from the imposing Mount Nanos in the east to the city of Nova Gorica in the west, the Vipava Valley's unique location at the meeting point of several different climate zones gives rise to no less than five distinct micro-regions, namely the Lower Vipava, Middle Vipava, Upper Vipava, Vipava Hills and Branica Valley. While the effects of this varied geography are clear even to first-time visitors, with plants like figs and palm trees growing at one end of the valley but not the other, the region's most notable feature is the Bora (or Burja in Slovene) wind, which gusts down from Mount Nanos at speeds exceeding 200km/h. The wind is strongest during the wintertime, and is the reason why buildings in villages are built so close together, roofs are piles with stones and the local highway is often closed. However, far from being an inconvenience, the valley's 20,000-plus inhabitants seem to revel in their constant battle with the forces of nature, and have been rewarded with some of the finest winemaking conditions in the world. In particular, Zelen and Pinela are two must-try indigenous varieties, and as is so often the case, where there's great wine there's also great food. Culinary highlights in the region include jota (a rich sauerkraut or pickled turnip, bean and pork soup), štruklj (cheese- or walnut-filled dumplings) and burja (cured meats and cheeses).
Kras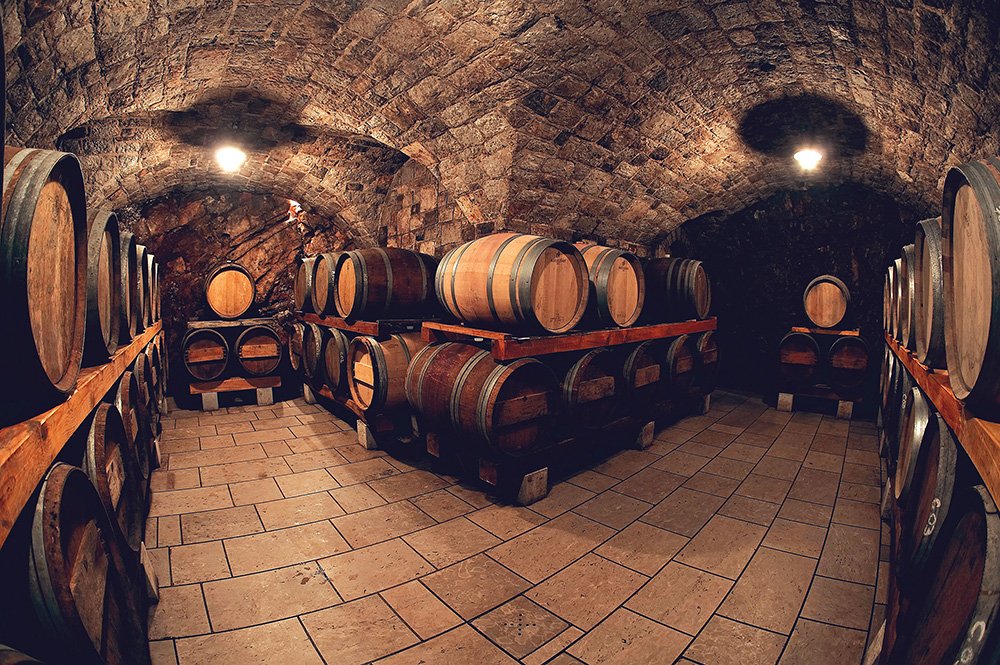 The Kras wine district is distinguished by the unique terrain upon which it sits, namely, a limestone Karst plateau above the bay of Trieste covered by a thin layer of reddish-brown soil that receives both an abundance of sun throughout the year as well as strong winds known as the burja (or Bora, in English). The end result is the perfect climate for growing a variety of grapes, especially those for making earthy red wines such as Refošk (Refosco) and Teran (Terrano), while the dry air also provides excellent conditions for the production of cured meats, widely regarded as Slovenia's best. With some 170 different wine producers located in this one compact area, the so-called Kras Wine Road can keep visitors happily busy for days on end. In addition to the overwhelming number of vineyards and wine cellars, there are also many other sightseeing stops that can be made along the way, including the world famous Lipica Stud Farm, the exquisite medieval hill- top village of Štanjel, Sežana's peaceful botanical garden, the subterranean world of Vilenica cave and the fascinating Tabor military museum (to name but a few). Much more info can be found on the region's official website (www.visitkras.si), including contact info for a half dozen local tourist offices that can provide further assistance.
Slovenska Istra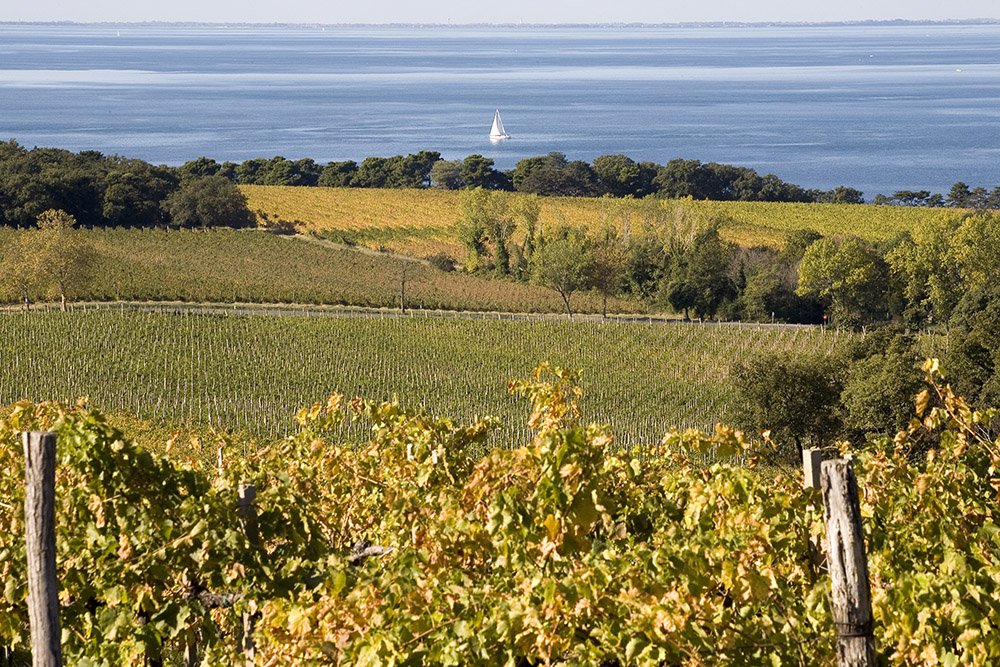 Istria is the Mediterranean part of the country, and has long been influenced by its proximity to the sea and Italy, with a tradition of wine-making that goes back to Roman times. While many different wines are produced here, the most typical of the region is Refošk, a red that pairs well with food and shows considerable variations depending on the terroir. Other reds include Cabernet Franc, Cabernet Sauvignon and Merlot. The main white wine is Malvazija (Malvasia), which is said to be richer than that from other areas. Its light and lively character make it very popular when served chilled in the summer. Chardonnay grapes also grow here, producing both the namesake wine and one known as Ricorvo, which is made exclusively from grapes that grow no more than 10m above sea level.