Without those great grey mountains rising steeply from the coast, the experience of being on the Makarska shoreline would be much less of a thrill.
That view is just so spectacular: in some places the cliff rising above the little seaside resorts is almost vertical and so close it feels like the shoulder of a protective parent. In many senses, the mountain has protected and sustained humans for millennia, so Biokovo is pretty much the mother lode of culture and general fabulousness in this part of Dalmatia.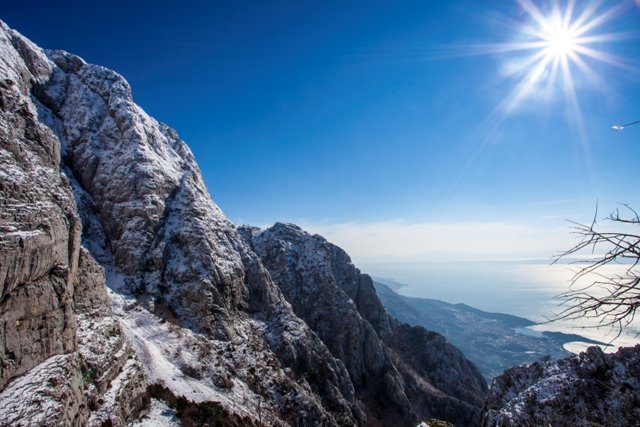 Photo by Biokovo Nature Park Archives

Biokovo is not a single mountain but a range of mountains that stretches from just above Brela almost to Igrane in the south, about 25km, about half of the Makarska Riviera. It's part of a larger system of mountains called the Dinaric Alps, a 645 km long range that stretches along the Adriatic from Slovenia in the north to Albania in the south. The Dinaric Alps, as you might guess, are which is itself part of that famous range so beloved of chocoholics. The mountains are made of limestone deposited at the time when this was a flat sea, before tectonic movements sent the earth skywards. Limestone is a soft rock that is easily moulded by water.
This kind of landscape is known as karst and is well known for having fascinating formations including caves and sinkholes where rivers dive underground. The highest peak of Biokovo, Sveti Jure, is 1762m high, the third highest peak in Croatia.

Due to its geomorphological, biological and cultural diversity, almost all of the Biokovo range has been declared a Nature Park. It is home to a wild variety of wildlife, including endemic and endangered species. The best known is the Silvery Dwarf Harebell Edraianthzs pumilio. For centuries the slopes of Biokovo provided a home to people seeking shelter from enemy attacks – hardly anyone lived by the sea. In the 20th century, the area became depopulated, meaning that modern life has hardly touched it. Therefore, this is a historical and cultural treasure trove. Lovers of architecture will be enchanted by the ancient stone villages and defences against Turkish attacks. Food buffs will find the smells wafting from traditional-style taverns hard to resist. So, while you're on the Makarska Riviera we beseech you, don't be lulled into laziness by the sedutive sea. Take a trip into the Biokovo mountains – you'll be astonished by how much there is to see there. Apart from anything else, the views over the coast and islands are astonishing.

The Biokovo Nature Park covers most of the mountain range and has a number of information centres and educational trails. Since it is a managed park, you are required to buy a ticket at the entrance on the Makarska – Vrgorac road. You can drive up there, but the best way to explore it is to enjoy a good long hike. Just a couple of precautions: the terrain is rugged – wear strong shoes or hiking boots. The summer heat and sun can be overwhelming: set off at sunrise, and take a hat, sun protection and plenty of water. Outside of the summer, avoid setting off if wind or rain is forecast: the bura (north wind) can reach hurricane force.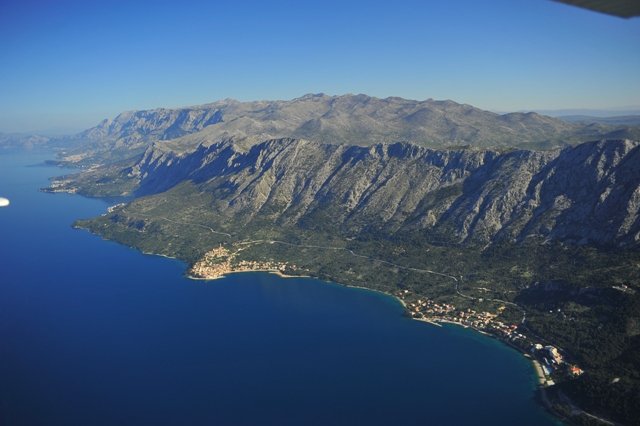 Photo by Ivo Pervan

The Kotišina Botanical Garden
This Botanical Garden, like the Malacological Museum in Makarska, was founded by biologist Friar Jure Radić (1920-1990), and is part of an educational trail he also created. Set in 16.5 hectares, the Garden is a reserve for local plant species as well as an archive of exotic plants. It has some interesting rock formations such as caves, cliffs and the Proslap waterfall which bursts through a narrow canyon after a heavy fall of rain. There's a 17th century fortress, a protected monument, and a chapel, St Anthony's (20th C). Just 3km from Makarska and at an altitude of 350-500m above sea level, this is a suitable destination for a good but not overly demanding walk.