A new landmark on the Braamfontein skyline (officially launched March 2021), 56 Jorissen, a 17-storey student accommodation building, is one of those rare developments in the contemporary city, built from the ground up. It actually goes a lot deeper than the ground, having to be shored up by sophisticated pilings as Braamfontein, like much of the city, sits on a deep underground river. In fact, the area's name with "fontein" in it refers to its origins as a farm with a spring. There's a great article about this on The Heritage Portal.

The downtown landscape is still in many ways a victim of its apartheid spatial planning, and much of its development since 1994 had involved repurposing commercial buildings into residential developments, and projects to create neighbourhoods through careful placemaking.  

We visited 56 Jorissen at its opening and were struck by its ambition to provide Braamfontein's students with a modern lifestyle that includes corner apartments, rooms with balconies, a sumptuous roof deck, studios and penthouses, plus lounges and study rooms with awesome views. The building belongs to South Point and adds to a portfolio that includes nearly 6000 student beds in Johannesburg. 

Founded in 2003 South Point is South Africa's largest private provider of student accommodation, housing nearly 13,000 students  across the country. In Joburg, South Point's developments have focused on Braamfontein, a high-rise neighbourhood directly next to the Wits University campus and the nearby University of Johannesburg Campus in Auckland Park. By taking over old hotels and office blocks in the area and transforming them into bright, colourful and safe student accommodation, South Point has played a key role in revitalising and diversifying the neighbourhood.

CEO Ndumiso Davidson mentioned at the launch that design that focuses on community living is the future of residential developments. Whether for millenials or ageing populations, the world has never had a bigger craving for sustainable community life. 

This latest property, 56 Jorissen, is South Point's biggest student residence yet, located directly opposite Wits Art Museum and the university's East campus entrance on Jorissen Street. Plans are afoot to curate a retail offering on the ground floor, ensuring even more convenience for students and neighbourhood residents. A R450-million development Davidson says its a vote of confidence in the future of central Johannesburg's Braamfontein district, "an area about which we're extremely passionate".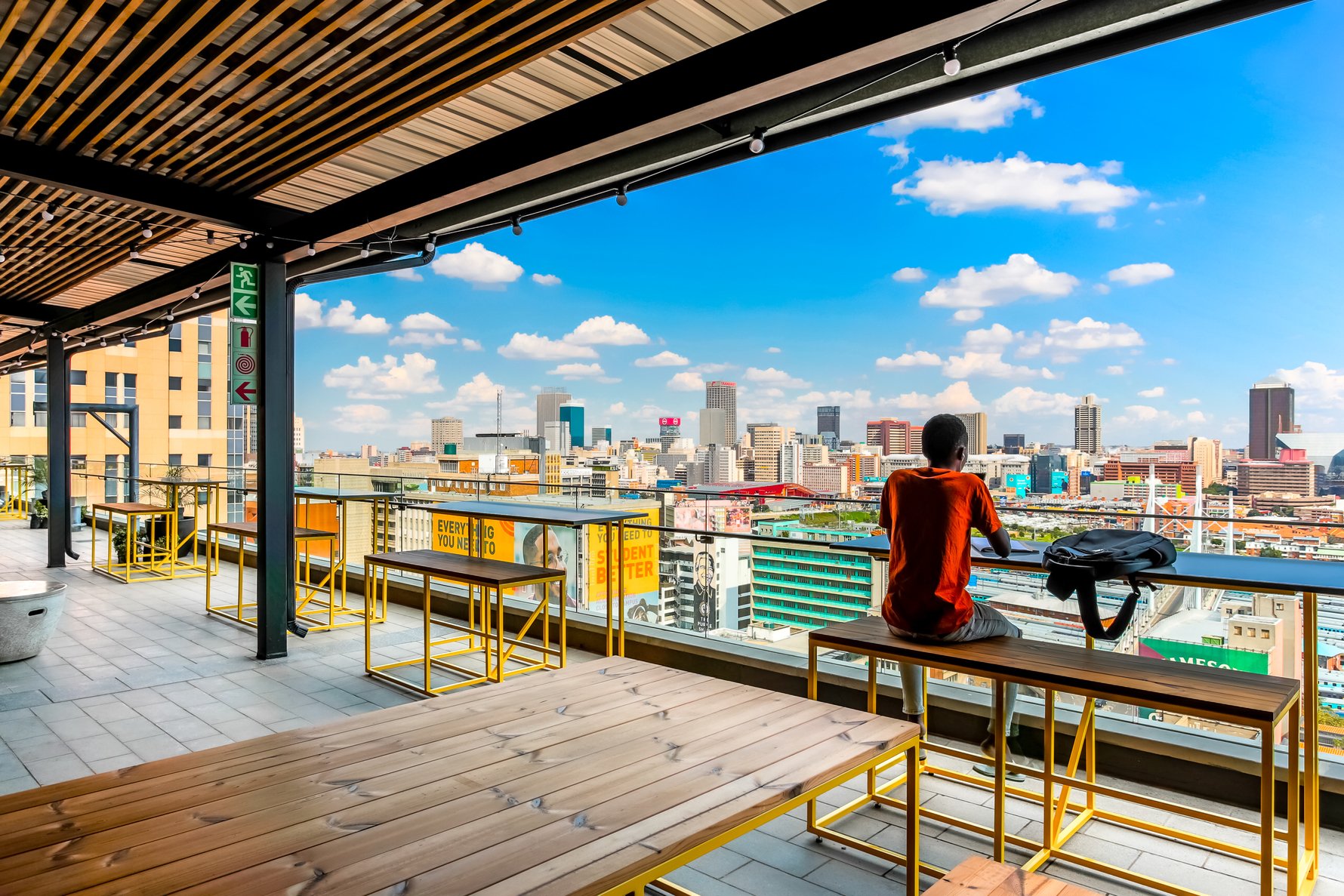 The future is a vertical village. This 17-storey building offers a range of serviced 'cluster' units (with students sharing a common kitchen and bathroom), as well as one-bedroom units and studios and when full will be home to 1,195 students. Bold colours are a trademark of South Point and in evidence throughout the building. With plenty of natural lighting, views from every side and even a high-rise laundry 'room' open to the breeze, 56 Jorissen is a far cry from what many might imagine the average student digs look like.

56 Jorissen represents a new way of thinking about the modern, urban student experience. Fast and unlimited wifi is of course a standard expectation (wifi is included in the rental costs) and students also have access to a variety of private study spaces, as well as an auditorium and meeting rooms. In fact during the lockdown many students already moved in, despite campuses being closed, as the space to study effectively and in peace on offer was so compelling.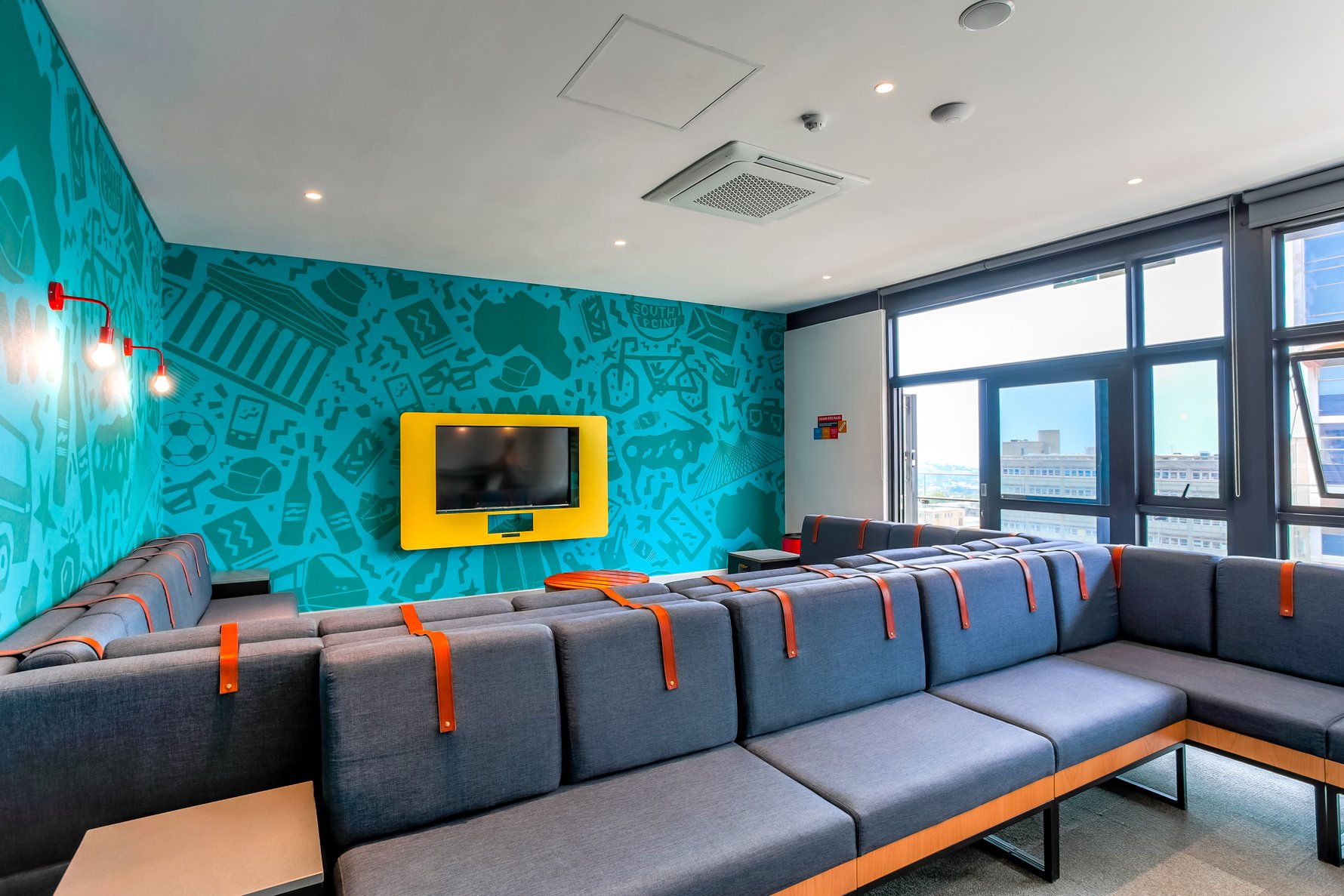 There's also a focus on comfortable social spaces such as chill rooms, with tv screens made for gaming, and our absolute favourite element, the roof terrace. Unfortunately – it won't be open for functions, unless you are staying in the building. 

We've been on a lot of Joburg rooftops and this one, with its 360-degree views is one of the winners. From the huge 17th floor garden roof terrace you can see right across from the Carlton Centre to Soweto's mine dumps and, facing the other direction towards Sandton's skyscrapers in the north and beyond, and the Melville Koppies in the west.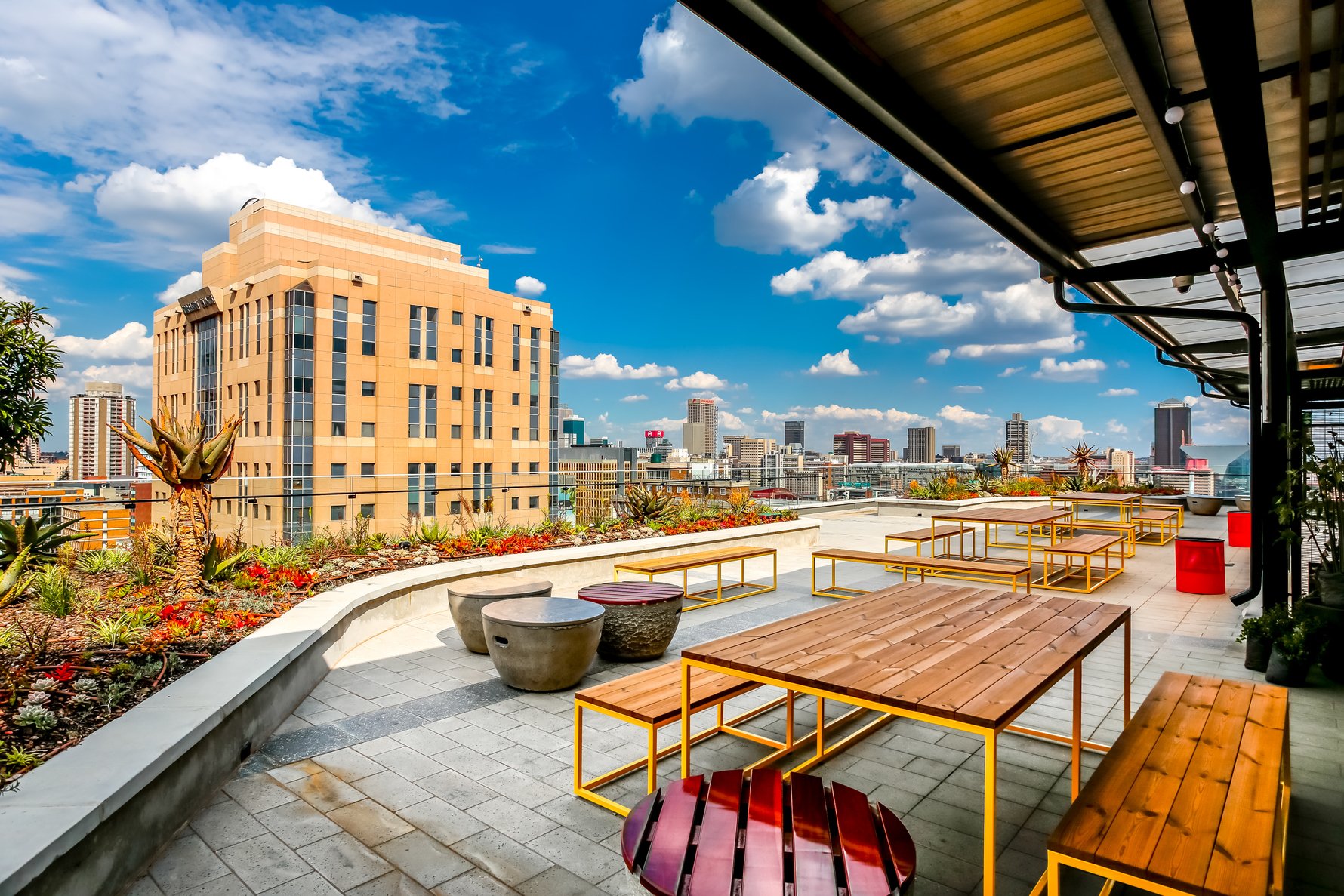 There are masses of new tall buildings that have gone up around Joburg in recent years, not all of them aesthetically pleasing. This one's a keeper. We love how the façade was designed to interact with sunlight, creating dynamic shadows and light that read differently throughout the day, adding a bright spot to this formerly dull corner of Braamfontein.

It's a great vote of confidence in Braamfontein, and the city. 

FIND OUT MORE AND VISIT
56 Jorissen is located directly opposite Wits Art Museum at 56 Jorissen Street (corner Bertha Street), Braamfontein. Find out more and take a virtual tour of the building at 56jorissen.co.za.