"On a trip to Johannesburg, this was the only guide I could find that was up-to-date and informative about the city. Everything else I saw skirted around what there was to offer and treated it as a hub for Kruger National Park, but this really got under the skin. I've been a fan of In Your Pocket since then... They really know their stuff." Travel editor, The Independent UK

Johannesburg In Your Pocket celebrates its sixth birthday in February 2020. In 2019 In Your Pocket City guides launched three mini-guides for key tourism neighbourhoods in Johannesburg – Rosebank, City Centre & Melville, and Sandton (a new issue is published every six months). and in September 2019 launched an annual issue of our city guide magazine to Johannesburg and surrounds.

Our new look magazine is now an annual publication which includes a comprehensive guide to Joburg's many distinctive neighbourhoods, a month-by-month calendar of all the major events to look out for on the Joburg cultural landscape, as well as the ultimate guide to 25 essential Joburg experiences, from graffiti walks and Soweto tours to day trips in the Cradle of Humankind, art galleries, museums and aerial adventures, that every Joburg visitor needs to try. 


The mini-guides are handy pocket-sized guides to everything you need to know about making the most of Joburg's key neighbourhoods, and are filled with our recommendations of the best places to eat, drink, shop and hang out in Sandton, Rosebank, Johannesburg City Centre and Melville. They include walkable neighbourhood maps highlighting key attractions and public transport routes.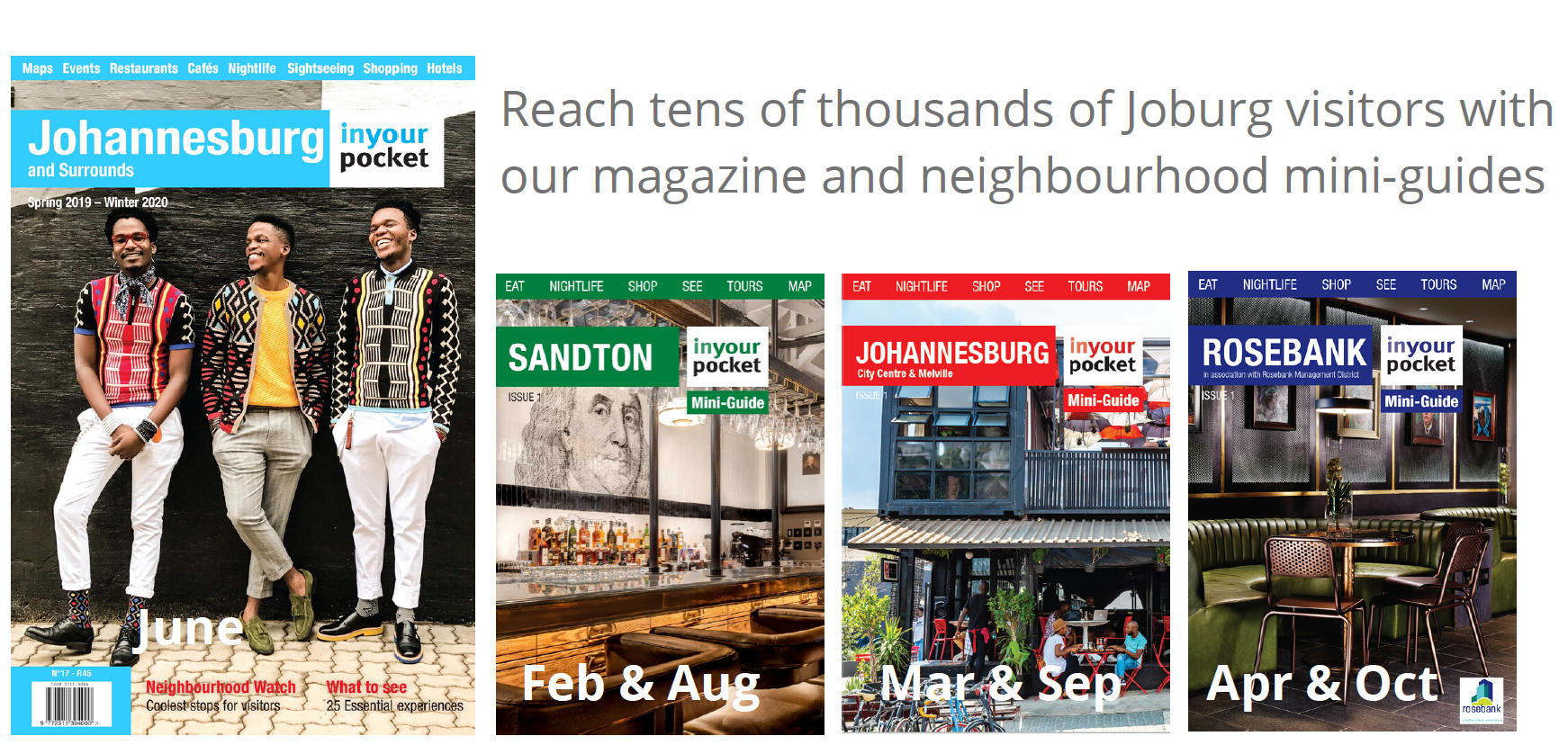 Distribution
Find our guides at the Gauteng Tourism arrivals desk at OR Tambo International and Lanseria airports, at Joburg Tourism Visitor's Centre on Nelson Mandela Square and at Park Station, and at major Joburg hotels, guesthouses and cultural institutes and attractions.

Our mini-guides are alsp distributed on the City Sightseeing bus and at the Sandton, Rosebank and Park Station Gautrain stations. 
SANDTON IN YOUR POCKET MINI-GUIDE (PUBLISHED FEB & AUG)
Available at top Sandton hotels including:  Sandton Sun, Intercontinental Sandton Towers,  DaVinci Hotel & Suites, Garden Court Sandton City, Signature Lux Hotel, Protea Hotel Balalaika, The Capital 20 West, Faircity Falstaff, Fairlawns Boutique Hotel & Spa, Sun The Maslow Hotel, Hilton Hotel, The Courtyard Sandton, Holiday Inn Sandton, Radisson Blu Hotel, Radisson Blu Gautrain, The Capital on The Park, Southern Sun Katherine Street, The Capital, The Ivy Villa Hotel & Spa, AtholPlace, City Lodge Katherine Street, City Lodge Hotel Sandton, Road Lodge Rivonia, Town Lodge Grayston Drive, City Lodge Hotel Bryanston, Saxon Hotel, Villas and Spa and The Leonardo. 

The Sandton In Your Pocket Mini-Guide is now also available from the Sandton Central Tourism kiosk outside Sandton Gautrain Station (from November 2019).   

ROSEBANK IN YOUR POCKET MINI-GUIDE (PUBLISHED APR & OCT) 
Available at top hotels in Rosebank and the surrounding neighbourhoods including: 54 on Bath Hotel, Crowne Plaza The Rosebank, The Hyatt Regency, Clico Boutique Hotel, Holiday Inn Rosebank, The Winston Hotel, Courtyard Hotel Rosebank, The Capital on Bath, Monarch Hotel, Saxon Hotel, Villas and Spa, African Pride Melrose Arch, Capital Melrose, Home Suite Hotels Bristol Road, Four Seasons Hotel The Westcliff, Southern Sun Hyde Park​​​​​, Sandton Sun.
Find copies at the Rosebank Mall Information desk. 


"Very informative mini-guides and maps. This has made life so easy for our guest's visit." General Manager, Peech Hotel, Melrose
JOHANNESBURG CITY CENTRE & MELVILLE IN YOUR POCKET MINI-GUIDE (PUBLISHED MAR & SEP)
Available at hotels, backpackers and guesthouses in Melville and the Johannesburg City Centre and at major tourism attractions including: Constitution Hill, Protea Hotel by Marriot- Parktonian, Origins Centre, Once in Joburg, The Bannister Hotel, Rand Club, The Reef Hotel, Joburg Places/ Thunderwalker, 44 Stanley, City Lodge Newtown, Agterplaas, Motel MiPiChi, Lucky Bean, The Turret, Pablo House, Curiocity Hostels, Arts on Main, Victoria Yards, Sandton Sun, Rosebank Crowne Plaza, Dlala Nje Tours, Rand Club. 

"The Rosebank mini-guide is very informative about the neighbourhood. Mostly, we deal with international guests. All in all, the map is great and makes our job so easy. It answers the "where and what to do" questions for us." Guest Relations Manager, 54 on Bath Hotel, Rosebank
JOHANNESBURG IN YOUR POCKET ISSUE 17 (PUBLISHED SEPTEMBER 2019 AND JUNE 2020)
You can pick up a copy of our full 40-page A5 magazine guide to Johannesburg and surrounds these leading Johannesburg hotels, guesthouses and independent bookshops. You can also download a free pdf copy of issue 17 online here. Ask for your copy of our 40-page Johannesburg In Your Pocket city guide at one of these hotels:
54 on Bath, Rosebank
African Pride Melrose Arch Hotel, Melrose Arch
Agterplaas, Melville
AtholPlace & Villa, Athol
The Bannister Hotel, Braamfontein
The Capital Empire, Sandton
The Capital on Bath, Rosebank
The Capital Moloko 
The Capital on the Park 
City Lodge Hotel, Newtown
City Lodge Hotel, Sandton (Morningside)
Clico Boutique Hotel, Rosebank
Courtyard Hotel, Sandton
Crowne Plaza The Rosebank, Rosebank
Curiocity Hostels, Maboneng
DaVinci Hotel & Suites, Sandton
Faircity Falstaff, Sandton
Faircity Quatermain, Sandton
Fairlawns Boutique Hotel & Spa, Sandton
The Fairway Hotel, Spa & Golf Resort
Four Seasons The Westcliff, Westcliff
Hilton Hotel, Sandton
Holiday Inn Sandton, Rivonia Road
Holiday Inn Rosebank
Home Suite Hotels, Bristol Road
The Houghton Hotel, Houghton
Hyatt Regency, Rosebank
​InterContinental Johannesburg Sandton Towers
The Ivy Boutique Hotel & Spa, Sandton
Lebo's Soweto Backpackers, Soweto
The Leonardo, Sandton
Lucky Bean, Melville
Sun The Maslow Hotel, Sandton
Motel MiPiChi, Melville
Pablo House, Melville 
Peech Hotel, Melrose
Protea Hotel Balalaika Hotel, Sandton
Protea Hotel Parktonian All-suite, Braamfontein
Protea Hotel Wanderers
Radisson Blu Gautrain Hotel, Sandton
Radisson Blu Hotel, Sandton
Reef Hotel, City Centre
The Residence, Houghton
Sandton Sun Hotel
Saxon Hotel, Villas & Spa, Sandhurst
Signature Lux Hotel, Sandton
Southern Sun Hyde Park, Hyde Park
Southern Sun Sandton, Katherine St, Sandton 
Sunnyside Park Hotel, Parktown
The Turret, Melville
Johannesburg Guesthouses 

SHOPS:
Bridge Books, City Centre and Maboneng 
David Krut Bookstores, Maboneng and Parkwood
I Wasshot in Joburg, Maboneng
Love Books, Melville
CO-WORKING OFFICES:
Perch Flexible Office Space, Rosebank
WeWork Rosebank
Workshop 17, Rosebank 

- - - - - - - - - - - - - - - - - - - - - - - - - - - - - - - - - - - - - - - - -
TO ADVERTISE: Contact publisher and editor
Laurice Taitz – laurice.taitz@inyourpocket.com, +27 82 572 3553
DISTRIBUTION: Email melusi.hlatshwayo@inyourpocket.com