At a Joburg auction you can pick up everything from a million Rand painting by a world-famous South African artist, to quirky contemporary prints, period furniture, rare antiques and collectable books. To reflect the Covid times we are living in, all Joburg auctions now also run online auction platforms meaning you can browse, buy and bid on artworks from the comfort of your home and with the shift to digital the auction world has never been more accessible

If you are new to buying art at auction and are wondering how it all works, here's our first timer's guide.
Catalogues, showroom exhibitions and deciding what to buy
The first step to buying at auction is finding something you have your heart set on owning. In the days before an auction, auction houses usually put all the works on display at the auction house showroom so that potential buyers can come in and look at the works in person. Due to coronavirus restrictions it is usually necessary to call ahead and arrange a time to visit.

A visit to the showroom is also a good opportunity to talk to art experts from the auction house who will be able to share more details about the artist, the artwork and its provenance. Pre-auction exhibitions are also a great place to get a feel for the auction world and discover interesting artists that you might not have been familiar with. The more art you see, the more you'll be able to refine your tastes and learn more about the artists you'd like to invest in.

Top fine art auction houses like Strauss & Co also release a catalogue of all the items included in the sale for buyers to browse. Strauss & Co beautifully printed glossy catalogues, printed ahead of each 'virtual live' auction (usually held four times a year) are themeslves a collector's item, filled with extensive background information from curators and academics on the artists and works included in the sale. The catalogue can be ordered through the Strauss & Co website or you can also view it online. You can also view the full catalogues of previous auctions online and see what works exceeded their estimates and which went unsold.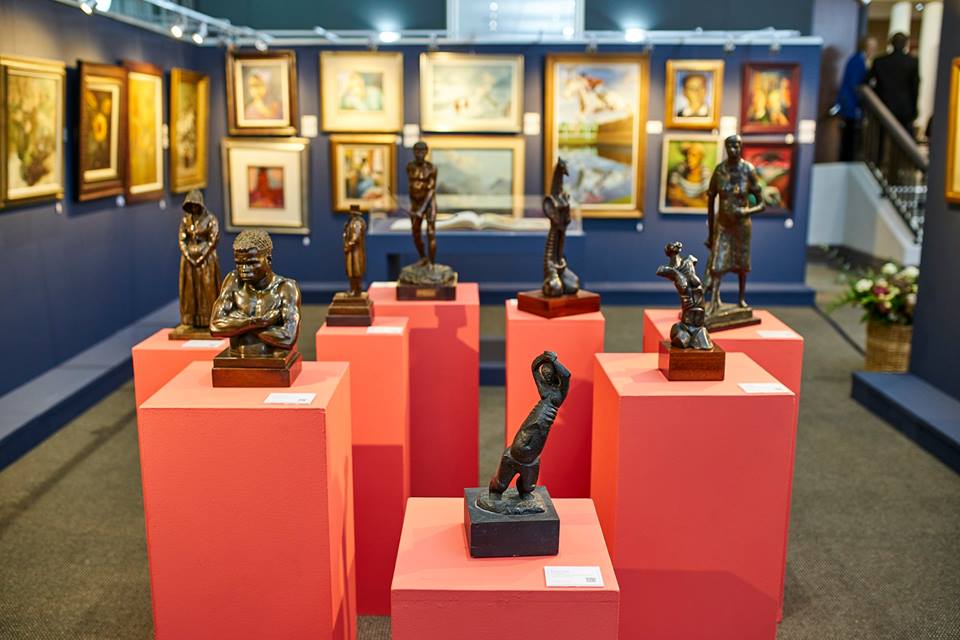 Estimates, reserve prices and buyer's premiums
Auction catalogues list 'estimate prices' for each work included in the sale. The estimate is the auction house's prediction for what the lot can be expected to sell for during the auction. Pre-sale estimates are based upon current market prices achieved at auction for comparable works and also take into account the condition, rarity and provenance of the artwork. Usually any bid between the high and the low estimate should stand a fair chance of success. The 'reserve price' is confidential and is set by the seller as the lowest amount that the work can be sold for.

On top of the final 'hammer price' or winning bid, the buyer also usually pays a premium percentage as well as VAT. Strauss & Co calculate the Buyer's Premium at 12% for lots selling over R10,000 and 15% for lots at and below R10,000.
 

How to register and bid at an auction
To take part in an auction you will first need to register as a bidder. Prior to the sale bidders are required to complete a registration card with the auction house and receive a bidding number. Bids at the sale will then be taken from registered bidders.

Successful bidders are required to make payment for their purchases immediately after the sale and arrange for them to be collected.
 

Buying art at online auctions
Strauss & Co are South Africa's leading pioneers in the online auction sphere. Their regular week-long online auctions are a brilliant opportunity for new art collectors to build a collection, with estimates that start from as little as R1,500 stretching up to the tens of thousands.

You can register to join the bidding directly online as soon as the auction opens. Once registered, sign in and click on your chosen lots to submit your bid. You'll receive an email or sms every time you have been outbid on a lot.

It can also be a smart idea to submit a 'commission bid' which is a maximum that you would like the online system to continue bidding up to on a lot on your behalf. Once the auction closes you'll receive an email detailing your winning bids, payment options and details on how to collect the work or arrange for it to be delivered.

If you are still feeling nervous about jumping in and spending, you can build your confidence for understanding how the bidding goes by simply sitting back and observing what is going on. Browse the catalogue online before the auction opens and choose your favourites. In the week-long online auctions the final day's bidding is the one to watch. Follow the increments in bids based on what you think you would have offered and you'll soon start to get a feel for what your limits are. 
Bidding in 'Live Virtual' Auctions 
Strauss & Co's innovative cross-country and cross-departmental 'live virtual' auction format is a clever re-imagining of the classic live auction model. The auction is hosted 'live' (virtually) in Cape Town and Joburg with Strauss & Co's auctioneers on the podium, streamed live via Strauss & Co's website in real-time.

To join in the bidding online, first create an account by registering on the Strauss & Co website. Sign in and select 'enter auction' which will open the bidding console on your computer with a live feed of the auctioneer. Once you submit a bid, your number will appear on the screen followed by any competing bidding numbers until the auctioneer closes the lot. 

In addition to bidding live online, you can also still submit phone bids with Strauss & Co's team manning the phones in the room, or submit absentee bids beforehand, detailing the ceiling amount that you would like to bid for a work (you will 'win' your bid if no other bidders exceed your pre-set limit).

For more details on how to register to bid at Strauss & Co's online visit straussart.co.za, email jhb@straussart.co.za or call +27 11 728 8246.