Bryanston Market is Joburg's original outdoor market, in existence for more than 40 years and still offering a superb range of organic goods and products in a relaxed environment. The market's delicious fresh produce, indigenous superfoods and homemade vegan and vegetarian foodstuffs have also become available for online delivery via the market's new grocery delivery service.

From arts and crafts and health and wellness products to preservative-free and colourant-free home-baked goods, this is hands down one of the best places in Joburg to shop for local gifts with dozens of talented artisans producing unique handcrafted items from a range of materials using traditional techniques.

OPEN TIMES: The market is open every Thu from 09:30–13:00 and Sat from 09:00–15:00.
Delicious food stalls
Vegans and vegetarians will find there's no better place in town to shop for healthy and organic meat-free substitutes 
Antonia De Luca's Leafy Greens is an organic farm and vegan cafe set in the rolling Muldersdrift countryside who have a tasty stall at the market serving delicious lunches and the best vegan cakes, as well as the Antonia's range of raw, dehydrated snacks, stoneground vegan nut butters and even vegan parmesan.

Other local brands to look out for include; Bare Nature for homemade preservative-free and dairy-free 'raw treats' such beetroot bars, Modern Traditions' range of substitutes made using indigenous African 'superfoods' such as marula and baobab that include marula nut butter, baobab powder (a popular addition to vegan smoothies) and delicious vegan marula and baobab based ice-cream. 

Meera's dosa stall is a favourite market lunch stop with a range of authentic, freshly made vegan-friendly South Indian dosas to choose from served with delicious sambar and Indian pickles complemented by excellent chai or freshly squeezed juices and for organic Fair Trade coffee there's Bettina's Café. 

Pick up your daily bread from Patisserie de Paris or Mrs Breadcare and for teas and coffees there's The Green Bean African Coffee Roastery and Nigiro Tea Merchants. We also recommend stocking up some of the finest organic fruit and vegetables at one of the stalls run a collective of small organic farmers based in the Lanseria region.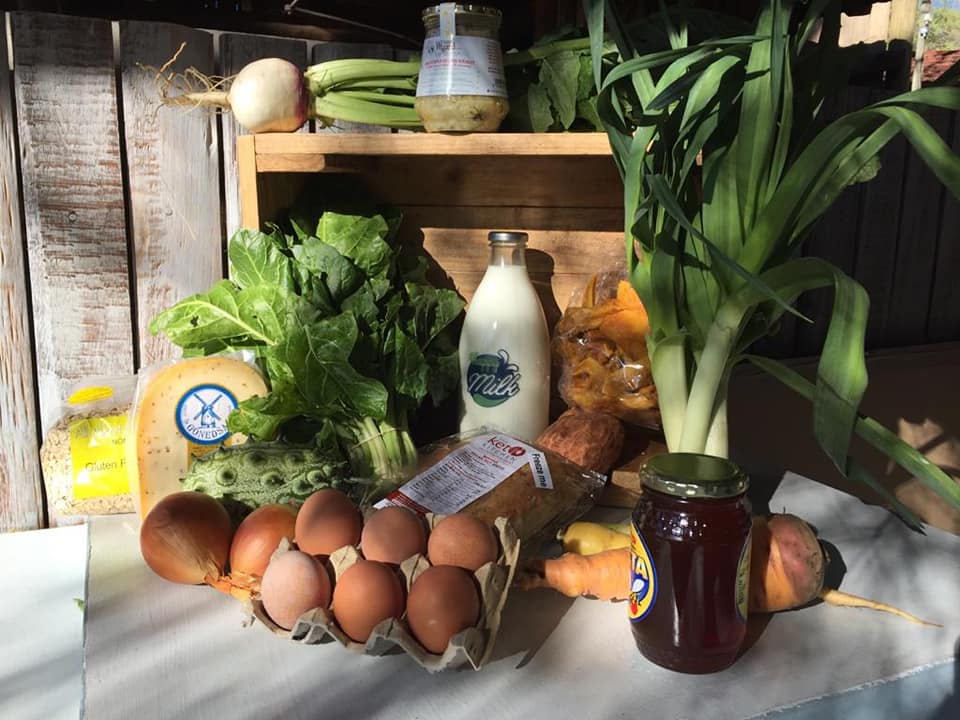 Sustainable fashion
If you are looking for beautifully made clothing that is made to last and is produced with sustainability in mind, Bryanston Organic Market is a good place to start. The weekly market boasts a beautiful selection of homegrown fashion brands that champion ethical and eco-conscious fashion practices.

For a fine collection of winter clothing check out Ann Mack Eco's long-running stall which specialises in natural cotton towels, Basotho wool blankets and accessories, mohair scarves and shawls and organic silk accessories all ethically sourced from environmentally sustainable farms. Also look out for Christine Fischer's beautiful natural fibre scarves in the broadest array of colours and patterns, and African Renaissance's women's cardigans, tops and sweaters emblazoned with distinctive geometric beaded designs.

Other favourites include artist Katharina Alexandra van der Walt's Greyloerie Creations whose fun hand-printed limited edition T-shirt designs take local flora and fauna as inspiration and Messaynesh Gebremariam's Messay's Organic who sell the most exquisite range of naturally dyed, handwoven clothing and linens made using ancient techniques and from natural raw materials, sourced from a family-owned business in Ethiopia.