New on the block in the Sandton Central business district and kicking down everybody's sandcastle is Hotel Sky (opened in late 2020), a brash and flashy new hotel that promises a five-star location at three-star rates. On a mission to disrupt the local business tourism market, this is also a very tech-focused hotel, with smart TVs, custom hotel apps, a self-playing piano and even a robot waiting to greet you in the lobby.

The first thing you notice when you walk in is that Hotel Sky makes its own rules when it comes to decor. Gone are the neutral creams and blues found in most business hotels, instead replaced with wacky animal prints, rainforest wallpaper and blinging gold glitter tiles. Walking into the soaring lobby is like walking into an extravagant jungle-themed party hosted by Liberace. The ceiling is plastered in zebra print, multi-storey chandeliers dangle above the reception desk and tall palm trees flank the door. It's not to everybody's taste of course, but we have to admit it silly and fun and certainly brightens up the area. Why does everything in Sandton have to be so serious anyway?!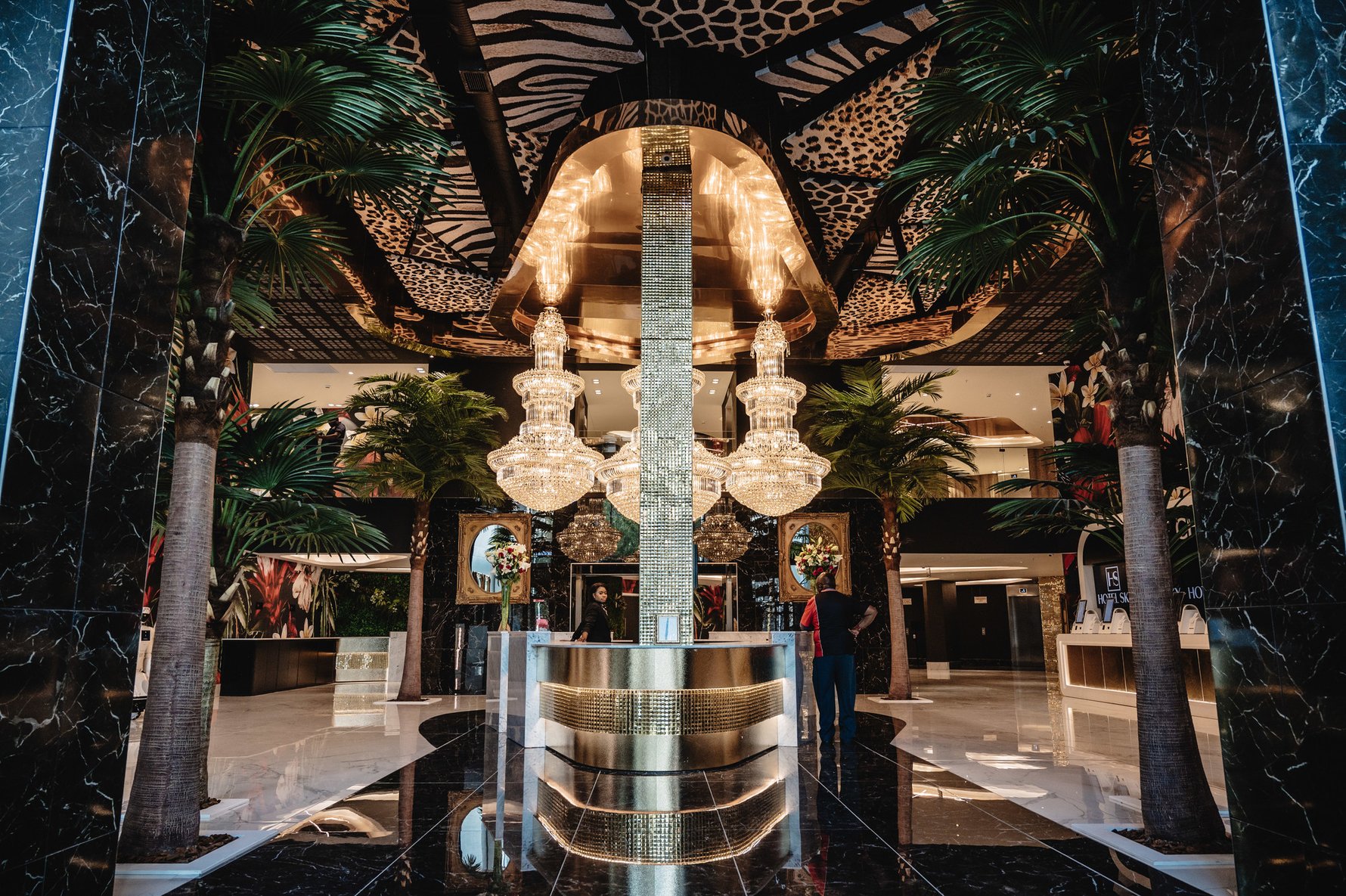 Smart technology is one of the fastest-growing trends in the hotel industry and Hotel Sky has fully embraced the use of tech to enhance the hotel experience. It all begins with the Hotel Sky app (available on Google Play and App Store), which gives you full control of your booking, check in and check out. The app also acts as your door key and you can use it to order room service and can connect it to your smart TV in your room.

One of the other fun and distinctive features of the hotel's tech offering is Lexi, the hotel robot. Much was written about this robot in local media ahead of the launch of the hotel. She even made it onto the national news. Having spent the day here we can confirm that you need not fear that human jobs are being replaced by humourless robots. Lexi is more of a fun gimmick who hangs out in the lobby and answers questions. The kids will like her.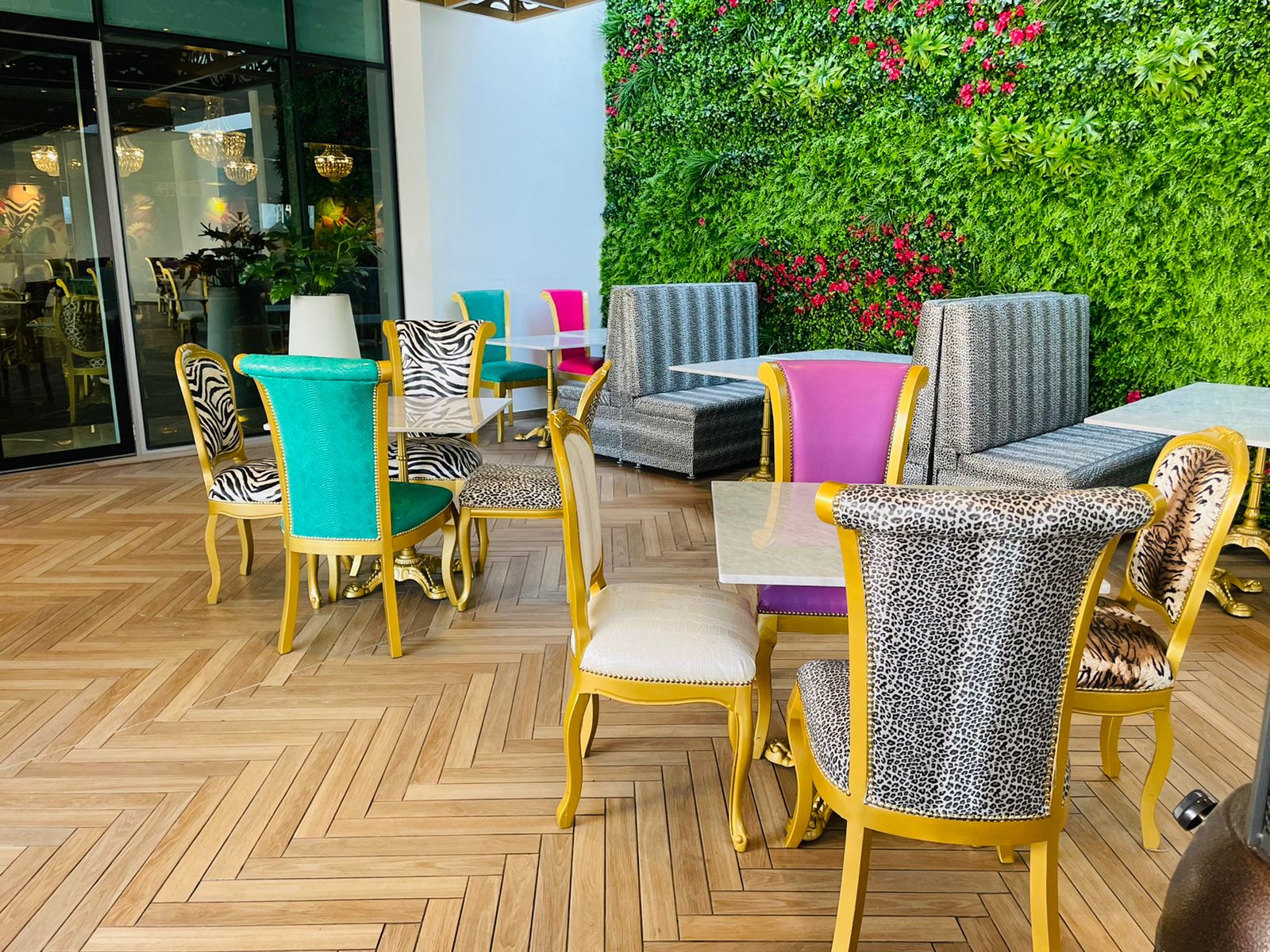 This is a large hotel with 450 rooms spread across six wings. The rooms are not huge but much more spacious than we were expecting for the price. This building was once an office block and has very solid walls meaning you're room is also well insulated from the usual hotel ambient sounds. Of course there's uncapped high-speed wifi as standard and for you caffeine needs every corridor has a coffee machine.

Overnight guests get the pleasure of access to perhaps one of Hotel Sky's most compelling features, the swimming pool. This is said to be the largest hotel pool in Sandton - and better yet, it is also heated. Adjoining the pool is a guest's bar and sun deck.

The hotel has no fewer than three restaurants to its name. Breakfast and casual meals are served at the Equinox restaurant on the first floor which is fitted with a live cooking station and has a large terrace with couches and even hookah pipes. Weekends belong to the Eclipse restaurant and bar. Built specifically with entertainment in mind Eclipse hosts acrobat performances, comedy nights, concerts and the like paired with an a la carte menu. For drinks there's also the Galileo Lounge on the second floor. A major standout feature of this triple volume lounge is its distinctive spiral staircase, huge LED screens and a self-playing Yamaha piano.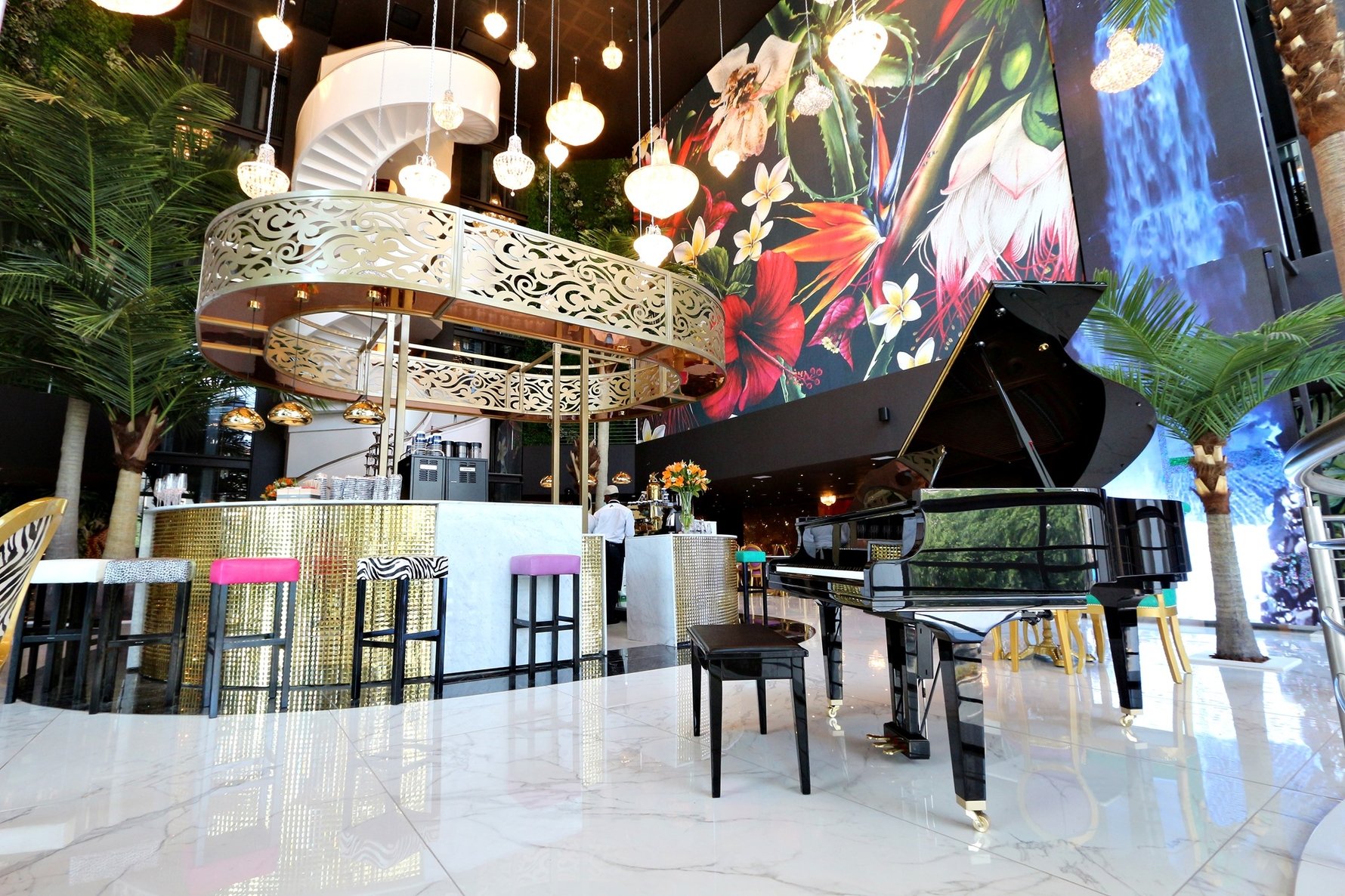 Meetings and conferencing at Hotel Sky Sandton
Hotel Sky Sandton is amply equipped for conferencing, especially hybrid conferencing. The conference halls are fully Teams and Zoom connected (with cameras and microphones installed for the presenter) and complemented by six boardrooms. Boardrooms come with Samsung flip charts, the handy tool we never thought we needed until we used it ourselves. This nifty smart whiteboard is perfect for presentations or strategy sessions and taking notes with the 'smart pen'. 

On the top floor the Infinity Auditorium takes conferencing to another level. This 190 seater purpose-built auditorium can be split into two rooms with two 'follow-me' cameras (pre-set to avoid delays) and built-in microphones on the ceiling meaning no need for those roaming microphones and ensuring every question is heard. We'll also admit we''d never thought of having USB and plug charging points actually integrated into the chairs, it's a great idea that we'd like to see elsewhere too.

From the totally bonkers decor to the seriously smart tech and those super low prices, this is not your average Sandton business hotel.