We have long been inspired by the mural work of street artist DBongz Mahlati, and even more so after having had a chance to interview him in Newtown in August 2021 while he was working on his latest project. 

We meet on Mary Fitzgerald Square. He is suspended metres high, near the top of a highway pillar on a skylift, together with Black Mobuto, an artist who is learning alongside him. Dbongz's generous spirit comes across in everything he says. He loves to collaborate, and he has a strong sense of community. In an earlier interview I came across online he is quoted as saying "It'd be great to be able to communicate through art what language can't, to interpret the years of pursuit into positively influential artworks that resonate with everyday lives … encourage ongoing optimism in young minds … boost confidence and eradicate doubt and fear…  it is happening, one artwork at a time".

The artist grew up in Mohlakeng, west of Johannesburg, has left his mark across the city, from Maboneng where his close to eight-storey high portrait of an Ethiopian woman stands proudly emblazoned across Access city, to the murals that mark the welcoming streets of Jewel City. 

Dbongz's latest project is part of a Newtown Revitalisation Project initiated by the Newtown Improvement District and the city. And it's brought key cultural figures into the neighbourhood – albeit in portrait form – into a space that over the past few years has fought to hold onto its once proud title as Joburg's Cultural District. 

The 31-year-old artist says Maboneng was the "first place that gave me a form of acceptance". He found space to explore, and walls to paint portraits that in his words are "something for everyday people, from all walks of life – it's humbling to see their reactions."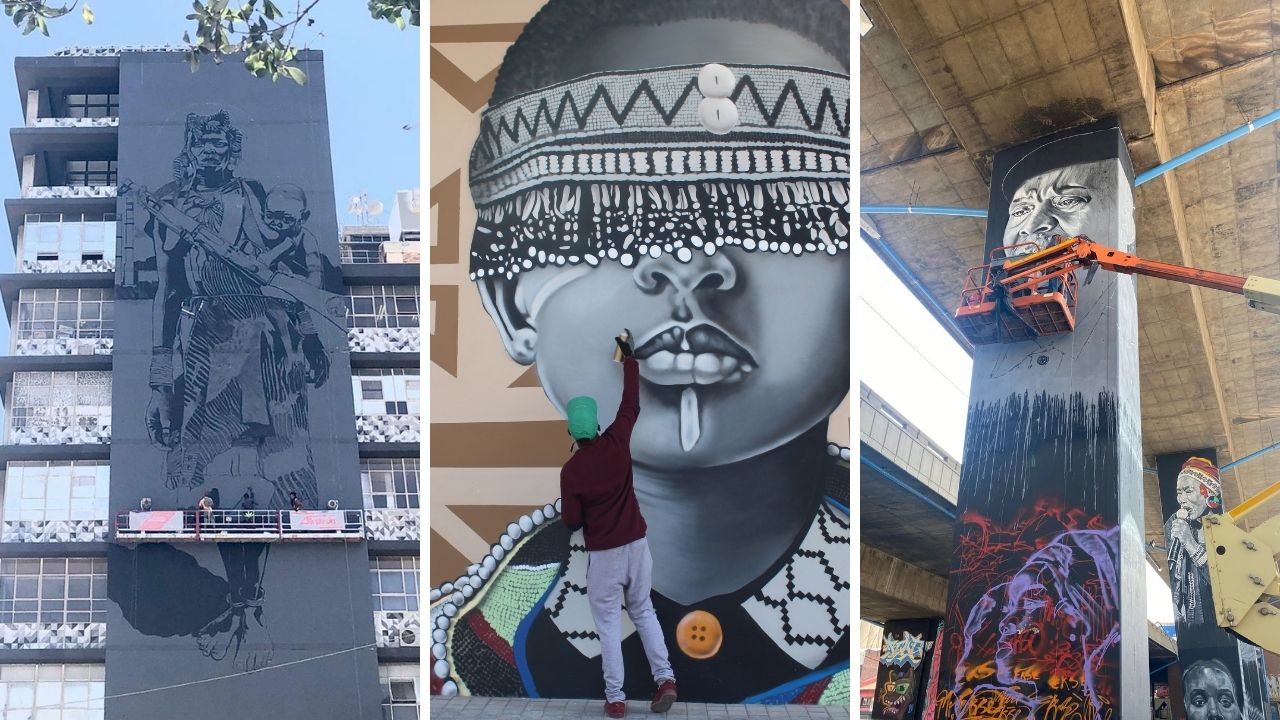 Last year around this time saw the launch of Jewel City, a new precinct, between Maboneng and the Absa complex, that brings together a pioneering residential and retail mix in the city. In Jewel City he collaborated on artworks with Dekor One. 

His choice of figures is guided by his thoughts about the city, his place in it and the place of so many who arrive in Johannesburg as migrants and newcomers. So many people who are not from here but call this city home. "There's a message in all of my work," he says. "There is always a background story". 
"There's a message in all of my work. There is always a background story" 

In Newtown he has just completed a series of portraits visible both from Mary Fitzgerald Square and when driving north along the M1 highway. The four figures he chose to represent are musicians Jonas Gwanga, Busi Mhlongo, Kippie Mokoetsi and Sibongile Khumalo. A fifth work, a massive portrait of Miriam Makeba adorns a wall on her eponymous street. 

He says he picked his own icons for this project – people whose stories carry a message, not just because each was a pioneer in what they did and achieved (all are now deceased), but because they are inspiring as relatable figures, each an embodiment of a particular tradition, and cultural milieu. 

He mentions Kippie Moeketsi – one of the founding members of the original sound of jazz in Johannesburg. A monument to him stands near to what was once a jazz club in his name, in the walkway between the Market Theatre and Newtown Junction. He adds that Kippie battled with depression – and how a lot of artists go through similar and suppress it. By painting him he wanted to raise the issue of stigma around creativity, to highlight the need for people to recognise and take care of mental health issues.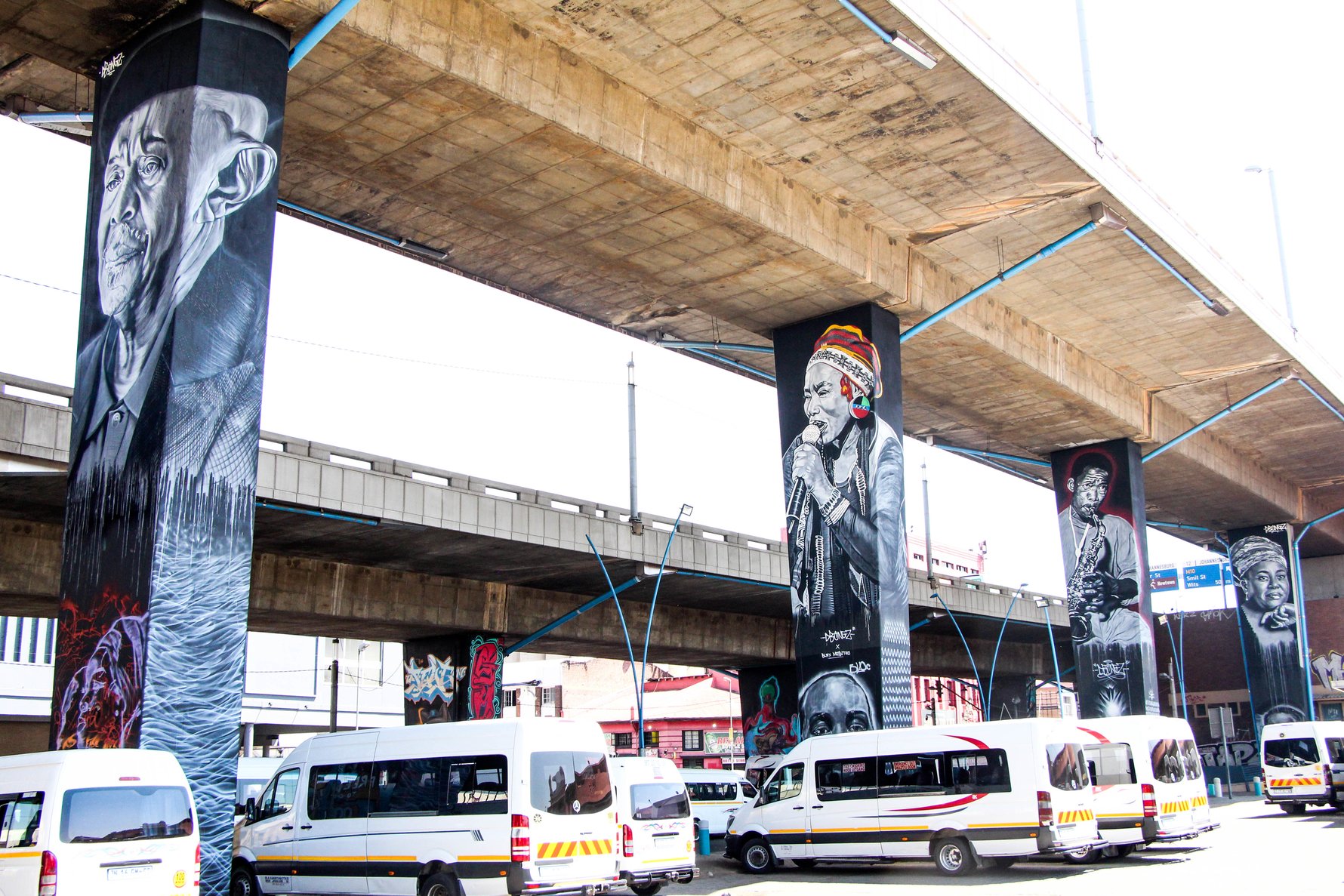 He chose to celebrate Busi Mhlongo because of the way in which she championed her cultural heritage, always wearing the regalia of her background. Sibongile Khumalo was one of the first black women opera singers in South Africa – she was also someone who collaborated widely, weaving between different genres, including hip hop. "Her sound crossed over to a new generation. She saw no boundaries". 

When we meet – the insurrection and looting that gripped the country in July 2021 is still fresh in our minds. Dbongz says this is what stirred him to choose Jonas Gwangwa who sang against killing, against damaging your country. Painting him was a way of trying to perpetuate his message. 
"Newtown was like walking in a gallery on the street"

Bringing these figures into Newtown is Dbongz's way of saying it's not only during Heritage month (September each year) when we should be conscious of the depth of these histories, and the impact of these individuals, as musicians, and as human beings. 

His portraits are full of life, authentic expression, and emotion. This from an artist who says he had a love-hate relationship with sketching. Capturing something essential and recognisable is his way of paying tribute to them as humans, as the people behind the famous artists.

He got into graffiti while still in high school, and at 18 years old – in 2008 – it really took hold of him when came to the city. "Newtown was like walking in a gallery on the street". It was Osmic Menoe's Back to the City Festival – a landmark event held each year on April 27 Freedom Day to celebrate the vibrance of youthful hip hop culture that initiated him into the culture of street art and gave him an opportunity to paint. He also got to be around the who's who of Joburg's graffiti scene – the likes of Rasty, Faith47, Mr Ekse, Breezeyoko, the infamous TAPS, and Ryza.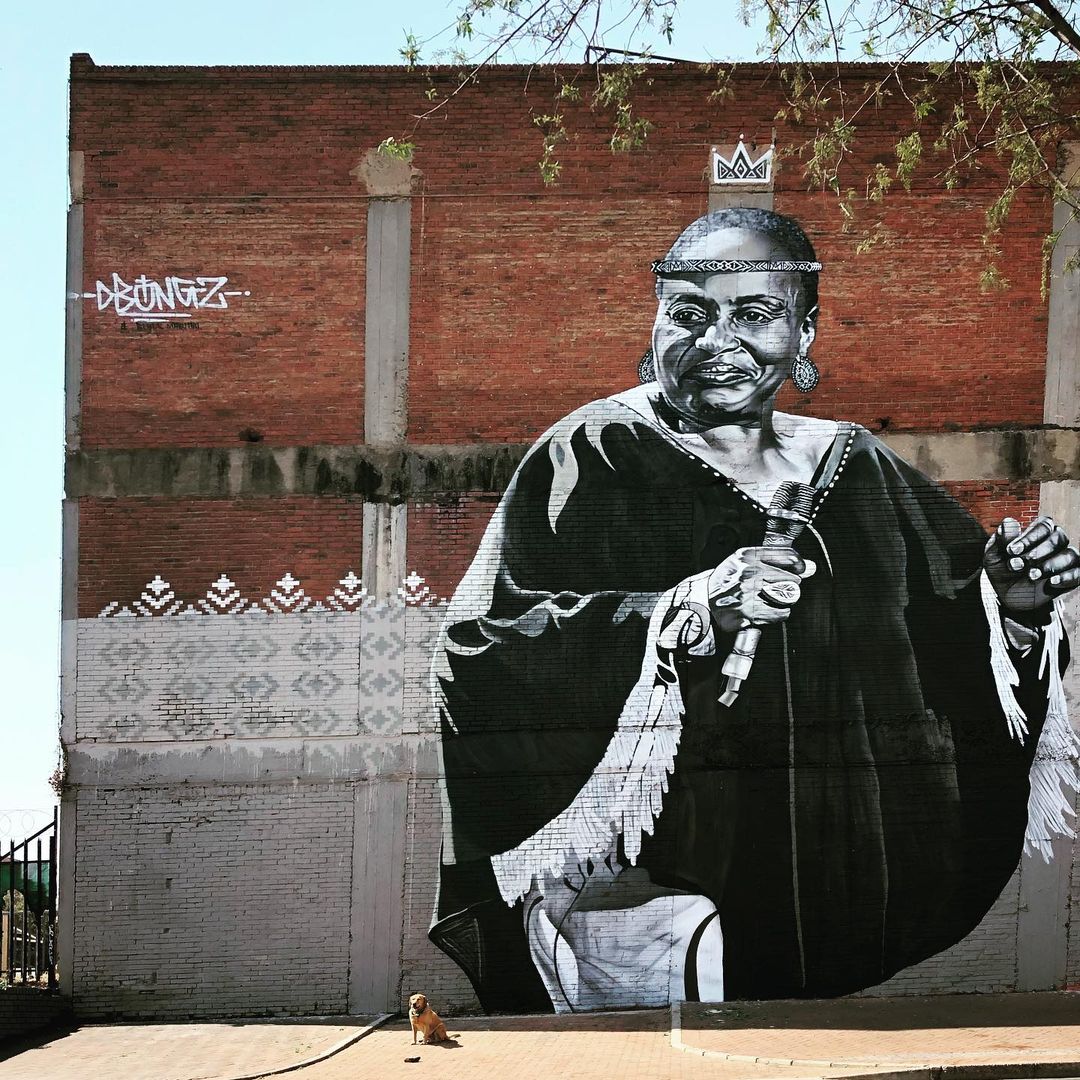 The first piece he painted he left behind that night without photographing. He came back to find it covered over. Hugely disappointed he talked himself into: "Just work harder, practice so hard and commit yourself. You'll get better." 
A self-taught artist, it was sheer determination that propelled him. In 2017 he joined Living Artists Emporium and "practiced every day". "I learned through observation". 

"I was painting portraits and getting rejection. It was constructive. It built me as an artist – I was not giving up." He then moved to his own Studio at 1 Eloff. 

In a short time, his work developed into a recognisable portraiture style, and he left his mark on one wall and then another. No one painted over them. In 2019 he travelled out of the country for the first time – to New York City where he left his mark, and later to Angola, on a project where he collaborated with other artists. 

I ask him what wall in the city he would love to paint – and he answers "The Carlton Centre. It's so iconic and to look at, not so exciting. Adding colour would change that." 

His parents are his "silent supporters" who have seen both the recognition he has received and his hard work. He says he found great satisfaction in painting the pillars of the M1 bridge, a tribute to his father whose work is in the steel fixtures that stay bridges.