A must-visit exhibition and a landmark auction! This major specialist auction by top auction house Strauss & Co is dedicated to the South African modernist icon, Jacob Hendrik Pierneef. It's a unique opportunity to see 51 works by this South African master painter that present a biography of the artist, and give insight into his influences and choices of medium. 

It's also an incredible travelogue as it evokes Pierneef's journeys across South Africa that refined his style of painting. At a media preview Dr Alastair Meredith of Strauss 7 Co remarked that the artist was "happiest moving through the landscape, sketching and painting. And in the first years of the 20th century these journeys were probably on horseback."

Pierneef's earliest work on this show dates back to April 3 1913 (the first exhibition he took part in was in 1911, his first solo in 1913), and on this exhibition you'll see a drawing of early Zoo Lake in Johannesburg, that had been filled in 1908. The water is dotted with boats – a boating license having been granted in 1911. As much as Pierneef is an artist of South Africa, he resided in Pretoria and was born in the same year that the city of Johannesburg was declared, 1886. Curiously the Zoo lake work was painted on a Thursday, a day when Pierneef was supposed to be at work, says Dr Meredith. 

A one-of-a-kind auction, the selection of artworks on sale includes a comprehensive offering of linocuts, etchings, drawings, watercolours, and paintings by the artist, as well as a selection of 20 collectible art books that have been formulated around the artist's impressive oeuvre.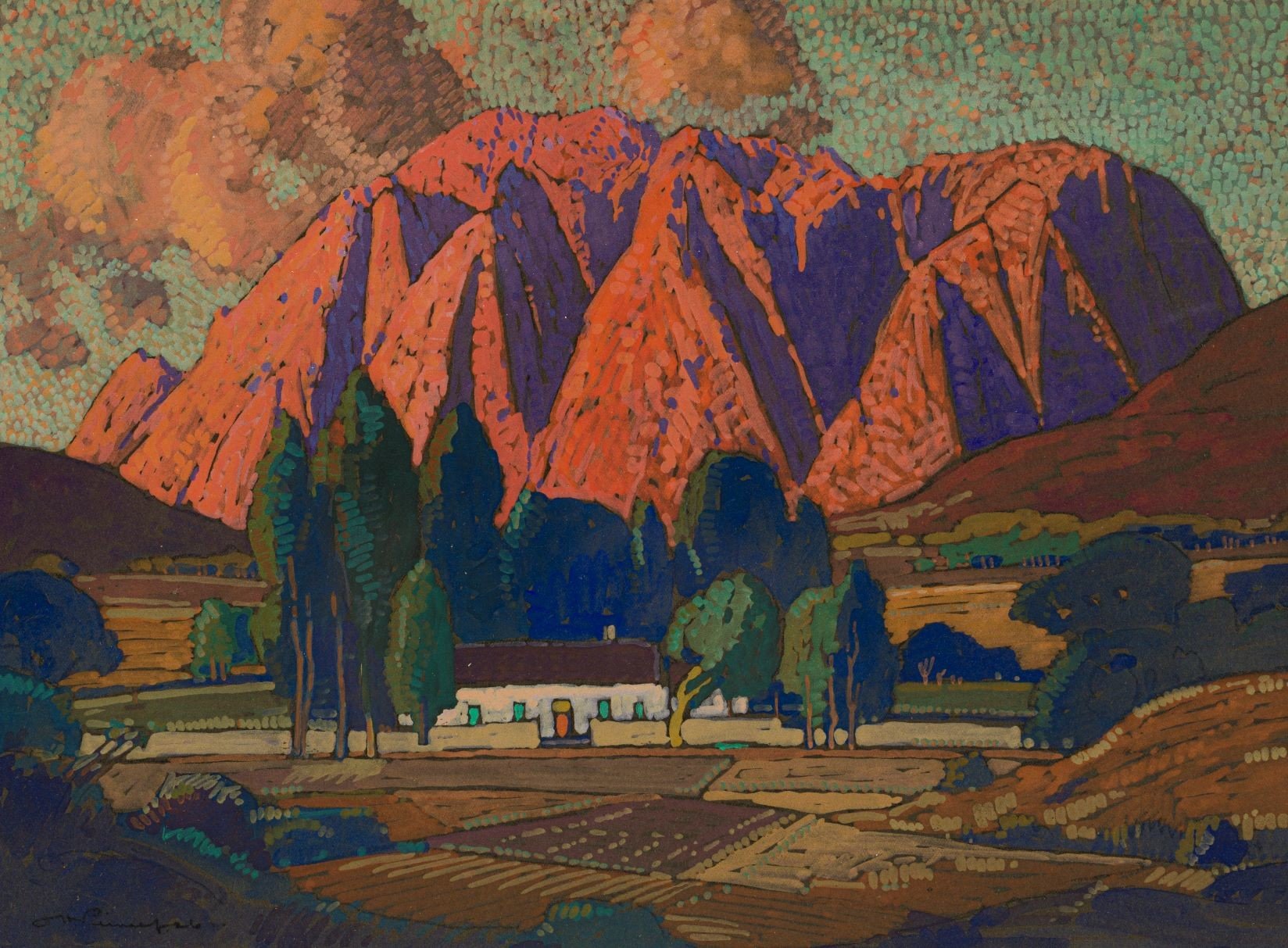 Through the exhibition it's possible to trace the development of Pierneef's great talent, and his focus on landscapes and perfection of dusky mountain settings and magnificent use of colour in his paintings. We loved seeing this. 

The live auction takes place on Tue July 12 at 18:00 with bidders invited to bid live at the showroom or via Strauss & Co's online platform. To join the bidding, simply register online at straussart.co.za. All the works in the sale are on show to the public at the Strauss & Co Gallery in Houghton from June 28 until July 11. It's a fantastic opportunity to see a range of the artists' works never previously assembled in this way. A museum-quality exhibition, this is for anyone interested in South African art. 

It has become well known that Pierneef is one of the top-selling African artists on the market, alongside artists such as Marlene Dumas and Irma Stern. Among the many major highlights sure to attract big bids, this auction offers two outstanding oils dating from 1936 and 1954. Pierneef's travels across the African continent form the basis of the key lots in the upcoming sale. A frequent visitor to Namibia, his portrayal of the Erongo Mountains (estimated R2–3 million) is dated 1936.
Exhibition preview and walkabouts
The JH Pierneef En Route exhibition is on show until July 11. The Strauss & Co Gallery is open 09:00–16:00, Sat and Sun 09:00–13:00. There is also an exhibition walkabout on Wed Jul 6 at 10:00