The Johannesburg Philharmonic Orchestra continues to go from triumph to triumph and if you still haven't been to see them performing live at Linder Auditorium, make sure to book for one or more of their Spring Season concerts this month.

The Spring Season runs from October 23 to November 15, presenting an exciting four week season of ten classical concerts that see the orchestra collaborating with leading local and international guest conductors and soloists performing masterpieces by the likes of Prokofiev, Mozart, Mahler, Handel, Chopin, Gustave Holst and George Gershwin.

Each Spring Season concert is preceded by an insightful pre-concert talk presented by Deano Maduramuthu from Classic 1027, which goes into detail about the historic background, composition and varying motifs of the evening's performances. The free talks take place in the Space Frame Foyer at 18:45 (evening concerts) and 10:15 (Friday morning concerts).
Johannesburg Philharmonic Orchestra Spring Season 2019 programme
Spring Season – Concert one
Wed Oct 23 at 19:30, Thu Oct 24 at 19:30, Fri Oct 25 at 11:00
Conducted by guest conductor Wolfram Christ (Germany), the opening programme of the spring season sees the orchestra performing pieces from Gershwin's iconic opera Porgy and Bess with guest singers bass-baritone Musa Ngqungwana and Linda Nteleza and the evening rounds off with Mahler's 'Titan' symphony.
Programme: George Gershwin: Porgy and Bess Symphonic Picture | George Gershwin: Summer Time and Bess, You Is My Woman from Porgy and Bess | Gustav Mahler: Symphony No.1 in D Major
Guest soloists: Linda Nteleza (soprano) |  Njabulo Mthimkhulu (bass-baritone) 
Spring Season – Concert two
Wed Oct 30 at 19:30, Thu Oct 31 at 19:30
The brilliant Israeli-American conductor Daniel Boico, whose exuberant style has made him a firm favourite with Joburg audiences, leads the orchestra in the second-week programme of the Spring Season which includes a performance of Chopin's glorious piano concerto led by the young Russian virtuoso Dmitry Shishkin. 
Programme: Camille Saint-Saëns: Danse Macabre, Op.40 | Frédéric Chopin: Concerto for piano No.1 in E Minor, Op.11 | Alexander Borodin: Symphony No.2 in B Minor
Guest soloist: Dmitry Shishkin (piano)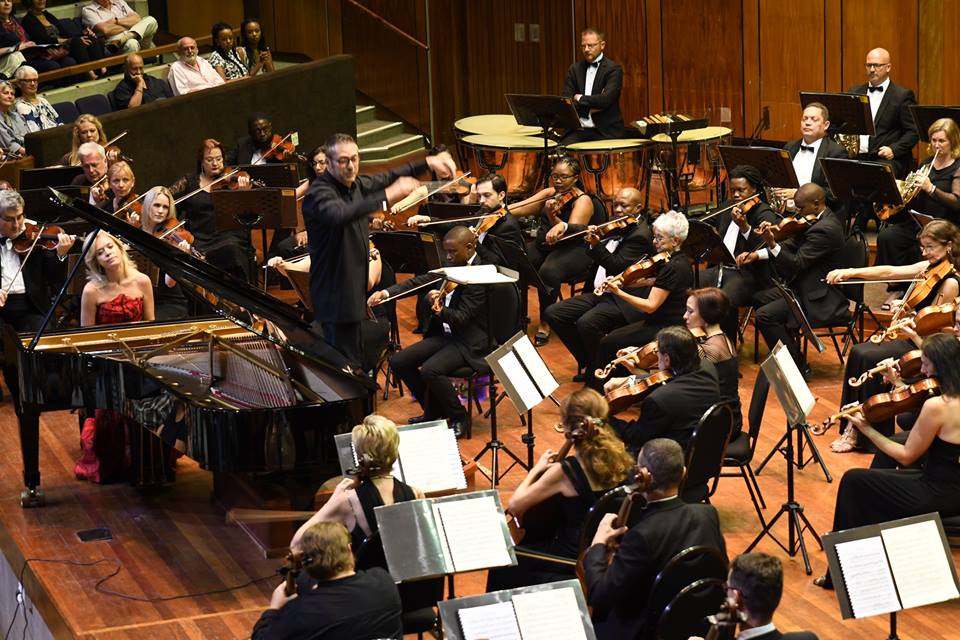 Spring Season – Concert three
Wed Nov 6 at 19:30, Thu Nov 7 at 19:30
The multi-award-winning young Chinese pianist  Antonio Chen Guang joins the orchestra for a week three programme that hones in on some major classics by Mozart, Brahms and Prokofiev. Conducting the orchestra is guest conductor Roderick Cox of the acclaimed Minnesota Orchestra. 
Programme: Wolfgang Amadeus Mozart: Abduction from Seraglio Overture | Sergei Prokofiev: Concerto for Piano No. 3 in C Major, Op.26 | Johannes Brahms: Symphony No.4 in E Minor, Op.98
Guest soloist: Antonio Chen Guang (piano)
Spring Season – Concert four
Wed Nov 13 at 19:30, Thu Nov 14 at 19:30, Fri Nov 15 at 11:00
The final week programme of the Johannesburg Philharmonic Orchestra's Spring Season sees Holland-based South African conductor Conrad van Alphen taking to the podium, conducting the orchestra through an impressive programme of Handel, Haydn and Holst that includes a performance of Handel's famous Water Music and Gustav Holst's iconic The Planets suite. Joining the orchestra as guest soloist for the final three performances is the award-winning British trumpeter, Matilda Lloyd.
Programme: George Frideric Handel: Water Music | Franz Joseph Haydn: Concerto for trumpet in E-flat Major, Hob.Vll:1 | Gustav Holst: The Planets
Guest soloist: Matilda Lloyd (trumpet)