"I still have hope that one day we will wake up in each other's arms, helping each other to grow and claim back our African heritage, history and dignity," reads a quote by Blessing Ngobeni on the walls of the Standard Bank Gallery.

It's an apt point of entry into a body of work that manages to hold hope and despair, anger and joy, and humour and sadness in equal measure.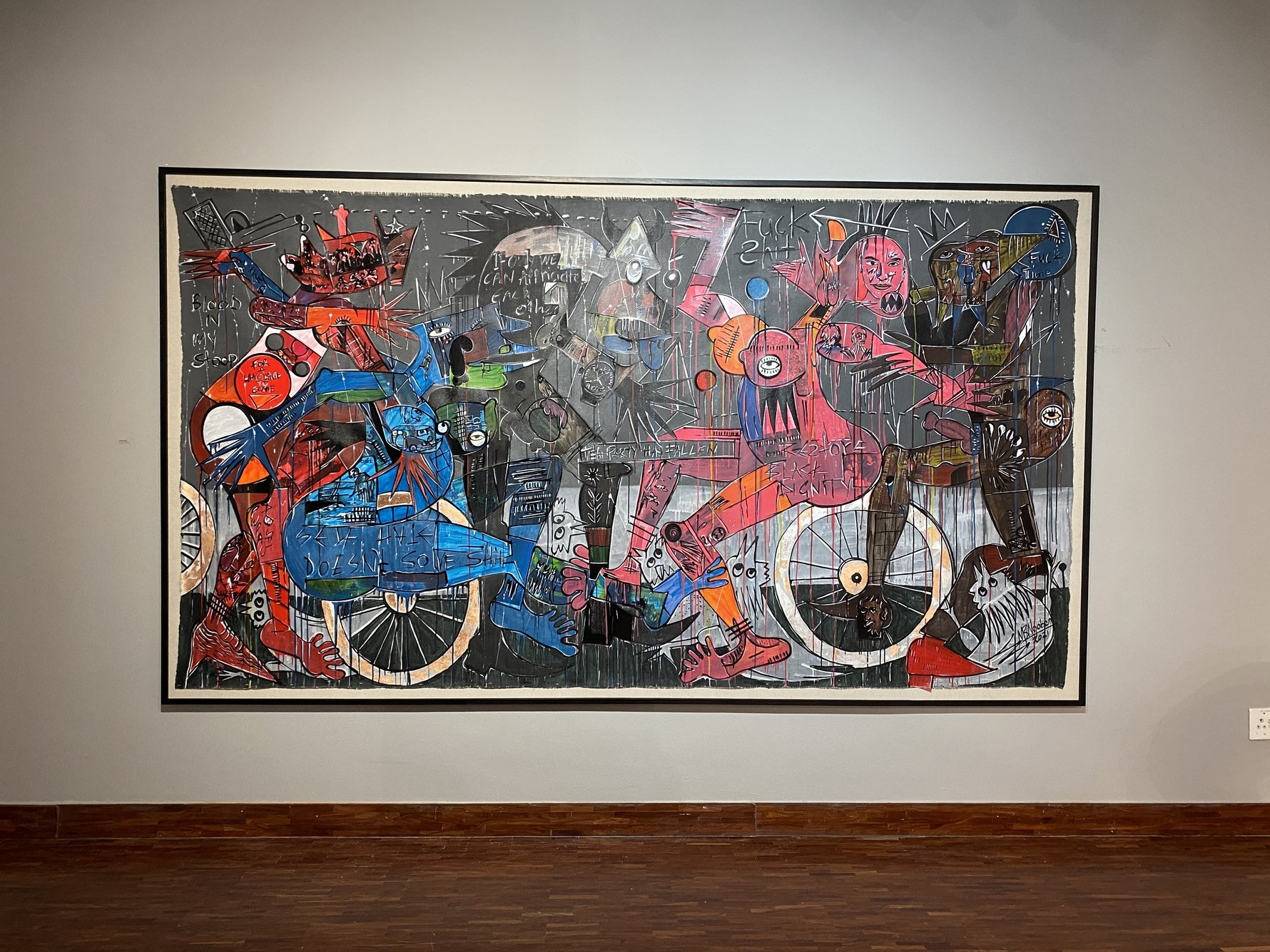 On at Standard Bank Gallery until Sep 16, 2023, Ntsumi Ya Vutomi is an impressive solo that presents a survey of Ngobeni's work over recent years. Picking up where he left off with his voluminous Standard Bank Young Artist of the Year for visual arts exhibition, Chaotic Pleasure (2020), Ntsumi Ya Vutomi presents the evolution of a signature style.

The exhibition is an expansive one. It features sculpture, installation and video work alongside his characteristic mixed-media, collage-style paintings. Central to the exhibition is Ngobeni's belief in art as a transformative tool in a post-colonial world that continues to be unequal along historical and contemporary lines of race, class and gender.

"I'm working with the experiences that one goes through," he says, "examining the circumstances that allow others to learn and grow, while others feel discouraged to do things. It is a way of reflecting while looking forward."

Much of Ngobeni's subject matter in this regard is taken from his own lived experience. Having experienced a difficult childhood that included homelessness and, later, incarceration, Ngobeni began making art in prison after seeing the humanity it brought to the lives of fellow inmates. Shortly after this, he joined the Tsoga Art Workshops and went on to study printmaking at Artist Proof Studio.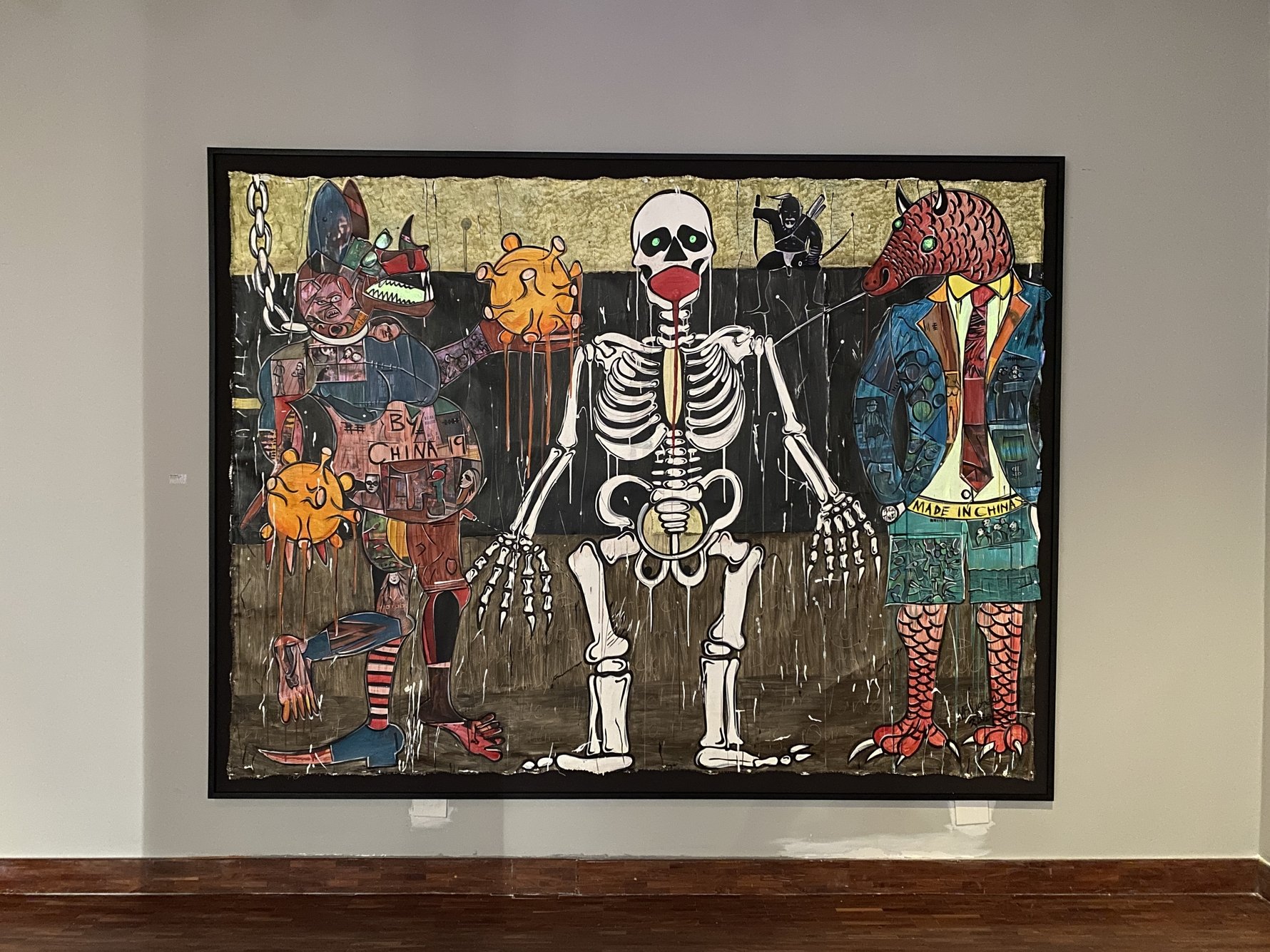 Here, we see Ngobeni's use of collage, text, striking figuration, and illustrative line work. As if emerging from the canvas, and spiralling outwards, Ngobeni's sculptures – equal parts grotesque and playful – cast wiry shadows on the gallery walls, while his video works put these characters to work in a striking animated procession. At the centre of the space, a series of small puppets, each flying a flag, engage in their own procession, speaking to the intersecting notions of borders, labour, mobility and control.  

But it's the canvases that steal the show. Ngobeni's signature style shines through in every one of his paintings. Here, the artist displays his rare combination of styles, paying respect to some of his core references such as Gerard Sekoto, Dumile Feni and Jean-Michel Basquiat.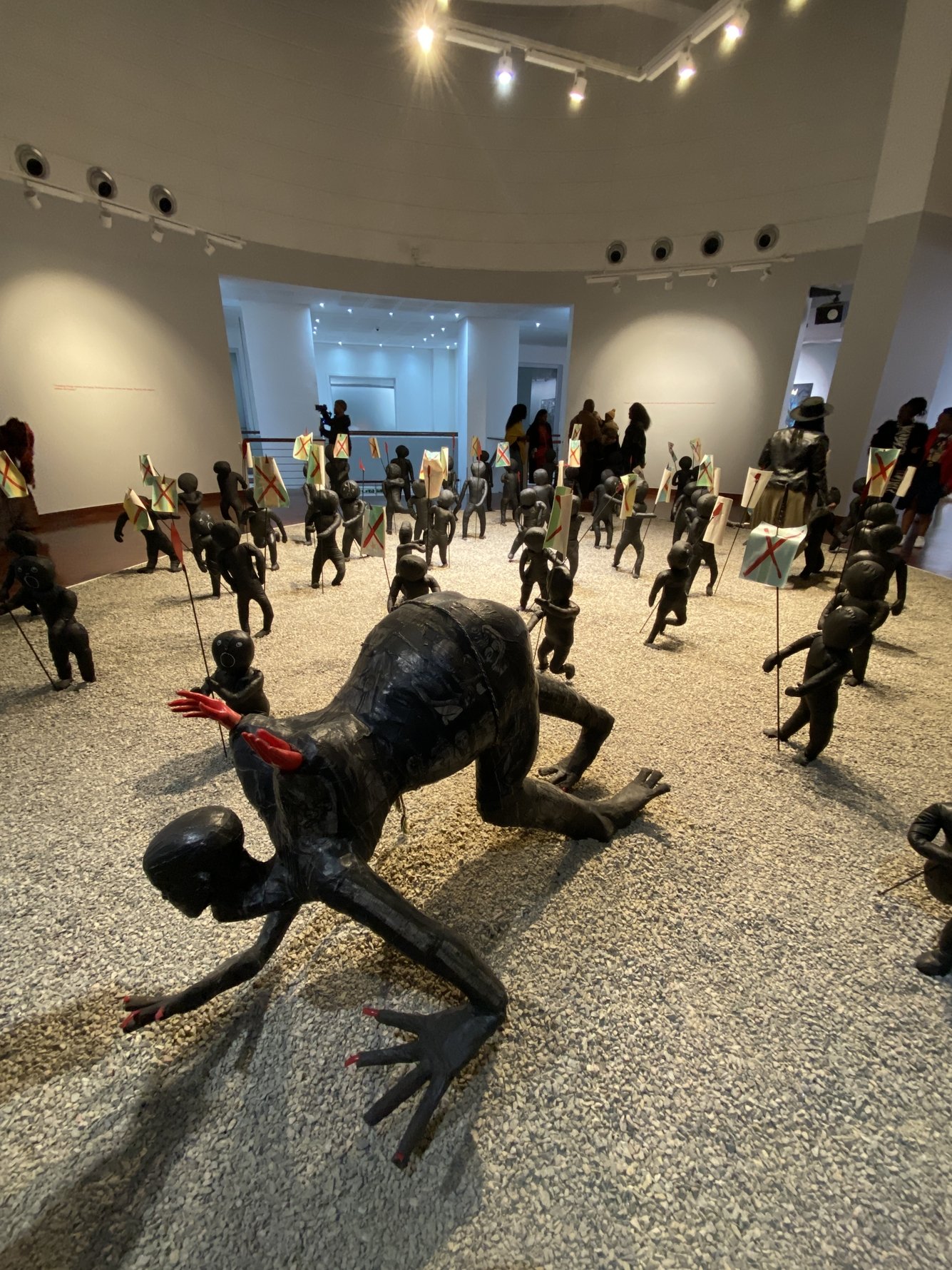 Curated by Thembinkosi Goniwe alongside Nkuli Nhleko, the show ultimately serves as a representation of Ngobeni's many modes, references and styles. Similarly, the exhibition is a means of conversing with the world, engaging with a long view of history and tracing its echoes into the present day.

In Ntsumi Ya Vutomi, Ngobeni disrupts and reimagines grand notions of time, modernity, freedom and more. Here, the artist becomes "the messenger of the black experience in neo-colonial apartheid masquerading as a liberal democracy".    

Ntsumi Ya Vutomi is on exhibition at the Standard Bank Gallery from Thu, Aug 3 and runs until Sat, Sep 16, 2023.