Sanctuary Mandela is possibly the only boutique hotel in the world where you can spend the night in an authentic Presidential Suite. It's the real deal – the former home of a president, Nobel Peace Prize winner and global icon.

Opened in September 2021, Sanctuary Mandela has transformed the grand Houghton home where Nelson Mandela lived from 1994 to 1999, into a tranquil and understated luxury boutique hotel that pays tribute to the icon's incredible life story. The hotel is a partnership between the Nelson Mandela Foundation and Motsamayi Tourism Group (previously known as Thebe Tourism Group).

The building itself is owned by the Nelson Mandela Foundation and became the foundation's headquarters when Mandela and his wife Graca Machel moved to a new home on nearby 12th Street in Houghton in 1999. Eventually, the foundation outgrew this space and established itself at a new building nearby, on Central Street.

Remarkably, considering its unique heritage, in the 2010s the house fell into grave disrepair (it had been sold to new owners), and many of its beautiful features were damaged by squatters who occupied the property. It was rescued in 2018 and work began to transform it into a hotel. In the earliest days of construction the designers salvaged as many of the original features of the dilapidated property that they could – from heritage Coronation bricks to pressed ceilings. 

The brief was to create a space that would tell Mandela's story without feeling like a museum, while also functioning as a hotel that conveys homeliness.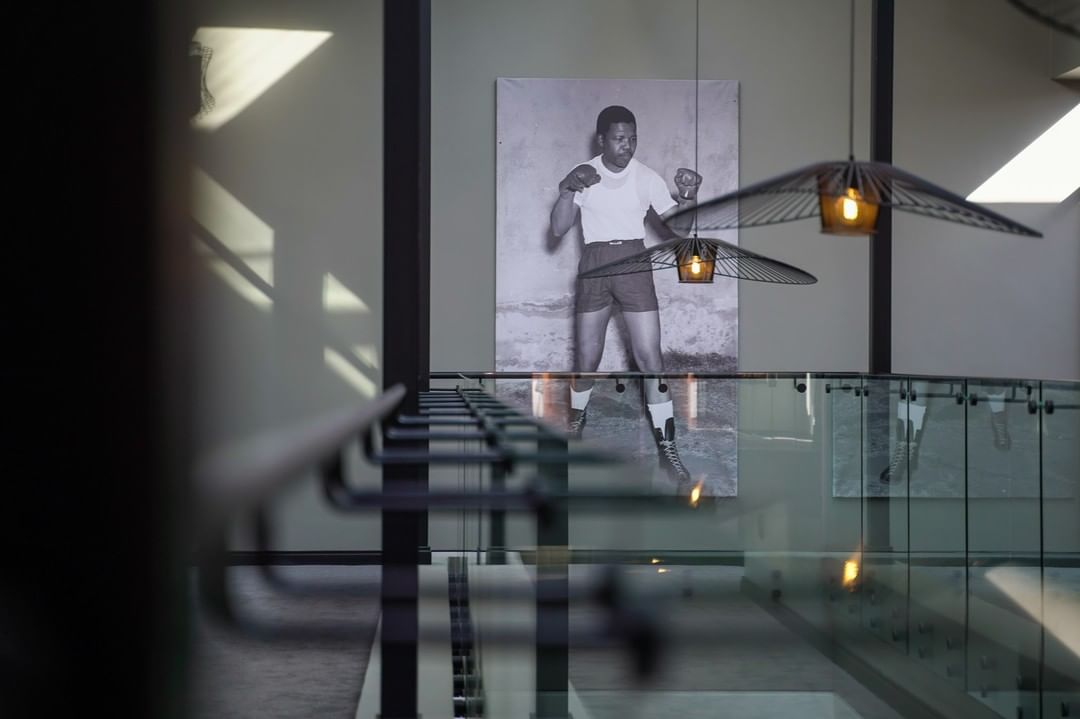 The door and window frames were preserved, pieces of the original brickwork and what remained of the parquet flooring were also salvaged and reused and the pond at the front of the house where the then President would sit and reflect in the mornings, was revamped and lined with a bed of Madiba roses, a varietal specially created in 1996.

Efforts were also made to research Mandela's life and habits in the property and reflect these through unique spaces. His former meeting room, where crucial decisions were made during the early days of South Africa's nascent democracy, is now one of two formal meeting rooms. Meanwhile at the entrance stands a bronze depiction by Andre Prinsloo of Mandela reading his morning newspapers. It is said that every morning he would scan the news about the JSE to scout for successful CEOs, who he would then invite to the house to talk investment in education over breakfast.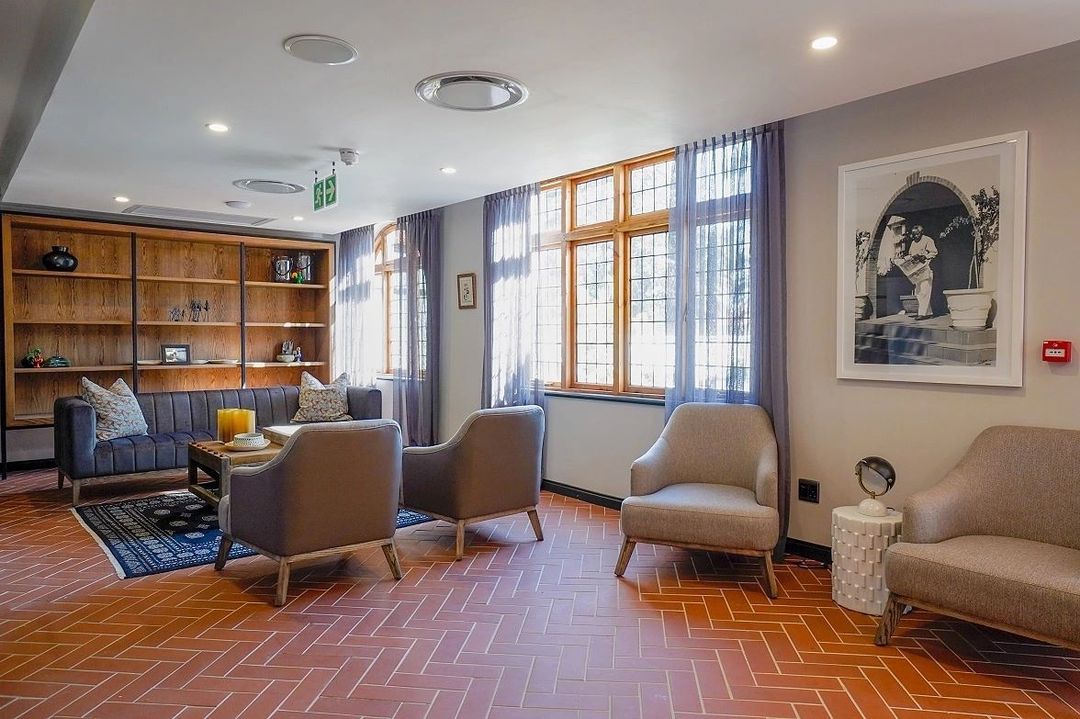 Throughout the property a collection of paintings by John Meyer highlight key moments from Mandela's famous life story, such as his capture in the Midlands, his imprisonment on Robben Island, his life as President, his childhood in the rural Eastern Cape and his time working as a lawyer and activist in Joburg in the 1950s. Tata, Rolihlahla, Accused Number 1, 46664, President .. each of the hotel's nine rooms bears one of the many different names and labels that Mandela held through his long life, reflecting a remarkable life story that runs to countless pages. 

There are four different categories of room, the Deluxe Studio, Deluxe King Suite, King Suite and of course the Presidential Suite – where the President slept for several years. Of course, the furnishings are all new (fitted with elegant South African contemporary design). A perk of the Presidential suite includes a personal guided tour of the Foundation's extensive private archives, and fine malt whiskies and sherry waiting neatly decanted on arrival.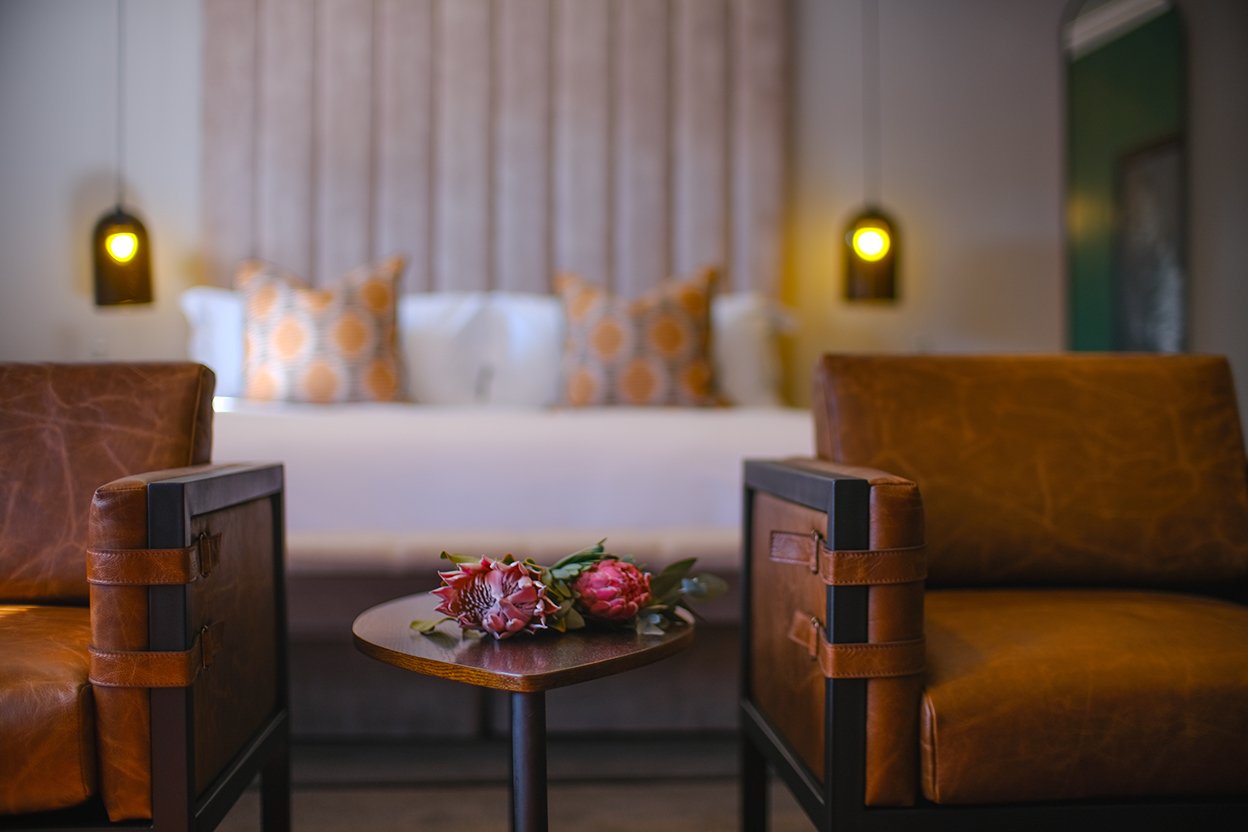 Breakfast, lunch and dinner are served at the hotel's understated Insights restaurant, named for an intimate painting by John Meyer of Mandela and Bill Clinton deep in discussion, that hangs in the room. The menu is described as 'a historical food-print of the modest tastes of Nelson Mandela', refined and modernised with the help of Mandela's personal cook of more than 20 years, Xolisa Ndoyiya, and current Head Chef Katlego Mlambo (of Marabi Club fame).

Dishes are beautifully plated and bring together a unique blend of South African flavours. In particular, we loved the Cape Malay style fish – pan-fried kingklip served on a medley of sweet, tart and crunchy flavours and textures courtesy of pawpaw curried salsa, pickled pumpkin shavings and seeds. We also enjoyed the ingenious and decadently creamy mushroom and samp 'risotto'. Another fresh twist on a South African staple that we'd love to see more of.

After dinner you can retreat to enjoy wines from the extensive cellar at the small bar area that opens out onto a covered swimming pool. Unusually for Joburg it is actually heated all year round. Or for those more intimate discussions overnight guests also have access to a small rooftop terrace.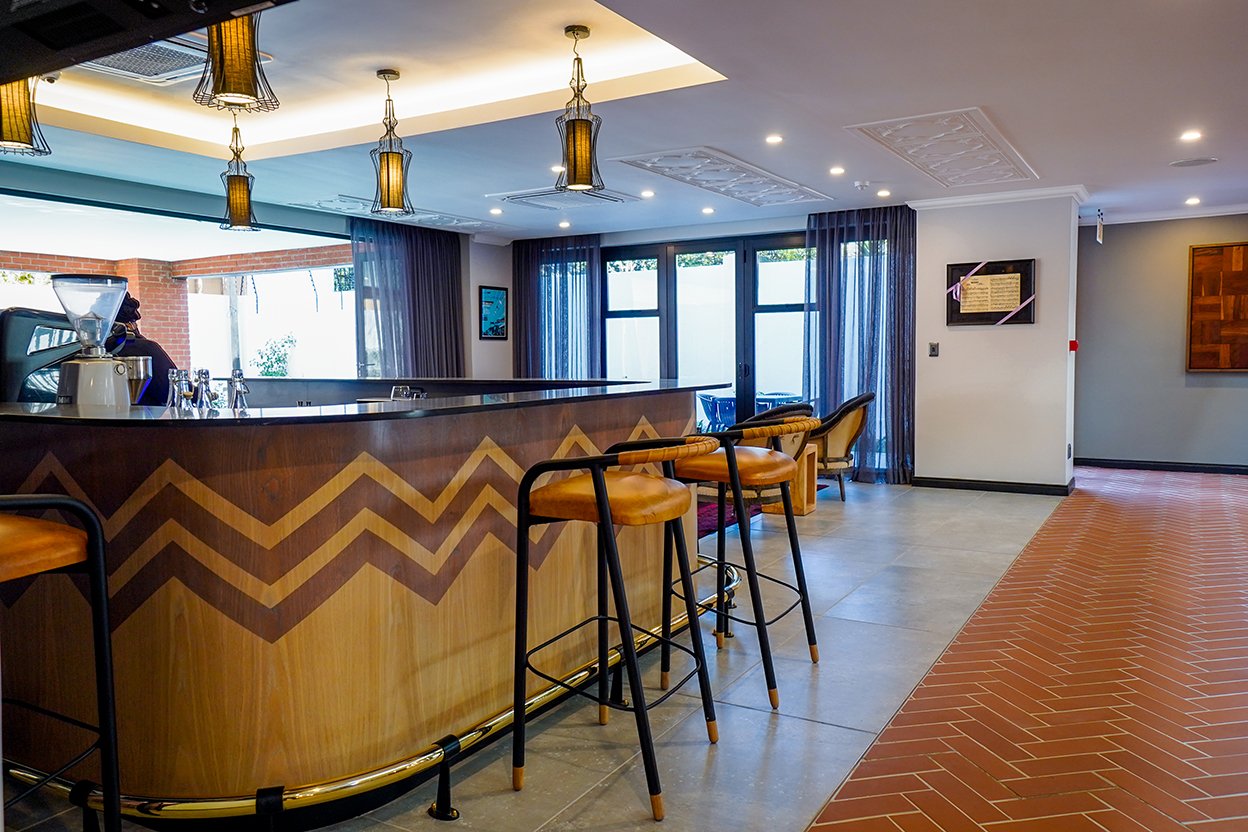 Sanctuary Mandela somewhat extravagantly describes itself as "a space for tranquillity, heritage, and mindful experiences", where guests can "immerse themselves in the legacy of Madiba and draw inspiration from Madiba's soul".

We can't say that every overnight guest will leave transformed and launch directly onto the long walk to World Peace... But when it comes to peaceful respite and a thoughtful hotel experience, there are few comparable spaces. From the rich telling of one of Africa's most incredible stories, to the outstanding service, intimate scale, carefully designed spaces, and extensive historical calling points, this is a truly unique boutique hotel with a legacy like no other