What is it about certain items that make them so covetable? How does an artwork find its place in a collector's home? How does one make the plunge from being an art admirer to becoming an art collector? And what's it actually like to bid for an artwork at auction? 

Ahead of the latest landmark live virtual auction by Strauss & Co from November 8 to 11, in our new Art of Collecting series we talk to local art collectors who have pursued artworks at auction about just what goes on when you are buying art, and the unique thrills of bidding in an auction.

This week Lauren Woolf, a leading marketing and advertising consultant and founder of the brand consultancy Mrs Woolf, shares the story behind one of her favourite artworks. An active member of the local and global creative community, Lauren is also the founder of The Princess Connection NPO, a patron and board member of the Artist Proof Studio (APS) and a member and mentor for Business Arts South Africa (BASA). 

Lauren also co-founded The Lockdown Collection (TLC), an arts initiative to raise much-needed funds for visual artists affected by the Covid-19 crisis.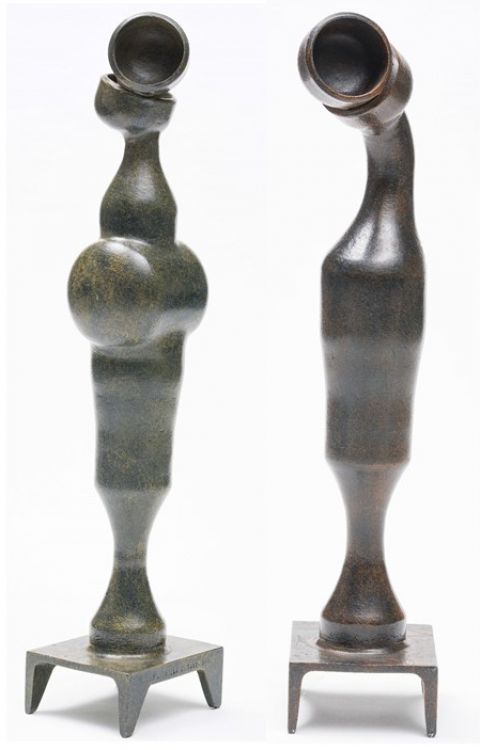 I started collecting art in the early nineties when living in Cape Town. I was drawn to works I saw in antique shops and galleries in the city centre, but one of my first purchases was at a market in Hermanus.

The work I bought at a Strauss & Co auction is a pair of Edoardo Villa works called "Fee and Fum". They are two smallish statuettes (around 50cm) in painted steel. I have always loved Villa's work. I grew up in the same suburb in which he lived in Johannesburg and regularly drove past what I later learned to be his home. His life story always fascinated me. While I love his large outdoor or large-space indoor works, being able to have smaller works in our home means they can be enjoyed every day. I move them around too, as, in different places, on different days and times, they reveal a new silhouette and angle.

I first saw the sculptures in the Strauss & Co catalogue that I received pre-auction. These catalogues are always a visual treat and an art lesson, and I treasure each one! I knew immediately that I would love to own the pieces and that they were within a price range I could consider. I was excited and also determined to make an effort to bid for them. I had already visualised where to display them... To me, art goes to the heart, and that feeling is what moved me to follow from the catalogue to auction day and make sure I turned up, to see if in fact Fee and Fum were destined to be mine.

I do love online auctions, but this was a live auction at the Wanderers in Johannesburg. It's always a bit nerve-wracking, especially as I'm not a regular live-auction buyer, and all the jokes about not scratching your nose or raising an eyebrow at auctions are true. You tend to sit as still as possible! (Well, at least I do!)

There were a few bids against me on the floor, but a more serious telephone bidder joined in at some point. I gave my last bid (you have to have self-control not to go over your budget if you have one!) and the telephone bidder let it go. The gavel went down and I smiled. They were mine. The most unexpected surprise were two elderly gentlemen next to me in attendance who turned and smiled warmly, and wished me congratulations on a beautiful buy.

My tips on buying at auction would be, do some research on what you're keen on and have a definite maximum price range in mind. Also, it's so much less intimidating then you imagine and there's so much to learn from what sells, and doesn't, and for what amount. There's a lot you can glean about the market from auctions. Not only that, but they also give subtle but fascinating clues on the general zeitgeist of the city, country and world we live in. After all, art tells stories and like books, it's interesting to see what people are 'reading' and to contemplate, why?

What this artwork means to me? This beautiful, sculptural, pair have been present every day in mine and my family's lives in a very busy part of our home. I also move them around for special events and parties and they have often been a centrepiece on a table or sideboard.

Like many of artworks we have in our home, they are the start of many interesting, challenging and beautiful conversations between us as well as all who visit and spend time with us. These conversations, which always bring new thoughts and connections, are just part of the gift that art brings to my life.

The next online Strauss & Co auction is happening from October 12 to 19 and the next live virtual auction from November 8 to 11. Find out more online at straussart.co.za