Winter in Warsaw isn't often associated with picture-perfect festive fervour, and in large part, you could be forgiven for believing that there aren't many places in the city to visit that conjure up beautiful postcard moments (let's put it this way, the largely communist-era architecture doesn't pose a threat to Paris or Vienna's romantic credentials...), and the more visible effects of climate change have essentially moved true winter well into the new year, but aha! It's not all doom and gloom, so don't stop reading just yet - we're not finishing this up at one paltry paragraph.

Certainly, for those living in western Europe, the chances of a true white Christmas appear to be decreasing as we begin to experience the very real effects of climate warming. In Poland too, winters are no longer so cold that they receive ominous titles such as 1978/79's 'winter of the century' (zima stulecia) when temperatures of -40°C and snowfalls of 50-85cm were recorded! Despite this, the snow does always eventually fall in Poland, and when it does, thankfully, it's still cold enough for it not to turn into the less than appealing muddy slush. Instagram adicts can breathe easy.

So enough about climate change, and doom and gloom. You want to know what the dealio is and what festive and wintery fun can be had in this apparently grey and murky city. For starters, get that bleak concept out of your head, this is Poland's capital and it's done a fair job in the last few decades of scrubbing up right good and posh!
FESTIVE VIBES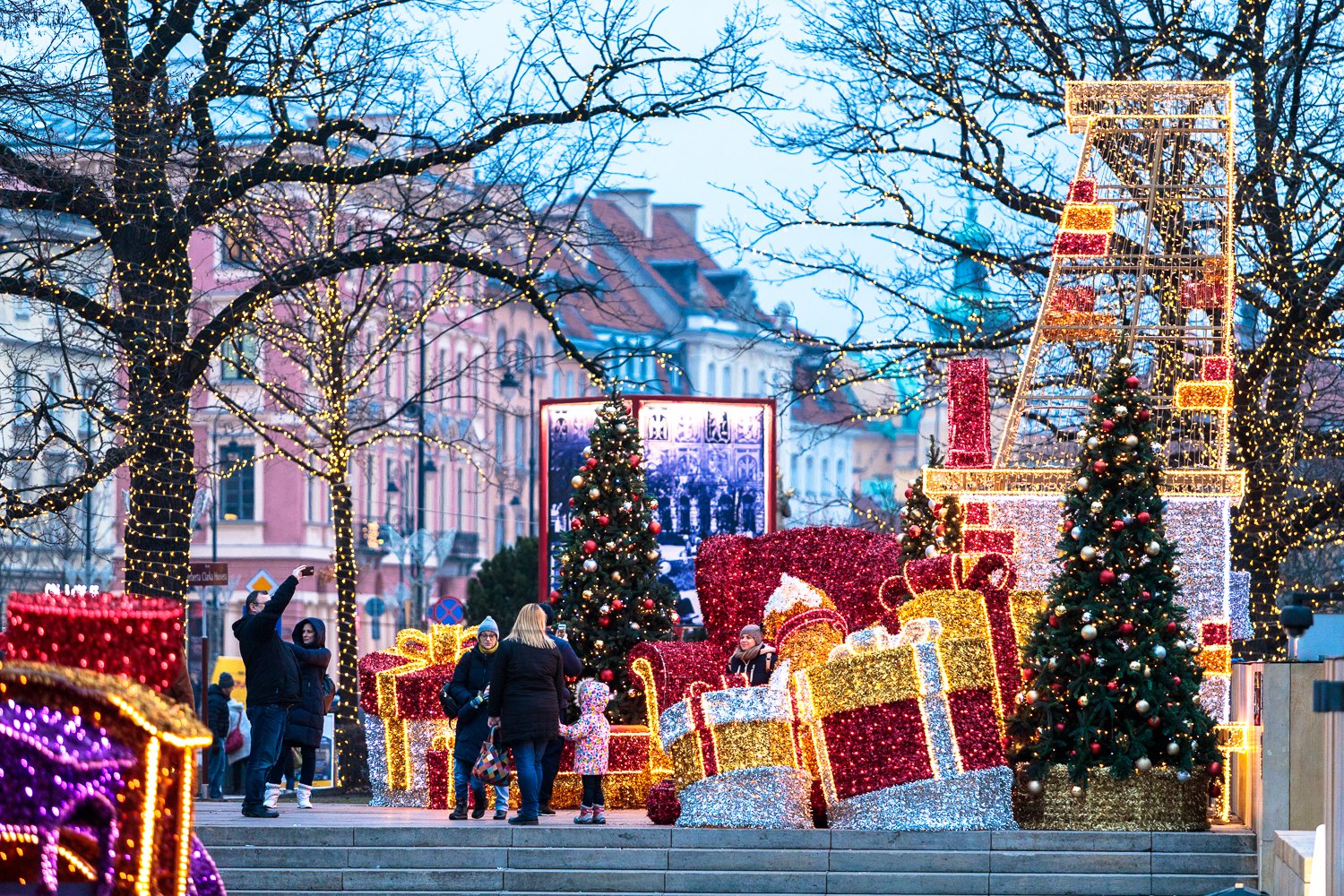 Poland is still a fairly conservative country with religion playing an important role in peoples' lives, but even for those who are not super religious, tradition retains an important role, and this is most evident during Christmas and New Year. The great thing for you as a visitor to the city is that you get to experience a whole host of festive events that may very well leave you surprised as to just how cool Warsaw can really be in the winter.

First thing's first, the Christmas lights are turned on in early December, this year falling on Saturday 05 December. The stats alone are quite impressive. The festive decorations will span over 20KM and be made up of 1,300 elements containing 4.5m eco-LED bulbs which will cover most of the city centre (and beyond), including the main ul. Marszałkowska and the Royal Route. If you stretched them all out, they would reach 680 km (the travel distance between Warsaw and Vienna!). The lights and trees stay up in Poland much longer than anywhere else, therefore, you can still expect to see them shining into early February!

A walk along the main tourist trail leading to the Old Town in winter can be a charming way to pass the time and experience the city, the decorations and family atmoshphere certainly making its mark. And no Christmas vibe would be complete without a festive market (known as Jarmark in Polish)! The Christmas Fair at the Barbican (22 Nov - 06 Jan) wraps its way around the former defensive walls on Podwale, right at the entrance to the Old Town on Castle Square (Plac Zamkowy). Needless to say, this is where you'll find all manner of regional products, from gifts to Polish snacks and treats, including hot beer, and smoked cheese which you'll sniff out from miles away. There are similar markets held around the city during winter, therefore, we recommend checking out our Christmas related events section.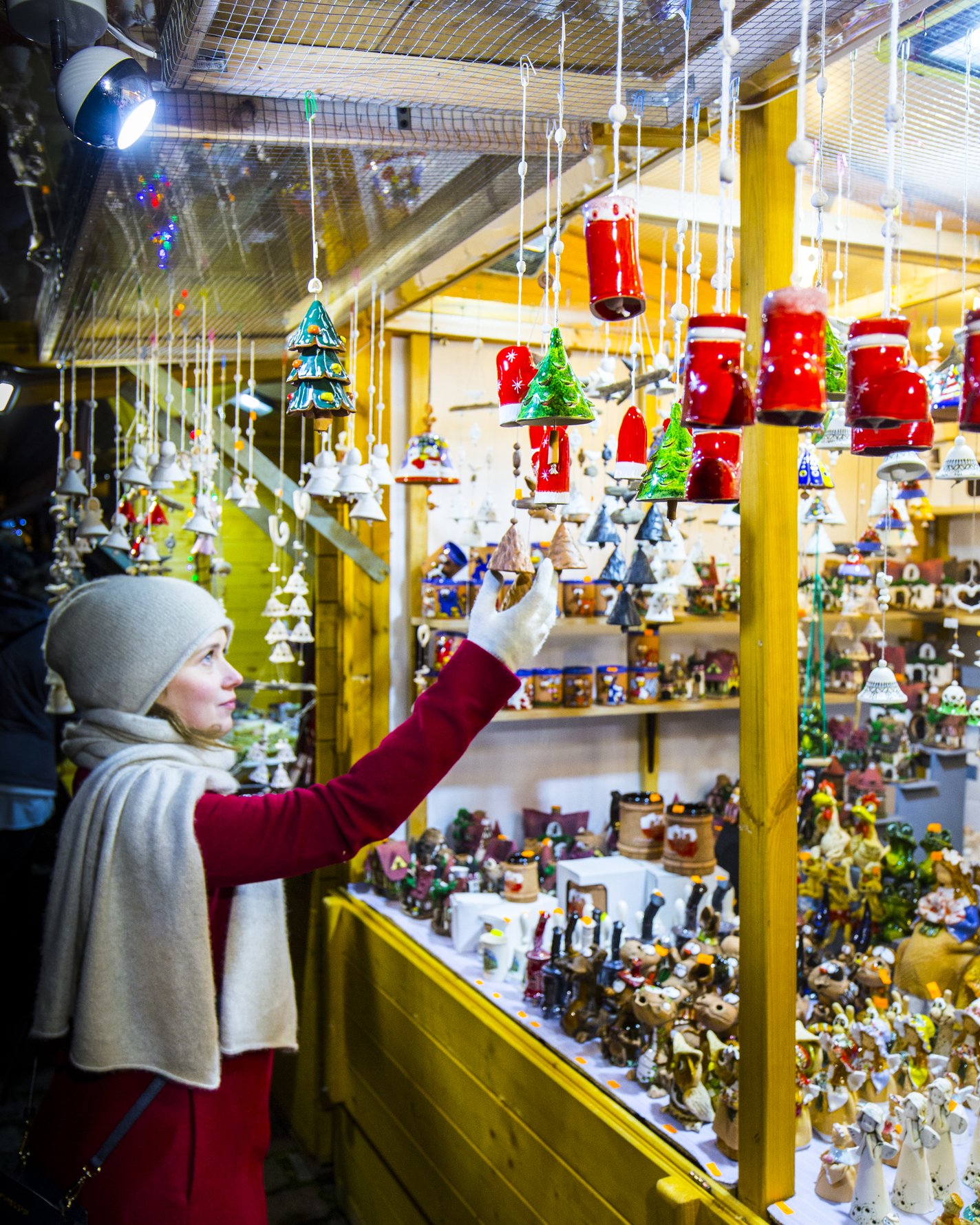 More often than not, we personally enjoy walking around the city - you can always find something new on your travels, no matter how often you go. Summer walks are great, but in winter, when the air is frosty and the snow has settled, the scenery becomes altogether breathtaking. In the vicinity of the New Town, just beyond the Old Town, the area leading down to the river, the Multimedia Fountain Park has become such a summer success with its light shows that the event has been modified for the colder season under the title 'Winter Illumination'. It's worth seeing, especially with the kids. Nearby, you can take a walk along the Vistulan Boulevards to admire the wilder scenery of the Praga side of the river Vistula. If you're really keen, you can walk all the way south towards Łazienki Park, however, if that's a bit much, using public transport to get there is no shameful thing! You'll be rewarded with winter scenery and decorations. Continuing south on the Royal Route to Wilanów Palace and Gardens, this is the time of year when the 'Royal Garden of Light' (available until 23 February 2020) dominates the impressive terrain, which turns the winter colour palette of the gardens all shades of vivid thanks to the light displays of baroque shaped statues and plants.
 
WINTER LEISURE ACTIVITIES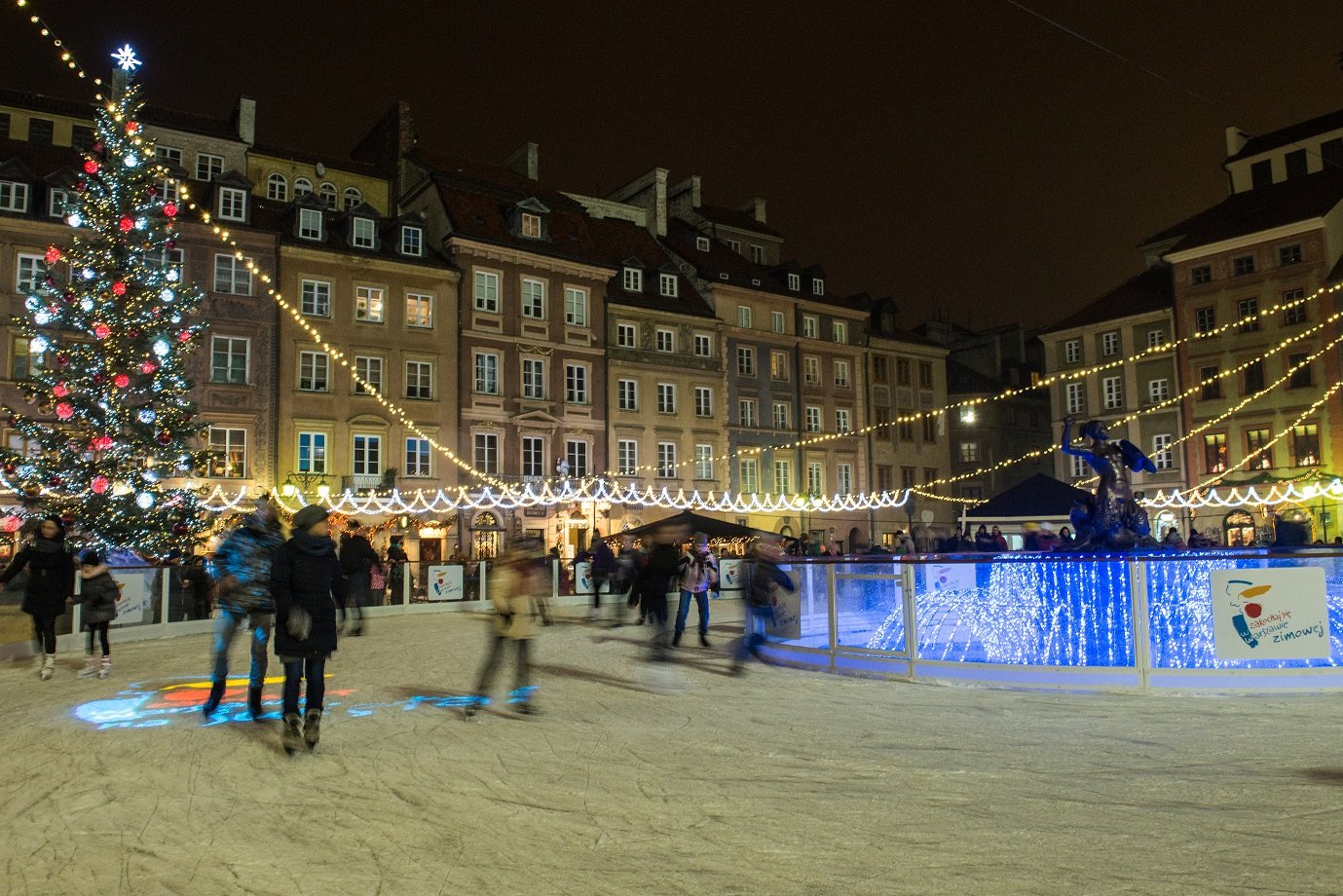 If being a bit more adventurous or active is more your thing, Warsaw has plenty of attractions to keep you entertained. The most obvious choice is to get your skates on and swoosh onto the ice to show off your skills, and you can check out the main city centre ice rinks mentioned in our ice skating section. The winter activities at the National Stadium have become more popular and impressive with each new season. You are not limited to ice skating, however, as there are artificial hills to slide down on hoops, night time skating discos, and if you need to boost your energy levels and keep warm, there are even festive stalls to keep you fuelled up. If all this isn't enough, there are far more ice rinks dotted around the city for you to enjoy. Plac Europejski (C-7/8) has become a pretty popular option in the last few years, and this year, you even have more choice in the newly opened Galeria Młociny which has its own ice rink up on the roof!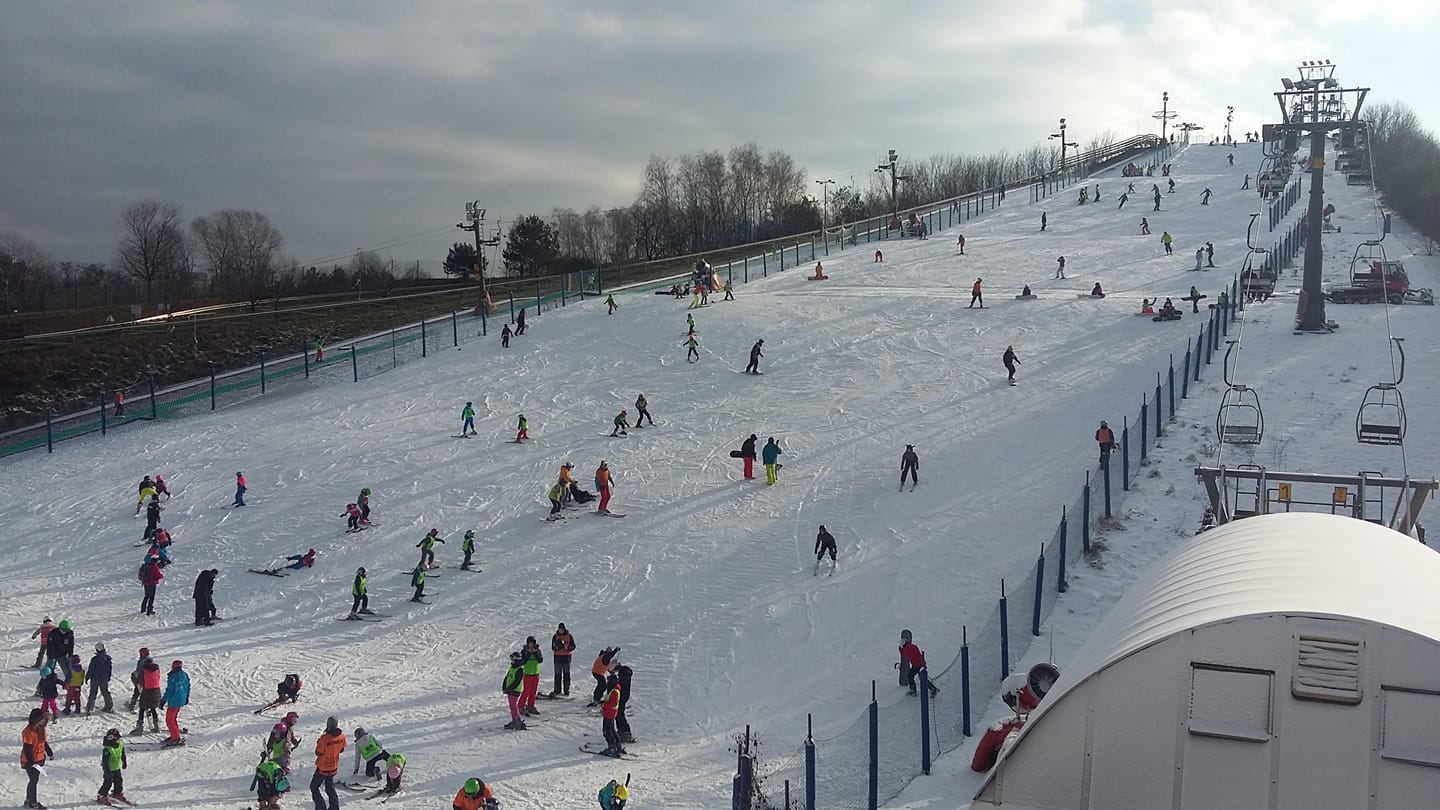 Now for the hidden gem, where the locals go crazy in winter: Górka Szczęsliwicka (Szczęśliwicka Hill). You may have noticed that Warsaw is rather on the flat side! If anyone really wants to enjoy true winter sports in Poland, they must travel to the south of the country to the various mountain resorts found along the Polish borders with Czech Republic and Slovakia. It all seems like quite the effort, especially if you lack the time or finances to go! This is where Górka Szczęśliwicka, found in the Ochota district, and more specifically, its ski centre, works out a treat for any fans of winter sports visiting or staying in Warsaw. If you don't have any hills in your city - build them. This is exactly what happend in this case, having been used as a dumping ground for rubble after World War II, and later as a general refuse dump. It was only in the late 1960s that the mound of rubbish was covered with earth to be turned into a park, and as of the 1980s, a ski slope. The tallest hill in Warsaw, it measures at only 152m, but it's certainly a well equipped centre with Poma ski lift and chair lift, where you can hire your equipment and even take up skiing/snowboarding lessons. The centre has undergone a huge modernisation which they're hoping to complete in time for snowfall in late 2019/early 2020! It's best to check their website for the latest info: www.gorka-szczesliwicka.com.
INDOOR ATTRACTIONS
We love our walks. We love the outdoors, but ouch, sometimes that wind chill factor can really bite! Despite the risk of a bright red face, it's still worth going out, even if only to go between some of Warsaw's top indoor attractions. If you're really cold and want to warm up and relax, we recommend some aquaparks - that may sound slightly underwhelming, but all of Warsaw's pools also have fitness and wellness centres, which include saunas and jacuzzis, so why not, huh? 

The alternative is to be entertained, and our leisure section has the perfect experiences for you, from escape rooms to shooting ranges, and good ole entertainment centres. If all this sounds too adrenaline pumping, then the city's finest museums await you - the majority are super modern or have undergone renovations in the last few years, and they are truly awesome.
FOOD MARKETS
The winter experiences don't end there. We wholly recommend you visit some of Warsaw's food markets, which at this time of year, look especially appetising, not least because of their culinary offerings, but for the tremendous efforts made in decking the halls with... you finish the song line... The most impressive of all has to be Hala Koszyki, which has thousands of lights wrapped around the entire inner frame of the building. The lights look impressive, the tree looks impressive, and the atmosphere here at Christmas is always worth savouring. There's even a Christmas market (04-23 December) here for you to enjoy.

And there you have it. Your winter in Warsaw plans all sorted. Just remember, the Polish winter holiday season doesn't actually officially wrap up until February 2nd when Saint Nick sees his shadow and it's generally agreed that every family should toss its Christmas tree. We hope you enjoy winter, and Christmas, in Warsaw. For more information about specific holiday happenings around this merry miasto (city), head to our Events section where we give you more details of goings on throughout the capital well into the New Year. Have yourself a merry little Christmas, one and all.