Coronavirus Update Zurich - Back in business
Updated: June 22, 2020
Has the spread of the Coronavirus slowed down in Zurich?
Yes, the spread of the Coronavirus almost came to a halt in Switzerland and its economic capital Zurich. When stay-at-home lockdown restrictions were imposed on Swiss society in mid-March, the number of new cases of COVID-19 in Switzerland increased gradually before hitting about 1200 new cases per day at the beginning of April. Throughout April the rate of the virus' spread decreased steadily to around 100 cases per day and lower at the beginning of May. Since the easing of restrictions in mid-May and early June, allowing people to gather and businesses to reopen, new cases in all of Switzerland have stabilised at the very low number of around 20 to 30 new cases daily. Find all the updated coronavirus numbers here: www.corona-data.ch.

As of June 22, there were 3685 confirmed cases in the canton of Zurich (of this number 130 people have died). In all Switzerland there are more than 31 200 cases and 1956 deaths reported. Find all the updated coronavirus numbers here: www.corona-data.ch.

By now the lock down has been eased considerably. All businesses including restaurants, bars, museums and sports establishments are now open again, though restrictions apply. The main restriction that remains is to keep a distance of 1.5 meters all the time, there is a maximum amount of people that can attend a venue or a shop. If keeping that distance is impossible, you are advised to wear a face mask. Public transport is back at full steam including all the touristic lines, boat and ship traffic on the lakes and gondolas and the like to the mountain peaks. However, in public transport it is strongly recommended to wear a face mask. Events with up to 1000 participants are allowed. You will have to leave your contact details and might be asked to wear a mask.
 
Travel Information
Travel within Switzerland is possible without restrictions. The borders are open again for all residents of EU- and Schengen countries. No restrictions apply. There is no quarantine requirement for travellers entering Switzerland who are free of symptoms of illness. However, boarders ar still closed for residents and/or citizens of non-Schengen-countries. There are some exceptions, please check this government website for details and updates.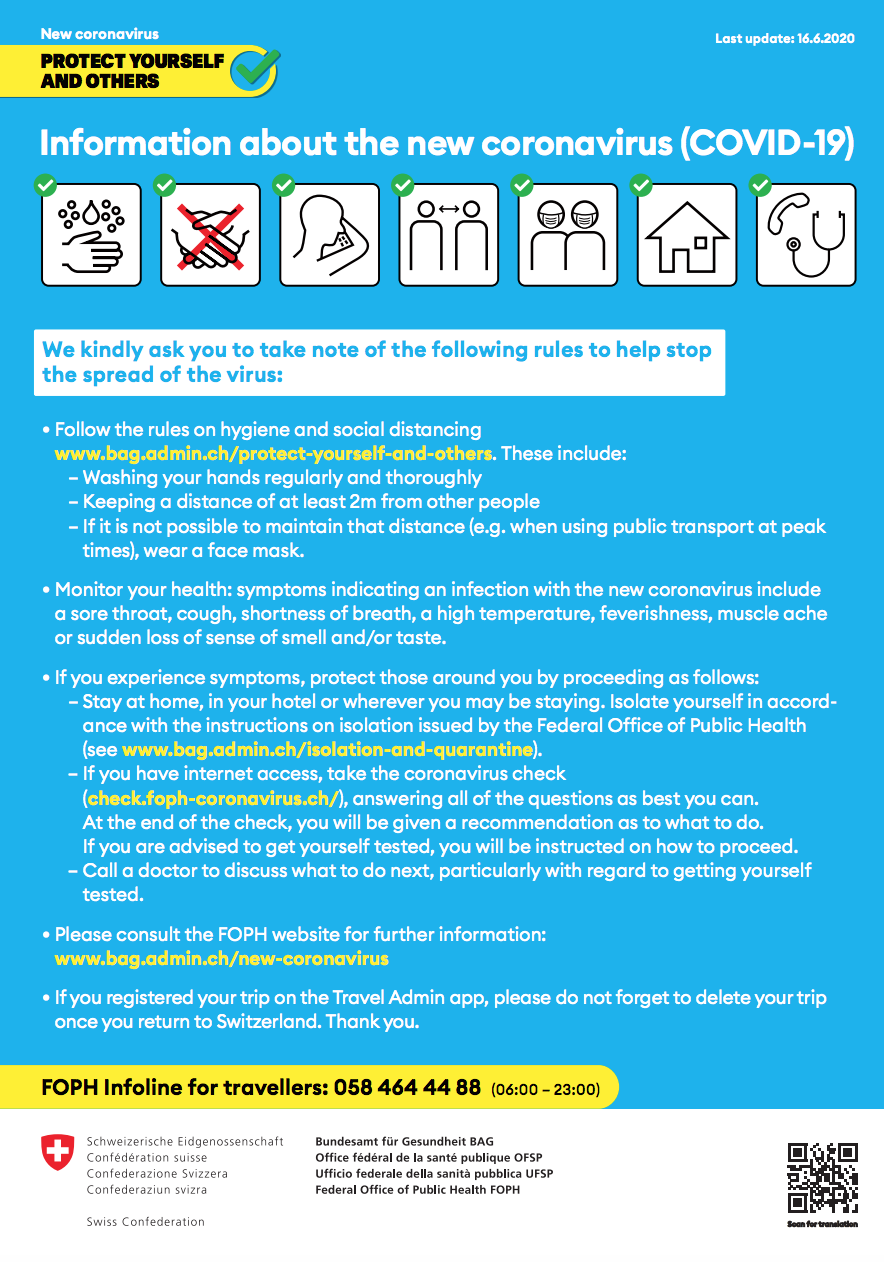 Public events and transport, restaurants & shops
The general ban on events has been lifted. Only public and private events with more than 1000 participants are still banned. However, you will have to leave your contact details with any event and might be asked to wear a face mask. Concert and culture venues, clubs and the like are starting to reopen. Restaurants, bars, shops, sports and leisure establishments are open once again. People over 65 years and people with pre-illnesses are asked to take extra caution and not to go out in rush hours.
Is it safe to travel to Zurich?
With most venues open again, very low numbers of new daily infections and NO entry restrictions for residents of Schengen countries, a visit to Switzerland and Zurich probably sounds like a good idea. If you follow the hygiene and distancing rules, we consider the risk of getting infected with the corona virus in Zurich and Switzerland currently rather low. And some attractions might have the advantage of lesser crowds these days. However, a certain risk remains obviously and if travelling under the current circumstances is fun, everyone has to decide for him/herself.
How to protect yourself
For the latest developments, and information on how to protect yourself, check the website of the Swiss Federal Office of Public Health FOPH.