Nicknamed the Jacaranda City, Pretoria's suburban streets are lined with thousands of jacaranda trees. In fact it is thought that 17% of all the trees in Pretoria are jacarandas. This makes for almost 70,000 purple trees to admire. From the historic streets of the City Centre to the leafy wealth suburbs of the south and east, in springtime there are blooming jacarandas almost everywhere you look in Pretoria, and even a few very rare white jacarandas too.

Sitting at a lower altitude, Pretoria is approximately three degrees warmer than Joburg, so the jacarandas usually bloom at least two weeks earlier than in Joburg. Late Oct tends to be the best time to head north and enjoy Pretoria's famous purple showers. Here's a look at some of the best places to go looking for jacarandas.
ARCADIA, EASTWOOD, RIVIERA AND THE UNION BUILDINGS
For unparalleled views of the city, visit the majestic Union Buildings (seat of the South African government) and take a walk through its lovely terraced gardens. At any time of year this is an impressive viewpoint from which to survey the city, but especially so in spring. The streets surrounding the immense Union Buildings also have a dense collection of these trees. Favourite viewpoints include the quiet Eastwood Street, Government Avenue and the main thoroughfare Soutpansberg Road. The suburbs north of the Union Buildings are also great for jacaranda spotting. Among the most picturesque jacaranda streets are Pierneef, Nuffield and Rose Streets.
PRETORIA CITY CENTRE
The historic Pretoria City Centre looks especially photogenic in spring when the many heritage buildings are fringed by blooming purple jacaranda trees. Some of the oldest and grandest jacaranda trees can be found on Bosman Street and Cilliers Street. The City Centre does get busy, so be careful with your belongings, especially cameras and phones. For a moment of peaceful respite under the shade of jacaranda trees, visit the fascinating Melrose House Museum.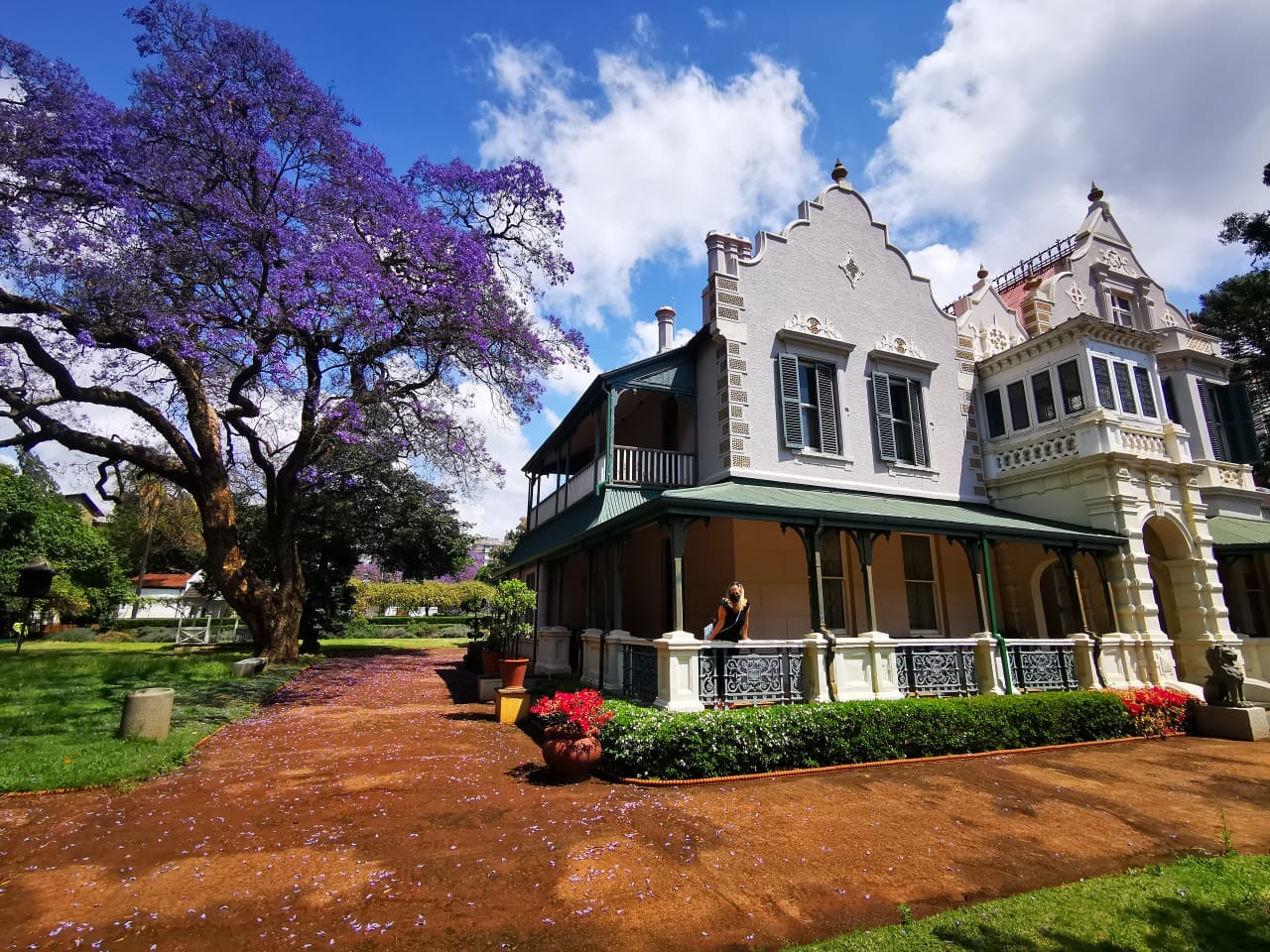 HATFIELD & BROOKLYN
From the Hatfield Gautrain station, head left up Grosvenor Street in the direction of Brooklyn where it's jacarandas all the way. Great jacaranda streets include Prospect Street, Brooks Street and Anderson Street. Hatfield is a particularly convenient place to take a jacaranda photography tour, not least because it has a Gautrain station, but also because there are plenty of coffee shops and cafes to stop at. Read our blog from our 2020 Pretoria jacaranda photo walk here for some inspiration on where to go.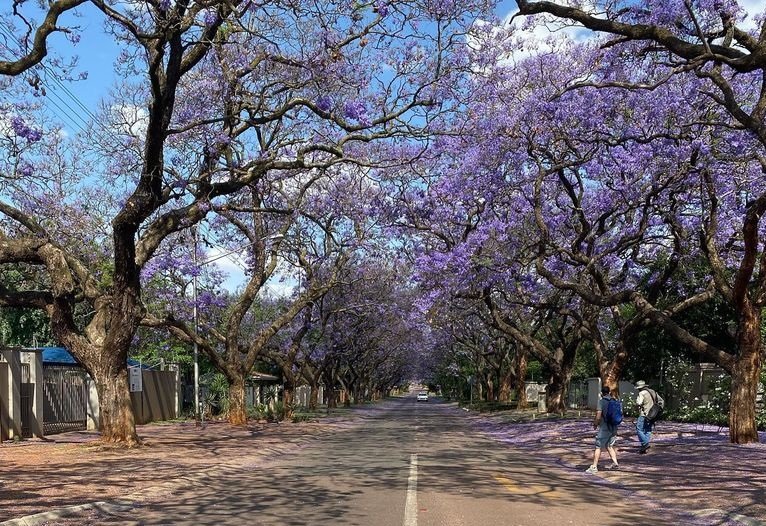 SUNNYSIDE & MUCKLENEUK 
The suburbs of Sunnyside and Muckleneuk, sitting between the university campuses of Hatfield and the Pretoria City Centre, are good places to see the spring blossoms and are said to have some South Africa's oldest jacaranda trees. Some of the most beautiful streets include Johnston, Reitz, Bourke, Troye and Loveday Streets. 
GROENKLOOF & FORT KLAPPERKOP 
One of Pretoria's most famous jacaranda suburbs is Groenkloof, just south of the University of South Africa (UNISA). Sloping streets mean you have the chance to grab some great vistas and, on the long stretch of Herbert Baker Street, you can find Pretoria's rare white jacarandas. A short drive away is Fort Klapperkop (entrance on Johann Rissik Drive) where you can enjoy exceptionally pretty views over Pretoria's verdant southern suburbs, full of jacarandas in springtime.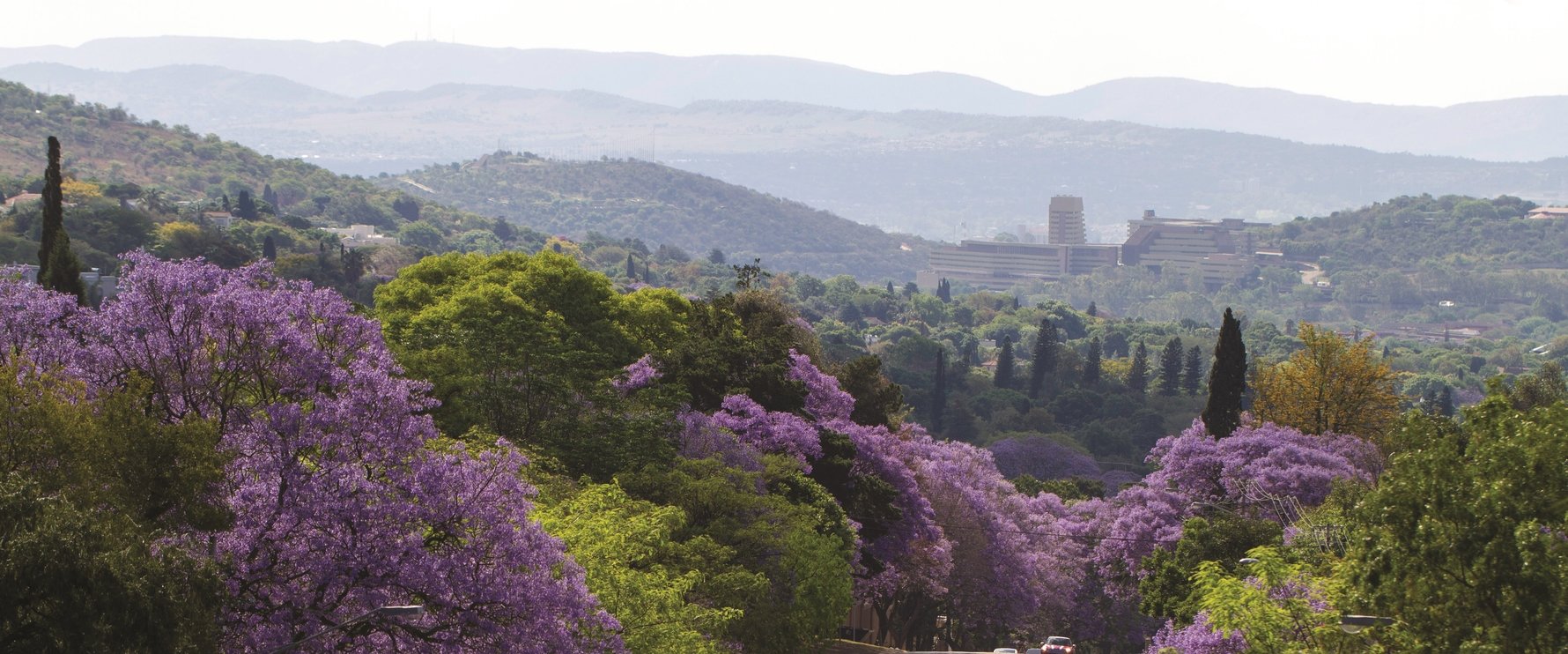 GETTING THERE WITH THE GAUTRAIN 
Take the Gautrain to Pretoria, get out and go see the jacarandas in the Pretoria City Centre. Alternatively, continue for one more stop onto Hatfield and explore the jacarandas in Hatfield, Brooklyn and surrounds.