Chisa nyama (also spelled shisa nyama or chesa nyama) is a Zulu word - literally meaning 'burn meat' - used to describe a popular 'buy-and-braai' style of venue found across South Africa, particularly in townships. At a chisa nyama, you choose your own meat from an attached butchery and then have it barbecued to your exact specifications, or in some cases 'braai' (barbecue) it yourself.

Many township chisa nyama, create a weekend party atmosphere with DJs and bars and sometimes even car washes, while other smaller streetside braai stands cater to the urban workforce, looking for quick and easy street-side food on their lunch break.

Here are some good places to head to in and around Johannesburg for a typical chisa nyama experience. One of the oldest markets in Joburg, this gritty downtown spot is best known for its traditional healers and muti sellers, and has also steadily grown in popularity for its numerous, super-cheap braai stalls. Seating is at plastic tables under makeshift awnings that look onto a braai-smoke-filled car park where cars blast house music from their competing sound systems. There are no menus, although ordering is not difficult as everybody sells more or less the same items; wood-fire grilled beef cuts, sausages and ox liver (isibindi senkomo), served with a side of crumbly phuthu pap, sliced tomato, served unironically on top of a piece of repurposed plywood.
Cnr Anderson and Berea Sts, City Centre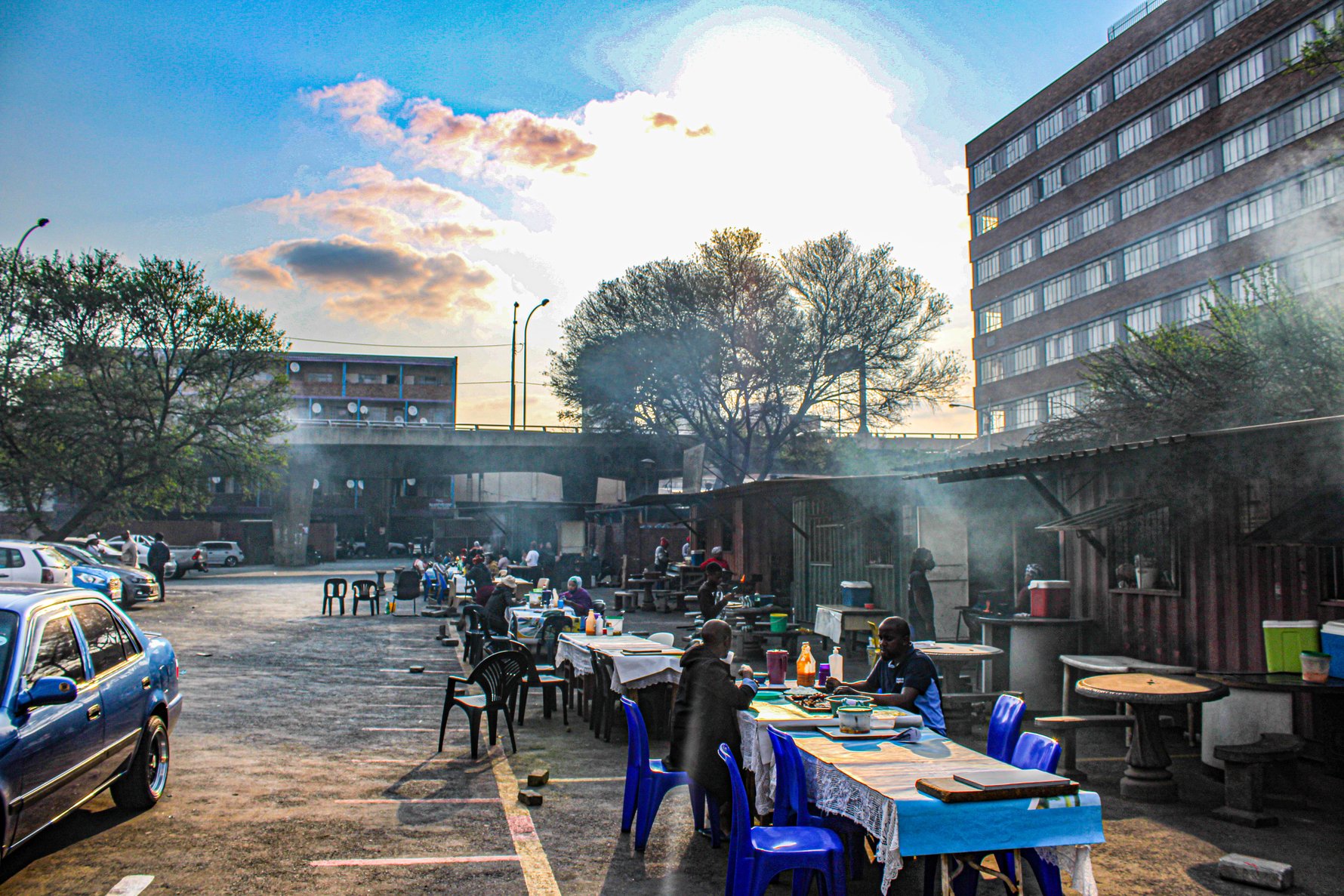 A quirky little braai stand in the middle of fashionable Maboneng in downtown Joburg. If it's not the delicious meaty smoke wafting through the streets that draws you into this converted shipping container, then the great tunes on the ghetto blaster might do it. Seating is on up-cycled beer crates and the shisa nyama style food is made to order straight from the butcher counter with a choice of tasty sides.
20 Kruger St, cnr Fox St, Maboneng, City Centre Sprawling in the shadow of the Orlando cooling towers in Soweto, this beer garden and braai spot is a local institution and at weekends the crowds descend from all directions for beers and meat, flame-grilled to perfection and served up with typical sides such as pap (a stiff maize porridge) and chakalaka (spicy bean stew). A popular weekend party spot with DJs playing everything from township jazz, to deep house, hip-hop and kwaito. If you are feeling brave you can take a bungee jump from the top of the cooling towers, otherwise opt to watch the daredevils make the leap from the comfort of the beer garden.
Orlando Towers, cnr Kingsley Sithole St and Nicholas St, Orlando East, Soweto, chafpozi.co.za.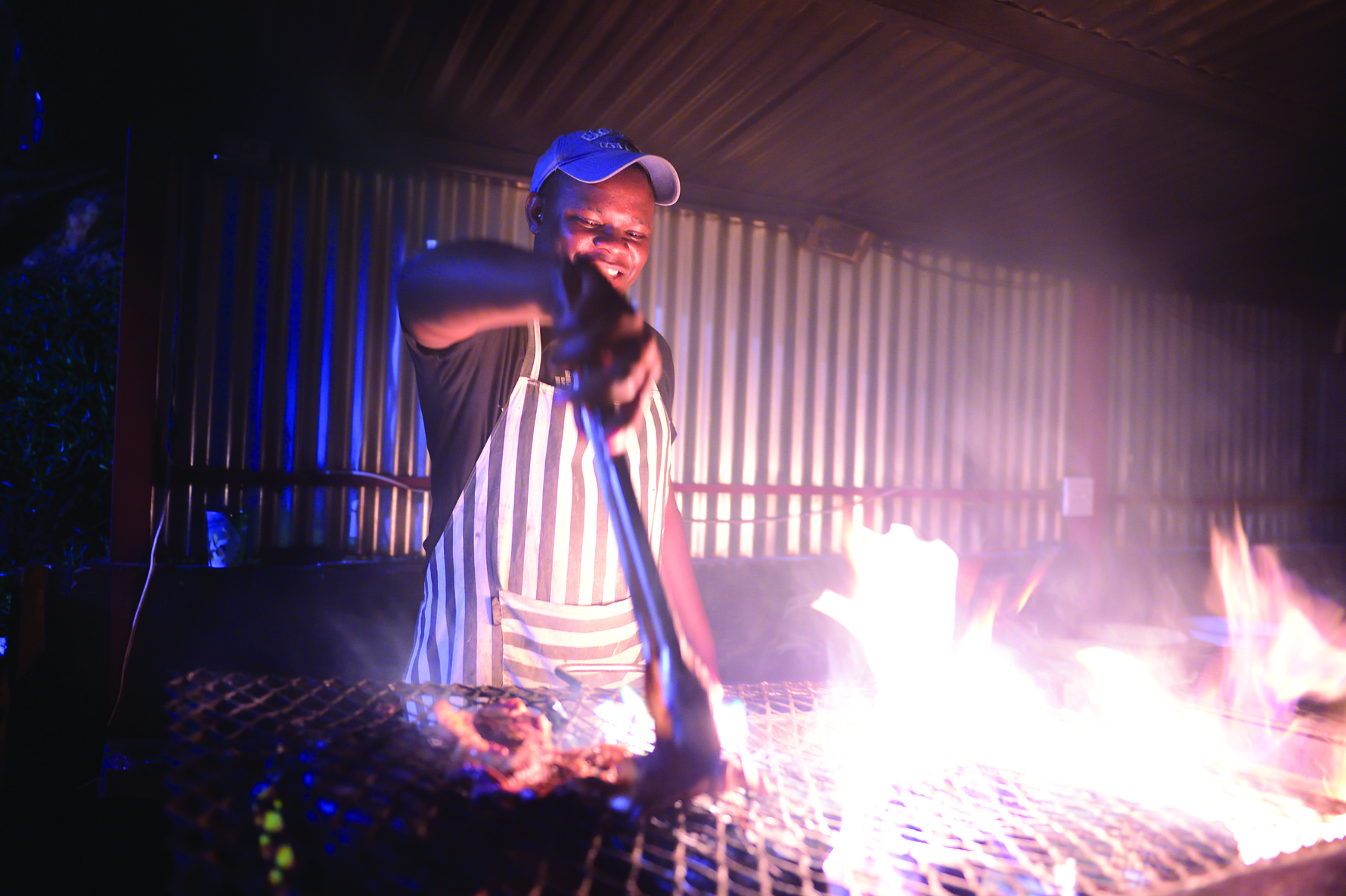 At this friendly spot in Midrand (20km north of Joburg), also known as Busy Corner, customers are an eclectic mix of business bigwigs and ad agency hipsters. Service is friendly and fast, the atmosphere lively and the space itself huge. The quality of the steak is great – tender flesh, cooked to customer specification, gently spiced. There are no seasonal changes and vegetarians will be offered chicken. Food is complemented by a selection of South African wines, a few Champagnes, numerous high-end whiskies and plenty of beer. Their annual Heritage Day party, where staff and visitors dress in their finest traditional clothing, is one of the most famous Heritage Day celebrations in the area
Cnr Main and 29 September Rds, Extension 1, Ebony Park, Midrand, imbizoshisanyama.co.za Going to the car wash takes on an entirely new meaning in Soweto where getting your car cleaned involves socialiasing and enjoying some roasted meat along the roadside. This 'car wash' is a fresh chill spot combining class and an addictive weekend social vibe.
Cnr Mdeni Link and Impala Rds, Emdeni, Soweto​