One of Joburg's oldest markets, the Kwa Mai Mai market is also known as Ezinyangeni, or 'the place of healers' and has for decades been one of the city's most established muthi (traditional medicine) markets. Located just a few blocks from the Maboneng Precinct, the market's reputation as a down-to-earth spot to grab traditional South African street food has grown steadily in recent years and positively exploded in 2020.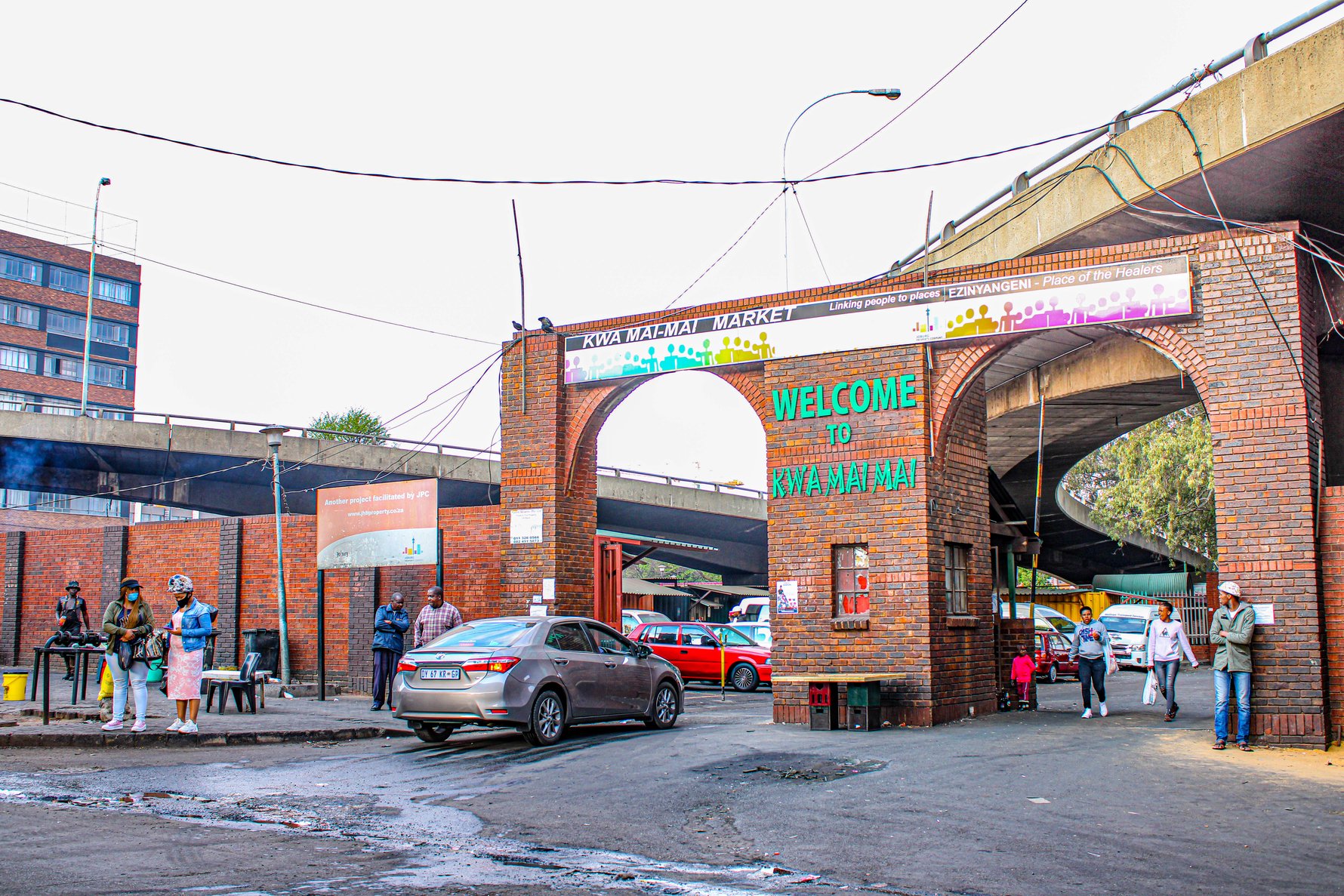 In mid-2020, after South Africa's months-long lockdown started to ease, seemingly from nowhere 'Mai Mai' started trending among Joburg's Millenials. Images of trendy young things tucking into mountains of sausages while seated at plastic tables, tagged #kwamaimai, started flooding social media, and soon enough the word was well and truly out.

This traditional market had become the coolest 'new' spot. Crowds flocked from all over to visit this rough-and-ready corner of the city in search of huge and tasty meat platters, served street side with a good helping of music too. Almost overnight the decades-old market went from being famous for its traditional healers, to being dubbed by social media influencers as 'the Zulu Farmer's Market'.   

We couldn't resist taking a visit to this market again recently to see just what was going on....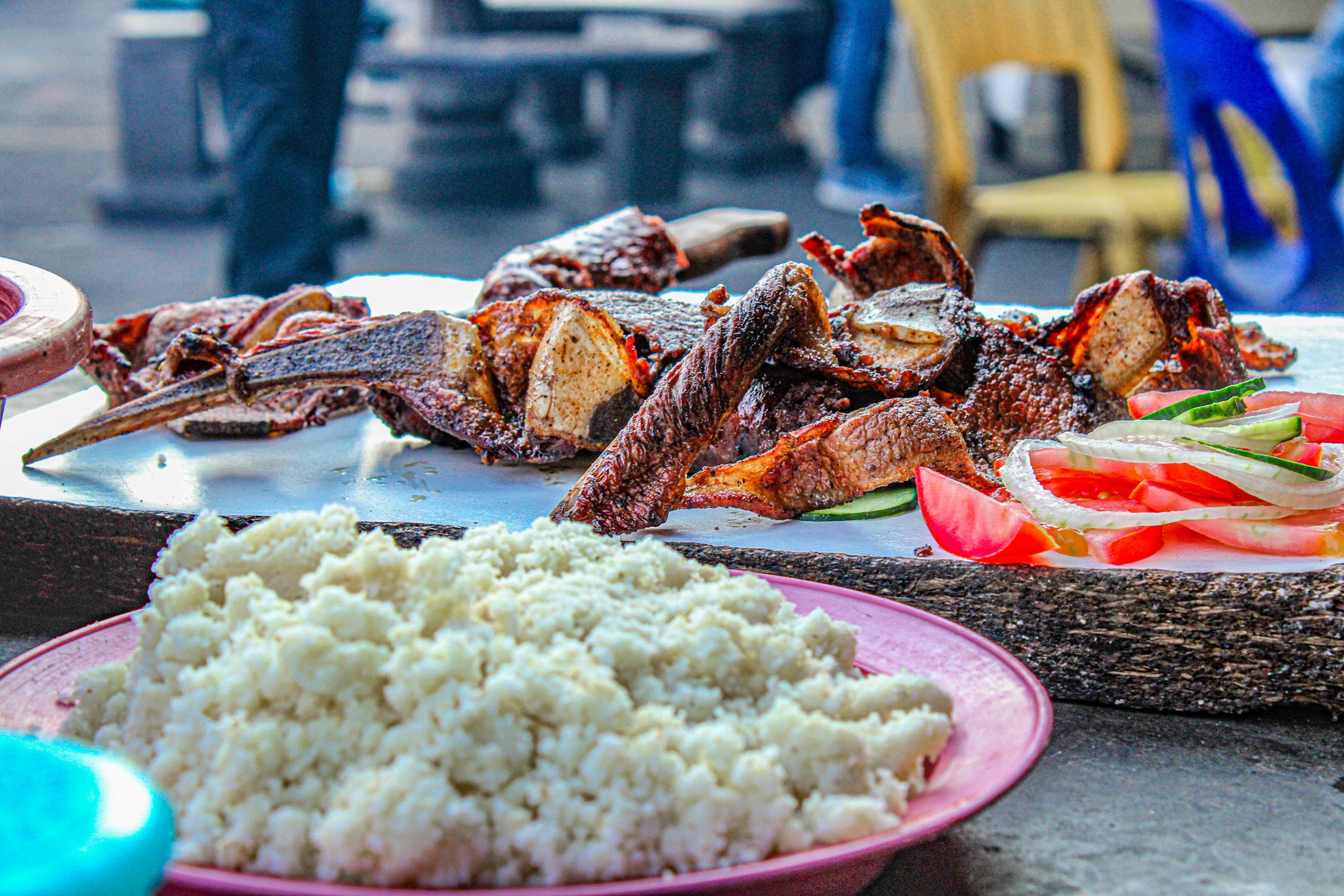 Kwa Mai Mai market is located three blocks from Maboneng's main street Fox, tucked right under the flyover of the M1 highway (we advise taking an Uber or parking in Maboneng). With its new popularity now cemented it's difficult to miss this spot as you'll already hear from a distance the sound of various sound systems competing before you spy the crowds of Joburgers chilling right outside the entrance.  

Once you have made your way through the gates head straight towards the many informal food stalls (we couldn't even suggest a favourite as they don't have names anyway) and take your pick somewhere to order from. Don't ask for or expect a menu, they don't have them, although ordering isn't too difficult as everybody sells more or less the same items; grilled beef cuts, sausages and ox liver (isibindi senkomo), all of which come with a side of phuthu pap (also known as krummel pap), sliced tomato and fresh chilli. Vegetarians and vegans, we're afraid this is not a place for you.

Once you have placed and paid for your order, you can then go pick up a drink and find an available seat while you wait for the ladies to cook up your order and bring it to you. For a shared 'plate' of all the available meat options we paid R70 and had more than we could eat. 

Perhaps one of the things about this uniquely Joburg street food experience that has made it so infamous on social media is the serving style. It is not an exaggeration to say that your serving platter will be a repurposed piece of plywood, which also comes with a dish to wash your hands after devouring this indulgent meat feast (of course as we all do these days, you'll probably have your own hand sanitiser in your pocket already).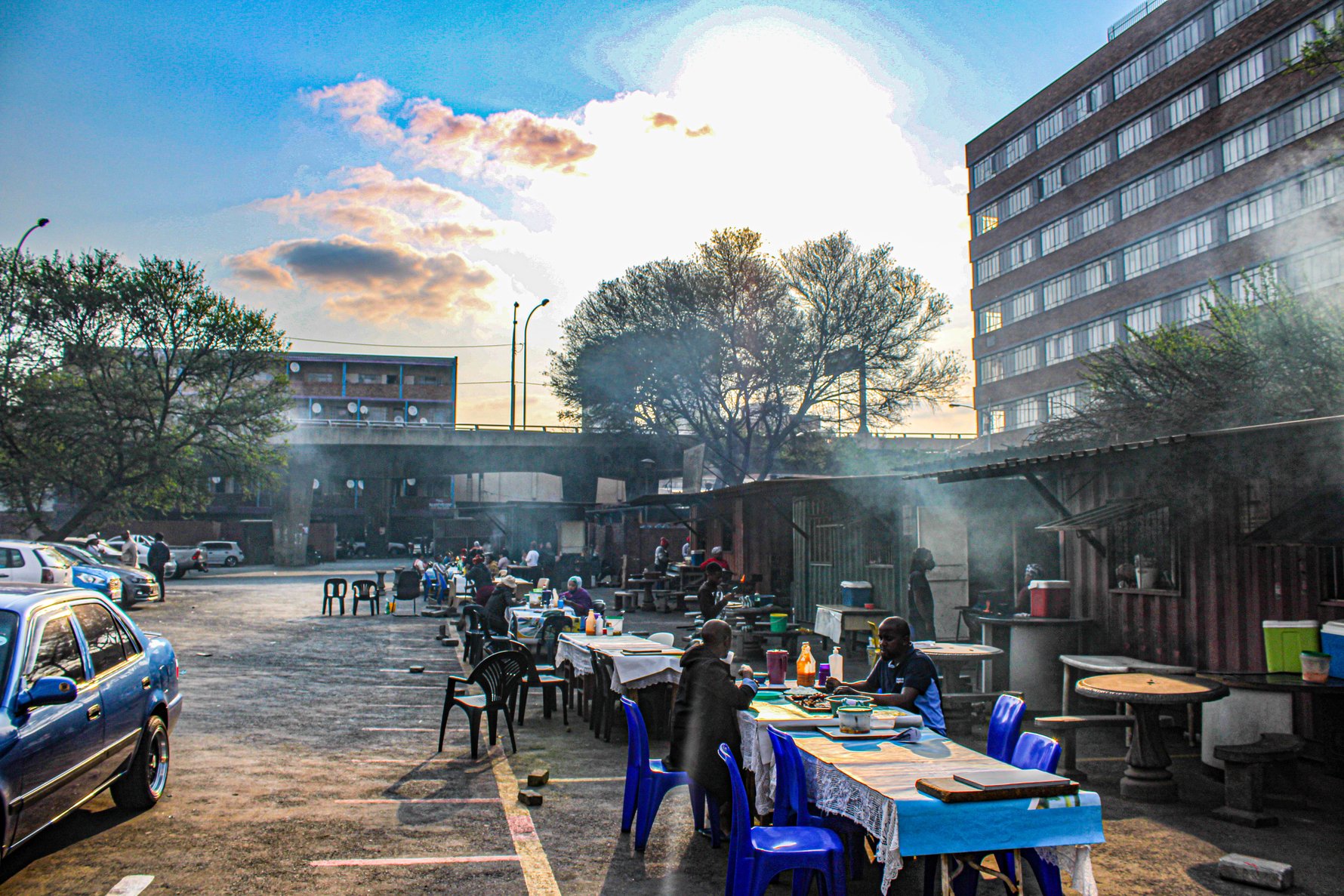 From here get stuck into lunch and enjoy the conversations with old and new friends and the music blaring from the cars parked outside. The market does not have any official entertainment but that does not stop the fun as this is one of the few places where Joburgers happily tolerate all sorts of music playing from different vehicles all at once.

The food at Kwa Mai Mai and how it is served reflects a true sense of unfiltered South African street food culture that is not often celebrated. The meat is prepared on a braai stand and the pap on firewood, seating is on plastic chairs and tables under makeshift awnings. Cars park outside and blast their sound systems, the chefs look on unperturbed.

We visited with a local and regular who lives nearby and we highly recommend doing the same. For one thing they can introduce you to their friends! You can also visit the market as part of the daily Maboneng Tour run by Maboneng-based walking tour company Mainstreet Walks (book online here) or request a visit with Honest Travel Experiences.

Some tips for first-time visitors to Kwa Mai Mai
– Don't overdress. Casual clothing and streetwear is the order of the day. This reviewer visited in his church outfit (you can imagine how that went!).
– Try and go with a local who will show you the ropes.
– Only cash is accepted at all stalls.
– Keep your valuables safe. The market can get very busy and rowdy on weekends making it a pickpocket's territory. 
– The market traders here are conservative, particularly those in the muthi market so do ask permission before taking any photos. You may be refused. 
– Weekends are the liveliest and most fun days to go, preferably in the afternoon.

Discover 10 things you need to know about Kwa Mai Mai market from Sipho Sithole's fascinating book.