"The unassuming table has long been the subject of Van der Ploeg's work; ... this innocent object of functionality and site of bounty and beauty in art history is brought into a disquieting arena of dinner table talk and capricious human interactions."
We love this quote describing contemporary South African artist Anna van der Ploeg's latest work for her  upcoming solo at David Krut Projects Blue House, Omens in hot bacon contradiction (of course we love the curious title of this exhibition too). Van der Ploeg explores domestic scenes, and in her work thrusts the viewer into the middle of social interactions. Read our interview with Van der Ploeg here for more about her work.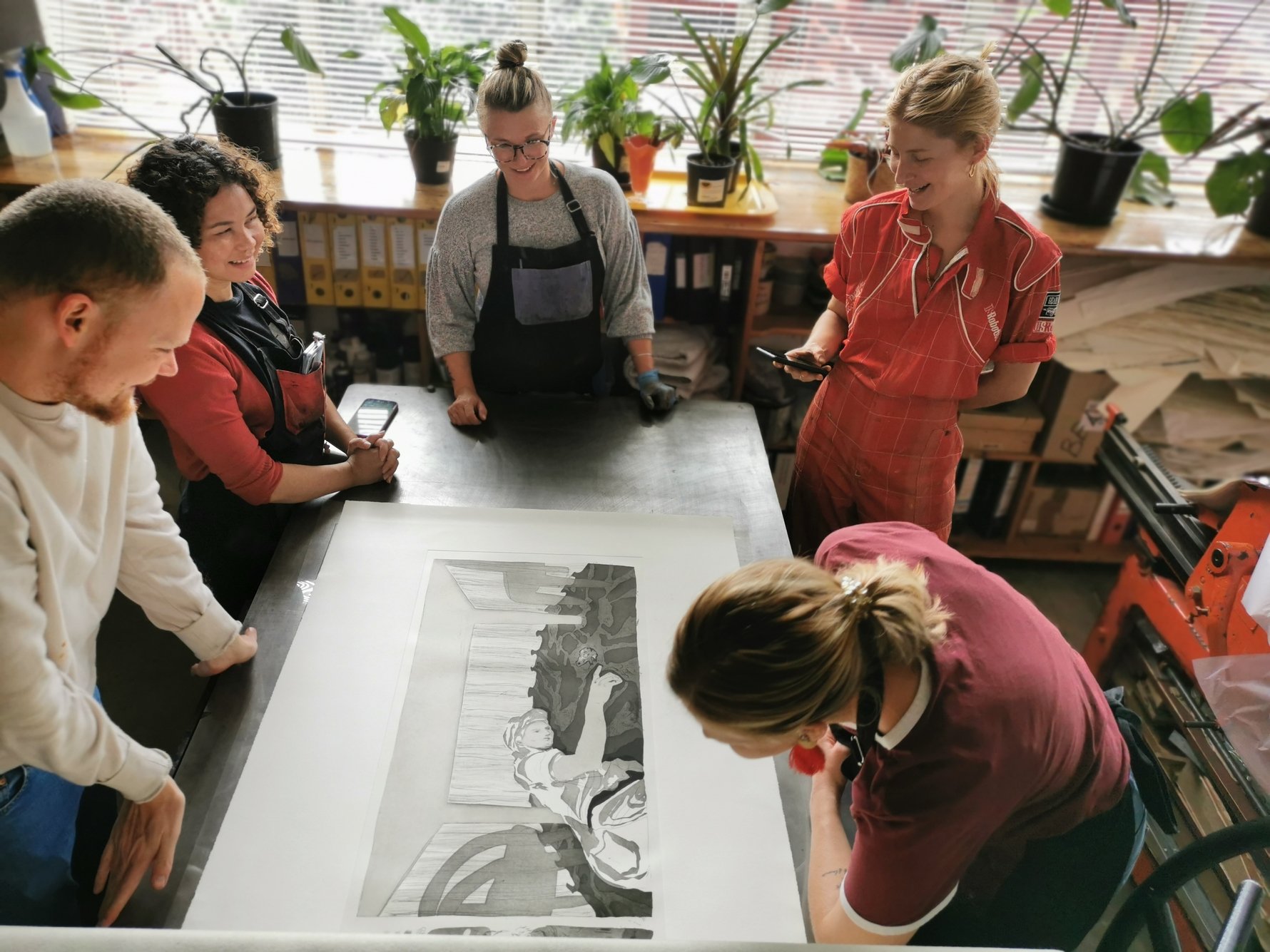 In Van der Ploeg's world social interactions are never simple, and are tenuously held together by thoughts unsaid, small actions and unknown impulses. This exhibition is a touching exploration of people and community and the often ambiguous nature of our interactions. 

Van der Ploeg uses oil paintings, woodblocks and etching editions to bring these scenes to life. The table and the gatherings that take place around it feature prominently with the social games we play and the tension between individuality and community being what Van der Ploeg turns her attention to.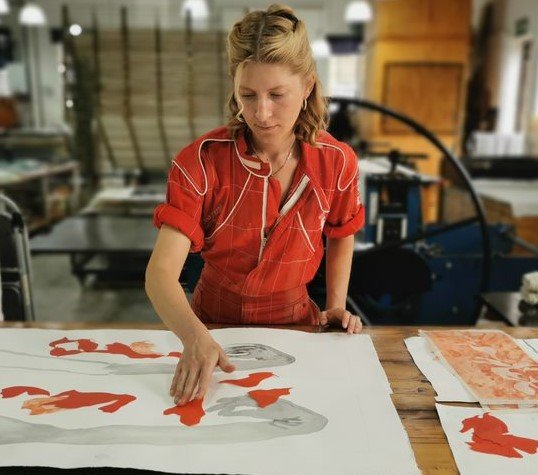 "While a space for closeness, exploration, and unveiling narratives, it is also a space for 'preserving strangeness', maintaining a façade, and keeping with prescribed behaviours."  

The complexities of social interactions are given life by both Van der Ploeg's eye for how she positions the viewer and what we see and feel as a result, as well as the unique methods she uses. This is particularly evident in a collection of new etching editions and unique paintings on paper made in collaboration with Printer Roxy Kaczmarek at David Krut Projects. Having studied printmaking and been awarded residencies in France, India, and Japan, Van der Ploeg is an accomplished printmaker and her use of Mokuhanga, a water-based woodblock printmaking technique, allows her to build up many subtle layers of colour. As a result of this layering  "A sense of moodiness emerges from the prints as they probe notions of performativity, concealment, and tenderness in social interactions".

Van der Ploeg's images drift in and out of focus and draw you into a strange but familiar world, and allow you to look at the social scene in new ways.

Exhibition opens Sat, May 20 at 11:00.