The collection of recipes, reminiscences and stories in Out of an African Kitchen transports the reader to the edge of the Great Rift Valley, which overlooks Kenya's Maasai Mara Game Reserve, an unparalleled destination in what it offers, from its vastness and rich game to its Maasai culture. 

The book pays tribute to the chefs of Angama Mara, an extraordinary owner-run safari lodge opened in 2015. As Fitzgerald the founder and owner states in her introduction; "Our food is good. Our food is not fancy." And it is good – the recipes are unfussy, the ingredients wide-ranging but mostly easy to source, and full of flavour.

The challenge at Angama Mara is to offer good food when you are literally in the middle of nowhere. The first thing Fitzgerald did was outlaw buffet-style eating so popular in many similar establishments, largely because it allows for food to be re-used and repurposed over a number of meals. Chef Anthony Bourdain put a knife in the buffet for me in his book Kitchen Confidential, a must-read although be warned: you will never think of chefs or restaurant meals in quite the same way again.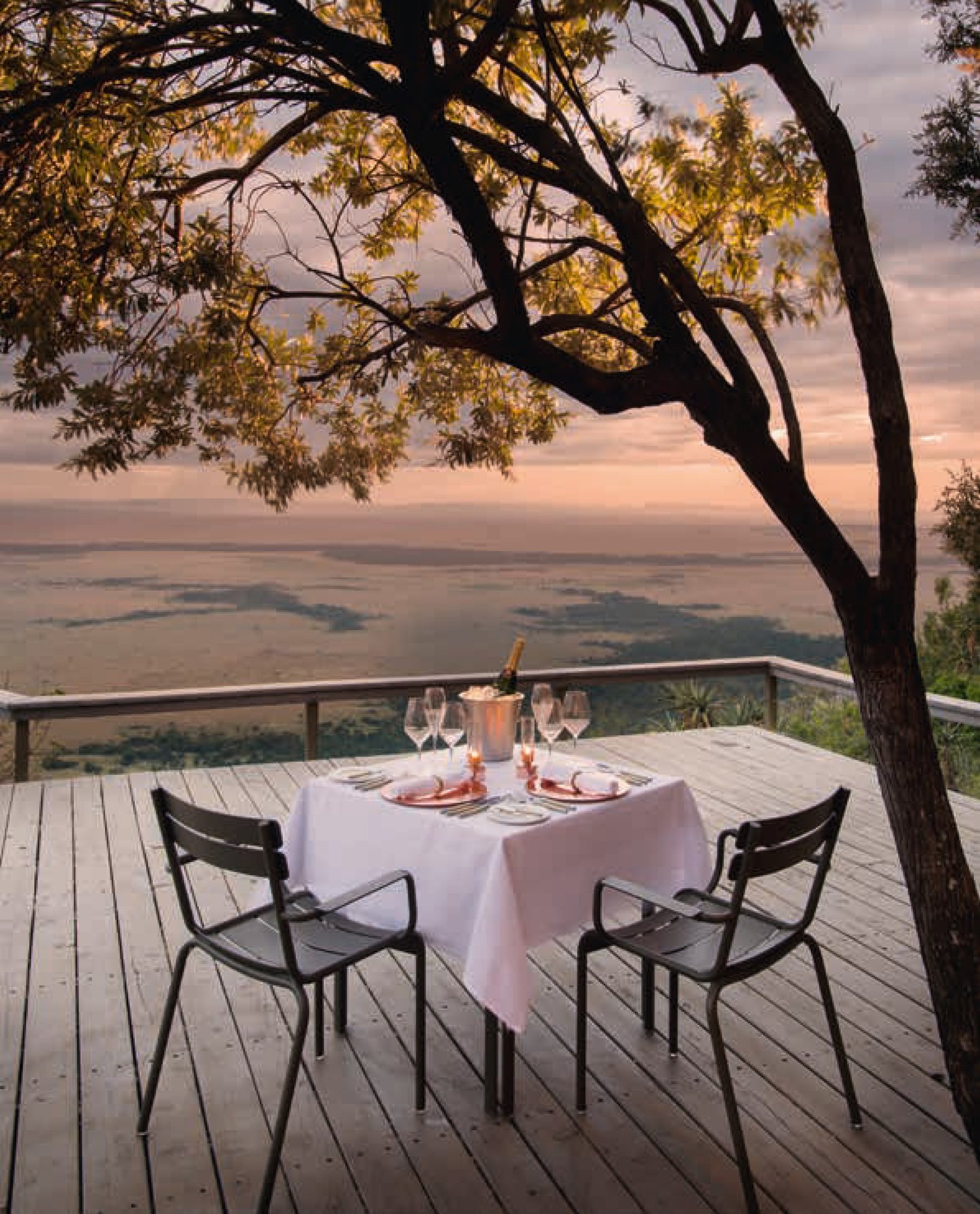 Fitzgerald brought together a team of Kenyan chefs, and determined to use local ingredients worked to create a kitchen garden. The lodge's menus were inspired by local Kenyan ingredients, from Lake Victoria's freshwater fish to tropical fruits, and the country's Arab-inspired Swahili cuisine, and over time have gathered other influences.

The book emerged after constant requests from guests to share recipes, and it's delightful. Interspersed among the recipes are vignettes and anecdotes, that make for fun reading while waiting for a pot to heat up on the stove. There's even a little tribute to one of my favourites,  the great advocate of Middle Eastern cooking Yotam Ottolenghi whose books are a staple in many kitchens, and at Angama Mara are "sauce-spattered and dog-eared". While many of the Maasai chef team have not visited Nairobi, the country's capital, they have travelled the world through the cookbooks of great chefs. Each chef is introduced by name with a mini-profile and in all you get the sense, that this book is indeed a team effort and represents the heart of Angama Mara. 

This soft cover book is destined for kitchen rather than the coffee table although it would be enjoyable at both locations – and is also great value for money. The chapters are broken down into mini-menus that include Picnics on Safari, Proudly Kenyan and At the Forest Barbecue. There's a great selection of vegetarian dishes, some of which we have shared here. You'll also find a glossary of Swahili culinary terms and a recipe for the intriguingly named Ugandan Rolex in the book. And even if you are not a cook it's a great way to travel to one of the world's most spectacular places.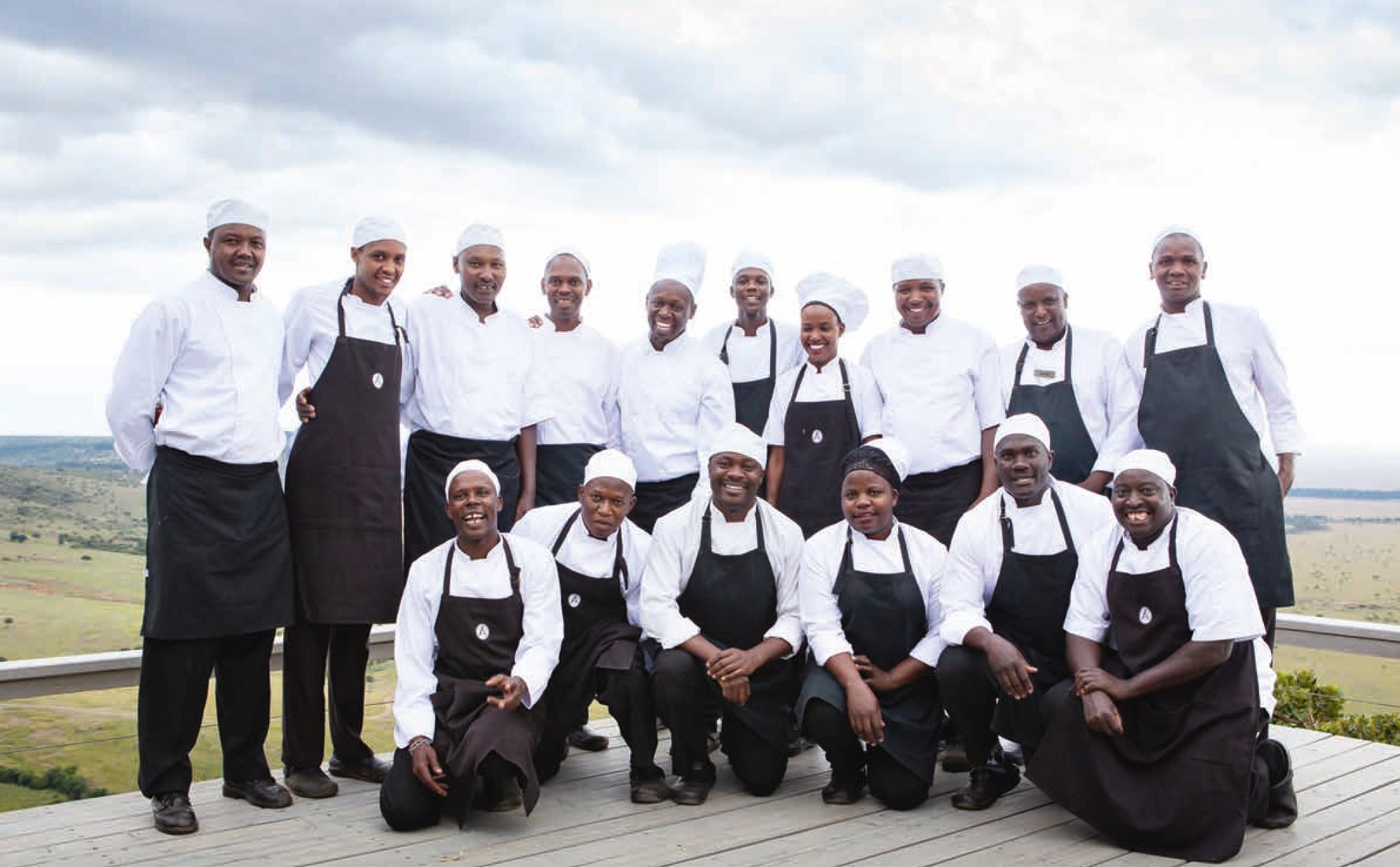 COURGETTE & HALLOUMI FRITTERS
Serves 8 (pictured top left)
Shop it
3 courgettes, coarsely grated
1 tsp salt
½ red onion, finely chopped
2 cloves garlic, crushed
2 limes, finely zested
60g self-raising flour
2 eggs, lightly beaten
2 tsp ground coriander
1 tsp ground cardamom
150g halloumi, broken into small chunks
salt and freshly ground black pepper to taste
vegetable oil for frying
Lime & coriander sour cream:
200ml sour cream
1 Tbsp finely chopped fresh coriander
tsp ground cardamom
1 lime, juiced and finely zested
salt and freshly ground black pepper to taste

Prepare it
Mix together all ingredients for the lime and coriander sour cream, check the seasoning and set aside.
Place the courgettes in a colander and sprinkle them with the salt. Drain for 10 minutes, then squeeze to remove most of the liquid. In a bowl, combine the courgettes, onion, garlic, lime zest, flour, eggs, coriander, cardamom and salt and pepper. Mix well, then fold in the halloumi. Shape into fritters and deep-fry until golden and crisp. Drain on kitchen paper and serve hot with the sour cream.
NORTH AFRICAN BUTTER BEAN, BARLEY, SWEET POTATO & BUTTERNUT CASSEROLE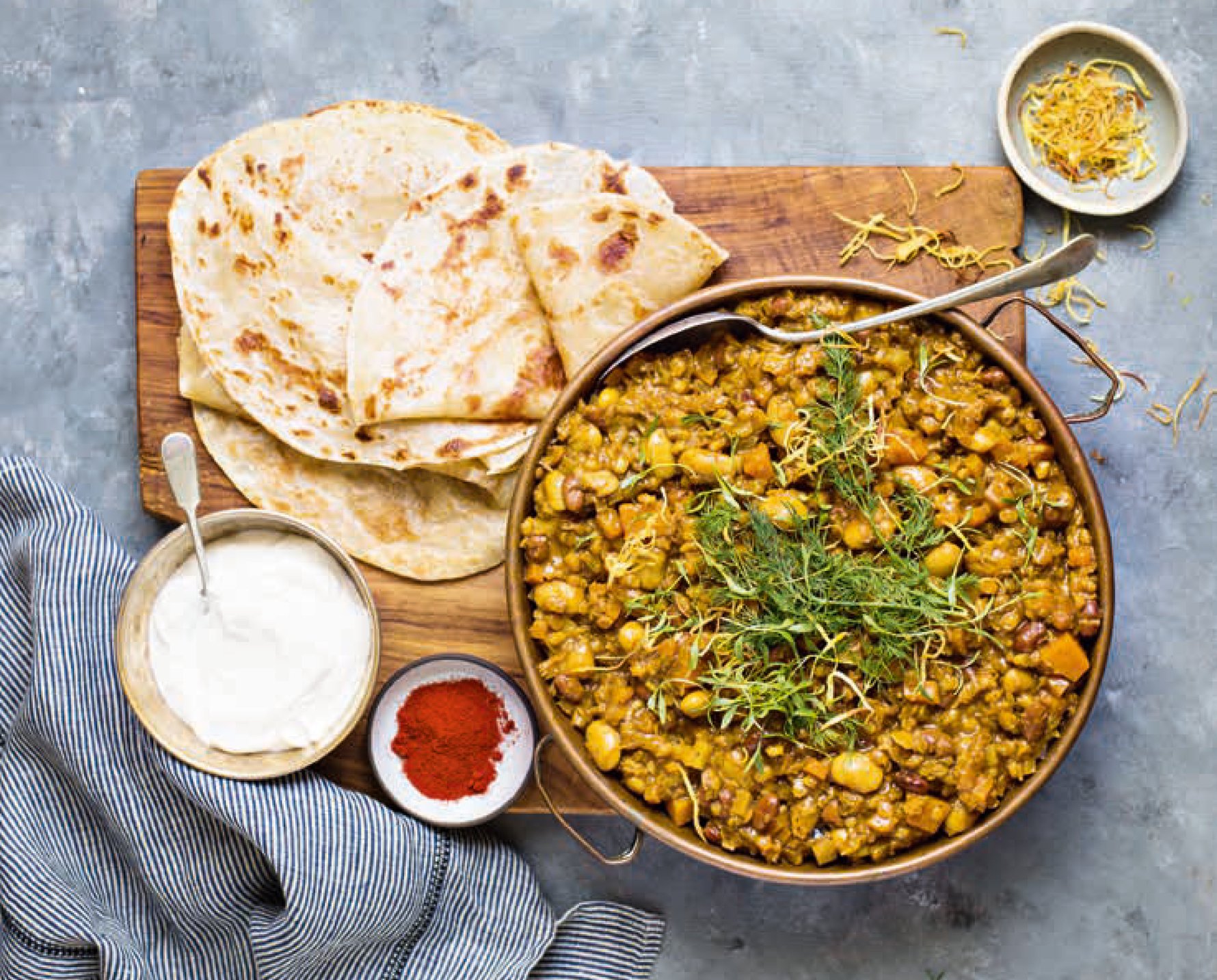 Do you remember the days when vegetarians were few and far between? Well, that has changed dramatically, and we would hazard a guess that every single one of our guests enjoys protein-free dishes, even if they are still omnivorously inclined. Vegetarian dishes constitute a third of what we offer our guests at each meal. And vegan and gluten-free don't faze us a bit. If you lose the yoghurt when serving this hearty casserole, it will be vegan all the way. It would also do well as a filling for rotis.

Serves 8
Shop it
½ cup olive oil
2 leeks, diced
a bunch of fresh coriander, leaves and stems separated
1 cup finely chopped fresh fennel (reserve a few fronds)
3 cloves garlic, finely chopped
2 Tbsp baharat* spice mix
½ stick cinnamon
2 Tbsp tomato paste
2 litres vegetable stock
½ cup pearl barley
salt to taste
a large pinch of saffron
4 cups cooked or canned chickpeas
4 cups cooked or canned butter beans
½ cup diced sweet potato
2 cups peeled and diced butternut
½ cup red lentils
plain yoghurt for serving
extra-virgin olive oil for drizzling
paprika for sprinkling

Prepare it
Heat the oil in a large pot and gently cook the leeks for 10–12 minutes.
Finely chop the coriander stems, then add to the leeks along with the fennel and garlic. Cook for 2 minutes. Add the baharat, cinnamon and tomato paste and cook for another 2 minutes. Add the stock and barley and season with salt, then bring to a boil. Stir in the saffron and simmer for 40 minutes (adding more water if necessary). Finally, add chickpeas, butter beans, sweet potato, butternut and lentils. Cook until the barley is tender (20–30 minutes). Adjust the seasoning and remove the cinnamon stick.
To serve, ladle into bowls and top with some yoghurt or serve on the side. Drizzle with olive oil, garnish with the coriander leaves and reserved fennel fronds, then sprinkle with paprika.
*Kitchen note To make baharat, combine 2 Tbsp paprika, 1 Tbsp ground coriander, 1 Tbsp ground cumin, 1 Tbsp ground turmeric, 2 tsp freshly ground black pepper, 1 tsp grated nutmeg, 1 tsp ground cardamom and 1 tsp allspice.
Seal in an airtight container.
 
ROASTED ROOT VEGETABLE SALAD WITH HONEY DRESSING
Serves 6 as a side salad (pictured top right)
Shop it
400g carrots, thickly julienned
400g beetroot, thickly julienned
½ cup olive oil
½ cup soft brown sugar
salt and freshly ground black pepper
100g fresh rocket (arugula) for serving
Dressing:
cup olive oil
2 Tbsp red wine vinegar
2 Tbsp honey
5 fresh mint leaves, finely chopped
1 tsp ground cumin
1 tsp ground paprika
1 Tbsp Dijon mustard

Prepare it
Turn the grill onto its highest setting.
To make the dressing, combine all the ingredients and blend well, using a whisk. Check the seasoning, adding more mustard and honey according to your preference.
Toss the carrot and beetroot sticks (separately) in olive oil and brown sugar, then season well. Roast the vegetables under the grill until tender, taking care not to burn them, but they should have a lovely caramel coating. Allow to cool. Just before serving, mix the rocket and roasted vegetables together and toss generously in the dressing.