Ilse van der Merwe is The Food Fox, a food blogger, cook and all-round food creative who we have enjoyed following for some time now. Simply Seasonal is Ilse's compilation of recipes that have been inspired by nature.
 
Forget the slavish devotion to buying unquestioningly from supermarket shelves and eating avocado all year round. It's a crime against nature. It's more about choosing to eat food that is as fresh as possible, contains the highest quality of nutrients, doesn't rack up crazy carbon miles, supports local producers and even saves money. You don't need more reasons than that.
 
The book is as wholesome to look at as the dishes you'll produce from it. The photos have been beautifully shot by Tasha Secombe – a long-time Ilse collaborator.
 
Divided neatly into seasons, Simply Seasonal keeps you virtuously in step with the cycles of nature, and urges a consciousness about what we consume. Ilse mentions that lockdown and the "global wave of confinement and uncertainty" encouraged her to rely on simple recipes that nurture. Simplicity and unfussiness are at the heart of these recipes. In all it's the kind of useful and easy to follow recipe book that you will find yourself returning to throughout the year. 
Snoek with Miso Butter and Ginger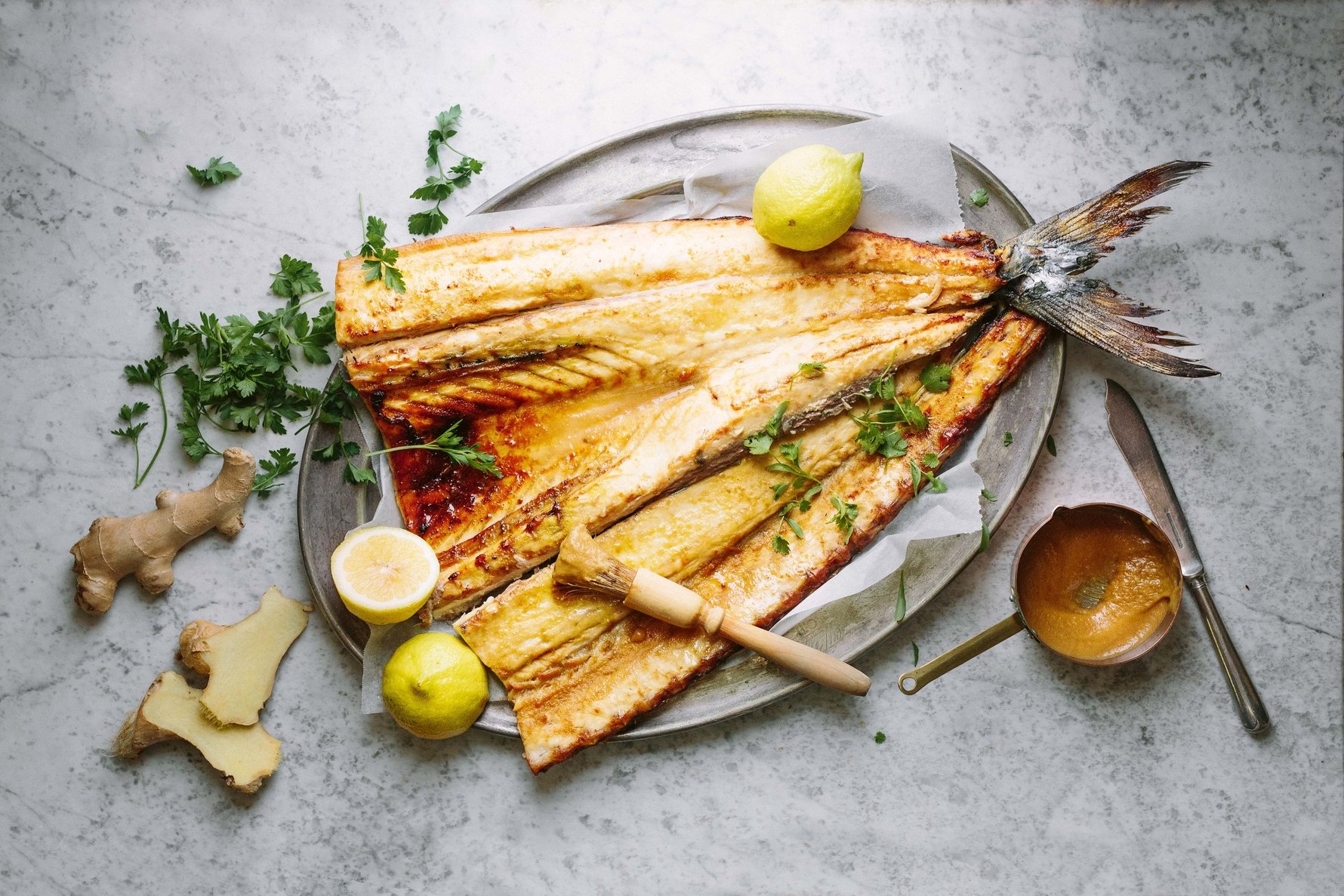 Ingredients 
100 g (a scant ½ cup) butter
30 ml (2 tablespoons) miso paste (I used yellow miso,
but you can also use white
or red miso)
15–30 ml (1–2 tablespoons) lemon juice
a knob of fresh ginger,
finely grated
1 clove garlic, finely grated
20 ml (4 teaspoons) soy sauce
15 ml (1 tablespoon) honey
salt, to taste (optional)
1 large fresh snoek, trimmed and butterflied
lemon wedges, to serve

Method 

1. In a small saucepan, melt the butter over medium heat (don't let it boil).

2. When it has melted, remove from the heat and add the miso paste, stirring with a whisk or spoon to break up any lumps until it is smooth.

3. Add the lemon juice, ginger, garlic, soy sauce, and honey. Mix well. If at this point the sauce looks like it has split, just use a stick blender to return it to a caramel-coloured smooth sauce. Taste, and add a pinch of salt if necessary (the miso and soy sauce are already quite salty).

4. Now you can use this sauce to generously baste the snoek while you cook it on a grid over hot coals, or you can bake it in the oven* on a tray lined with foil, skin side down. If doing this over a fire, oil the skin side lightly, then place the snoek directly on a hinged grid, skin side down.

5. Braai the snoek skin side down until almost fully cooked, basting regularly, then turn
for the last 2–3 minutes to just give some colour on the flesh side. Don't overcook it. Serve hot, with lemon wedges on the side. 

* Oven bake at 200 °C for 20–25 minutes or until just cooked and golden brown on some edges.
Vietnamese-style rice paper spring rolls with savoury peanut sauce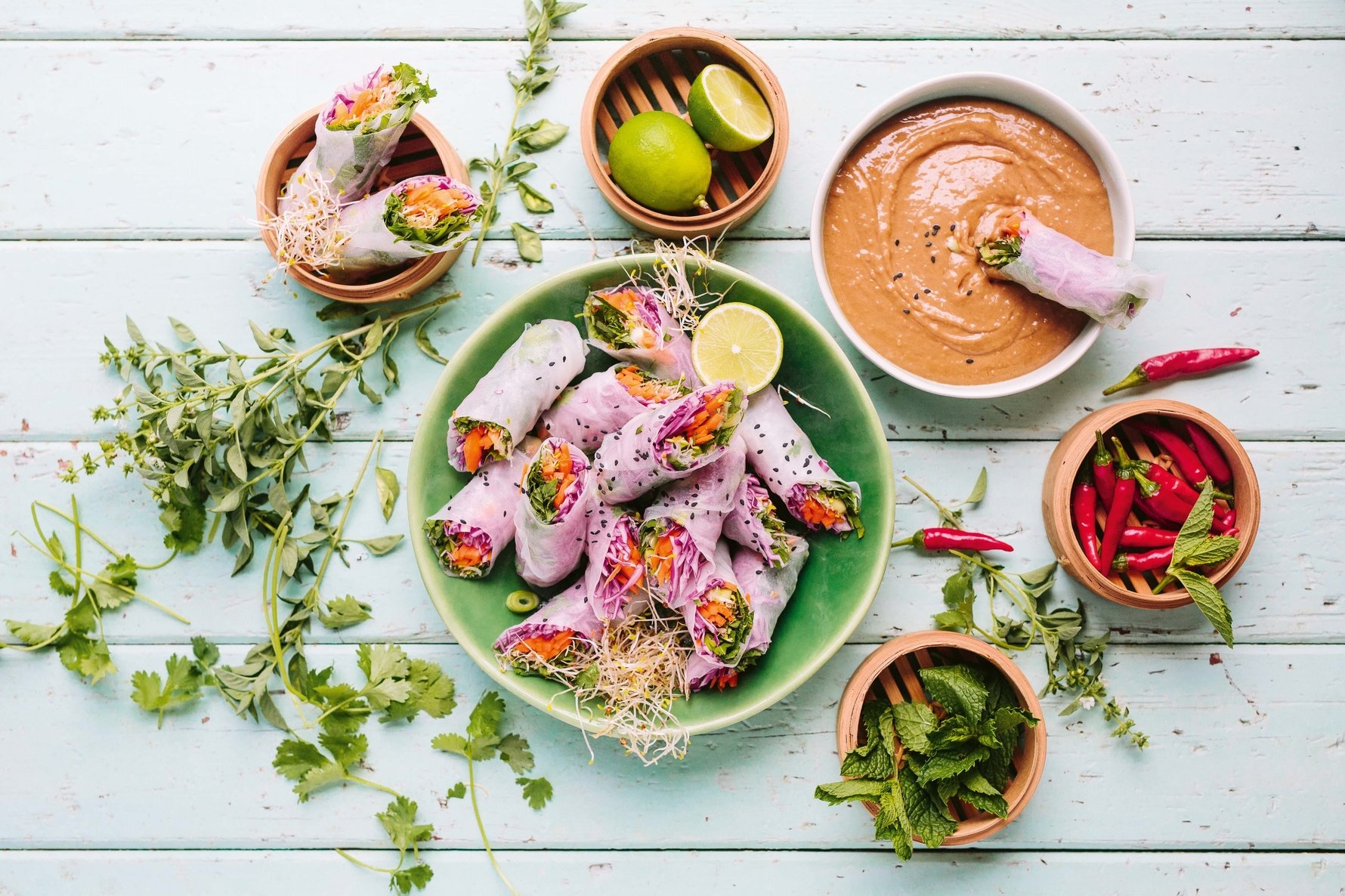 Savoury peanut sauce (Makes two cups)
Ingredients 

250 ml (1 cup) unflavoured/plain, smooth peanut butter
80 ml (¹⁄³ cup) water
60 ml (¼ cup) hoisin sauce
60 ml (¼ cup) good quality soy sauce (I use Kikkoman)
5–10 ml (1–2 teaspoons) fish sauce
juice of 2 limes
1 knob ginger, peeled and
finely grated
1 small or medium clove garlic, finely grated
1 small red chilli, finely chopped (remove the seeds if you want to)

Method 
1. Place all the ingredients in a small blender and blend until very smooth (you can also use a food processor or a stick blender)

2. The water usually takes some time to blend completely with the peanut butter, continue until the mixture resembles the texture and colour of a thick, smooth 'caramel'.

3. Taste and adjust seasoning if necessary, then transfer to a small serving bowl (if making ahead, refrigerate until ready to serve).

Spring rolls 
Ingredients 

16 Vietnamese-style large rice paper rounds, 22 cm in diameter
water, for soaking
1 baby red cabbage, finely sliced
or shredded
2 medium carrots, finely julienned
½ cucumber, finely julienned
2 bunches spring onions, finely sliced
1 small bunch (20 g) fresh mint, roughly chopped
1 small bunch (20 g) fresh basil, roughly chopped
1 small bunch (20 g) fresh coriander, roughly chopped
1 small bunch fine bean sprouts

Method 

1. Prep all the ingredients according to the list, then make a prep station with separate bowls for each ingredient. Place a damp, folded tea towel on a clean working surface (with the prep bowls next to it).

2. Find a round deep flat bowl that is slightly bigger than the rice paper rounds and fill it 3–4 cm deep with room temperature water. Place it next to your tea towel. 

3. Soak one rice paper at a time for 1–2 minutes, or until
just soft.

4. Remove from the water, then place it on the tea towel, spreading it
out carefully to be flat and even. (Meanwhile, put another round in the water.)

5. Place a small amount of cabbage, carrots, cucumber, spring onions, mint, basil, coriander, and sprouts across the width in the middle of the soaked paper.

6. Carefully but firmly fold over the bottom of the paper, then the sides, then roll
it up to form a firmly stuffed roll.

7. Set aside on a plate and cover with a second clean, damp tea towel to prevent it from drying out. When all the rolls are ready, serve with the peanut dipping sauce. (The rolls can be refrigerated until later, but they are best eaten within an hour or two because the rice paper will lose its softness on standing.)