Feminist who, what and why... What does it mean to be a feminist? Who is a feminist? What is feminism? And how and why is feminism interpreted in different ways in the southern African context? 

This new collaborative arts project at the Goethe Institut in Parkwood seeks to answer these questions and more, through a physical art exhibition hosted at the Institut's gallery until June, complemented by a substantial collection of online content that includes DJ sets, performances and panel discussions, available to experience online via the Goethe-Institut website.  
Feminism Ya Mang - panel discussion
Join local feminism academics, activists and artists for a lively panel discussion about the definitions, representations and 'fabulations' of feminism in South and southern Africa, looking at the varying traditions, backgrounds and frames of experience. 
 

Leading the discussion is Danai Mupotsa, from the Department of African Literature at Wits University, joined by; 
Sharlene Khan, visual artist and co-convenor of the annual African Feminisms (Afems) Conference, the Art on our Mind Research Project, the bi-weekly Black Feminist Killjoy Reading Group and the Decolonial AestheSis Creative Lab.
Tumi Mampane, Black feminist scholar, public speaker and lecturer
Gorata Chengeta, Joburg-based PhD student currently researching sexual violence and teaching about sexuality, feminism, and social justice. 
Nomancotsho Pakade, Public Affairs Research Institution (PARI) researcher, community advocacy worker and Doctoral candidate at the Department of History and Heritage Studies, University of Pretoria. 
   
Stream DJ sets and live performances
Complementing the physical component of the exhibition, the curators also brought together performers, DJs, academics and activists from Joburg to create online content that can be streamed at home, including a DJ set, live music performance and a panel discussion.

Pussy Party is an incubator for women and queer DJs in Joburg that started as a regular club night in Braamfontein. It has since blossomed into a community of DJs and nightlife professionals who aim to create a safer nightclub culture for women and queer people - "where lived experience, our performative selves and our engagements with the biological body form our starting points". 
 
Annalyzer is a South African vocalist and performer who fuses Xhosa indigenous chants with opera vocals and  Praise Poetry, set over unique beats inspired by street hip hop. A captivating presence on any stage.
 

 
Feminism Ya Mang art exhibition
In Feminism Ya Mang, curators Motlatsi Khosi, Masechaba Moloi and Samantha Modisenyane have created an exhibition that encourages its viewers to interrogate their own experiences and perceptions of 'feminism' as both a label and a movement. Just as it acknowledges the different shapes and forms of female identity - both those chosen and those given by society - the exhibition also highlights the array of different interpretations and expressions of 'feminism'.

For the duration of the exhibition, the Institut's gallery has been transformed into two contrasting spaces that both represent important places for women in southern Africa; the hair salon (named here Pinky's) and the 'House of Empty's', a shebeen-like space that celebrates the strength and leadership of South Africa's 'Shebeen Queens' and also prompts questions about South Africa's relationship with alcohol among many, many other issues.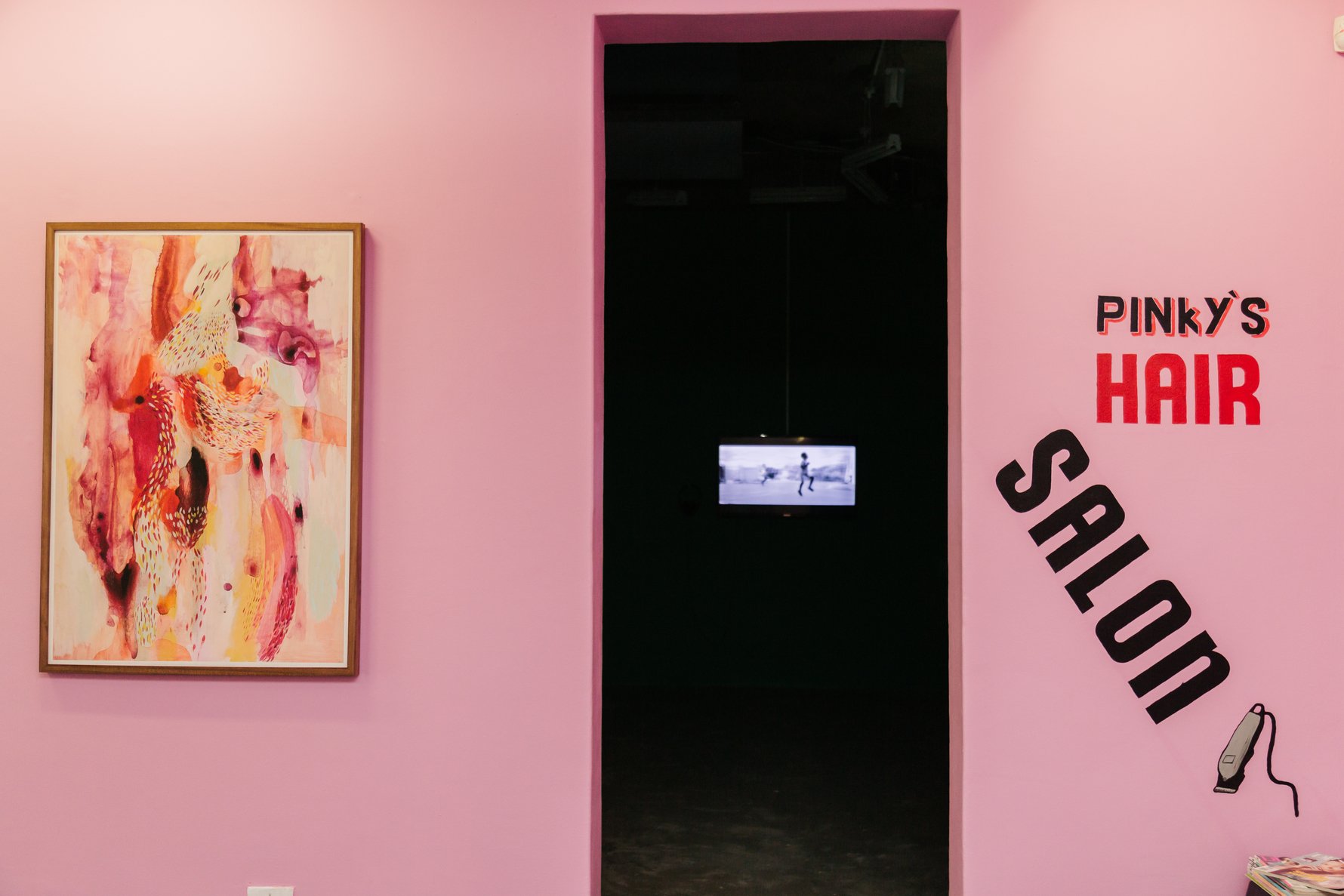 For a relatively small exhibition, it really packs a punch, showcasing works by a broad range of artists working in a variety of media. Photography by Jodi Bieber from her Women Who Murder Their Husbands series, sit opposite a soft and colourful painting by Cape Town artist Amy Ayanda.

Young artist Lulama 'Wolf' Mlambo references African spirituality in her mesmerising neo-expressionist oil paintings while Teresa Firmino and Helena Uambembe from the former military camp Pomfret in the North West, confront the oppressive legacies of past conflicts, particularly looking at the position of women in the apartheid state's 'border wars'.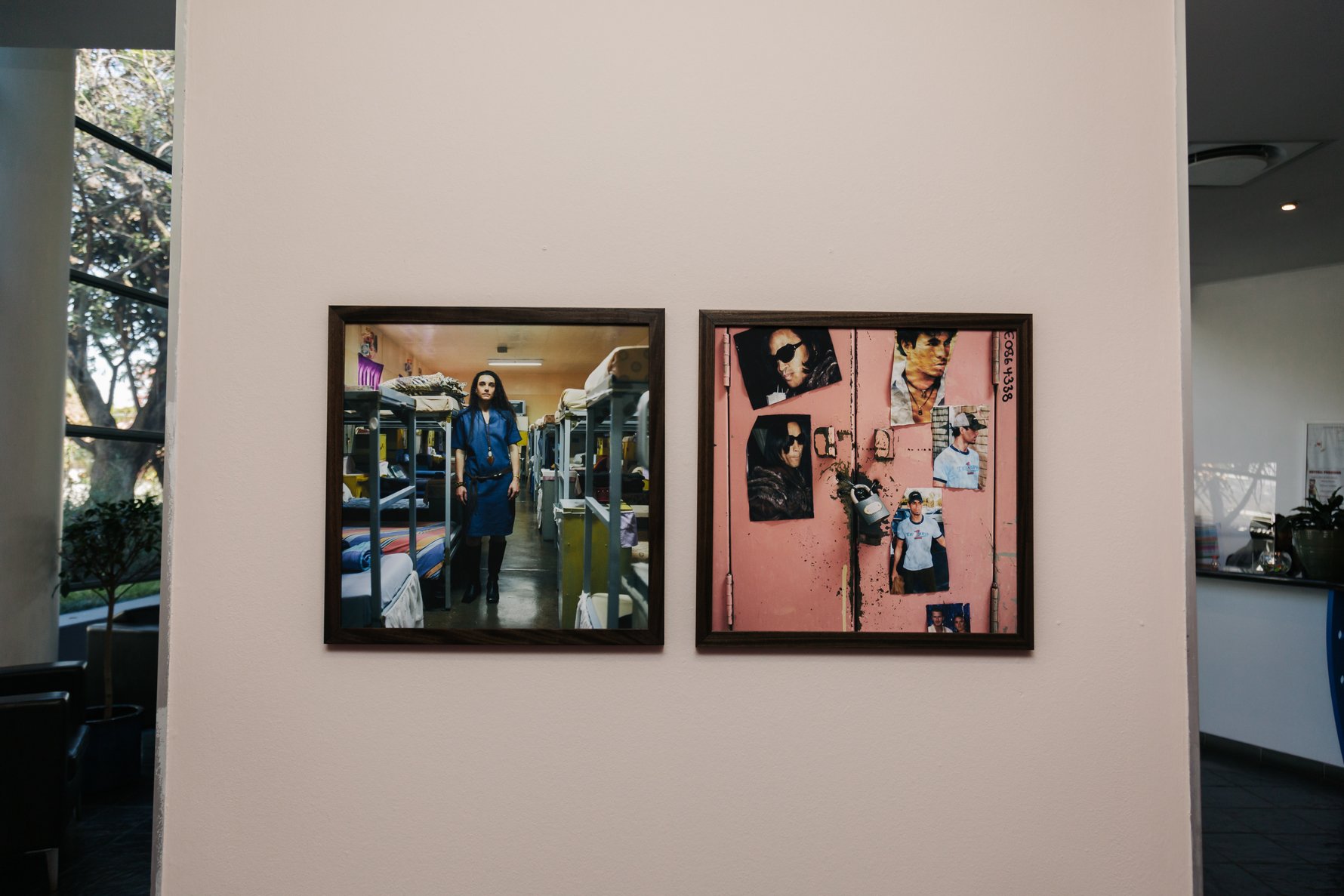 In the House of Empty's a powerful short film about the campaign against Gender-Based Violence accompanies a beautifully tender video work by artist Jabu Newman about female friendships, while powerhouse speakers the likes of Chimamande Adichie Ngozi and Malaika Wa Azania discuss the differing interpretations, meanings, challenges and successes of feminism in an African context.

Altogether is stands as a highly thought-provoking space. It is definitely worth bringing along a friend or two or partner so that you can take time to unpack the expressions of feminism on display and discuss opposing views.