Lady Skollie (the long-time art moniker of Laura Windvogel-Molefi) is a veritable force in the art world, and we'd venture further: she's a force of nature too. Her trajectory since graduating from the University in Cape Town in 2009 – with a degree in the history of art and Dutch literature, not fine art, despite what you'd think – has been nothing short of remarkable. Formal training in printmaking gave her the visual language to begin exploring her ideas, which are deeply rooted, irreverent and larger-than-life.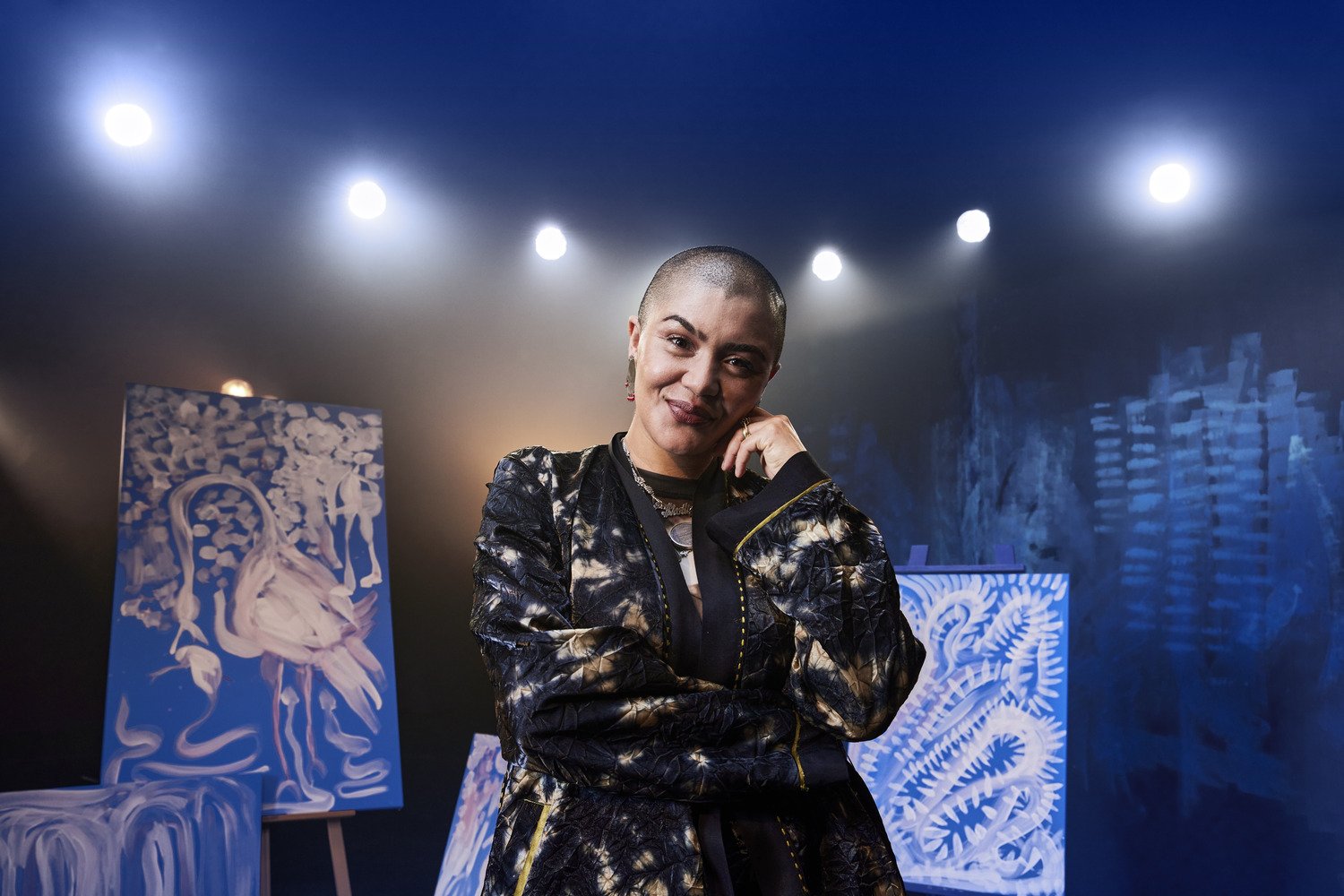 In 2019, Skollie was commissioned to design the new R5 coin commemorating 25 years of constitutional democracy in South Africa. In 2020, she took the title of the 10th recipient of the FNB Art Prize. She didn't stop there, winning the Standard Bank Young Artist Award for Visual Arts in 2022, which brings us to the present moment. Having debuted at the National Arts Festival in Makhanda (Grahamstown), her monumental solo show Groot Gat has transformed Joburg's Standard Bank Gallery into an immersive other-world that imagines what it would've looked like if the path of South Africa's indigenous people had been left to bloom continuously instead of being interrupted under colonial rule.

It's not just holes in history that Groot Gat alludes to: the exhibition refers to the Boesmansgat ('Bushman's Hole') freshwater cave in the Northern Cape. This deep body of water once served as a fishing hole for the indigenous community but was later expropriated by colonisers. Today, it's largely unused, known mainly as a free-diving destination that few dare to explore. The historically charged site becomes a central metaphor for Skollie in this body of work, which speaks to the void of forgotten histories and the complexity of brown identities in South Africa.

The history of South Africa remains a deep well filled with unanswered questions, and in its unique, imaginative way, this exhibition sheds light on what has been obscured. Groot Gat is on show until Thu, Dec 14, and we think it's a must-see. Keep reading for five reasons why.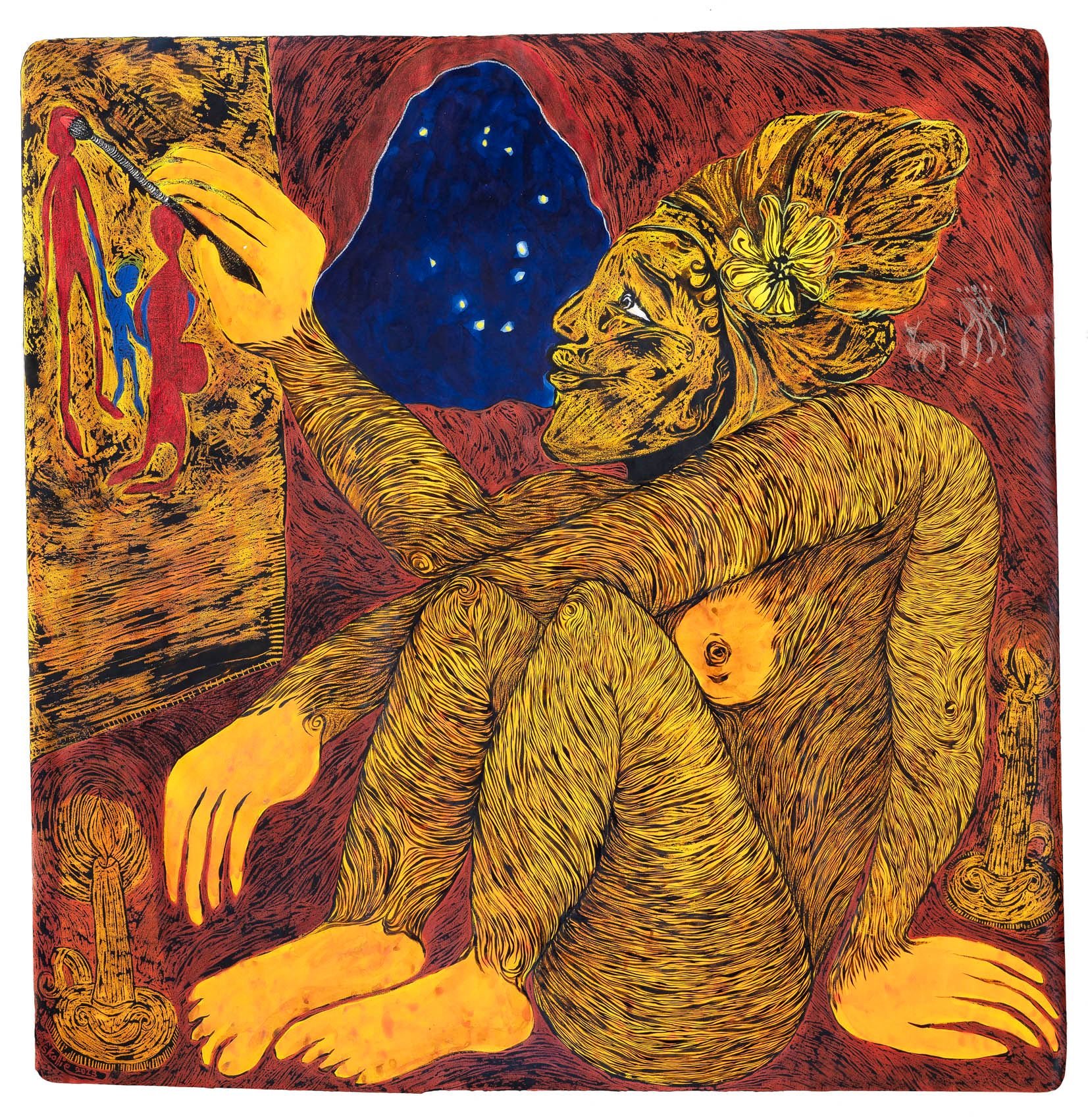 RE-IMAGINING COLOURED HISTORY
With questions around identity as her departure point, Skollie taps into the potency of fantasy, imagining her lost culture into the present day. The mythical space that these artworks inhabit bends reality; this is a world in which indigenous South African people like the San, Khoi and Griqua have been allowed to thrive without colonial oppression. There is tremendous healing power in this, notably for Skollie herself and for those whose forgotten and erased histories she is speaking to most directly. But we can all appreciate what has been lost – the gifts of a continuous culture that Skollie so vividly resurrects and celebrates through art and storytelling. As such, the Groot Gat becomes a little less so as she fills the gap in her own history with joy and pride.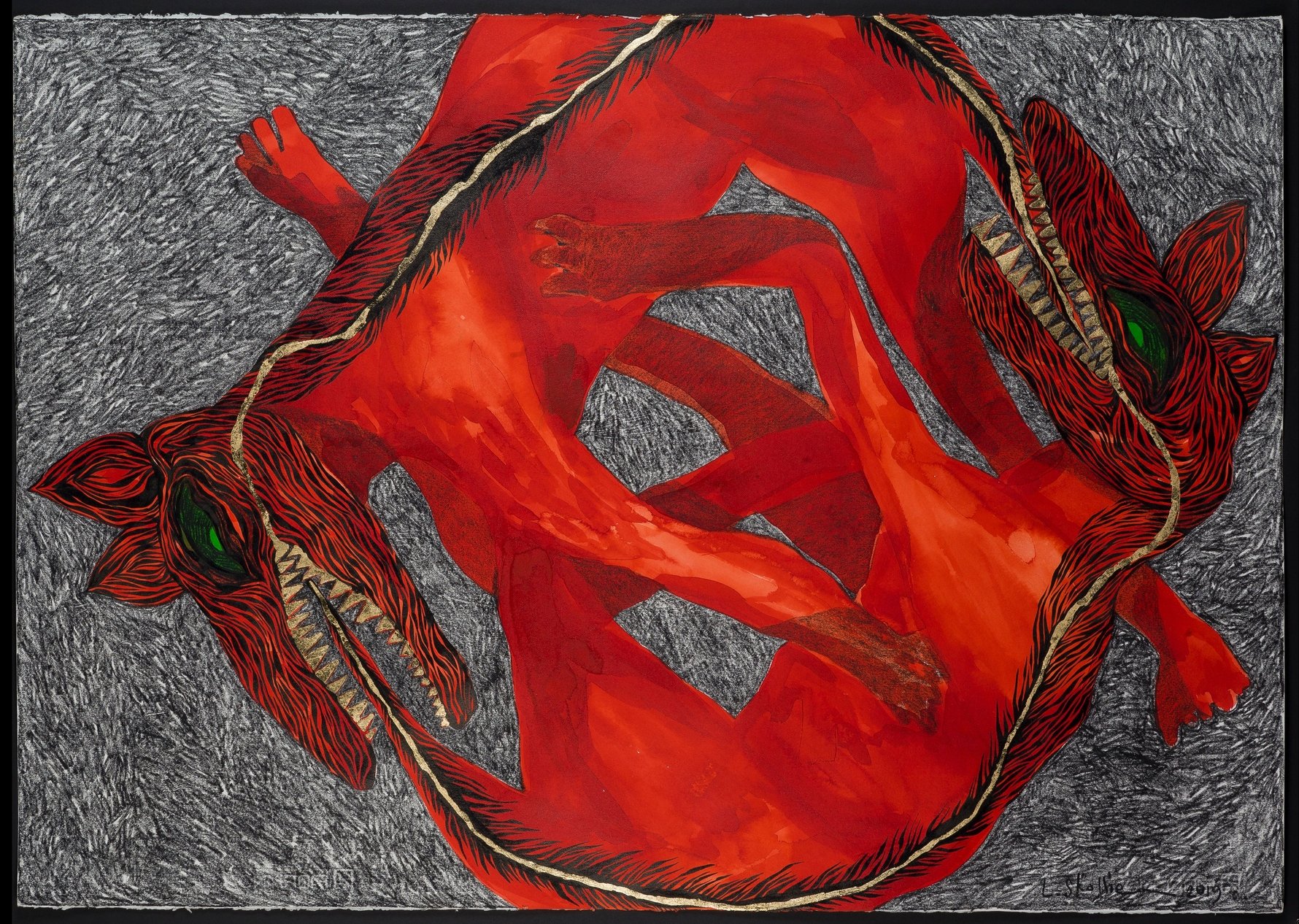 AN IMMERSIVE EXPERIENCE
Looming large at the Standard Bank Gallery, Skollie's painting of a fire crackles with life in video form in the gallery's darkened centre well and anchors us within the artist's imaginary realm. All around this lit-up core, we embark on a winding journey that spans past, present and future, at times looping back on itself. The metaphorical is made physical with a Sun City-esque cave (kitsch but wonderfully effective, in true Skollie style) that viewers can enter, where projected cave paintings dance on the walls. Unlike previous installations in this gallery space, where paintings have demurely adorned white walls, Skollie's work shouts against bright orange backdrops. In all respects, this is not a show you'll soon forget.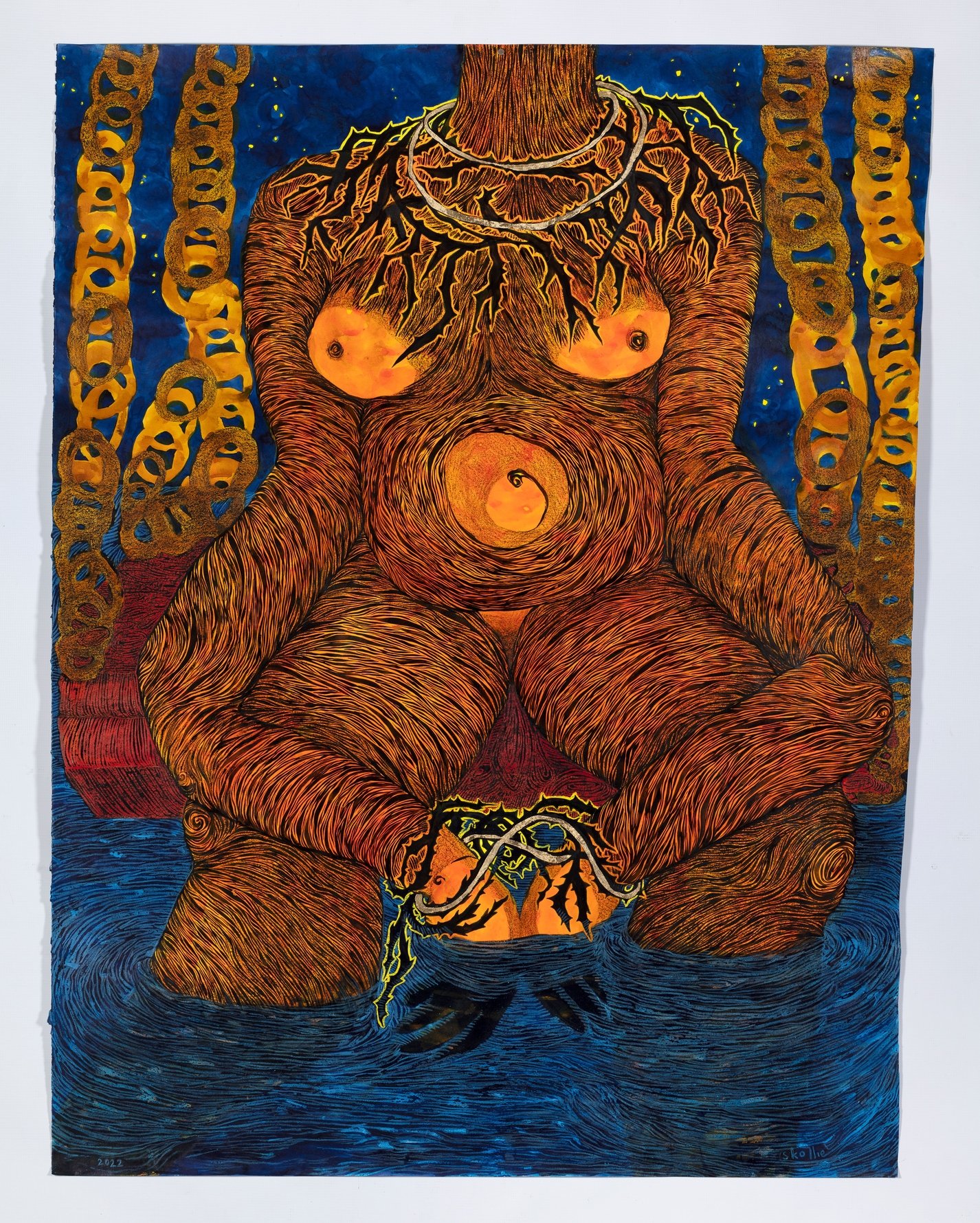 PERSONAL MYTHOLOGY
Skollie's biography and inner workings as an artist and South African are woven throughout these works, from her wild and carefree early adult years to her life now as a wife and first-time mother. Of course, the Groot Gat as a metaphor for the womb is not lost on her. She is playfully reflective in works such as An Ode to Self-Sabotage, Digging Yourself Out of Holes You Barricaded Yourself Into, while the darkly mysterious Half In, Half Out depicts a headless, pregnant figure, a garland of thorns around her neck and wrists, waiting in a body of water. In Skollie's world, grapes and ostriches take on mythological proportions, alongside more conventionally symbolic figures like snakes and mermaids. These have enjoyed a recurring presence in her work throughout the years and are deeply rooted in the artist's psyche on both a personal and symbolic level.

"The grapes really represent my practice as a Coloured person," says Skollie. These reference her parents' hometown in the Western Cape winelands, and the 'dop' system (or "papsak propaganda" as she calls it) which was only outlawed under a new Liquor Act in 2003. The dop or tot system paid people for their labour in alcohol rations, creating a cruel dependency on liquor throughout the Cape. As Skollie's father was head of the Liquor Board for a time, she often travelled with him to small towns where education about the dangers of drinking while pregnant was being implemented; this stands out for her in stark contrast to our country's colonial history, where addiction was used as a tool of oppression.

Snakes also feature numerously. Skollie notes that while the supreme being of the San people, Cagn, usually appears in the form of a praying mantis, for her people the figure often takes the form of a snake. This image is ripe with meaning, from shedding skin as a continual death and rebirth cycle to the ancient ouroboros, the snake eating its own tail as a symbol of infinity. It is also a symbol of male potency. In Snakes and Ladders, she explores morality and how stories like this guide us.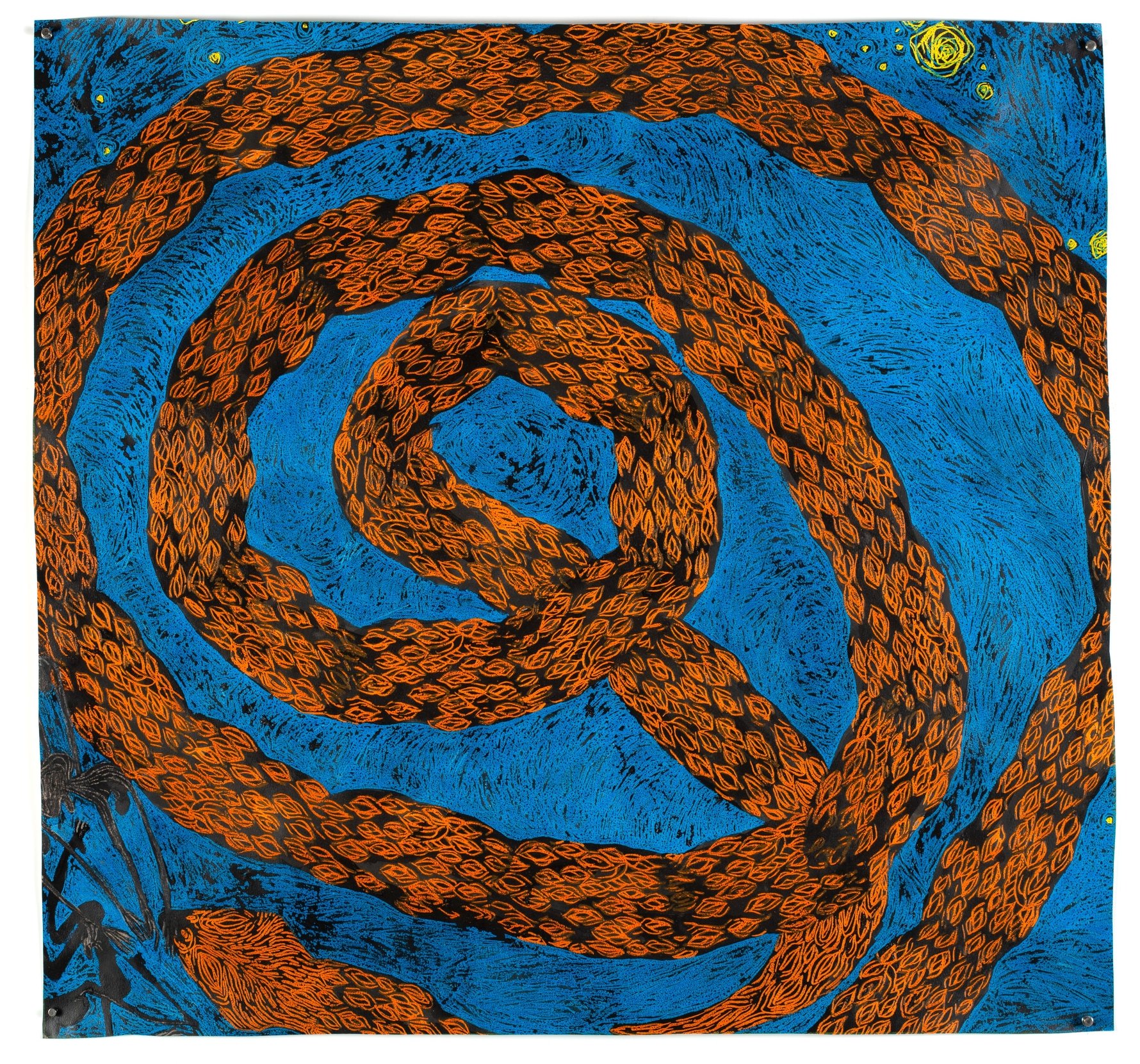 DRAWING FROM LEGACY
While she's a strikingly singular artist, Skollie carries forward the lives and legacies of those who've come before her. Much like Coex'ae Qgam, in whose portrait she expresses a beautiful sense of kinship, Skollie is an artist who does things differently. Also known as Dada, the Botswana artist and storyteller was a member of the Ncoakhoe people, speakers of the Naro language; Qgam's paintings are an important chronicle of her people's connection to the land, their spirituality, as well as their daily lives, and the eccentricity of her life mirrors Skollie's own. Look Daddy! I'm a Snoek! is Skollie's tongue-in-cheek take on an ancient Khoisan rock painting of a mermaid, which can still be seen in the Meiringspoort canyon just outside of De Rust. The title is a play on a viral TikTok.

The late great David Koloane is another star in Skollie's galaxy. When she moved from Cape Town to Johannesburg her first studio in Joburg was at Bag Factory next to Koloane's, and during this time the constancy of his practice made a lasting impression on her. She pays tribute to Koloane in Groot Gat with the work Mgodoyi – the two jackal-like dogs in an infinite loop directly call to mind the spectral street dogs seen repeatedly in Koloane's own work.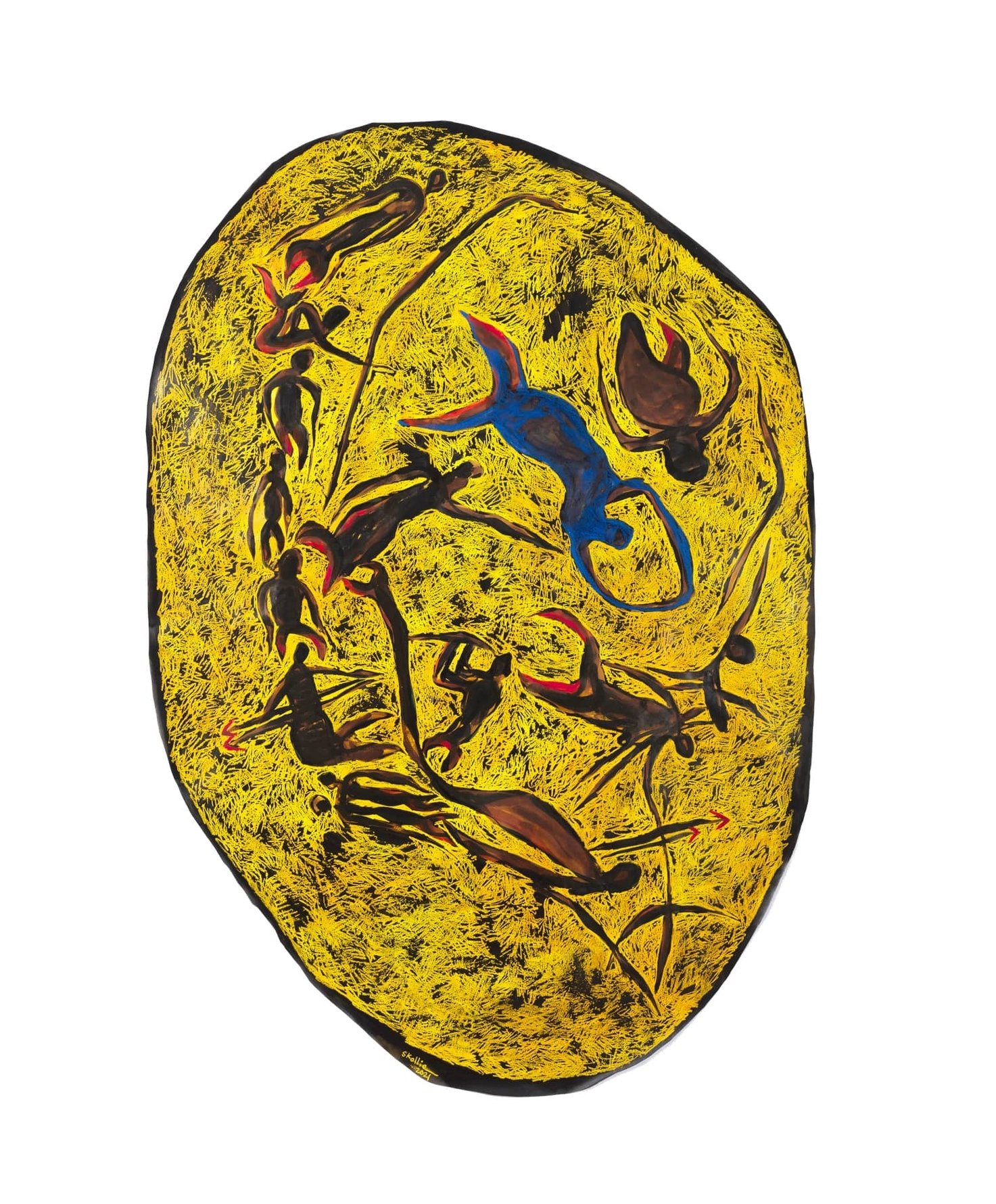 ASCENDANT ART STAR
Skollie has found her own way of navigating the art world's unwritten rules and idiosyncrasies, boldly carving out a place for herself, and going about it with good humour too. She's unafraid to ask for what she wants. "The worst people can say is no," she says, and she has always set the bar high for herself. For Skollie, Mgodoyi also represents her earlier experiences in the art world and the feeling of being snubbed by traditional institutions. "The 'kasi dog never dies," says Skollie, who never took these rejections to heart.

Years before winning the Standard Bank Young Artist Award, Skollie had it written on her list of career goals, which have all since been achieved. And, as one of only a handful of Coloured artists who've received the award to date, this certainly represents a high point in her art journey so far. Yet as her star shows all the signs of staying on the rise, the question now is, what's next?

See Groot Gat at the Standard Bank Gallery until Thu, Dec 14.