Interest in hiking among South Africans is continuing to boom and across Gauteng lodges have been developing new trails and adding more accommodation options for locals who love nothing more than hitting the trail at the weekend. 
Here's our guide to some great places to book a stay-over in Gauteng where the hiking trail starts from your doorstep.
B'Sorah Luxury Tented Camp
Great for: Weekend hikers who want the trails all to themselves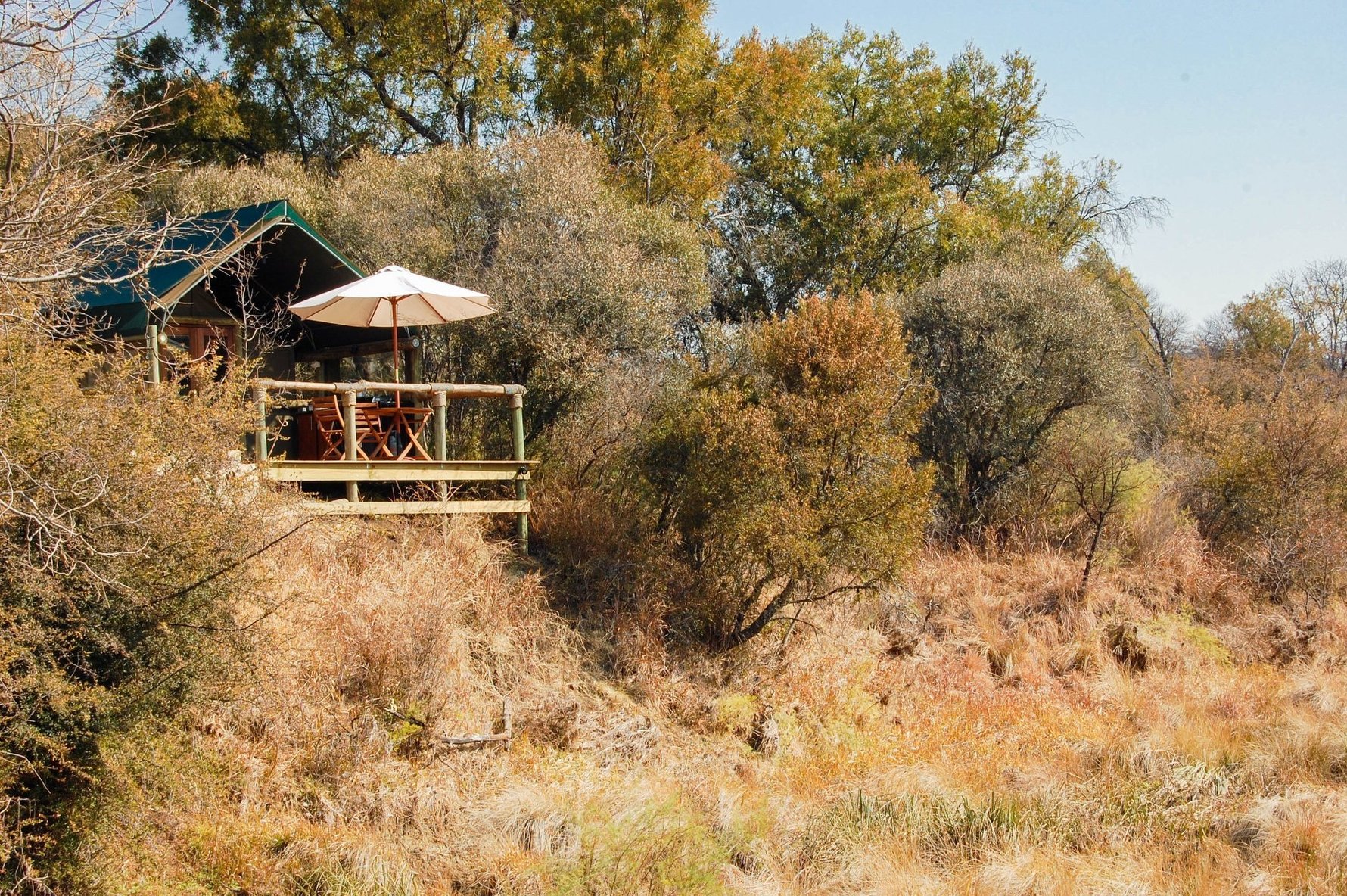 B'Sorah is an historic farm that has been transformed into an eco-friendly retreat (keep an eye out for the impressively proportioned Brahman cattle farmed here), nestled in the valley next to Hartbeespoort Dam. Making a stay extra special is the fact that on weekends the hiking trails are only open for overnight guests, so staying over means that you truly get to make the most of the peace and quiet.

The trails: The B'Sorah trails range in length from 2km strolls to the full 15km meander taking in pristine river banks, forests, grassland, bushveld and rocky outcrops. It is possible (weather depending) to take a dip in the river. There are also 30km of mountain biking trails on the property.

Accommodation: Choose from wild camping or fully equipped en-suite self-catering safari tents. The romantic safari tents sleep two and come with their own kitchenette, and a private deck with a braai area and views of the farm. The 'bush campsites' meanwhile can only be reached by a 4x4 vehicle. Each plot is set at least 500 metres from another and can accommodate a maximum of eight people with a clearing for the vehicle and tent, a pit toilet and a fireplace made of loose rocks. Campers will need to be completely self-sufficient as there is no running water or electricity.  

WHERE: Just off the R400 next to Skeerpoort river. Find out more and book here.
Mountain Sanctuary Park
Great for: Quiet trails leading to beautiful crystal clear mountain rock pools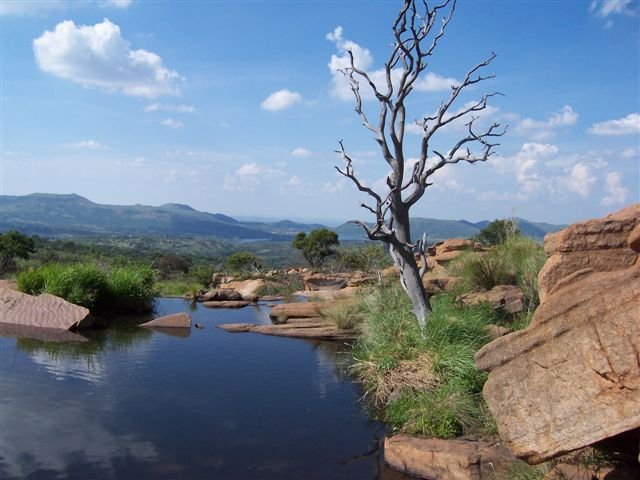 Until recently this vast private nature reserve on the border of North West province was a popular destination for hiking daytrippers. However, due to overcrowding and littering by the ever-increasing numbers of visitors, the owners decided to protect the area's tranquility and pristine natural attractions by limiting hiking only to those who are staying over. The good news is, there are plenty of accommodation options, although if you want to visit at a weekend book well in advance.

The trails: Mountain Sanctuary is famous for its beautiful rock pools that are perfect for bathing on a hot summer's day. You can combine a range of shorter and longer paths that lead to the various different rock pools and streams and hike for anything from 30 minutes to several hours. The one thing to bear in mind is that trails are not extensively marked (this is to protect the terrain that the paths pass through), so you should have a confident sense of direction. 

Accommodation: There are a variety of options for staying over ranging from campsites, to the rather basic but very functional 'cosy huts' (bring your own bedding) to the well-equipped and spacious chalets and log cabins that sleep between two and eight people and have full kitchens as well as a braai area. 

WHERE: The best-recommended route (avoiding extensive dirt routes) is to take the R512 up to Hartbeespoort, cross the dam and join the N4 to Rustenberg at Buffelspoort. From Buffelspoort the entrance to the reserve is about 3km. Find out more and book at mountain-sanctuary.co.za.

Great for: Serious hikers who want to tackle a two-day hike and sleep on the mountain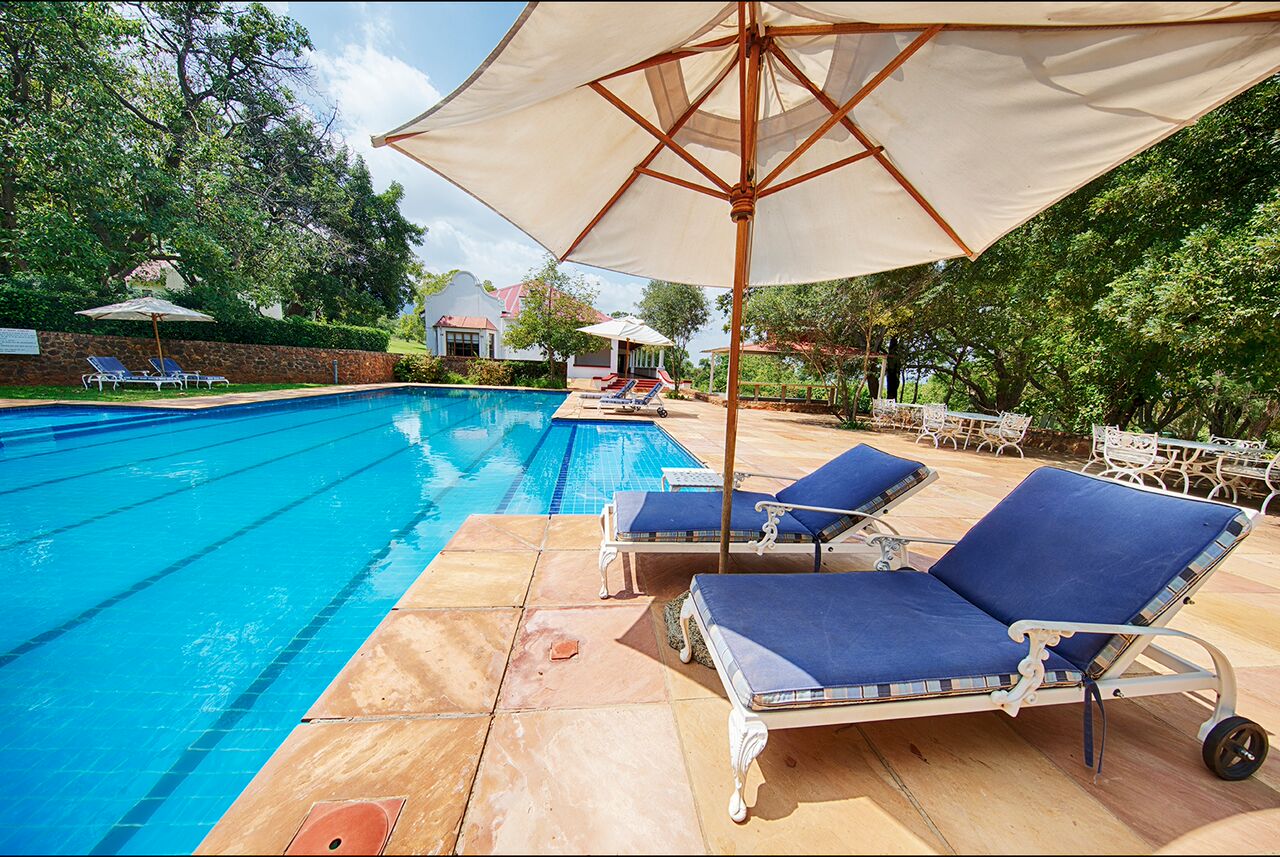 This historic family farm sits right below the craggy foothills of the Magaliesberg mountain range and is popular for its challenging trails which present plenty of rewarding uphill stretches passing over the top of the mountain (good fitness is required). 

The Trails: There are two overnight trails that can be booked; the 15-18km Magalieskraans Hiking Trail and the 13km Karee trail. The shortest trails range from 3-5km and meander around the lower sections of the mountains and forest. If you are feeling fit you can tackle the full 13km Karee Trail - the views are spectacular - in one day. 

Accommodation: Rustig is a good option for larger groups and families with a broad range of accommodation appealing to a variety of budgets. Choose from bed and breakfast accommodation inside the Cape-Dutch-style heritage house or rent one of the self-catering properties which include a large old farmhouse with its own stoep (sleeps up to ten in five bedrooms) or the considerably more 'rustic' Stone House which has a double bed room and a second bedroom packed with four bunk beds. There are also two self-catering tents (sleeping four and six) and basic backpacker dormitory accommodation. The mountain huts offer basic shelter with firewood and water supplied for your arrival, and can only be booked for the exclusive use of one group. Amenities back at the farm include a tea room and a large swimming pool that's perfect for doing laps on a hot day.

WHERE: Portian 91, Plaas Hartebeesfontein, Hekpoort. Find out more and book here.
Sable Ranch
Great for: A quiet break for couples who want to include a short day hike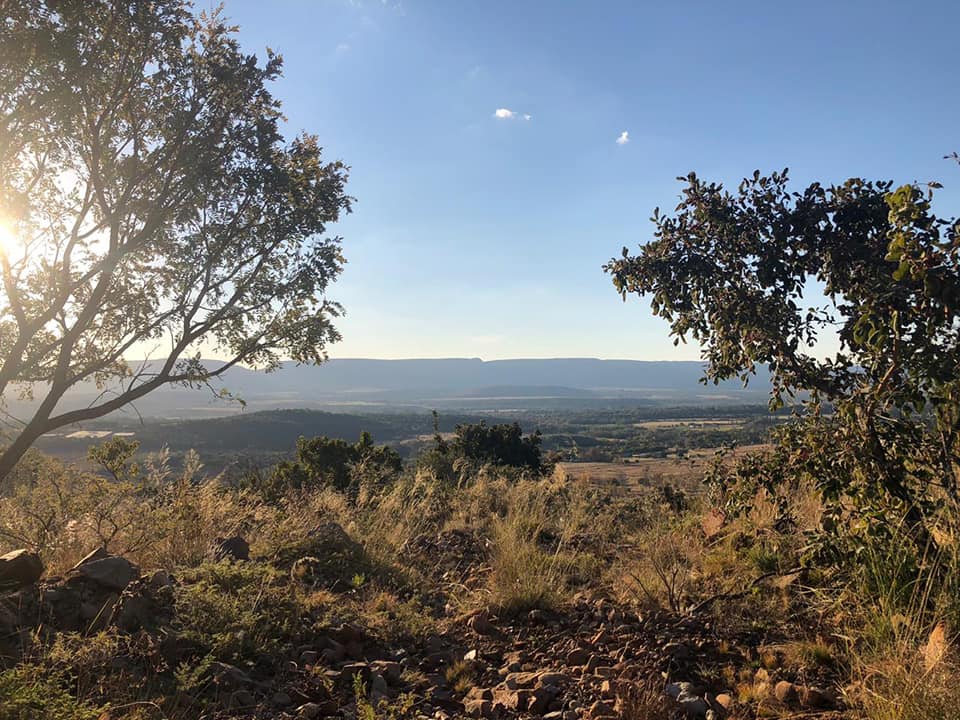 This large game farm is spread across the lower slopes of the foothills of the Magaliesberg on the road to Hekpoort. In addition to hiking, in season there is also game hunting and if you are a four-wheel driver their off-road 4x4 trails are among the most nerve-wracking you can find.  

The trails: The full 12km Sable Ranch hike starts by meandering through farmland (look out for the albino wildebeest) before quickly making a steep incline up a winding rocky path revealing sweeping views. At the top there is a small dam (dubbed 'Camp's Bay') with a rope swing if you fancy a dip in summer.

Accommodation: Sable Ranch has its own guesthouse with two rooms, located part way up the mountain (around 2km uphill from the trailhead reception area). The rooms come with basic kitchenette facilities (fridge and microwave) and there's space to braai outside on a private terrace, as well as a small swimming pool looking out over the valley. Down the hill at The Noble Village (also part of Sable Ranch) there's a cafe-restaurant serving craft beers from The Noble brewery.

WHERE: R96 (just of the R563), Magaliesburg. Find out more and book here.
Rosemary Hill Farm
Great for: Those who love chic, upmarket and contemporary accommodation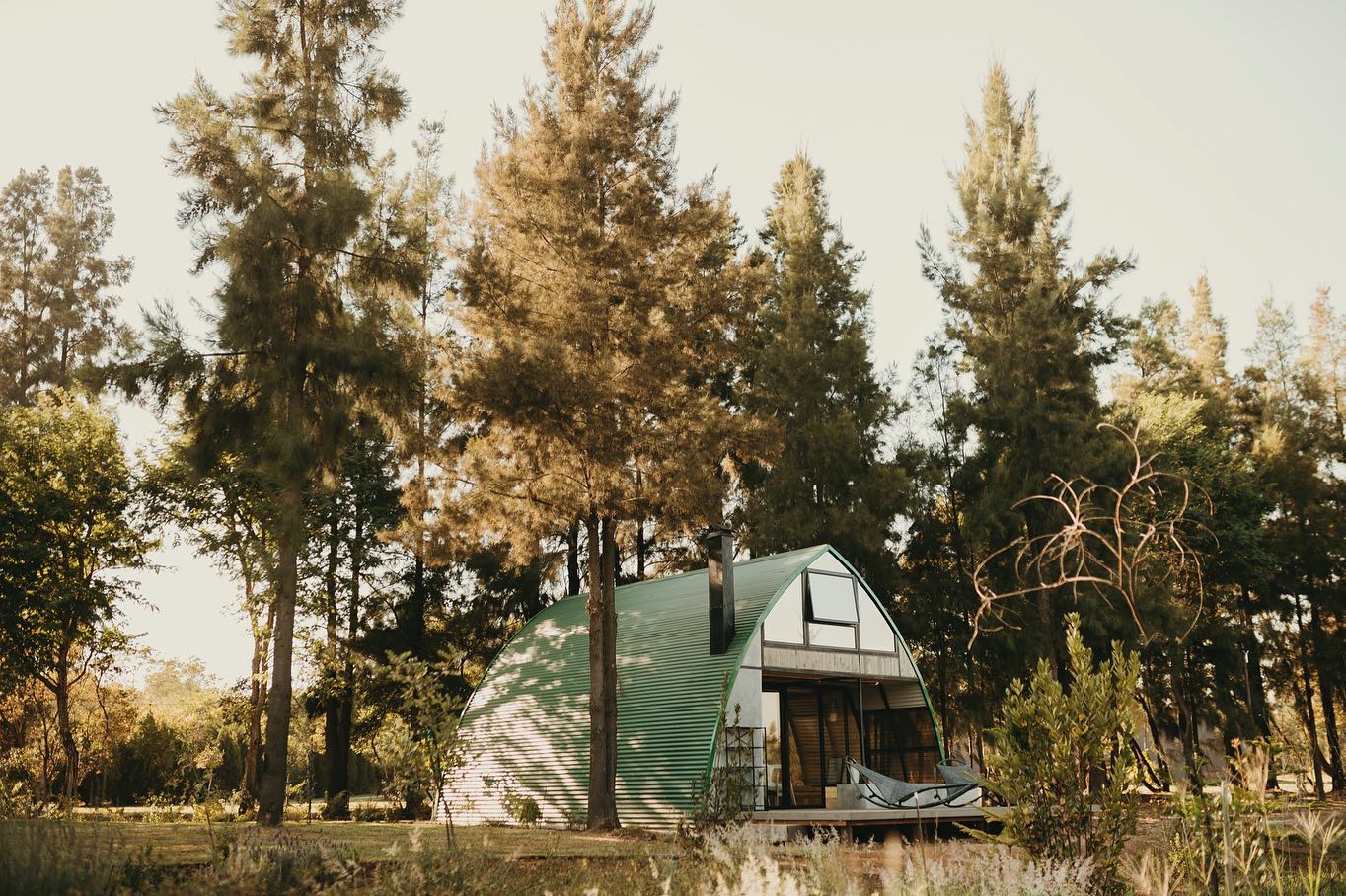 This working organic farm and function venue in Mooiplaats just east of Pretoria (about 20 minutes drive from Menlyn) has it all - hiking trails, mountain biking, a great cafe, coffee shop and fantastic overnight options that look like they came straight from a magazine shoot. 

The trails: For hikers there are two trails (5km and 11km) that snake their way past the farm's aromatic rosemary fields, alongside the dam and through pretty woodlands. There are also 38km of mountain biking / trail running tracks. 

Accommodation: Choose from bed and breakfast double rooms in the guesthouse, self-catering cottages, studio and loft apartments and the newest addition, Cabinville. Cabinville currently offers four unique 'pods' and cabins set amidst mature trees and constructed from recycled building materials with super-stylish interiors designed by Raw Studio. Each comes with a small basic kitchenette and the most fun feature, a 'chill net' for kicking back and relaxing while you enjoy the view. If aesthetics are your thing, book well ahead for The Zenkaya, a super chic one-bedroom 'capsule' in the forest which offers 270 degree views from its sliding glass walls. For breakfast or lunch choose from the Rosemary Hill restaurant, the Garden Cafe or book one of their picnic hampers in advance.

WHERE: Mooiplaats, just off the N4 heading east after Exit 18. Find our more and book here. Great for: Getting off the beaten path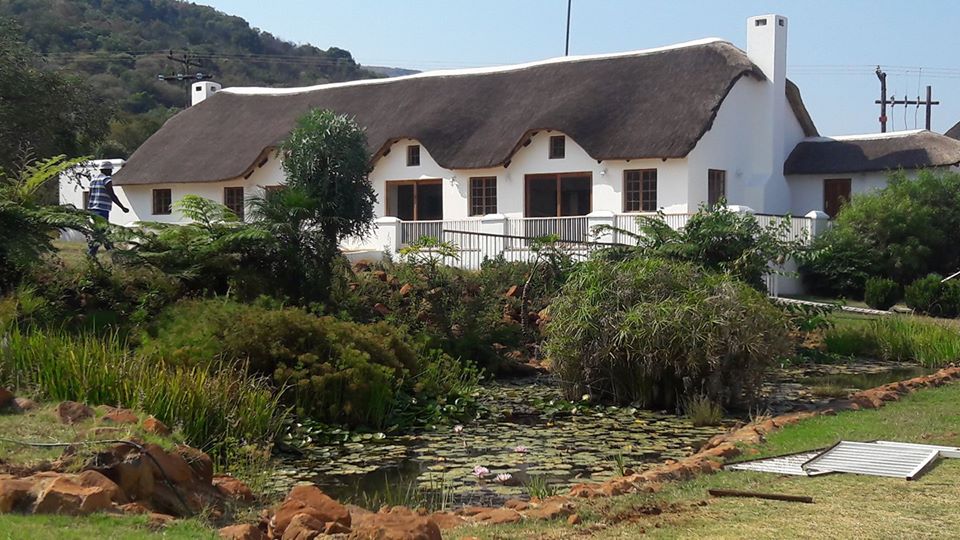 This secluded country hotel is nestled in a game farm that sits high on the slopes of the Magaliesburg mountains. Set across a spacious Cape Dutch style farmstead linked by pretty wide open courtyards (or 'quads') there are plenty of amenities including tennis courts, volleyball, billiards, a large swimming pool and croquet and private hiking trails which can only be accessed by overnight guests.  

The Trails: There are three short trails which lead from the property and cross through neighbouring farms on their way up to the rocky cliffs on top of the mountain. The trails can be combined together to plot a longer path. Maps are provided although if you want to make the most of the trip we recommend you go with one of the guides from the lodge - it is easy to get lost. Along the way you'll find caves, a waterfall and plentiful views and, for the bravest, there are even some chain ladder sections to climb.

Accommodation: Choose from one of five cottages in the self-catering Steynshoop Valley Lodge or book into a room at the upmarket Steynshoop Mountain Lodge hotel just up the hill, where four-poster beds and sweeping views make for a grand setting. Self-catering accommodation ranges from quaint thatched roof cottages to the epic five-bedroom Homestead building. 

WHERE: Hartebeesfontein Rd (61.74 km), Hekpoort. Find out more and book here. Great for: Hiking groups in search of wide-open spaces and expansive camping facilities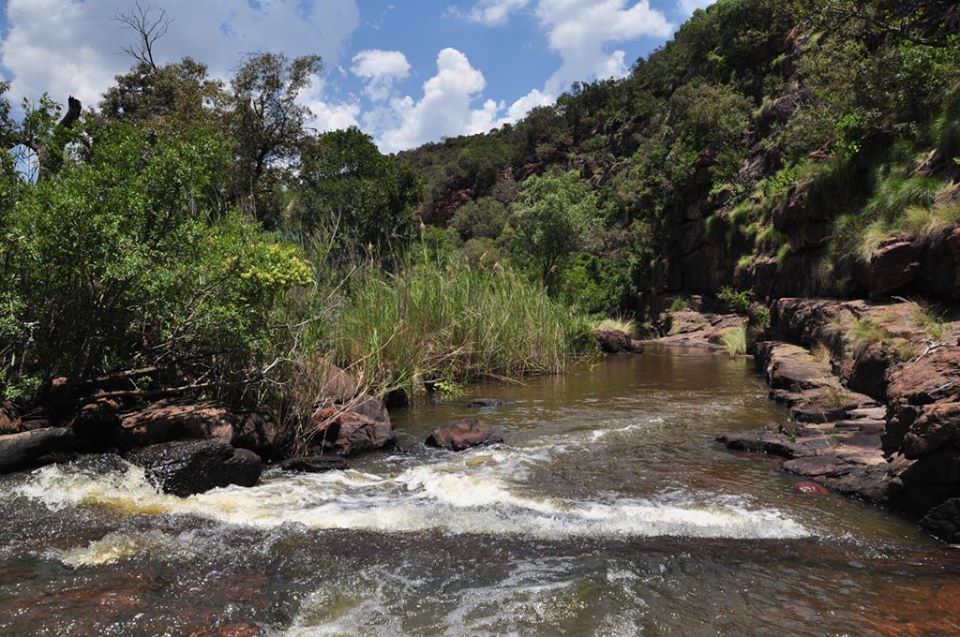 Not to be confused with the network of safari reserves in KwaZulu Natal, this expansive nature reserve near Bronkhorstspruit east of Pretoria offers mountain biking, hiking, game drives, fishing and bird watching. There is an abundance of interesting game to watch out for including zebras, wildebeest and red hartebeests ​​​​​​and fantastic birdlife. As one of Gauteng's lesser known private hiking areas with strict numbers on day visitors, it also tends to be less crowded.

The Trails: There are three different hiking trails to choose from which traverse a treed river valley looked over by rocky outcrops. The short Ochna Trail (4km) treads a path through grasslands and up a small koppie, the Protea Trail (14.6km) also covers much grassland and a small steep rocky hill, while the 21km Burkea Trail is a tough walk through grassland and over hills to the far side of the reserve and takes approximately 5 hours to complete.

Accommodation: An older reserve, accommodation at Ezemvelo is relatively rustic although comes fully equipped with everything you need, and you can't beat the remote location. Options include self-catering chalets at the reserve's main camp, the River Campsite midway along the Protea Trail and secluded, off-the-grid 'Mountain Huts' about 8km drive inside the reserve that look out onto the beautiful Grootspruit River valley.

WHERE: Entrance on R493 Elandsfontein (105.30 km). Find out more and book here. Great for: A romantic break in easy distance of the city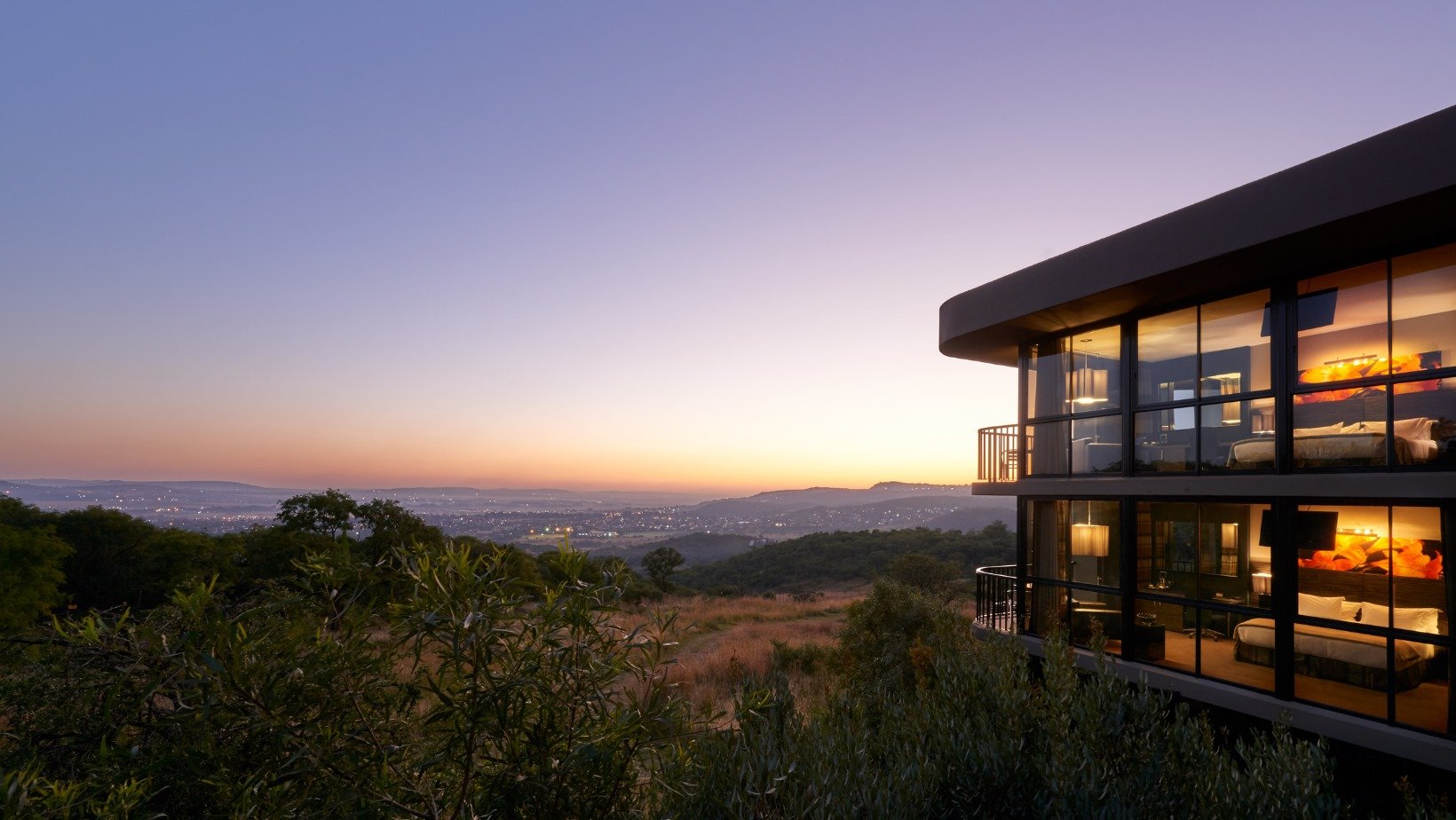 Located right across the road from the exquisite Klipriviersberg Nature Reserve in south Joburg this is the ideal venue for a romantic hiking getaway just 18km drive from the city. The hotel perfectly blends into its surrounds and maintains a consciously eco-friendly outlook with solar-powered geysers and waterwise gardens and a huge private reserve stretching to some 300 hectares.

The Trails: The hotel is across the road from the entrance to the popular Klipriviersberg, known for its rich variety of flora, faun, bird life and the remains of centuries old Tswana settlements. There are various well-signposted hiking ranging from 3km to 9km that follow along the river which runs through the reserve and wind their way up the Klipriviersberg ('rock river mountain'). 

Accommodation: Stay in spacious luxury in Thaba Eco Hotel's thatched-roof rondavels or for more privacy book into the contemporary luxury suites, set upon stilts and with incredible 180-degree countryside views from full-length windows. More a resort than a hotel, there's a focus on relaxation, from the Sinzinani Day Spa to a meditation trail built into the natural forest.

WHERE: 46 Impala Rd, (off Klip River Dr), Klipriviersberg. Find out more and book here.

* This feature is part of our series of Gauteng guides, in partnership with Gauteng Tourism, highlighting how to explore more of the Gauteng Province and its countless attractions. Read our art guide to Gauteng here, our heritage and history guide to Soweto here and check out our ideas for 10 fun Gauteng day trips here.